Wed 12 Aug 2009
Like a man crawling through the desert spying the oasis ahead, the approach of football season both tempts and taunts me.   If you are among the sad few for whom football is of no interest, I urge you to stop here, and save yourself from the remainder of this post.  Don't say you haven't been warned.  For those intrepid souls who wish to continue, the post continues below the break.
There are numerous notable Eph-related football storylines to follow this autumn.  First, two Eph alums are on the hot-seat as new coaches: Kevin Morris '86 at UMass-Amherst, and Dave Clawson '89 at Bowling Green.  Clawson's rising star could have been diminished by a rough year as Tennessee's offensive coordinator (where he never had the personnel or the time for his complex offensive schemes to thrive), but fortunately,his incredibly impressive body of head coaching work landed him his first Division I-A head coaching gig.
Clawson is young enough and talented enough that if he performs well, it won't be his last.  Lest you fail to grasp the significance of Clawson's rapid ascension through the D-I coaching ranks, Frank U. put it best: "the likelihood of a Williams College graduate becoming HFC at Bowling Green is akin to a graduate of East Jibouti State ascending to the position of Partner Managing Director of Goldman Sachs – to put it in I-banking terms."
Morris, meanwhile, has patiently waited for this opportunity after spending the last decade as an offensive coordinator.
Good luck to both, and check back here for periodic updates on the progress of BGSU and UMass.  Next Eph likely to land a head coaching gig: Mike Bajakian '96, currently offensive coordinator and quarterback coach at Central Michigan, which has put up impressive point totals under Bajakian's stewardship.  Bajakian has coached Dan LeFevour, likely to be a top NFL draft pick in 2010, for several years.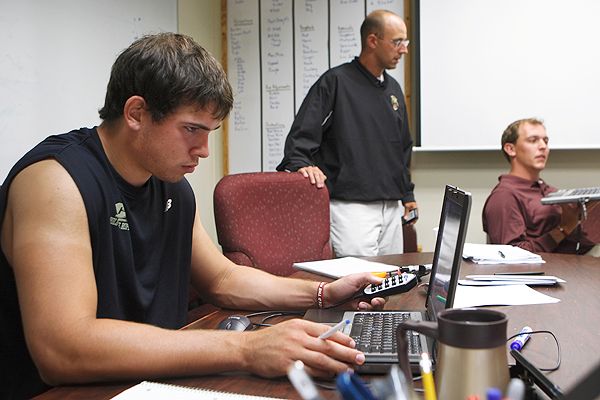 It is no coincidence that all three Eph coaches played for hall of famer Dick Farley (in Morris's case, at the very end of Farley's tenure as an assistant coach).
Meanwhile, Williams has an interesting year ahead in football.  First up is the 1000th (!) game in Eph history, against Colby to open the season.  I imagine the athletics department will have some interesting events planned in conjunction with that milestone.  The Ephs get Amherst at home, and are looking for their fifth straight victory in the "biggest little game in America."  The Ephs haven't lost a home game to Amherst since 1985, but next year's Amherst squad is fairly stacked, and Amherst has been gaining ground on the Ephs during the last few years (losing by 30, then 20, then 1), so the Ephs will no doubt face a tough challenge from an intensely motivated Amherst team.  Meanwhile, the Ephs will be looking for revenge of their own after two straight, extremely close, heartbreaking losses to NESCAC heavy Trinity, who will undoubtedly be the league favorite once again.
Last year, the Ephs faced a huge pre-season question mark at QB after the graduation of superstar Pat Lucey, and the inexperienced duo of Sophomore Pat Moffitt backed up by heralded frosh Matt Coyne performed beyond expectations.  This year, they, along with star senior receiver Nick Caro (who first emerged as an impact player in the Gameday contest vs. Amherst), will likely have to carry the load on offense, as the Ephs have never in recent history had such an enormous question mark in the running game.  The Ephs graduated all of the key pieces from last year's fearsome rushing attack: two all league tackles (the Szawlowski twins, both of whom were three year starters, one of whom was a rare Eph All-American), an all-NESCAC blocking tight end (Ace Norris), and the three leading rushers, including all-time rushing leader Brian Morrissey.  They only have one running back from last year's roster returning this fall (Ryan Lupo, who had just a few carries), so expect some frosh to get a chance to contribute there.  Maybe Frank will have some scoop on who we might expect to see carry the pigskin come September?
Special treat for football fans: the Sports Information page now has a direct link to the YouTube of the College Gameday footage, which features my second favorite recorded Eph athletics moment, Lee Corso putting on the Purple Cow head as the crowd goes wild.  (My favorite remains the audio-only feed of Tucker Kain's dramatic game-tying shot against Amherst in 2004; looking far ahead, Eph men's hoops may be ready for a return to greatness this winter, but that is a post for another season …).
Print • Email
---
11 Responses to "Football, Football, and more Football"
Derek says:

Thanks for this, Jeff. Great stuff.

dcat




Larry George says:

Thanks for this post.

Looking forward to the season and hearing the strains of the Moo Cow Band calling us to watch the team in the Purple Valley. Go Ephs!




jeffz says:

Thanks guys! I made a few additions, including photos, and a section on Mike Bajakian. Be sure to check the ESPN story and photo that I missed last fall!




Chotch says:

Great post – the season can't begin soon enough.




Derek says:

Although it's not ever going to talk about Williams football, I'd strongly recommend for you college football fans the website "Every Day Should be Saturday," which is a rollicking, Kissing Suzy Kolberesque (You do read KSK, right?) romp through the world of college football. Not for the squeamish, but hilarious and passionate and fearless.

dcat




Larry George says:

Moving this exchange over from the ice sculpture thread:

JeffZ says:
Uible sighting! I was bummed at no Frank commentary (I know a lot about football, but Frank has forgotten more than I'll ever know) on my football post, by the way …
August 14th, 2009 at 11:12 am

frank uible says:
Jeff: You covered it all!
August 14th, 2009 at 11:17 am

JeffZ says:
Sweet!




frank uible says:

For membership or other information about Williams Sideline Quarterback Club, contact me at uiblejr@yahoo.com.




Ronit says:

@frank uible: Please tell us more about this club. What is it? Could we maybe feature it in a post?




frank uible says:

Comment originally posted by frank uible

Ronit: The Club is currently comprised of about 85 members, fans of Williams College football, most of whom reside in northern Berkshire County. We meet for lunch (with brief, informal, Williams football related reports and other speeches by Williams coaches, invited players, other guests and members) at the Log on Spring Street for about an hour on each of the eight Wednesdays immediately before Williams football games, have a tailgate party at Weston Field right before and during the first home game (at which we host the Purple People Feeders, the Williams football parents group) and provide a banquet in Williamstown for the players and their parents usually on an afternoon or evening during the weekend before Thanksgiving. An annual dues of about $95 (this forthcoming year's dues have not been set yet) covers all these feedings and associated activities for one.

P.S. No favorable credit report, absence from the Club's enemies list, other vetting or recommendation is required for membership.




JeffZ says:

More on Kevin Morris:

http://www.bostonherald.com/sports/college/football/view.bg?articleid=1191986&srvc=sports&position=1



Trackbacks & Pingbacks:
Pingback from August Athletics Round-Up : EphBlog August 29th, 2009 at 7:36 am

[…] […]
You can follow this conversation by subscribing to the comment feed for this post
If a comment you submitted does not show up, please email us at eph at ephblog dot com. Please note that commenters are required to use a valid email address when submitting comments.