Currently browsing the archives for December 2010
Six years ago today, I told the tale of the Ghost of EphBlog Past. Read that stave or continue no further. Today: A visit from the Ghost of EphBlog Present.
Touch my robe and away we go!
For anyone who remembers our humble beginning, the EphBlog of today is an amazing place. There were 187 posts in January 2010 by at least 18 different authors: Norman Birnbaum '46, Dick Swart '56, Jeff Thaler '74, David Kane '88, Derek Charles Catsam '93, Ken Thomas '93, Wendy Shalit '97, Jeff Zeeman '97, JG '03, Rory '03, Lowell Jacobson '03, Ben Fleming '04, Diana Davis '07, Ronit Bhattacharyya '07, Andrew Goldston '09, Torrey Taussig '10, tinydancer '11 and PTC.
Also note these contributions from Williams officials: Wayne G. Hammond, librarian at the Chapin Library of Rare Books, an anonymous faculty member, Professor Gabriela Vainsenche, Tyng Administrator Jeff Thaler '74 and Professor Peter Just. Note that all of these were just in January! If we looked at 2009 as a whole, we would find contributions from a dozen or more current Williams faculty/staff. We have even been retweeted by a trustee!
Several of our authors posted only once or twice during the month, but the diversity of contributions — including spectrum-spanning politics and a 65 year range of graduating classes — make EphBlog the most successful independent (alumni/student/parent) college website in the world. There were 2,388 comments during the month, from dozens of readers. None of the similar student/alumni blogs at Dartmouth, Middlebury, Amherst or Wesleyan come anywhere near this level of participation. Although readership is hard to measure, we had over 1,000 visitors a day in January, with at least 200 from the Williamstown area. Although the vast majority of students/faculty do not read EphBlog, many of those most concerned with the past, present and future of Williams as an institution do. I write for them, and for my father.
Ed Note: At 7:19PST, I added a break to continue this post below the fold. -DS Read more
The Atlantic this week ran a fascinating feature on Eliot Coleman '61, "Maine's Organic Gardening Guru" and the author of The New Organic Grower, Four Season Harvest and the Winter Harvest Handbook. Coleman is a true liberal-arts success story:
[He] started out at Williams College as a geology major, ending up with a master's in Spanish literature, with absolutely no background in agriculture. Apart from having a sense of adventure, and paying attention to the systems already present in nature (a skill that he learned while hiking and mountain-climbing), Coleman got started in agriculture by reading old gardening books from the 1800s, to learn how people grew crops before pesticides and fertilizer. "I'm a Jeffersonian farmer," Coleman said, "I read things."
With his wife, Barbara Damrosch (weekly gardening columnist for the Washington Post), Coleman operates Four Season Farm, a year-round paradise for sustainable agriculture advocates and locavores in Harborside, Maine, on the east side of Penobscot Bay. A favorite of Martha Stewart and Michael Pollan, Coleman is a true believer in small-scale, organic agriculture, challenging conventional wisdom with the claim that "[o]f course organic farming can feed the world."
The Atlantic writer, Yalie Chloe Rossetti, would leave the reader with the impression that by "Jeffersonian," Coleman means merely "well-read," or maybe "student of Monticello agriculture." But a Williams alum might recognize that "Jeffersonian" is a word usually followed by "democracy."  And Coleman indeed appears to be a Jeffersonian democrat. Earlier this year, he penned an article in the online environmental journal Grist, in which he extolls the benefits of small farming not just for the quality of the food it produces, but the freedom to which it contributes:
[T]he small organic farm is one of the most relentlessly subversive forces on the planet.  Over centuries both the communist and the capitalist systems have tried to destroy small farms because small farmers are a threat to the consolidation of absolute power.  Thomas Jefferson said he didn't think we could have democracy unless at least 20% of the population was self-supporting on small farms so they were independent enough to be able to tell an oppressive government to stuff it.
Coleman expresses the same sentiment to Ben Hewitt in Hewitt's book The Town that Food Saved: How One Community Found Vitality in Local Food, observing that "When we feed ourselves, we become unconquerable." And Rossetti does note his concern about the power of government, particularly married to the interests of large corporations:
One of the final questions centered around Senate bill 510, which recently became law and, according to some, makes it illegal to grow, share, trade, or sell homegrown food. Coleman said the bill does not distinguish between large processors and small farms, and stressed that once something like this becomes law, it becomes easy to tweak and tweak it to put smaller growers out of business.
I'd love to know whether Coleman is putting any of Jefferson's lessons to use on his farm the way he does in his philosophy. Probably worth taking a gander at his books to find out more.
Several stories of note from the end of 2010:
Josh Mattana ('11)
I hope everyone is enjoying their holiday season.  Given that we are at the end of the fall semester wrestling competition, I thought I would provide a brief overview of the season to date.
The Eph's are a very talented wrestling team as evidenced by the pre-season coaches' polls where they were ranked 1st in the New England Wrestling Association (NEWA) and 13th in the National Wrestling Coaches Association (NMCA) polls. However, because of lingering injuries and illnesses, the Eph's never had a chance to put their projected starting line-up on the mat at the same time.  Based on the latest polls, the Eph's are 4th in the NEWA and have dropped out of the NWCA.
Williams has two projected starters who have yet to wrestler due to injuries.  Both have been medically cleared to begin competition when the team regroups on January 2nd. Three other starters have been in and out of the line-up due to a variety of injuries and are using this time off to get healthy.  It should be noted that teammates have stepped up and several guys have been wrestling up a weight class (or two) to do whatever is necessary to help the team.  Special recognition goes to Carson Brooks ('14), Darius Charles ('14), Scott Sanderson ('13), Kyle Martin ('12) and Mir Henglin ('13).
In dual meet competition, the Eph's are 3-2 with a program first win over Luther College of Iowa.  In the first half, Ces Antisa ('13) and Ryan Malo ('11) have carried the team and are wrestling extremely well.  In the national polls, Antista is ranked 5th and Malo 2nd. In the NEWA, the Ephs have three wrestlers ranked 1st (Antista, Paulish and Malo), one 3rd (Foote) two 6th (Tanabe and Lomio) and one 7th (Mattana).    
Over the holidays', the Eph's competed in the Wilkes Open and at the Midlands.  Both are highly competitive Division 1 tournaments.  Injuries and the weather limited the Eph's to six participants in the Wilkes Open.  Team results were highlighted by tri-captain Josh Mattana's ('11) fourth place finish at 125.  Heavyweight Colin Curzi ('12) wrestled well and went 2-2, just missing out on placing in the tournament.  The Midlands is hosted by Northeastern University and it is an invitation only event.  This year Ryan Malo ('11) and Corey Paulish ('11) were invited to attend.   Paulish had to withdraw due to injury and Ces Antista ('13) replaced him.  Unfortunately, weather conditions in the Northeast prevented Antista from getting to Chicago in a timely manner and he had to withdraw.  Malo wrestled well and went 1-2 in the tournament against nationally ranked Division 1 competition.
Upcoming key January events include the following:
Bud Whitehill duals at Lycoming College on January 13th and 14th.  This is a twenty team dual meet tournament with teams from across the country.  To the best of my knowledge, this will be the first time Williams competes in this event.
NEWA Dual meet tournament at Bridgewater State on January 23rd.  Williams won this tournament for the first time ever last year and will be looking to defend its title.
NEWA/Metro Conference Duals at The College of New Jersey on January 29th.  Williams will wrestle Hunter College, NYU and TCNJ.  Last year Williams defeated TCNJ for the first time ever and they will be posed for revenge.
The second semester is what separates the men for the boys, and with a little luck in the "health" department, the Eph's should achieve its pre-season potential and peek for the conference tournament and the NCAAs. 
I'll be back in touch after the Bud Whitehill duals with a brief update.
Have a safe and Happy New Year!
The last line of The Front Page. Walter Burns, managing editor, trying to keep Hildy Johnson, his star reporter, and a line-up of Walter Burns
To all EphBlog Readers, Greetings!
The Board of EphBlog has decided that in the interests of running a blog that can respond with alacrity to needs, it might be a smart idea to have a 'Managing Editor' on the premises. I think this is a smart decision. The problems that show up occasionally on the blog need to be handled quickly. Sometimes this is difficult with a board, just because of logistics.
The Board has also decided that since I, a member of the antediluvian class of 1956, am back hanging around the premises again (some might say 'loitering', others might say 'littering'. I don't argue either usage), I should do something useful! Time will tell the wisdom of this appointment.
In the words all too frequently used in a myriad of situations, let me try to 'set expectations' of how I see what I am going to try to do over time.
1. 'Over time'. Don't look for any dramatic OMG changes right out of the box. Any proposed physical changes will take time to make work technically. I depend upon Ken Thomas and Ronit Bhattacharyya to advise on the possible and collaborate with me on the desirable. Readers will see stuff before it happens and any changes will be presented to the Board for approval.
2. 'New Voices'. We have a great lineup of continuing authors now! Thank you one and all for adding to the vitality of EphBlog It is my hope to develop new postings from a broad potential base of authors. I know that 'All Things Eph' has been the impetus for this very successful blog started and continued by David Kane for seven years. I have a belief that the observations of the Eph community on other subject matter may be a part of EphBlog as well. Included in this will be the more active development of facebook and twitter to attract a younger audience.
3. 'Censorship'. My experience the last three years has been that the calls for revisions and/or apologies have been few. Indeed, some were of my own offerings. While I may not follow with avid eye each comment in sometimes exceedingly minute parsings, legal definitions of 'tort', and what constitutes academic writing, I look askance when the language becomes too abusive and not up to the standards of what might expect of representatives of the Williams community. The same holds true for postings.
OK, the rest of my concerns have been for my own wardrobe and makeup. I have the hat , I must learn to chomp a cigar, and I need to be able to shout "Stop the Presses!" with more believability.
Oh, yeah … I am Mr. Assessable himself: dick@swart.org
Hmmm, where is my watch?
Dick Swart
Hood River, Oregon
A few months ago we introduced the new EphBlog board under my leadership. At the time, I issued this invitation:
"If you have ideas, complaints, or criticisms, contact one of us. We will address them. Maybe not to everyone's satisfaction, but we will address them."
It was an invitation that many of you accepted. Based on our experience since then and what we've heard from you, we are appointing Dick Swart to the new position of "Managing Editor." Dick will oversee EphBlog much as a managing editor would oversee an online magazine, by helping to recruit contributions, develop longer stories, organize and schedule posts, and provide input to EphBlog authors on style, tone, and content. And by having Dick as the principal point of contact for your ideas and concerns, we hope EphBlog can be more responsive as day-to-day issues arise.
The managing editor will report directly to the board, which will continue to provide oversight. The board will also continue to be the final arbiter of major disputes and will be responsible for major policy and other changes.
Ken Thomas and Ronit Bhattacharya will continue to serve in the capacity of EphBlog Administrators. Their role will be to carry out the technical wishes of the board and Managing Editor, and we hope to use their skills to adopt a new format and layout for EphBlog in the next few months.
As always, we welcome your input and we look forward to hearing your suggestions about EphBlog.
I am going to step into DCat's role today, and hopefully help fill a slow week.  Per PTC's suggestion, let's go with top movie comedies.  Criteria include number of scenes that made me laugh out loud on the first few viewings, rewatchability, originality, quotability, memorable scenes / characters, and how iconic the film is. 
I've excluded from consideration movies that are more in the realm of dark humor / drama-comedies (Dr. Strangelove, Being John Malkovich, Fargo, The Graduate would all otherwise be strong contenders, as all are among my favorite movies of all time) as well as action-comedies along the lines of Back to the Future and Midnight Run.  I am also excluding films that are unintentionally comedic, such as Battlefield Earth.  So bascially, we are talking straight-up, unambiguous comedies.  With that caveat, here goes:
1. The Big Lebowksi — an easy pick for number one.  Every scene, every character, every line of dialogue is perfect. Endlessly rewatchable.  And no other comedy has created an entire mini-economy akin to the annual Lebowski fests. 
2. This is Spinal Tap — because it goes to eleven. 
3. Flirting With Disaster — few others would rank this so high, but this movie is incredibly underrated.  Ben Stiller in the quintessential Stiller role, and an amazing supporting comedic cast including George Segal, Mary Tyler Moore, Lily Tomlin, and Alan Alda, all at their very best.  Warrants admiration despite being directed by a Lord Jeff.   
4. The 40 Year Old Virgin — endlessly rewatchable, and by far the best of the Apatow films.  Star-marking turns for Carrell, Rudd, and Rogen. 
5. Caddyshack — the Danny Noonan portions are now borderline unwatchable, but the Murray / Chase / Dangerfield / Ted Knight quartet is impossible to top.  Remains the most quotable comedy of all time. 
6. Bad Santa — so wrong, and so brilliant.  Plus, in a strange way, with a heart. 
7. Best in Show — the best of the Chrsitopher Guest-directed mockumentaries.  "Rhapsody-in-White has two mommies." 
8. The Freshman — another chronically underrated movie.  Brando's self-parody is incredible.  Lots of subtle, dry brilliance from comedy genius Andrew Bergman here, in a totally original film.
9. Fast Times at Ridgemont High — Spicoli remains the best stoner character ever.  And no one can lovingly mock high school better than Amy Heckerling. 
10. Groundhog Day — Bill Murray at his very best. Inventive and somehow never gets boring despite endless repetition. Watch out for that first step …
11. A Fish Called Wanda — Kevin Kline and Michael Palin are brilliantly over the top, but John Cleese's genius drives the show.
12. Monty Python and the Search for the Holy Grail — needs no justification.
13. Stepbrothers — something about this movie just absolutely cracks me up. And I can't really explain it.
14. Everything You Always Wanted to Know About Sex …  — have to include at least one Woody Allen film, and the Gene Wilder Daisy vignette is as good as it gets, with the sperm vignette not far behind.        
15. Brain Candy — another controversial choice, perhaps, but this is the Kids in the Hall at their very best, and has a few truly brilliant sequences.  Also, a dead-on parody of the pharma industry.                                                                                                                        
Also considered, and difficult to omit in many cases: Anchorman, Happy Gilmore, Billy Madison, The Hangover, Old School, Animal House (I know, I know, but feels dated now), The Blues Brothers (ditto), The Jerk, Trading Places, Ghostbusters, Stir Crazy, The Naked Gun, The History of the World Part I, School of Rock (another underrated personal favorite), Young Frankenstein, The Producers, Beverly Hills Cop, Zoolander, Harold and Kumar Go To White Castle, Clueless (dang I hate to exclude that one, but I already have one from Heckerling), There's Something About Mary, Team America: World Police, Mighty Aphrodite.
Special mention: Freddy Got Fingered — Tom Green vehicle that is beyond bizarre, but is strangely compelling / brilliant.
Will Slack '11 writes to a pre-frosh.
Williams is great in that it's taught me a huge deal in critical thinking, such that I can solidly say that my school is going to share many aspects of other top-notch schools. The students here are great, super busy, and the campuses still have issues, but at this tier of higher ed, every department and program is notable and strong. You can major in anything here and be FINE.

Here are the things that make Williams different, which should clue you in as to if you want to be here:

Small. 550 per class is smaller than you think. You can't hide in class, and you can't hide from your ex's, but on the bright side, you will see your professors at the grocery store and some of your friends as you walk around. I love the little impromptu conversations that only happen because we're small. BUT, that might mean we can't offer all of the courses and subjects as regularly as other schools. We do our best to do that, but we can't hit maximum breadth and depth in the course offerings at the same time because of size. You'll see this in the "not offered" courses in the catalog.

Accessible. Lots of dorms have elevators, but I don't mean in the physical sense. The Dean is a personal friend of mine. The President knows my name, as does his predecessor. My professors are fine with me stopping by and many keep their doors open all of the time. I can see profs whose classes I'm not taking (because they aren't great at lecture), but who I love talking to in office hours. If I (admittedly, a now-senior involved in college governance) need the Dean to call ME, RIGHT NOW, I can get that call, and got it today.

Middle of Nowhere. We have lots of trails, but one street where the one indian restaurant, the one thai restaurant, the one coffee shop, and the one deli are located. (and the one others). We live in a "Purple Bubble" where almost everyone is fit, almost everyone is smart, and where the problems of the outside world don't really reach us. We are isolated. But we also have Mountain Day, a Friday in October when classes are canceled (without warning) and huge numbers of students stream up mountain trails to sing songs and have donuts/cider on Stony Ledge. It's AWESOME, and there's a shorter hike also with donuts at the top of Stone Hill if you want to spend your afternoon doing something else.
Agreed. What observations would you share with a potential Eph?
Great Record op-ed by Julia Drake:
In a recent English class, a student raised his hand during the professor's typical preamble to discussion. Generally, it's given that the professor has the floor at this moment, but despite the apparent interruption, our professor paused and nodded to the hand-raiser, who then asked, "Sorry – what does that word mean?"

I was floored. It seemed like our professor was a bit surprised too, but he gave a succinct definition of "deracinated" before carrying on. I sort of knew what it meant – I could have given some vague definition – but I was amazed that, in the three years and change I've spent Williams, I had never heard a student ask for a word's definition. This is even stranger given that I have spent much of my time here in small Spanish seminars, recently grappling with Gabriel García Márquez's inexhaustible vocabulary, half of which can't even be found in a dictionary.

Professors have said a million words that I don't understand, and I always just let it go. But hearing this question posed for the first time (and as a senior no less), I noticed more and more how reluctant students are to ask, not to mention answer, the most basic questions.
Read the whole thing.
This isn't the first time that Ed Schmidt '84 has staged a play inside his home, but according to the title of his latest production, My Last Play, it is to be the last.
Who knows if it's true? Who cares? With only twelve tickets available for each show, get there while you can. Jason Zinoman explains in
a New York Times review
:
In his first-act monologue, which takes place in his living room, he describes his history of being overlooked and under-produced in wrenching detail, mixing in stories about the death and decline of great playwrights. He says he is now the same age as Shakespeare was at death (before qualifying the statement). Before going upstairs for intermission, he tells each audience member to choose a book from his shelves, and when he returns, he asks his guests to move their chairs in a circle. Then he tells a story about each book that will now be leaving his house.

Old, graying books have history and character, and his melancholy musings on them remind us that the physical object has an emotional impact that the Kindle cannot imitate. This show is about the moving power of books as much as that of the theater.
Pretty awesome. I'm not sure I can make it before Schmidt runs out of books — but if anyone here does, I hope you'll let us know how it goes (and what book you took home!).

"How deep was it, GrandPa? Did you have to go to school? Did your latte freeze?"
For those of you freezing your lattes off, take a moment to share those storm disasters right here on that blog of bad weather, EphBlog!
Remember, your current/future progeny are counting on you to bore their ears off with your stories!
'Comment' is shoveled out and open for business …

This is a meander through the dust of what is left of my mind on Boxing Day.
I wasn't raised with Boxing Day, but over the years through family members and friends, I have learned that after the hectic days/nights of assembling part A to part B (missing) and dealing with the search for the ideal tree, and getting the 24th ready at last for the 25th, it is the 26th that provides those less-tension filled hours and offers a relaxed time to visit with friends, walk down to the pub with the dog for a drink (if you happen to have a dog that drinks), and just sit around and enjoy company even if it just your own company.
It is too bad Boxing Day (when the British more-elite would put old stuff in boxes to take to the less-fortunate) has never cought on here. It would be good for everyones blood pressure.
But I meander (as warned above). Neckties. I still wear one on Christmas. But I have moved from that nice silk Brooks Brothers number from the late 60's, still labeled Brooks Brothers Makers. All Silk, Made in the USA. to the startling piece of red/orange polyester proudly produced by a firm in the opening economy of China that I wore Christmas Eve and Christmas.
It seems that wearing a tie, at least here in the 'Dude 'n' Fleece' capitol of the NW, marks one as an Old Guy, never mind the actual years attained. And so, I thought, I'll get this blown-lunch necktie as an obvious joke on the expectations of traditionalists' behavior. No luck, still a tie.
Well, I ask you. Do you wear a tie at Christmas and/or other days? If you are a woman, does your significant/insignificant other opt for this sartorial affectation? And what does this bode for humanity as we know/knew it?
The necktie: signifier of class distinction or a piece of bad polyester that should have the warning "Do not wear near an open flame".
Over five years ago, the Springstreakers became a mini-phenomenon in the national news (or at least, a phenomenon by Billsville standards).  The group has, apparently, been active as recently as Spring of 2010.  You can read more about some of the Springstreakers' adventures (which continued through at least 2008) on their WSO and Facebook page, as well as in this Record interview with co-founder Morgan Goodwin '08.
For those curious, here are the four rules of streaking:
1. Only streak sober. Streaking is not a shameful act and therefore should not need the influence of substances to convince you into doing it.
2. Don't streak little kids. Parents would get angry.
3. Don't streak anything with an inordinately high risk of getting caught.
4. Don't streak anything unworthy of getting streaked. Such events include sparsely populated events, unpopular events, things that have been streaked before and things that are unimaginative, eg. run-of-the-mill sporting events.
Before there was 'The Breakfast Club' movie in 1987, there was the original 'The Breakfast Club' radio wake-up show that ran for 35 1/2 years from June 23, 1933 through December 27, 1968. with Don McNeill as host.
It was corny with jokes, and tunes, and comic characters, and marches around the breakfast table. Maybe it served the needs of first, a Depression audience, and then a war-time audience, and then a Cold War audience atune to 'Duck and Cover'.
McNeill's 35 years surpass Carson's 29 on the Tonight show. McNeill had that midwest touch and people loved him, corn and all. It was a reassuring show that fit with the AM time period.
McNeill worked without a script and just spoke to people one at a time. In those war times of 1944 he added a moment of silent prayer to this radio program.
It seems a fitting idea to remember it, at this time on this day:
"Each in his own words, each in his own way, for a world united in peace — bow your heads — and pray."
Dick Swart
Hood River, Oregon
American poet and journalist Eugene Field was a non-graduating Eph of the class of 1872. According to Leverett Wilson Spring's A History of Williams College, President Hopkins is said to have ordered his withdrawal from the College because "he gave little attention to his proper duties" and "much disturbed the orderly life of Williamstown."
According to Slason Thompson's 1901 biography of Field, he frequently — but erroneously — referred to Christmas Treasures as his first poem:
I count my treasures o'er with care, —
The little toy my darling knew,
A little sock of faded hue,
A little lock of golden hair.

Long years ago this holy time,
My little one — my all to me —
Sat robed in white upon my knee,
And heard the merry Christmas chime.

Tell me, my little golden-head,
If Santa Claus should come to-night,
What shall he bring my baby bright, —
What treasure for my boy? I said.

And then he named this little toy,
While in his round and mournful eyes
There came a look of sweet surprise,
That spake his quiet, trustful joy.

And as he lisped his evening prayer
He asked the boon with childish grace;
Then, toddling to the chimney-place,
He hung this little stocking there.

That night, while lengthening shadows crept.
I saw the white-winged angels come
With singing to our lowly home
And kiss my darling as he slept.

They must have heard his little prayer,
For in the morn, with rapturous face,
He toddled to the chimney-place,
And found this little treasure there.

They came again one Christmas-tide, —
That angel host, so fair and white;
And, singing all that glorious night,
They lured my darling from my side.

A little sock, a little toy,
A little lock of golden hair,
The Christmas music on the air,
A watching for my baby boy!

But if again that angel train
And golden-head come back for me,
To bear me to Eternity,
My watching will not be in vain.
Merry Christmas to all, and Happy Holidays!
First off, happy holidays to everyone in our little community. Ephblog is much like a typical family gathering at this time of year — there is lots of love and lots of warmth until somebody starts a fight and screws it all up.
The week's debate is in keeping with the themes of the holiday. Basically, what is the best and worst holiday "stuff" (very writerly, that)? Here are my lists (as always, subject to change.)
BEST
5. Festivus: Because Frank Costanza kind of got right to the heart of the season, didn't he?
5b. Grinch: The song (written for my vocal range!) and the brilliant animated special. I cannot believe this one slipped my mind in my original draft of this list.
4. Eggnog: This one will, I know, be controversial. Eggnog is one of those things, like foot fetishes and Coldplay, that some people love and that some people don't get the love for. Count me in as loving eggnog. Starbucks eggnog latte? Hell. And. Yes. I saw an episode of Iron Chef America the other day for which the secret ingredient was eggnog. I spent the hour in a state of arousal. I suspect that the McRibbish-ly short time span when eggnog is available helps explain the allure (I think the McRib is gross, by the way). I bet I'd be sick of eggnog if I could drink it on a random Tuesday in March. But I can't. And while I love me some alcohol, I almost never drink spiked eggnog, so I cannot even attribute its allure to some Pavlovian drunkard reflex. Weird, eh?
3. Peace on Earth Presents! Presents!! Presents!!!: Yeah, yeah, yeah. This is the season of giving. And I love the look on my wife's face when I hit a gift out of the park (largely because she makes it so very clear when I pop one out to the catcher) or the reaction on my nephew/godson's face when he sees the bundle of loot awaiting him. (The gloriously unabashed greed of children could easily be on this list.) But I also love me some presents. Which is really a bit odd in some ways. Being a dual-professor household means that we may never get rich, but we live a pretty comfortable lifestyle. And we both grew up quite poor, so we are aware of our good fortune. But it also means that if I want something I can go out and buy it. Hell, Christmas shopping usually provides a pretty good excuse to get myself stuff. But I still get annoyed when I'm at a Christmas event where presents are going out and I'm a peripheral figure and so I know damned well that maybe one of those gifts is devoted to me and it's likely to be something pretty much useless. That sucks.
2. Vince Guaraldi's soundtrack to A Charlie Brown Christmas: So good. Just so good. I am lazy and a bit of a moron, so when I play my iTunes on shuffle — which is pretty much constantly in my office or when I am listening to my iPod — I just listen to my whole collection of music. It's a pretty vast collection, some 20,000 songs or so, with about 300 Christmas songs on it, because a couple of years ago I got my wife an iPod shuffle on which I put all of the Christmas songs in her and my collection, which meant downloading a ton of cd's onto the iTunes. (She loves Christmas music, and this was her second iPod — I did the same thing the year before with her favorite music on it, which I'm telling you just so that you don't think she's a freak.) This means that every so often in July, when it's 110 in West Texas, "White Christmas" will pop up on my speakers. I click ahead to the next song. Unless it's the Vince Guaraldi Trio. (Not everyone agrees with me about Charlie Brown, by the way. And as long as I'm linking stuff . . .)
1. White Christmases, the Smell of Evergreens, and the Idea of Tradition: I grew up in New Hampshire. So for me Christmas is supposed to be white, the house is supposed to smell of a real evergreen tree, needles are supposed to be everywhere, and someone is supposed to say something horrible to someone else at one of the family Christmas events, causing a death spiral of recrimination. I am in San Antonio as I write this. It's 71 degrees — down from 84 earlier in the week in Odessa. A real Christmas tree would cost more than my car and so we have a fake tree (as does everyone whose house I've been in this month), which my 18-year-old self would recoil from in disgust (I'm with ya, you dorky little shit.) The only smell of evergreen comes from candles Mrs. dcat found at some overpriced shop. And it's highly unlikely that anyone in my Mexican American wife's family will say something horribly racist tomorrow. Sigh.
WORST
5. 90% of all Christmas music written after 1960: Oh, there is some good stuff. But let's face it: Most of it sucks. For every good one you can point out to me I can find ten treacly blobs of reindeer poop.
4. Other Kinds of Nog: Oh Northern Oil and Gas, I hate you so much! (From the Editors: Ephblog lawyers insisted we include the following: This is intended as satire and not as an actual aspersion on the good folks at Northern Oil and Gas, Inc. "Energy. Exploration. Experience." You had us at energy.)
3. Guilt: Did the gift I bought him equal in value the gift he bought me? Did we take enough Angel Tree cards this year? Is coming to Starbucks on Christmas Eve day to write a smartass post for Ephblog really the best use of my time during these precious days with family? Should I be sneaking off to watch the Celtics-Magic game smack dab in the middle of Christmas Day at the wife's cousin's house? (Answers: probably — he's a cheap bastard; I hope so, but every one left on the tree is a little dagger; in my defense it's a cookie-baking madhouse over there; Hell yeah I should. See — when you break it down I'm not THAT much of a prick.)
2. Christmas in October: When I'm king of the world — oh, it will happen people, and then the Festivus airing of grievances won't be so fun for some of you — Christmas decorations, ads, or music are not allowed until the day after Thanksgiving. Period. Unless you play the Vince Guaraldi trio. Hey — a foolish consistency is the hobgoblin of little minds.
1. The "Controversy" over "The War on Christmas": Ok, let's get it straight: Christians, this is not just your time of year. Hell, you appropriated it from the pagans, moving your holiday (Christ was born in March or April or something) in order to co-opt theirs. For ages the end of the year has been a time of celebration and commemoration. Kwanzaa is "made up"? Well so is every goddamned holiday that ever existed. Hannukah isn't actually that important a holiday on the Jewish calendar? Why do you care? I say "Happy Holidays" rather than Merry Christmas? Where to begin with this one. For one thing, the root words of "Holidays" are, guess what you ignorant troglodyte, "holy days".  And I don't know the religious or cultural background of everyone I run into. Maybe they are Jewish. Or Muslim. Or Wiccan. Or British (they say "Happy Christmas" — why is Fox News declaring war on happiness?) . Or maybe they worship the trees. Or maybe they know that even in the 1950s people said "happy holidays" because it's not some liberal neologism. Or maybe I also want you to have a Happy New Year and a glorious Boxing Day. Or maybe there are a million different reasons why I say "happy holidays" and none of them have anything to do with waging war on Christmas. Now give me my damned presents, hand me that eggnog (hey, is that brandy?), turn up "Christmastime is Here," and give me a minute, because I want to call my Mom to wish her, yes, a Merry Christmas.
And to all of you I wish nothing but the best during this holiday season, whatever the hell you call it.
A former Williams administrator provided these comments on the early retirement program.
The staff retirement incentive was fair, in the middle of the pack of other school's retirement incentives – a week's pay for every year served. It's rumored six faculty chose their package, a different package from the staff's. Does that suggest faculty didn't see it as generous or even fair? Some faculty member have opined they could do as well negotiating their own retirement packages, whenever they chose to retire.
The fact that so few faculty members choose the package highlights the issues Williams faces with tenure. Greg Avis and the Trustees ought to look closely at this problem. The obvious solution is to replace lifetime tenure with tenure-till-65 contracts. After 65, faculty members who want to keep teaching (and who Williams wants to employ) could stay on in an at-will capacity.
Henry Bass '57 shared these memories of Professor Robert Gaudino:
I well remember the excitement caused by the arrival of Bob Gaudino in the fall of 1955 when I was a junior. We were living in the complacent 50's with the solidly conservative Ike as our president. And Williams was even more conservative than the US generally. There was a story in the national press at that time that a poll showed that Princeton students were only the second most Republican in the country, top honors having been taken by Williams.

Gaudino we soon learned was a radical not only in political philosophy but on campus issues. Soon after his arrival he sought me out knowing that I favored a radical solution to the fraternity problem and we had many long conversations on how to change campus life at Williams for the better. He very much wanted to get the student viewpoint, especially the students who thought campus life was less than perfect. He always showed great respect to us telling us we knew more about campus issues than he did.

Knowing how radical Gaudino was I knew early in the fall of '55 there was only an amount of time, before there would be a public confrontation between Gaudino and President Baxter. Lively discussions of campus issues then took place in the new Baxter Hall. We did not have long to wait. I don't remember what the argument was about. I do remember that it was quite heated and that Phinney soon showed signs of losing his temper. And acrimonious debates with the president of Williams did not happen in those days.

One thing you must understand about Williams of that day. That is how important Anne Baxter, Phinney's wife was. Anne Baxter might well have been the most influential college president's wife in the country. She was very bright and wonderful with dealing with people and President Baxter respected her immensely. She knew how to keep Phinney out of trouble with potential trouble-makers. She would invite any faculty or administration member with whom Phinney was having disagreements to lunch and would give the trouble- maker her ear and try to win the fellow over. And figure out how to defuse the situation.

As the discussion continued that night in Baxter, just minutes after that first confrontation between Gaudino and the president, Anne Baxter, went right over to Gaudino and started talking privately to him. No one knew what she whispered to him, but we guessed that after expressing partial agreement with his ideas, she invited him to lunch.

Anne Baxter went after Gaudino like no one she had ever courted. Meeting after meeting took place. She wanted to know exactly how he would like to change Williams. Gaudino was at first skeptical. But, soon became convinced she was really listening. And Gaudino was won over after she arranged for Gaudino to express his concerns directly to the president, who listened with respect.

I have little doubt that without Anne Baxter, Gaudino would have either been fired or that Gaudino would have soon left Williams in disgust. I suspect Anne Baxter convinced Phinney that Gaudino would be a wonderful addition to the community and convinced Gaudino that it would be worthwhile for him to devote his life to changing Williams.
Thanks to Henry for sharing these memories.
Did any readers have Gaudino as a professor?
I am preparing my essay for this January's seminar. (I trust you have all started the reading. And we still have one open slot. Volunteer today!)
I need an example of a large, well-run lecture class from this past semester. Did you take such a class? Did one of your friends? Please, tell me some details! Which class? Which professor? Can you send me (or post) a copy of the syllabus? What were the lectures like? What was the best part?
Again, I am looking for an example of a good class, a class that, despite having 40+ students, was a credit to Williams and to the faculty/department that ran it. Help me out!
Why do I want to know about such a class? Read Mark Hopkin's induction address (pdf) to find out . . .
One of Hacker and Dreifus's recommendations about how to improve American higher education is to "Demand the 'Golden Dozen' deliver." Yet even with the questionable metric for "delivery" that they've chosen, they wrongly conclude that Williams – and some other members of the Golden Dozen, such as Princeton and Yale, are failing to deliver. 
Hacker and Dreifus begin their critique by defining the "mission" of the "Golden Dozen." They claim to find it in statements by Princeton that the university's "mission is to educate national leaders." Is that a claim Williams makes about its mission? Harvard? Brown?  As an alum, I take pride in the leadership accomplishments of Ephs, and I'm sure most of the Williams community does as well. But is that the College's "mission"? The statement of "Mission and Purposes" adopted by the Board of Trustees in 2007 doesn't go that way: 
Williams seeks to provide the finest possible liberal arts education by nurturing in students the academic and civic virtues, and their related traits of character. Academic virtues include the capacities to explore widely and deeply, think critically, reason empirically, express clearly, and connect ideas creatively. Civic virtues include commitment to engage both the broad public realm and community life, and the skills to do so effectively… [T]he College's greatest mark on the world consists of this: the contributions our alumni make in their professions, their communities, and their personal lives. 
At a minimum, Williams puts the "personal" on par with the professional and the community. And "community" can be defined in many ways other than "national." 
And to celebrate, Williams beats Amherst
yet again
.
U.S. News has released its list of "
Best Colleges for Winter Enthusiasts
." Not surprisingly, Williams is on it. Those Connecticut Valley winter-haters who fled when the going got tough?
Not so much:
A cold, crisp breeze; fresh snow; and access to skiing and snowboarding: Some students end their college search after finding a campus with these three elements. If winter weather tops your college wish list, then these schools are for you…

Winter at Williams College, in Williamstown, Mass., is a new experience for more than half of the students that hail from beyond the Snowbelt and the school works hard to welcome them. The Williams Outing Club offers free rentals and lessons in everything from skiing and ice climbing to snowshoeing and winter camping.
The accompanying U.S. News photo (not Diana's lovely accompaniment to this post), by Williamstown photographer
Kevin Kennefick
, showcases two women from the nordic skiing team.
Dartmouth's Winter Carnival and Middlebury's winter term are the bases for their respective inclusion in the list (limited space excuses that Williams Winter Study and Winter Carnival go unmentioned). The other schools listed are all out west:  Montana, Colorado-Boulder, the University of Utah, the University of Wyoming, and Sierra Nevada College. 
It's a good thing U.S. News is only ranking American colleges. If the U.K. were included, Williams might have some further competition right now. Hope nobody here has plans to cross the Atlantic for the holidays — or is stuck on the far side trying to get back!
Chad Orzel '93 does not think that science is solitary.
There was never any point, from my undergrad days on up through my post-doc, when I felt that physics was a solitary endeavor.

As an undergrad, I always worked with other people on problem sets. In my first couple of years, I worked with a couple of guys who had lived in the same freshman dorm with me. After that, there was a group of 3-5 of us who used to get together in the Physics library and do homework. Talking through problems as a group helped us all understand things better than any of us could've done alone.

My undergrad thesis project involved another student in my class, who was available for moral support, lab assistance, and to beat my high scores on the freeware video games we had on the office computers. There were also other students doing research, and even the faculty were around to provide help and suggestions.
Orzel is surely right. What was your experience of science at Williams?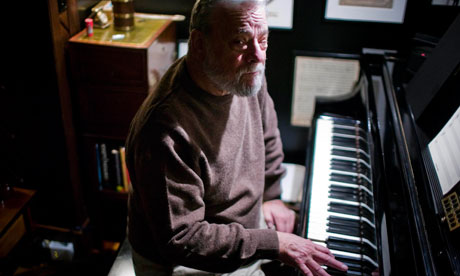 This excellent profile of Stephen Sondheim in The Guardian includes an instructive Williams anecdote:
Initially a maths student at Williams College in Massachusetts, the young Sondheim took an elective course in music with no intention of pursuing it. During the first lecture, the students were played Debussy's La Mer, and the lecturer asked: "what does it sound like to you? Does it sound like the sea? Doesn't sound like it to me." Something in Sondheim rose up and responded, both to the down-to-earth approach and to the understanding that "music has that remarkable quality of suggesting things without being specific. It's an abstract art and yet it's an emotional one, and that's what makes it so remarkable." The music teacher in question changed his life. "He was very spit-spot Mary Poppins – he took all the romance out of music – and that appealed to me. I believe in it. I believe that, far from demystifying it, it makes things clearer and, in a sense, adds to the mystery of creation. Because the desire to make form out of chaos is why we write."

The more precise, and concise, a lyric, the more likely it is to liberate the ideas behind it. "I think the more restrictive, the freer it is. It's always been true. If you're locked in a room, you explore all the corners." Of course, he says, "Tolstoy might disagree. There are people who like to over-write, and who are effective at over-writing. Particularly the Russians." He points to Hammerstein's lyrics, which at their best illustrate how something ordinary on the page can be transformed in performance. "'Oh what a beautiful morning / oh what a beautiful day.' Nothing could be more banal," Sondheim says. "But that song changed the history of musical theatre." And it did so through simplicity, clarity and repetition.
Reposted from a D3hoops.com public message board:
I attended a talk/discussion of student/athletes at Amherst that included students, profs. and led by the AD.  Several bits of info that may be of interest to posters:
 1. Amherst was most pleased the past year to get a high number of top students who are also "stars" in their sports.  These are students that will be impact players and do not require "tips" or whatever they are called in admissions.  I forget the "label" the AD put on them….1A?.
  2. Amherst is incorporating a program that introduce professors with students that play sports.  Teams have faculty advisors and players work on community service  projects with faculty, etc……all to reduce any "division" in perception mainly…between teachers and sport playing students.  Varsity sports should be considered at Amherst as any other activity outside of class such as publications,  singing, etc.   It seems to be going well.
  3. Coaches are taking a more aggressive approach in recruiting due to the changing world of college recruiting … even in Div3.
The recruits are more knowledgeable about options, and top recruits are involved in their sports outside of high school….such as AAU/club teams and for longer periods of the year.
  4. Once top impact students are identified, willing professors are encouraged to "recruit" the individual.
  5. There are "particular" events that conference coaches are allowed to attend to see players and to be seen.  These region wide events in a given sport bring together players that have been considered qualified academically for IVY schools, Patriot League schools, UAA, NESCAC, etc.  
Point one had been mentioned here previously.  If true for Amherst and not for Williams (I have no idea either way), that is something Williams needs to work on — to the extent non-tipped athletes go on to become stars and not just minor contributors, that is a huge advantage when both schools are constrained to 66 tips, in total (and Williams is already at a slight disadvantage since those tips are allocated among more varsity sports than at Amherst). 
Point five I've also heard before, and point three does not surprise me.  But points two and four are very interesting.  I wonder if Williams does the same thing?  I think that, time permitting, professors calling admitted students generally (not just athletes) makes a lot of sense.  And while Williams teams are very active in community service (see the most recent examples here), I'm not sure whether they work together with professors on any of those projects.  I wonder also if Williams teams have faculty advisors.  Sounds like some ideas that are worthy of consideration.
Swarthmore's Daily Gazette has mentioned EphBlog twice in the last few years:
Endowment Strong Despite Economic Turmoil
According to notes from a presidential speech posted on EphBlog, Williams may have lost up to 30% of its endowment, going from $1.9 to 1.3 billion. The college spent 4.1% of the endowment last year, but their president Morty Schapiro has announced plans to draw 7% of the endowment this year in order to make up budget shortfalls. Furthermore, Williams is putting off current building and renovation projects, instituting a hiring freeze, and potentially increasing class size to grow the tuition revenue stream.
College Considers Big Cuts in 2010-2011
This caution meant that Swarthmore has significantly less debt than many peer schools. In 2008, Swarthmore had debt of $184.5 million, all at fixed interest rates, according to the Investment Office's Financial Conditions report released yesterday. The document also concluded that "Swarthmore is relatively better-positioned than many other institutions."

Williams, by contrast, has roughly $240 million in debt. In financial downturns, debt decreases liquidity and can cost schools. The Eph Blog speculated that Williams' debt cost the school millions.
Thanks for the love Swarthmore!
The summer of 2011 will bring David Strathairn '70 to Syfy (formerly the SciFi Channel) as the lead in a new series, Alphas. Hopefully Strathairn has been a Williams Trivia participant, because this action-adventure series will tell the story of "a team of ordinary citizens whose brain anomalies imbue them with extraordinary mental and physical abilities." 
Strathairn will be joined by a group of unknowns; perhaps the most recognizable member of the supporting cast is Ryan Cartwright, best known for playing trivia-loving intern Vincent Nigel-Murray on the Fox procedural Bones (he'll be ready to fit right in!). Others cast include Warren Christie, Malik Yoba and Laura Mennell.
No word on what Syfy's Executive VP of Programming, Tom Vitale '86, thinks of having Strathairn join the Syfy geek club. Syfy instead sent out his colleague (peer?), Syfy's "Executive VP of Original Content," Mark Stern, to make the announcement:
Eleven episodes have been ordered in addition to the 90-minute pilot directed by Jack Bender, director and executive producer of "Lost," Syfy said.

"With each step in the development and production of 'Alphas,' we knew we were onto something very exciting," Stern said in a statement Wednesday. "Under Gail and Lloyd's leadership, Zak and Michael created a smart, fast-paced script that attracted an amazing director in Jack Bender and an incredible cast. We couldn't be happier to see this first-rate project come to fruition as a Syfy series."
In contrast to his successful turns in film and on stage, the talented Strathairn has dabbled in a lot of TV with decidedly mixed results, including a three-episode arc on The Sopranos, a major role as an FBI agent on the failed series The Big Apple, and a bevy of guest appearances (most recently on House). I'll be sure to remind everyone to tune in when Alphas takes its first bow.
Open "EphBlog front porch" thread– no explicit Williams reference. But since it's a sunny Saturday afternoon here in Western Kentucky, I didn't think anyone would mind. Pull up a chair and say something if you'd like; I'm going to be raking the yard.
The Williams Facebook page has (as of December 16) 5587 fans (and counting), as compared to 4076 for Amherst.  The new Eph Alum Facebook page (2643 fans) is likewise already more popular than its Amherst counterpart (1998 fans).*  The Williams Athletics page is also very popular, with 1299 fans; there is no direct Amherst equivalent, and the closest approximation has only 206 fans . . . yet another way in which Williams College kicks Amherst in the butt.
Will Slack '11 summarized other Williams pages on Facebook (and elsewhere) in this useful post.  Hopefully, Williams' soon-to-be-hired new webmeister will create a single, fully comprehensive, centralized directory of Williams-related sites on the web.
[By the way, for those interested in the two huge Williams spikes in the Google Trends chart in the link included above, they correspond to two events: College Gameday on campus in November, 2007, and the release of the Forbes rankings on August 12, 2010.  Those are, by far, the two highest search days for Williams in Google history].
* a fair-minded observer would note that Williams does have more alumni than Amherst.  I am not a fair-minded observer.
The end of the year is a time for transitions. What shall we take with us and what shall we leave behind?
I have never forgotten that I am a Williams man, and . . . if there is any one thing in the world of which I am proud almost to foolishness, it is that fact.

— Gaius Charles Bolin, class of 1889. Quoted in Williams at Two Hundred.
As are we all.