Mon 20 Dec 2010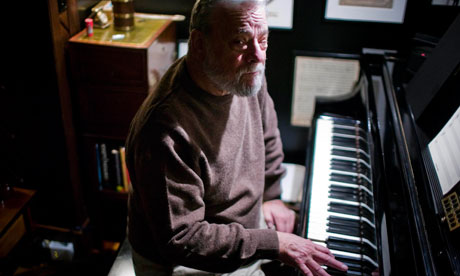 This excellent profile of Stephen Sondheim in The Guardian includes an instructive Williams anecdote:
Initially a maths student at Williams College in Massachusetts, the young Sondheim took an elective course in music with no intention of pursuing it. During the first lecture, the students were played Debussy's La Mer, and the lecturer asked: "what does it sound like to you? Does it sound like the sea? Doesn't sound like it to me." Something in Sondheim rose up and responded, both to the down-to-earth approach and to the understanding that "music has that remarkable quality of suggesting things without being specific. It's an abstract art and yet it's an emotional one, and that's what makes it so remarkable." The music teacher in question changed his life. "He was very spit-spot Mary Poppins – he took all the romance out of music – and that appealed to me. I believe in it. I believe that, far from demystifying it, it makes things clearer and, in a sense, adds to the mystery of creation. Because the desire to make form out of chaos is why we write."

The more precise, and concise, a lyric, the more likely it is to liberate the ideas behind it. "I think the more restrictive, the freer it is. It's always been true. If you're locked in a room, you explore all the corners." Of course, he says, "Tolstoy might disagree. There are people who like to over-write, and who are effective at over-writing. Particularly the Russians." He points to Hammerstein's lyrics, which at their best illustrate how something ordinary on the page can be transformed in performance. "'Oh what a beautiful morning / oh what a beautiful day.' Nothing could be more banal," Sondheim says. "But that song changed the history of musical theatre." And it did so through simplicity, clarity and repetition.
Comments Off

on Does it sound like the sea?
Print • Email
---
No Responses to "Does it sound like the sea?"
You can follow this conversation by subscribing to the comment feed for this post
If a comment you submitted does not show up, please email us at eph at ephblog dot com. Please note that commenters are required to use a valid email address when submitting comments.