Currently browsing the archives for July 2018
"Beyond the Log: Williams Presidents in the Gentleman's Era" (pdf) is a product of the Williams Oral History Project, led by Bob Stegeman '60. It features a discussion with Professors Fred Rudolph '42 and John Hyde '52, along with former President John Chandler about Williams presidents from Paul Ansel Chadbourne (1872-81) to Tyler Dennett (1934-37). Let's spend three weeks discussing it. Day 7.
John Chandler: You've told us a lot about how Williams became a rich man's college, the various steps on the way. But a somewhat different question is why it got to be that way. What about Williams attracted rich students, and their parents who paid the bills and presumably encouraged them to apply?

Fred Rudolph: There are lots of reasons why Williams became a rich man's college. I'm always fascinated with trying to figure out why Williams became The College for rich men. Not that rich men didn't go everywhere else, but Williams was the one that got tagged, and clearly if you're the last college in the country with a four-year Latin requirement, you're limiting your pool to rich men who go to private schools. But how did they start coming in great numbers? There's plenty of evidence in student letters, fraternity lore, and administrators' experience that many rich kids came to Williams to belong to a fraternity, not to come to Williams. Certainly instructive on this score was the experience of the College's great benefactor, Frederick Ferris Thompson, who transferred from Columbia in 1853 for the express purpose of founding a chapter of Delta Psi (he had wanted to take Delta Psi to Dartmouth but was denied admission because of his age).

Williams' location, the scenery, the mountains, the resort element of its environment—all these factors were part of the appeal for rich families and their sons. Williamstown had resort hotels beginning in the 1840s, and you can imagine people coming to those hotels: the Mansion House, then Greylock, saying, "Wouldn't it be nice if junior came to Williams?" Then there was the kind of nature worship that developed as the country became more urbanized, and that appealed to wealthy people.
But was Williams more or less of a "rich man's college" than, say, Amherst and Swarthmore during this period? See also Eric's discussion of the Social Register crowd.
Reasonable Ephs can differ about just how many rich kids Williams should want to have today. But I hope that we can all agree that, if a specific rich applicant has a choice between Williams and Amherst (or Princeton/Harvard/Yale), we all want that rich applicant to choose Williams, just as we want poor applicants or athletic applicants or any other kind of applicant to pick us over our competitors.
So, what would be today's analog to fraternities? My suggestion: Every room a single. Williams should institute a policy in which every student is guaranteed a single. This would be highly appealing to rich (and poor!) applicants. It would make Williams dramatically different than our main competitors. It is an advantage that is easy to explain and understand. Williams already has significantly better housing than Harvard, although we do a horrible job of explaining that advantage to applicants, or Harvard does a good job of misleading applicants about their likelihood of getting a real single.
Giving very Eph a single is, of course, hard and expensive. The easiest way would be to, over 5 years, reduce the size of the class from 550 to around 480 or so. (This would also have all sorts of desirable side effects.) We should also continue to convert smaller buildings to co-ops. Trickiest issue would be dealing 100+ first year doubles. So, best plan would be to start with: Every student guaranteed a single after freshman year.
What would you do to attract rich students?
"Beyond the Log: Williams Presidents in the Gentleman's Era" (pdf) is a product of the Williams Oral History Project, led by Bob Stegeman '60. It features a discussion with Professors Fred Rudolph '42 and John Hyde '52, along with former President John Chandler about Williams presidents from Paul Ansel Chadbourne (1872-81) to Tyler Dennett (1934-37). Let's spend three weeks discussing it. Day 6.
Fred Rudolph: My impression is that the College has always had somebody who would get up and, referring to scholarship students, say, "This is not a rich man's college." And then proceed to do what he could to make sure that it was. Carter at one point said, "Williams College is not a resort for rich men's sons." But it was Carter who went out and persuaded Gov. Edwin Morgan of New York to give the money to build Morgan Hall (1882). Morgan Hall was the poshest college dormitory in the country. It was the first building at Williams with running water. And how did a student get a room in Morgan? He bid for it; the rooms went to the students with the most money. Soon after Morgan was built, Lasell Gymnasium went up across the street. There you have it. Two statements about what Williams was about. And soon thereafter the fraternities started scrapping their little hovels and began to erect significant buildings.
Interim President Bill Wagner was the most recent Williams administrator to "say, 'This is not a rich man's college.' And then proceed to do what he could to make sure that it was."
Recall my commentary on Wagner's 2010 decision to change financial aid policy at Williams.
Assume that I am evil, that I seek to minimize the number of poor students at Williams and that I have mind-control over Bill Wagner and the Trustees. What would I do?

Keep in mind: 1) Unfortunately, I need to be sneaky! I just can't fire Admissions Director Dick Nesbitt or order the Admissions to start favoring rich kids. 2) Any family that doesn't make at least $200,000 per year and have substantial assets is, as far as I am concerned, "poor." 3) I don't mind poor students as long as they have a burning desire to be rich, to head to Wall Street or Silicon valley after graduation and make a fortune. 4) I have already laid the groundwork by endlessly complaining about financial constraints (and conveniently ignoring that Swarthmore and Amherst are holding steady to their stated policies).

Given these constraints, we can maximize the number of rich students at Williams in five easy steps:

First, I would end the no-loans policy. I can't prevent Dick Nesbitt from admitting all those poor kids, but I can do my best to make poor kids go elsewhere. The best way to do that is to end the no-loans policy. What poor kid would ever choose Williams over Amherst/Swarthmore/Princeton/Davidson/Haverford and so on if doing so required an extra $10,000+ in loans? Few would, and none should! See our prior discussion. Only rich students will choose Williams over no-loans schools.

Second, I would end need-blind admissions for international students. I don't mind non-US citizens as long as they are rich (or want to be rich). I just don't want too many poor (or plan on staying poor) international students. Williams is for the rich of all countries. Although I can't force Dick Nesbitt to actively discriminate against poor students, I can limit his budget enough that he has no choice but to do so.

Key in both ending no loan and need-blind is that it makes Williams much less desirable to both students coming from non-rich families and to students thinking of lower paying careers in teaching, social work and so on. And that is the point! I want those students to go to Swarthmore and Amherst instead. Rich students and future investment bankers won't be deterred by loans or need-awareness admissions. If anything, they will be looking for elite schools that "provide a better fit" for them and students like them. These two policy changes both decrease applications from poor students and make it more likely that admitted poor students will go elsewhere.
Read the rest of that most excellent rant. If Williams wanted to maximize the number of rich students, it would have made exactly the set of financial aid changes that it did, in fact, make.
And, as Fred Rudolph points out, this is not the first time a Williams administrator has said ""This is not a rich man's college." And then proceed[ed] to do what he could to make sure that it was.
UPDATE: Has much changed in the last eight years? Not really. In anything, we have even more evidence that Williams is a rich man's college! Recall:
About 20% of each Williams class has come from super-rich families for, approximately, forever. I don't see much evidence that Williams is much more economically diverse today than it was 100 years ago. Do you?
Do I actually believe that Bill Wagner (or Morty Schapior or Adam Falk or Maud Mandel or . . .) thinks this way? No! They truly want greater social economic diversity at Williams. Rudolph's point about Carter — and the other Williams presidents of that era — was not that they were nasty plutocrats who hated the poor. The opposite was true! Rudolph's point was that their actions were, by and large, indistinguishable from those of an evil genius who wanted to maintain Williams's status as a "a rich man's college."
What are the odds the trends in the above graph will change during President Mandel's tenure? Very, very low.
(And, to be clear, that is a good thing! I want Williams to be a rich man's (and woman's!) college. See our ten part discussion for background. I just get tired of watching people like Morty and Adam preen about how committed they are to socio-economic diversity when, in fact, they changed so little.)
Professor James McAllister writes (with respect to this post):
With all due respect to the late Fred Rudolph, a superb historian of so many facets of the college's history, these two letters written by Harry Garfield in 1909 and 1924 do not sound like someone who "had no trouble with the role of Williams as an instrument of the upper class." Obviously, Garfield was not a Marxist or socialist, but he was certainly not comfortable with elaborate displays of wealth at the college, was proud of his efforts to provide scholarships to the less fortunate, and took great offense when at the idea that Williams was only a place for the wealthy. Always important to remember in this context that his father grew up in extreme poverty and did not amass any substantial savings before being elected to the presidency in 1880. Garfield had a healthy appreciation for capitalism, but one always tempered by a recognition that the rich had a responsibility to act in the larger interests of society.
I believe that James is the Williams professor with (by far?) the greatest knowledge of Williams history. Are there any other contenders for Fred Rudolph's crown?
Those two letters are fascinating! Should we go through them in detail?
"Beyond the Log: Williams Presidents in the Gentleman's Era" (pdf) is a product of the Williams Oral History Project, led by Bob Stegeman '60. It features a discussion with Professors Fred Rudolph '42 and John Hyde '52, along with former President John Chandler about Williams presidents from Paul Ansel Chadbourne (1872-81) to Tyler Dennett (1934-37). Let's spend three weeks discussing it. Day 5.
Fred Rudolph: There's no question about what Dennett didn't like about the place. In a 1975 honors thesis on the gentleman's Williams, Guy Creese '75 documented the background of the student body that disturbed Dennett: In the Class of 1929, thirty-six percent had traveled in Europe; 1930, twenty-nine percent; 1931, thirty-six percent. That's a pretty fancy group. In 1930 there was a Chapin Library exhibit of rare books to which seventeen students contributed. In 1935, thirty-seven percent of the upperclassmen had cars. In 1938, almost eighty percent of the freshmen families had servants. In 1938 only twenty-five percent of the students had summer jobs. Fifty-five percent came from families with two or more cars. In 1934, forty-four of the 775 students were in the New York Social Register, and four in the Boston Social Register. The Williams Record had fashion issues dealing with men's clothing. There were three men's clothing stores on Spring Street for a student body of less than 800. The Stork Club ran ads in The Williams Record.

When Dennett arrived as president, Lehman Hall had just been built. It had beautiful pine paneling and big fireplaces. And the top floor had modest little rooms for scholarship students. The other student rooms—handsome and spacious—commanded the highest rents on campus. At the end of Dennett's administration, the squash courts were built. What a symbolic statement! I don't know how many colleges in the United States had squash courts in 1938, in the midst of the most serious economic depression in history. Tyler Dennett knew that Williams didn't need them, but the people who gave them insisted. Well, that's the environment that Dennett hoped to do something about, the environment that he perceived as having little connection with the real America.
0) Here (pdf and pdf) is New York Times coverage.
1) Guy was an Ephblog author. Hope he comes back someday!
2) People are still reading and talking about Guy's thesis, more than 35 years after he wrote it. Want your thesis to live as long? Write about Williams.
3) Bob Magill Jr. '65 wrote:
QUESTION c. 1990, a book was out that tracked the top 5 college preferences of the children of the social register in large cities on the East Coast, from the years 1900 to 1950. The only college, besides Harvard Yale Princeton that was in the top 5 in more than one city was Williams (Boston and NY). The authors stated that Williams was considered "the national liberal arts college" and an exceptional alternative to HYP with the best educational facilities for a small liberal arts college. I only have some of my notes on this book — does anyone know the title, the author(s), etc? I asked Fred Rudolph over the weekend at the reunion and he could not remember either.
Can anyone help Bob?
4) I think that having students from extremely rich families want to go to Williams is a very, very good thing. If the Hollander twins had not wanted to go to Williams, we would not have Hollander Hall. How much admission preference, if any, should be given to such "development" admits is an open question. (Such cases used to be called "Morty Specials" by the admissions office. Has the nomenclature changed yet?)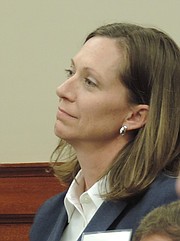 Rachael Fuller '98
 A great appointment! Our first woman city manager. And she brings her       Williams team experience in soccer and lacrosse with her … our two  fastest     growing HS and club sports for both men and women in this sports-and-   orchard community.
 The full story in The Hood River News:
 After an extensive search process, the City of Hood River mayor and council   announced Monday that Rachael Fuller will be Hood River's next city manager   beginning Aug. 20. She replaces five-year City Manager Steve Wheeler, who is   retiring and will work through Aug. 21.
 "We're very excited to have Rachael Fuller join us," Hood River Mayor Paul Blackburn said. "We   were impressed by her experience and qualifications with administrative roles in Oregon and in   rural communities similar to ours."
 Fuller, originally from Seattle, lived and worked for Jackson Hole, Wyo., as a program coordinator   and special project coordinator before moving back to the northwest. She most recently served as   assistant city manager for Gresham, for the past seven years. Fuller has a master's degree in Public   Administration from the University of Wyoming, and a bachelor's degree from Williams College.
"Beyond the Log: Williams Presidents in the Gentleman's Era" (pdf) is a product of the Williams Oral History Project, led by Bob Stegeman '60. It features a discussion with Professors Fred Rudolph '42 and John Hyde '52, along with former President John Chandler about Williams presidents from Paul Ansel Chadbourne (1872-81) to Tyler Dennett (1934-37). Let's spend three weeks discussing it. Day 4.
John Chandler: We all know that Dennett's presidency from 1934 to 1937 was stormy and brief. What happened?

Fred Rudolph: Well, as you know, in 1937 Dennett gave a speech to the Boston alumni saying there were too many "nice boys" at Williams. My sense is that he meant there were just too many graduates of private schools and not enough diversity. Williams had the highest percent of private school graduates of any college in the country. A big reason was the four-year Latin admission requirement, and Garfield was adamant about keeping it. He'd gone to St. Paul's School, and that had something to do with the kind of college that he wanted to be president of.

But by the time Dennett was made president, even in the prep schools there were many students who did not take four years of Latin. And remember that Harvard, Yale, and Dartmouth were also competing for the prep school graduates. The result was that the Williams applicant pool was damn small. Williams was probably taking one out of every two applicants, and it was accepting applications from weak students, just as long as they'd taken four years of Latin. (Interestingly, the trustees reduced the Latin requirement to three years just as Garfield left and Dennett arrived.)
1) For more on the "nice boys" speech, see Guy Creese's '75 senior thesis: "The Concept of the Gentleman at Williams College: 1929-1939." Guy wrote a series of three posts about his thesis: first, second and third. Highly recommended. But I really want to read the whole thing. Why isn't it on-line?
2) Do you think that Williams gets too many or too few nice boys (and girls) today? If you could change one thing about Williams admissions, what would it be?
I would go to more of a Caltech or Olin model in which race, athletic ability and socio-economic status play much less of a role in admissions. Bring the most academically talented and ambitious students to Williams regardless of the color of their skin, the strength of their backhand or the educational credentials of their parents.1
1. I wrote that last paragraph eight years ago. My views are the same, albeit much better informed about the details.
"Beyond the Log: Williams Presidents in the Gentleman's Era" (pdf) is a product of the Williams Oral History Project, led by Bob Stegeman '60. It features a discussion with Professors Fred Rudolph '42 and John Hyde '52, along with former President John Chandler about Williams presidents from Paul Ansel Chadbourne (1872-81) to Tyler Dennett (1934-37). Let's spend three weeks discussing it. Day 3.
John Chandler: Harry Garfield (Class of 1885) was president from 1908 to 1934, a remarkably long tenure—second only to Mark Hopkins'. It encompassed World War I and a big chunk of the Great Depression. The New York Times story about Garfield's inauguration claimed that the audience was probably the largest and most distinguished collection of American educators ever assembled. Why did he draw that kind of crowd?

Fred Rudolph: Probably by sending out a lot of invitations. And by giving fifteen honorary degrees. And, of course, as the son of a slain U.S. president he had a newsworthy name. He was also the friend of a future president, Woodrow Wilson. Garfield was known far beyond Williams, both nationally and then abroad after he founded the Institute of Politics. Meanwhile, he accomplished a lot at Williams. Like Woodrow Wilson, Garfield was a progressive politician. During his administration his concern was for good government and young men taking up lives of public service. In a way, that was a slightly secular version of what a number of speakers were saying at the Centennial celebration, and it was consistent with the direction and tone set by the Williams Christian Association when it made Jesup Hall its headquarters and the symbol of what it was about.

Williams was no longer telling students that they needed a dramatic conversion experience and then go out and become preachers. It was telling them to go out and be public servants and responsible citizens.
1) A century later, what do you think the message will be at Maud Mandel's induction? What do you think the message should be?
2) The event for Mandel on September 8th is currently labeled an "induction." Why that terminology? Anyone gotten an invitation yet? What events would you like to see?
3) To maximize the success of Williams over the new few hundred years, the most important message for graduates is one which causes them to center (a portion of) of their lives around Williams as an institution. We want them to care about their families and careers, of course, but we also need them to care about Williams, to donate their time, energy and money to the College. Assume for second that you agree with this goal, how would you go about doing it, above and beyond what Williams already does?
4) Amusing that Garfield was concerned about the role of the role of athletics! Perhaps this is where Morty got the idea from . . .
In any event, my opinion on athletics is the same as a (vast?) majority of the faculty. Williams should provide extensive athletics opportunities for students but it should stop giving so much preference to athletes, qua athletes, in admissions. Background reading here.
Dear Students,
I hope you are having a wonderful summer.  We are busy planning for fall – just a few more weeks until the Class of 2022 arrives – and I'm very much looking forward to your return to campus and to our community.
There are many questions you may have brewing at this point – about keys and cars and transportation and room openings and many other things.  We have a website which we hope will offer most of the answers, 
here
.  Of course, if none of these links answer your questions, we are here and happy to talk and figure things out.
I'm wishing you a joyful remainder of your summer and safe travel back to Williamstown.
All best,
Dean Sandstrom
"Beyond the Log: Williams Presidents in the Gentleman's Era" (pdf) is a product of the Williams Oral History Project, led by Bob Stegeman '60. It features a discussion with Professors Fred Rudolph '42 and John Hyde '52, along with former President John Chandler about Williams presidents from Paul Ansel Chadbourne (1872-81) to Tyler Dennett (1934-37). Let's spend three weeks discussing it. Day 2.
Fred Rudolph: Garfield had high academic standards and was a creative educator. He wanted students to devote their lives to public service and good citizenship. But he also had no trouble with the role of Williams as an instrument of the upper class. Dennett was upset about that. He had no problem with upper-class kids. He just wanted a better mix. And with the Latin admission requirement you could not get a mix. Still, it's interesting that although Dennett wanted to do something about nice boys, he refused federal scholarship money—money intended for poor kids. In addition, he told his admission officer not to accept blacks and Jews. Why? Because they were not treated fairly here. There was no synagogue for the Jewish students, and black students were treated as second-class citizens. Ironically, it was sensitivity to the life of being Jewish or black in a fraternity-oriented college that led him to take a position that defeated his effort to increase student variety. Stopping the admission of Jewish and black applicants was a dramatic step. Since the late nineteenth century the small but steady stream of black and Jewish students who came to Williams supplied a disproportionate number of academic stars and distinguished alumni.

What Dennett was essentially saying was that there were too many nice white boys, and he wanted some white boys that weren't so nice. Charlie Keller said that the "nice boys" speech was a great boon to the admission operation, because there were people who wanted to come to Williams because it was doing something about the "nice boys" problem but also people who wanted to come to Williams because it had lots of nice boys.
There are at least three great senior theses waiting to be written about these topics:
1) A history of Williams admissions. Karabel's The Chosen is a magisterial description of admissions to Harvard, Yale and Princeton over the last 100 years. Write the same for Williams, and scores of people will read your thesis. (I used The Chosen in these posts: here and here. Highly recommended for new readers.)
2) A history of Jews at Williams. Not written when this was first posted in 2010, now completed: Jews at Williams: Inclusion, Exclusion, and Class at a New England Liberal Arts College by Benjamin Aldes Wurgaft. See here for the start of EphBlog's 13 part review, and we are only 1/3rd of the way done!
3) A history of African-Americans at Williams. Start with Black Williams.
75 years ago, Williams restricted the number of Black and Jewish students. Today, we restrict the number of international students. Isn't it obvious that, a few decades from now, history will judge President Mandel — assuming she does not change the policy — in the same way that we (harshly) judge President Dennett?
The solution is simple: Williams should no more distinguish between applicants on the basis of their passports then it does on the basis of their religion. If applicant X (with Mexican citizenship) is stronger then applicant Y (with US citizenship), we ought to admit applicant X.
The best way for Mandel to get from here to there is to steal a page from Morty's playbook when he significantly decreased the importance of athletics on admissions: Form a committee! Put together a group of 6 faculty — and choose them wisely! — to gather data and evidence about international admissions, to compare Williams with its peers, to seek the opinions of current students and alumni. Because on most important issues (!), the Williams faculty agrees with me, I have no doubt that such a committee would recommend that Williams significantly decrease the penalty placed on international applicants, just as the Williams of President Phinney Baxter '14 significant decreased the penalty placed on Jewish applicants.
In the short term, Williams should have the same percentage of international students as, say, Brown: 11%. In the longer term, we should accept a class with the most academically talented and ambitious students from around the world. (Students must speak English fluently. Williams should pay enough attention to ability-to-pay to keep the college financially healthy.) The more international students that Williams accepts now, the more successful we will be 50 years in the future.
"Beyond the Log: Williams Presidents in the Gentleman's Era" (pdf) is a product of the Williams Oral History Project, led by Bob Stegeman '60. It features a discussion with Professors Fred Rudolph '42 and John Hyde '52, along with former President John Chandler about Williams presidents from Paul Ansel Chadbourne (1872-81) to Tyler Dennett (1934-37). Let's spend three weeks discussing it.1 What do you want to know about Williams history? Ask your questions in the comments. Day 1.
John Chandler: As all of us know, we are going to be dealing principally with presidents of Williams, starting with Paul Ansel Chadbourne, who succeeded Mark Hopkins, and moving forward through Tyler Dennett. Perhaps first we ought to explain the inspiration for our meeting and for the interview format with which we are going to explore those Williams presidents. Fred had at one time intended a sequel to his Mark Hopkins book and in fact had spent many years of research on the post-Hopkins years. He had especially explored student life, faculty development, and trustee influence. One of the results of that research was his bicentennial essay, "Williams College 1793-1993: Three Eras, Three Cultures," which has been included as an appendix in the 1996 edition of Mark Hopkins and the Log. A particular stimulus for this morning's gathering was provided by Steve Lewis '60, a former Williams economics professor who became president of Carleton. Steve asked me whether there was some way to take advantage of Fred's understanding of this era. Fred, would you like to add any words about the book you didn't write?

Fred Rudolph: Let it be said that the Williams archives possess the evidence of how far that project went—boxes of notes, folders of Xeroxed documents, extensive bibliographical intentions.
There is an amazing senior thesis to be written about this era at Williams. Who will write it? If you are a history major with a desire to a) Spend a summer at Williams doing some preliminary research and b) Have 100+ people read your thesis, then this is the topic for you. The vast majority of Williams theses are never read by anyone other than the adviser. Write about the history of Wiliams, and your words will live for decades.
1. The only previous version of this series ran in 2010. It has been updated.
Lest it disappear forever, here (pdf) is a copy of the 2002 MacDonald Report, originally entitled Report on Varsity Athletics by Ad Hoc Faculty Committee on Athletics. (Thanks for Professor Alan White for providing EphBlog with this copy, a much easier to read version than the one we have been using for the last decade.)
Should we spend a week on changes Williams athletics in the 16 years after the report?
As usual, the comment threads at EphBlog make for the best reading. Consider this one, which covers a lot of ground but focuses on how Williams is doing relative to its peers. Consider Vanderbilt:
The comparable data from Williams, for the 2016-2017 school year, is (pdf):
How can Vanderbilt (math+verbal) SAT scores have a 25th/75th percentile split of 1420-1590 while Williams is at 1330-1540!?!
I am honestly flummoxed . . .
From abl:
there's a separate question about creating a Williams environment that supports all of its students. Without a critical mass of students from under-represented groups, Williams will struggle to attract students from these groups, and students from these groups may struggle at Williams. It may therefore be beneficial or even necessary for Williams to admit more students from these groups than it would otherwise so as to build a class that "works" for everyone. This is true, even if you accept both of my above points: there's a real happiness/satistfaction cost to adopting an admissions policy that leaves Williams looking more like Caltech–student outcomes and student satisfaction for those few URM students at Williams are likely to plummet in an isolating environment of that nature.
"Critical mass" arguments for affirmative action mostly fail:
1) They don't apply to smaller groups. Williams has (pdf) 2 total students who are "American Indian or Alaska Native, non-Hispanic." That doesn't seem like much mass to me!
2) abl has no evidence — because there is no evidence — that "student satisfaction for those few URM students at Williams are likely to plummet" if we practiced less affirmative action. African-American students at Williams are almost certainly less satisfied than other students at Williams, but is the gap any greater at Middlebury, with a much smaller percentage of African-American students? Not that I have heard.
3) abl has no evidence — because there is no evidence — that "students from these groups may struggle at Williams" without a critical mass. Middlebury, and other schools, with fewer URMs don't see this and Williams itself does not see that effect in relation to Amherst, which has a much higher percentage of African-American students than we do.
Again, the true goal of Williams admissions is to have a class that "reflects" or "mirrors" the US population. The American Indian population is small, so 2 total students is fine. No one really cares whether or not there is a critical mass of such students because critical mass is not the true goal. Proportional representation is the goal. Critical mass is just one of the ex post facto stories used to justify the goal.
Our friends at Dartblog cover the hypocrisies of "no loan" financial aid.
Please. Don't make more of this "no loans" thing. It's very misleading. Princeton is very generous, but even then many of the students take out loans. According to Princeton's own literature, 18% graduate with debt.

How is that possible? The literature says no loans! Some borrow to fund study abroad or other adventures. Some skip a paying summer job and need to borrow to cover the lost money. There are probably many reasons.

The point is that "no loans" is pretty much a fraud. They still get to make up a number and insist that the kid can afford to pay it. At Princeton, 18% can't. Remember, it's their definition of ability to pay, not the kids and not the parents.

And it's worth noting that we're just talking about student loans. Parental loans are a completely different ball of wax. No college is making a "no loans" pledge to parents.

The schools are also free to pull a number out of thin air and say this is your expected family contribution. I'm told by a savvy number cruncher that anyone making more than $120k is expected to contribute $60k. Note the $120k is pretax and the $60k is post tax.

As you might imagine, many parents need to borrow from home equity or other sources.

Even at the richest schools, these promises are hollow and some of the most misleading propaganda put out by the college industrial complex.
I used to rail against the College's ending of its "no loans" financial policy a decade ago. And Williams does continue to spend too little money on students and too much on other stuff. But, former Provost Will Dudley shared* some interesting results a few years ago highlighting that total borrowing by Williams students seemed about the same during the loans and no-loans period. Why? It is unclear but many poorer students come from families with debt, especially expensive credit card debt. Taking out student loans — even if the Williams aid package is so generous you don't "need" to — and paying off those debts can make perfect sense from the point of view of the entire family's finances.
*Note that Will, unlike current provost Dukes Love, refused to make those findings public. So, unless you were an insider — a rich and/or engaged alum — you never got to see them.
Perhaps Williams will provide future world leaders with the knowledge to participate in global affairs while upholding their sworn allegiance to the United States of America.
Global Studies 2018-19

  (from the Course Catalogue)

An informed engagement with the world is an indispensable part of the liberal education that is the goal of the Williams experience. The Global Studies Program enables students to achieve this goal through a cross-disciplinary and comparative curriculum.
From MIT in 1992:
The unprecedented antitrust case had its origins in an investigation begun in 1989 by the Justice Department. The Antitrust Division of the Justice Department reportedly sent civil investigative demands to some 57 colleges, who were asked to submit thousands of pounds of records over many years. In 1989, the last full year of participation in the agreement, 23 colleges attended the annual spring meeting to discuss the relative need of commonly admitted students.

The case was fought by MIT after the eight Ivy League colleges agreed in May, 1991 – while admitting no culpability – to sign a consent decree barring such cooperation for 10 years, unless Congress passes legislation to authorize it.

The civil suit involved an agreement that MIT and the eight Ivy League colleges entered into in the 1950s. The colleges agreed to admit students solely on the basis of merit and distribute their scholarship money solely on the basis of need.

They also agreed to establish methods of determining what the applicants' family could afford and – in the case of applicants who had overlapping offers of admission from more than one of the colleges – to discuss significant differences in the colleges' judgements of the individual students' financial need.
The biggest beneficiaries to the ending of Overlap were non-rich, highly desirable applicants. On average, middle class African-American students probably benefited more than anyone.
And readers wonder why I am sometimes suspicious of elite colleges . . .
From a faculty source:
> From: "Patterson-Stephens, Shawna"
> Date: July 13, 2018 at 6:21:12 PM GMT+2
> To: WILLIAMS-PERSONNEL@LISTSERV.WILLIAMS.EDU
> Subject: Community Space in Response to Incident at Sawyer Library
> Reply-To: "Patterson-Stephens, Shawna"
>
> Williams Students, Faculty, and Staff,
>
> Recently, printed materials expressing anti-Islamic, anti-Semitic, anti-Black, and anti-LGBTQIA sentiment were placed in the library stacks of the Sawyer Library.
>
> The Davis Center will host a community space this afternoon (Friday, July 13th) in the Jenness Conference Room from 2:00 pm-5:00 pm in response to these harmful sentiments. We invite you to join us for as long or as little as you'd like, in solidarity and in community.
>
> The DC Staff also invites you to join us in reclaiming our space with messages of affirmation we intend to post throughout campus. These messages, in the form of posters, will be available on the conference room table–feel free to drop by and take one or some for your offices, classrooms, and residential spaces.
>
> ​Yours,
> The Davis Center Staff​
Here are some photos of the students (?) who disrupted (?) the Williamstown July 4th parade and the annual reading of the Founding Documents in Sawyer.
1) I bet that there is some overlap/connection between these protestors and the Davis Center folks organizing this "Response." In particular, who paid for those nicely printed posters?
2) What would happen to a student/professor who organized "messages of affirmation" to counteract ideas of the July 4th protestors? There are many trolling opportunities available.
3) Please post photos of these "messages of affirmation." Future historians will thank you!
4) Non-violent protest/speech is at the heart of a free society. I want more messages from both the July 4th protestors and the anonymous white nationalists. Indeed, if Robert Gaudino were still with us, he would be trying to arrange a debate between the two groups. Uncomfortable Learning indeed!
5) Am I wrong to suspect that the Davis Center folks want to silence voices on campus that disagree with them (e.g., Trump supporters suspicious of Muslim immigration) while insisting on their right to disrupt events like the July 4th parade and reading of the Founding Documents?
Ken Marcus '88 is the (recently confirmed) Assistant Secretary of Education for Civil Rights, a position which places him at the center of the debate about racial diversity in higher education. Marcus, and his colleagues in the Justice Department, have started the process of getting rid of racial preferences. Let's spend a week discussing their efforts. Day 5.
"It remains an enduring challenge to our nation's education system to reconcile the pursuit of diversity with the constitutional promise of equal treatment and dignity," Justice Kennedy wrote for the 4-to-3 majority.

Some colleges, such as Duke and Bucknell universities, said they would wait to see how the Education Department proceeds in issuing new guidance. Other colleges said they would proceed with diversifying their campuses as the Supreme Court intended.

Melodie Jackson, a Harvard spokeswoman, said the university would "continue to vigorously defend its right, and that of all colleges and universities, to consider race as one factor among many in college admissions, which has been upheld by the Supreme Court for more than 40 years."

A spokeswoman for the University of Michigan, which won a major Supreme Court case in 2003, suggested that the flagship university would like more freedom to consider race, not less. But it is already constrained by state law. After the case, Michigan voters enacted a constitutional ban on race-conscious college admissions policies.
Where are we headed? Tough to know!
1) Discrimination against Asian-Americans is significant, unpopular and very hard to justify. A Republican Supreme Court is going to find it hard to allow it to continue, at least officially. I suspect that decisions like Fisher v. Texas are in trouble, although any eventual over-turning might be several years out.
2) The Deep State of elite education is not so easily defeated. Affirmative Action — treating applicants differently on the basis of their race — is already illegal in states like California and Michigan and, yet, it still goes on sub rosa.
3) Elite institutions like Harvard are determined and resourceful. Their defense in the current lawsuit is, quite frankly, genius. Harvard creates a personal rating for all applicants. Asian-Americans do much worse on this metric. Once you account for these scores, Harvard (probably!) does not discriminate. And, since those (totally opaque!) scores are under Harvard's complete control, there is no way to prove that it is discriminating or to stop it from doing so.
Forwarded by a faculty member:
From: "Haynes, Leticia"
Date: July 12, 2018 at 6:10:36 PM GMT+2
To: WILLIAMS-PERSONNEL@LISTSERV.WILLIAMS.EDU
Subject: Fliers recently discovered in Sawyer Library

Williams faculty, staff and students,

On Monday, July 9, a faculty member reported finding a large number of copies of a flier in the library stacks. The fliers contain content that is hard to interpret overall, but some of the images and statements are clearly offensive to college values. This was the second such flier found in the library in the past week. Images of both are below.
1) How are these images "clearly offensive?" I realize that the Confederacy is, in and of itself, offensive to many Ephs but are we really required to erase history? I hope not!
2) How can the "statements" here by offensive? Aren't they just accurate Bible quotes?
3) What is up with the Star of David?
One nice aspect of these controversies is that they provide an excuse to learn some history. Below, from Wikipedia, is an actual Confederate $500 note.
I did a reverse image search and came up with these possible sources for the Williams flyer. Earliest reference I can find is this (incomprehensible to me) discussion thread.
4) The third image from the e-mail is, obviously, problematic.
The link to a Democracy Now story is perplexing. Democracy Now is a lefty news network, not the usual information source (I assume!) for nativist troublemakers. Is the intent here to heighten the contradictions on the left? I really don't know.
Back to Haynes's e-mail:
Independent of content, outside materials may only be distributed on campus with college permission. Leaving the fliers in the stacks was a violation of these rules.
Really? The College has a history of only enforcing rules against those whose politics it dislikes. The student group Uncomfortable Learning was repeatedly hassled about violating "rules" that Williams never enforced against liberal student groups.
I also find this phrasing confusing. Does the College require permission for outside groups to distribute stuff (which seems sensible) or for the distribution of "outside materials"? That seems nuts. If Williams Democrats want to distribute "outside materials" — like a flyer from the Bernie campaign — do they really need "permission?" I doubt it! I suspect that this is just sloppy writing (and thinking?) from the Administration.
Using security footage, and guided by information from the new report, Campus Safety and Security (CSS) isolated pictures of the individuals we believe responsible. By sharing this information with counterparts at nearby schools CSS was able to help police identify one of the people, who, we learned, resides in another state. He is now banned from campus.
Note the subtle spin. Why bother telling us that he resides in "another state" unless they want us to think that he is far, far away and that we don't need to worry about it? But if that other state is Vermont, then this guy might live closer to campus than Pittsfield!
Meanwhile, CSS received a corroborating report from a witness who had seen the second individual in the Sawyer lobby during the July 4th reading of the founding documents. The individual was carrying an American flag on a short pole, and inserted themselves into a peaceful student protest at the event. A photo of this person is also included below.
1) Kudos to Hayes and Klass for their transparency. The more details — like these photos — which they provide to the community, the better.
2) Can anyone parse the symbol on the hat? UPDATE: Thanks to comments below, seems that this is just a standard "FD NY" — New York City Fire Department — hat.
3) I assume that the "peaceful student protest" referred to is those folks dressed in black who marched in the July 4th parade and then went to the reading. Was every single one of them a student? I have my doubts!
If you have seen them, or have other information that may aid in identifying them, please contact Campus Safety and Security at 413-597-4444. Once a person is banned from campus any attempt to return is considered trespassing and the trespasser may be subject to arrest.

We would like to thank CSS, our colleagues at Bennington College, the Williamstown Police Department, and the Williams community for helping protect the inclusive environment the college is committed to upholding.

Sincerely,

Leticia S. E. Haynes, VP for Institutional Diversity and Equity
Steve Klass, VP for Campus Life
1) The reference to Bennington College makes me think that the banned person lives in Vermont. Does anyone know what group he is associated with?
2) Since this is, obviously, not a false flag operation — unlike many recent events on campus — the closest historical analog is probably Mary Jane Hitler.
3) There are many other issues to discuss here. Worth spending more time on?
Ken Marcus '88 is the (recently confirmed) Assistant Secretary of Education for Civil Rights, a position which places him at the center of the debate about racial diversity in higher education. Marcus, and his colleagues in the Justice Department, have started the process of getting rid of racial preferences. Let's spend a week discussing their efforts. Day 4.
The Trump administration's moves come with affirmative action at a crossroads. Hard-liners in the Justice and Education Departments are moving against any use of race as a measurement of diversity in education. And the retirement of Justice Anthony M. Kennedy at the end of this month will leave the Supreme Court without its swing vote on affirmative action while allowing President Trump to nominate a justice opposed to policies that for decades have tried to integrate elite educational institutions.
Note the rhetoric:
1) "Hardliners" are people who object to discrimination/quotas against Asian-Americans. Would the New York Times have used that word in 1925 to describe people who objected to Jewish quotas at Harvard?
2) No one is "moving against any use of race as a measurement of diversity." Ken Marcus does not care how Williams measures "diversity." Williams can measure diversity however it wants! Marcus (and the rest of the Federal Government) object to Williams — as a recipient of federal funds via student loans — treating applicants differently on the basis of their race.
A highly anticipated case is pitting Harvard against Asian-American students who say one of the nation's most prestigious institutions has systematically excluded some Asian-American applicants to maintain slots for students of other races. That case is clearly aimed at the Supreme Court.
The Harvard case is fascinating. It goes to trial in October. Should we provide more coverage? Again, it is unclear if Williams (today) discriminates against Asian-Americans the way that Harvard does. But the demographics and other societal changes mean that, unless we start doing so in the future, Williams will be 40% Asian-American a generation from now. I don't have a problem with that. Do you?
"The whole issue of using race in education is being looked at with a new eye in light of the fact that it's not just white students being discriminated against, but Asians and others as well," said Roger Clegg, the president and general counsel of the conservative Center for Equal Opportunity. "As the demographics of the country change, it becomes more and more problematic."
Indeed. Recall my favorite chart:
SAT scores are highly correlated with every other aspect of your academic profile: ACT, AP, subject tests, high school grades, teacher recommendations, essay quality, et cetera. Since Asian-Americans make up 50%+ of the highest SAT scorers, they almost are almost certainly 50%+ of the highest ACT, high school transcript, et cetera applicants. Why is Harvard only at 20%? Discrimination. Why is Williams only at 20%? Hard to know! We might discriminate, but, as with Jews almost a 100 years ago, the discrepancy might be caused by applicant preferences.
The key point — and one that smart guys like Roger Clegg and Ken Marcus will focus on — is that discrimination against Asian-Americans is a hard sell. When Marcus was cutting his teeth on affirmative action debates back in the 80s, it was much easier to justify discrimination against white applicants. First, they (being part of the power structure) were not particularly sympathetic victims. Second, their ancestors were plausibly guilty of historical crimes which required restitution. Third, they were such a large majority that a marginal decrease in their numbers did not seem a large price to pay for increased diversity.
I don't think any of those arguments are going to work in the case of discrimination against Asian-Americans. And once Clegg/Marcus force places like Harvard/Williams to stop discriminating against Asian-Americans, how long will they be able to discriminate against whites?
Ken Marcus '88 is the (recently confirmed) Assistant Secretary of Education for Civil Rights, a position which places him at the center of the debate about racial diversity in higher education. Marcus, and his colleagues in the Justice Department, have started the process of getting rid of racial preferences. Let's spend a week discussing their efforts. Day 3.
Under Mr. Marcus's leadership, the Louis D. Brandeis Center, a human rights organization that champions Jewish causes, filed an amicus brief in 2012, the first time the Supreme Court heard Fisher v. University of Texas at Austin. In the brief, the organization argued that "race conscious admission standards are unfair to individuals, and unhealthy for society at large."
Is that brief enough to label Marcus as a "vocal opponent" of affirmative action? If so, every (almost) Republican is one. Again, I suspect that a large majority of Americans — including many EphBlog readers? — would agree that "race conscious admission standards are unfair to individuals." Although perhaps "unfair" is unduly loaded? Williams treats smart applicants differently then dumb applicants, which is either "unfair" or "necessary to achieve our educational goals," depending on your point of view.
The organization argued that Asian-American students were particularly victimized by race "quotas" that were once used to exclude Jewish people.
This is beyond dispute, at least at places like HYPS. (Again, it is not clear if Williams (meaningfully) discriminates against Asian-Americans in admissions. As in the case of Jews 75 years ago, Williams may not get as many applications (or as high a yield) as HYP do/did.)
As the implications for affirmative action for college admissions play out in court, it is unclear what the decision holds for elementary and secondary schools. New York City is embroiled in a debate about whether to change its entrance standard — currently a single test — for its most prestigious high schools to allow for more black and Latino students.
If NYC wants to cancel its admissions tests for places like Stuyvesant, Ken Marcus won't care (much). If NYC (or Williams) wants to change its admissions policies, Ken won't care (much). What he does care about (a lot!) is whether or not, say, African-American and Asian-American applicants are treated the same, either by NYC or by Williams. If they are not, he is now in a position to bring the full weight and power of the Federal Government against NYC/Williams.
Do you have a problem with that? Tough! You (and I am sure that this applies to 90% (99%?) of EphBlog readers) had no problem when the Federal Government was bossing around private institutions (like Bob Jones University) or local/state governments (like the city of Little Rock, Arkansas). And maybe you were right! But, having created the monster to do "good," don't be surprised when the monster turns its pitiless gaze toward you . . .
Ken Marcus '88 is the (recently confirmed) Assistant Secretary of Education for Civil Rights, a position which places him at the center of the debate about racial diversity in higher education. Marcus, and his colleagues in the Justice Department, have started the process of getting rid of racial preferences. Let's spend a week discussing their efforts. Day 2.
Ms. DeVos has seemed hesitant to wade in on the fate of affirmative action policies, which date back to a 57-year-old executive order by President John F. Kennedy, who recognized systemic and discriminatory disadvantages for women and minorities. The Education Department did not partake in the Justice Department's formal interest in Harvard's litigation.

"I think this has been a question before the courts and the courts have opined," Ms. DeVos told The Associated Press.

But Ms. DeVos's new head of civil rights, Kenneth L. Marcus, may disagree. A vocal opponent of affirmative action, Mr. Marcus was confirmed last month on a party-line Senate vote, and it was Mr. Marcus who signed Tuesday's letter.
1) I am not sure if "vocal opponent of affirmative action" is a fair description. Most Republican are against Affirmative Action, at least against the 200+ SAT point gaps that bedevil schools like Williams. Marcus is a Republican, so it is hardly surprising that he is against it. But "vocal" implies that he goes out of his way to write about this topic, speak about it, tweet about it and so on. Does he? Not that I have seen.
2) Note how the rhetoric is designed to make the reader dislike Marcus. (Being in favor of something is a more positive-sounding description that being an opponent.) There is a reason that the Times does not describe Marcus as a "strong proponent of color-blind policies" or as someone who "wants colleges to judge applicants on a basis other than the color of their skin." A "vocal opponent" is weird, strange, backward.
3) Nowhere in the article does it mention how popular Marcus's views are. A clear majority of Americans are against Affirmative Action as it is currently practiced at places like Williams. Popularity does not mean, of course, that Marcus is right, but shielding its readers from these unpleasant facts does them a disservice. Or maybe they like the cocoon?
4) Anyone have any Marcus stories from his Williams days?
Ken Marcus '88 is the (recently confirmed) Assistant Secretary of Education for Civil Rights, a position which places him at the center of the debate about racial diversity in higher education. Marcus, and his colleagues in the Justice Department, have started the process of getting rid of racial preferences. Let's spend a week discussing their efforts. Day 1.
From The New York Times:
The Trump administration said Tuesday that it was abandoning Obama administration policies that called on universities to consider race as a factor in diversifying their campuses, signaling that the administration will champion race-blind admissions standards.

In a joint letter, the Education and Justice Departments announced that they had rescinded seven Obama-era policy guidelines on affirmative action, which, the departments said, "advocate policy preferences and positions beyond the requirements of the Constitution."
1) Marcus will be at the center of the debate over affirmative action at places like Williams for the next 2 (or 6?!?) years. Very convenient for EphBlog!
2) Say what you will about Trump's focus/competence/ideology, but, in this part of the Federal Government at least, we are getting serious Republican/conservative policy-making, good and hard. You may dislike Marcus's ideology, but he is very, very smart. He, and his peers at Justice, are going to do everything in their power to make affirmative action disappear. Underestimate them at your peril.
3) One of my favorite post-election memes illustrates the problem that Democrats/liberals face:
If the Federal Government were less powerful, then Marcus would not be able to change admissions policy at places like Williams. (And that would certainly be my preference! I think that the Federal Government should leave private institutions like Williams alone.) But my Democratic/progressive/liberal friends want a powerful Federal Government, one with the ability to tell everyone else how to run their affairs. Be careful what you wish for!
Entire New York Times article below:
Plus the connection to the atomic bomb.
… let's see how they do.
Moving right along …
 …
It is Monday July. 9th. I really like the nesting dolls for this cup in Russia.
It is now Wednesday July, 11. In a heart-breaker for England, the finals are France – Croatia.
no need for SATs. 4 -2 ov
er Croatia! 
Professor Phoebe Cohen tweets:
Language wars are boring, but Cohen is probably better off spending time improving her R rather than learning Python.
1) Cohen already knows R. This fixed investment will make further study more productive.
2) Cohen uses statistics/programming as a minor part of her research. She devotes the vast majority of time to field and laboratory work. So, it makes no sense for her to get good at two languages.
3) The entire Statistics Department at Williams uses R. This means that Cohen's students are highly likely to know some R. She also has a set of colleagues who are R experts and likely willing to answer her questions.
4) R can do everything (that Cohen cares about) that Python can do, and can generally do it more easily, especially graphics. (If Cohen's work were more computational, with lots of simulation, the balance might shift the other way.)
Contrary opinions?
An example of the sort of AR1 student that Williams currently rejects:
SAT: 1540 (Math 790, Reading 750) Subjects: Math II 800, Chem 720
ACT: 35 (Math 35, Reading 34, English 35, Science 35)
AP: Calc. BC 5/5, Chem 5, Bio 4; Physics I/II, Lit, Lang, and Stats to be taken
~4.2 weighted GPA, top of the class
Honors track, taking all offered AP courses at my school
ECs mostly performance (theatre, speech/debate, band) and community service

I was sort of surprised by the result, but I guess I just don't fit their class image. It's ok because I'm in at Princeton, Northwestern, Notre Dame, Carleton, Grinnell, and Macalester.
There are scores (hundreds?) of similar examples. Why reject applicants like this?
 Happy Fourth of July! .2
One of my favorite Williams summer traditions:
The Chapin Library of rare books at Williams College will host the annual July 4 reading of the Declaration of Independence by actors from the Williamstown Theatre Festival at 1:30 p.m. The event is free and open to the public.

Actors will read from the second floor outside balcony of Sawyer Library. Visitors should gather on the library quad west of Sawyer Library and between Schapiro and Hollander halls. In case of inclement weather, the event will take place inside Sawyer Library.

Since 1987, Williams College and the Williamstown Theatre Festival have made it an annual tradition to celebrate Independence Day by reading the Declaration of Independence, the British reply of September 1776, and the Preamble to the U.S. Constitution. New this year will be a selection from "What to a Slave is the Fourth of July," a speech by Frederick Douglass, which will be read an actor.
The annual event happens this afternoon. If you attend, send us some photos!
We noted this story a decade ago, but it came up again at the graduation ceremonies for the University of Florida:
The tradition of gowns faded between the Revolution and the Civil War but returned for commencement ceremonies as universities transitioned from elitist to public institutions in the latter half of the 19th century, including here at UF.

This renaissance was aided by a single enterprising graduate of Williams College named Gardner Cottrell Leonard [class of 1887].

Gardner either didn't get to wear a gown, or didn't like the one he did wear, at his Williams commencement ceremony in 1887.

Subsequently he visited England to study regalia and began writing articles and speaking about it in the U.S.

In fact, we owe the various colors for the disciplinesin tassels and hoods entirely to Gardner's creativity.

He chose green for medicine, for example, because it reminded him of the color of herbs used in healing.

Many of Gardner's ideas were codified in the 1896 Intercollegiate Code of Academic Costume, the basis for commencement regalia to this very day.
Why do Amherst seniors look stylish on graduation day? Because they were dressed by an Eph!