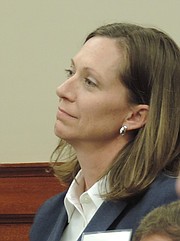 Rachael Fuller '98
 A great appointment! Our first woman city manager. And she brings her       Williams team experience in soccer and lacrosse with her … our two  fastest     growing HS and club sports for both men and women in this sports-and-   orchard community.
 The full story in The Hood River News:
 After an extensive search process, the City of Hood River mayor and council   announced Monday that Rachael Fuller will be Hood River's next city manager   beginning Aug. 20. She replaces five-year City Manager Steve Wheeler, who is   retiring and will work through Aug. 21.
 "We're very excited to have Rachael Fuller join us," Hood River Mayor Paul Blackburn said. "We   were impressed by her experience and qualifications with administrative roles in Oregon and in   rural communities similar to ours."
 Fuller, originally from Seattle, lived and worked for Jackson Hole, Wyo., as a program coordinator   and special project coordinator before moving back to the northwest. She most recently served as   assistant city manager for Gresham, for the past seven years. Fuller has a master's degree in Public   Administration from the University of Wyoming, and a bachelor's degree from Williams College.