Sat 8 Jun 2019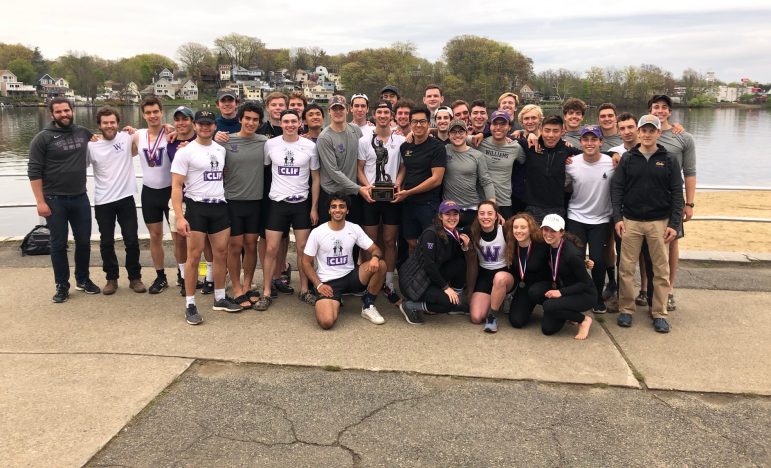 May 8, 2019
On Saturday, men's crew won its first team championship since 2001 at the New England Rowing Championships. All four boats brought home medals to secure the title on Lake Quinsigamond.

The 4V set the tone for the rest of the team by leading off the day with a silver medal. In the afternoon final, the men got off the line well, matched only by Boston College and UMass in the early going. Boston College quickly separated from the field while the men pushed ahead of UMass. At the midpoint of the race, the crews were separated by open water and continued to spread out through the second half of the race. Boston College won in 6:31, and Williams took silver in 6:44.
Source: https://williamsrecord.com/2019/05/mens-crew-wins-first-new-englands-title-since-2001/
Print • Email
---
6 Responses to "Williams Mens Crew Wins New Englands Title"
David Dudley Field '25 says:

Love these articles.

But I am always confused by the structure of crew. How many boats are there? How do they differ? What are the categories? Is there a heavy-weight versus light-weight distinction in Div III and so on. Does it differ between men and women.

Explanations welcome!




Whitney Wilson '90 says:

Congrats to all of the crewbies! I could never really understand their love of the sport, but I know they do love it (and boy does it put you in good shape!). Great job and great job representing the College!




abl says:

Mod note: I am deleting and re-posting a recent comment from Locutus (with minor edits in brackets), as it outed one of the commentators on this board.

Locutus:
Apologies for hijacking the first available non-[David]/JCD thread: we appear to have come to the point where David [-] simply suppresses comments and commenters (and facts) critical of [David]/JCD.

To respond to this, and to his credit, I actually think that David generally has not been suppressing comments critical of him. The same cannot be said re JCD.




fendertweed says:

The Minister of Propaganda (widdle Johnny D) seems to have firmly put hi teeny tiny foot on the throat of free speech here.

The irony is just so fecking…. ironic. But moreso just pathetic.




Whitney Wilson '90 says:

I think its disappointing that JCD did not enable comments for his most recent post on the Oberlin College verdict. The article itself is only tangentially related to Williams (primarily through its link to a blog post by former Williams professor KC Johnson). By not permitting comments, JCD makes it very difficult to have a discussion about the what effects of what is described in the post might be at Williams, or whatever other Williams-related comments might be germane. I understand the concern over possible ad hominem attacks on the author or the author of the linked blog post (e.g. "KC Johnson is a racist reactionary hack," or "JCD is a horrible person for even posting this"), but I think not even giving the EphBlog community a chance makes this kind of post somewhat pointless on EphBlog.




David Dudley Field '25 says:

Easy to fix!



You can follow this conversation by subscribing to the comment feed for this post
If a comment you submitted does not show up, please email us at eph at ephblog dot com. Please note that commenters are required to use a valid email address when submitting comments.