Currently browsing posts authored by abl
Follow abl via RSS
Is Dave Clawson ('88) the most successful Eph football coach currently coaching?  He's currently the coach of Wake Forest, which most recently finished 8-5, losing in the Pinstripe Bowl.
Wake Forest head football coach Dave Clawson said Thursday he's going to self-isolate from his wife, cancer survivor Catherine Clawson, for the entire 2020 season beginning with training camp July 12.

Clawson explained his wife is at a higher risk for severe complications from COVID-19 because of her reduced white blood cell count, and it could prove difficult for him to avoid the coronavirus while working alongside the nearly 200 people involved in the Demon Deacons program, per ESPN's David M. Hale.

"When I'm working on a daily basis, coaching 110 to 120 players and having a staff of 50, I don't know how I could go home at night and honestly tell my wife I couldn't have come in contact with [the coronavirus]," he said. "I love coaching, but I love my wife more. There's no way I'm going to do anything that would put her at risk."
That's rough, to say the least.  As it looks more and more like (1) SARS-COV-2 is not going away anytime soon — and that things are likely to get worse before they get better, and (2) many places are nevertheless re-opening, I wonder if we'll hear more and more stories about folks like Dave Clawson who are forced to separate from their families and friends for a period.
Penn State head coach James Franklin confirmed Tuesday he's also planning to spend the upcoming campaign away from his family.
You can read the full article here.
From Inside Higher Ed (paywall):
The Education Department is beginning to disperse the $14 billion set aside for higher education in the stimulus package passed by Congress two weeks ago, beginning with $6 billion in funds for institutions to give students through emergency grants.
It's unclear how colleges will be allowed to use their funding, although it sounds like Betsy DeVos is giving schools a lot of discretion in this regard.
So how much is Williams getting?  Inside Higher Ed has a nifty look-up tool (paywall).  I've copied Williams' award below:
I suspect Williams will be just fine, but it's worth noting that the general consensus in higher ed is that the $14 billion set aside in the CARES act will not be nearly enough.  Higher ed associations "had asked for $50 billion and said in a letter to congressional leaders Thursday that they need an additional $47 billion."
I have mixed feelings about money of this nature going to a school like Williams.  What are your thoughts about federal rescue money being used to support public or private universities (and their students) more generally?  It's worth noting that the $14 billion that's been allocated so far is a small fraction of the amount allocated to support for-profit business.
Colleen Farrell ('10), now a resident physician at NYU, had an op-ed (paywall) in the Washington Post this past week:
Now there is only the covid-19 ICU. It takes up the entire floor, and soon it will overflow. I work there, as a resident physician training in critical care. And it is a chilling place.
It's a nice piece and worth a read.  Of course, none of this was inevitable, although our preparation failures of January and February are pretty baked in at this point.
That said, there is still time to avert a worse catastrophe.  If you're under a stay-at-home order or advisory, stay at home.  The worst thing that we can do now is to cripple our economy without also reaping all of the accompanying public health benefits, which is exactly what happens when businesses are closed but folks still visit friends and family.
It's also worth noting that this crisis is going to continue for a lot longer unless we get our collective testing and tracking gear in game quickly.  The best case scenario at this point is probably tamping down the rate of infection enough by mid-to-late-summer that we can start cautiously re-opening parts of the economy — but that requires an effective and quick-acting testing/tracking program.  I'm astonished by how unprepared we were in February or even March for a problem that was clearly months in the making, and all sorts of state and federal officials must be held accountable.  But at this point, it is most important to look forward to the late summer, to make sure that we're ready to re-open things as soon as possible.  Right now, we are not — and it won't just be the victims of covid-19 and the accompanying recession who will suffer, but also the front-line workers like Colleen.
Dr. Rich Besser '81 is probably the leading Williams-affiliated voice on pandemics, having served as the acting director of the CDC during the emergence of the novel H1N1 influenza virus (often labeled "swine flu"). Dr. Besser was widely lauded for his response to H1N1 (which, fortunately, turned out to be far less serious than what was originally thought–it has a reproduction rate between 1.4-1.6 (SARS-CoV-2 looks to be around 2.2) and only a 0.02% fatality rate (SARS-CoV-2 looks like it kills between 1-5% of those infected)).
So what does he have to say about our current predicament?  In a March 5 Washington Post editorial, Dr. Besser writes:
The failures of public policy and imagination have been stalking us for years, creating haves and have-nots: parents who don't have paid sick leave from work (only 10 states and the District of Columbia mandate it); a lack of affordable childcare or sick child care; at least 28 million Americans living without insurance and nearly one-third of the population still underinsured; health protections that are not distributed evenly from region to region; and fear among undocumented immigrants regarding access to care.

…

Our nation's predicament today is both tragic, because so many people will likely suffer, and maddening, because it didn't have to be this way. In the short term, the United States must play the hand that we've dealt ourselves. Indeed, there are no short-term solutions to our long-term neglects. The underlying work our nation must do to ensure all people in the United States have a fair and just opportunity for health and well-being — sick leave, universal health care, quality child care and early education, as well as fair immigration policies — must be done in moments of calm.
In the meantime, we could also consider a fund to compensate hourly workers without paid leave for their loss of income when sick; provide legal aid for those who are fired for not coming to work when ill; fund outreach to non-English speakers; ask insurers to waive co-pays for testing and treatment; supplement funding for community health centers that care for a large proportion of those without insurance; and ensure free meals are available for children when schools are closed.
This time around, things seem likely to get far worse in the U.S. before they get better.  How do you feel about our public health response to the SARS-CoV-2 virus?  Have we missed our tracking window with all of the testing mishaps of the past month?  Or have our current problems been baked in for years, not just in the 2018 disbanding of the Pandemic Response Team (https://www.washingtonpost.com/news/to-your-health/wp/2018/05/10/top-white-house-official-in-charge-of-pandemic-response-exits-abruptly/) but in the policy decisions that we've made, or failed to make, over decades.  Or are you pretty happy with how things are going?
(This is in response to David's post: The Parable of the Privilege Pill.) tl;dr: holistic admissions are necessary to admit the students most likely to academically succeed at Williams.
Imagine that there are two applicants from comparable schools with 3.8 GPAs and 1500 SATs. The question you'll have to answer, at the end of this post, is whether you think that they are likely to perform similarly academically at Williams (a limited version of what it might mean for a student to be 'successful').
Applicant A.
Applicant A has parents who sit with her every night and make sure she does her homework.  Applicant A's parents don't ever discuss her homework with her or help her; they just make sure that she does the work.  The several occasions that Applicant B's parents leave town, Applicant B does none of her work (but her teachers still make a one-time exception and allow her to complete the work late with no penalty).  As a consequence, Applicant A turns in 100% of her assignments, averaging 90%, which results in her getting mostly As but a handful of Bs.
When Applicant A took the SAT, she first took a practice test a year before, scoring 1200.  Her parents paid for her to have an SAT tutor, who, like many SAT tutors, spent the year teaching exclusively test-taking strategies.  By the end of the year, Applicant A didn't know any more math or reading, but she was much better at taking the SAT — and scored a 1500.
Applicant B.
Applicant B's parents each work two jobs, so they are not around most nights (or are exhausted when they are home).  Moreover, Applicant B has to work on and off through high school to help her family make their bills.  As a consequence, Applicant B sometimes misses assignments; she forgets, is tired, or simply doesn't have the time.  Throughout high school, Applicant B turns in 90% of her work — but her work is always perfect, averaging 100%.  This results in her getting mostly As but also a handful of Bs.
When Applicant B took the SAT, it was the second time she had ever seen any part of the test (her 11th Grade English teacher spent a 50-minute class giving and discussing one reading comprehension section earlier in the year).  Applicant B doesn't really know that people study for the test; most people in her high school and community don't go to elite colleges, so there isn't much discussion of it among her friends and family — and what little she hears is about how this is an aptitude test.  Taking the test effectively 'blind,' Applicant B fails to budget her time well, and leaves the last five questions on a math section blank despite being an excellent math student.  Nevertheless, she scores 1500.
The Question:
Who would you admit?
This isn't a trick question and the answer isn't particularly difficult: Applicant B clearly has more aptitude — and there's little indication that she has any less work ethic (and some reasons to believe that she could have a great deal more).  These two applicants look identical based on their numbers, but Applicant A's privilege renders her numbers misrepresentative vis-a-vis Applicant B, and to a fairly significant degree.
The More Difficult Question:
The more difficult question comes when considering Applicant A versus an Applicant C, who has a similar story to Applicant B but ends up with a 3.6 GPA and 1350 SATs (maybe because Applicant C's 90% homework completion rate is distributed in such a way that she's averaging 80% or 100% — and maybe also because she misbudgets her SAT time more badly, spending time triple-checking answers she knows).  The apparent SAT difference between Applicant A and Applicant C — 150 points — is large.  But Applicant A's raw SAT aptitude is 1200 whereas Applicant C's is 1350, implying that Applicant C may actually have significantly (150 points!) more SAT-measured aptitude.  Moreover, the apparent GPA difference between Applicant A and Applicant C — 0.2 — is large for these purposes.  But Applicant C actually performs significantly better (100% vs 90%) on each of her assignments.  And their difference in homework completion rate (90% vs. 100%) appears due far more to their respective home situations than it is to any sort of work ethic.  There is little reason to believe that, in the cushy environment of Williams (outside the reach of constant parental influence), Applicant C won't turn in as much or more of her homework.  And there is good reason to believe that Applicant C will do better on what work she turns in, despite her significantly lower GPA and SAT.
The Real World:
Note: Applicant A is not wildly privileged.  There are many, many applicants to Williams who look roughly like Applicant A.  There are also many, many applicants to Williams who benefit far more from privilege than Applicant A does (many will get tutors, for example, who often just do the student's homework for them).
Also note: Applicants B and C are not particularly underprivileged.  There are many applicants to Williams who look roughly like Applicants B and C.  There are also many applicants to Williams who have to overcome a lot more.
The simple point I'm trying to make here is that privilege is real, and that privilege regularly has a significant impact on GPAs and SAT scores in ways that have no bearing on a student's aptitude (/ likelihood of academic success while at Williams).  For Williams to admit the class with the most academic aptitude–a goal that David espouses but I am not necessarily endorsing–Williams cannot simply look to the GPAs and SATs of its applicants.
Because there's been a great deal of recent Ephblog implication (mostly from David) that College Council's decades-long history at Williams demands a more cautious approach to its replacement, I wanted to dive a bit more into that history.
Here's one interesting bit: College Council changed significantly in 2012 (in a referendum amendment, with 44% of the student body participating, of which 95% voted yes*, see https://collegecouncil.williams.edu/?p=1843).
So what changes happened?  Well, they were pretty significant:
A. Composition Section A.

The College Council shall be composed of:
1. The Co-Presidents or President
2. The Five Vice Presidents
3. The Treasurer
4. The Assistant Treasurer.
5. Four class representatives elected from each class
There's much more in the amendment itself: https://collegecouncil.williams.edu/files/2012/09/Proposed-CC-Constitution.pdf.  Suffice it to say, the College Council that existed a month ago didn't look much like the College Council that I knew from my time at Williams.  The Three Pillars plan changes the name of College Council (which, given its current unpopularity strikes me as probably a necessary rebranding), but I'm not convinced that the resulting student government structure is much more of a radical departure from the CC of 2019 than the CC of 2019 was from the CC that I knew.  Moreover, I suspect that student governance during my time at Williams differed significantly from that which David experienced: ACE and the Neighborhoods were respectively incredibly powerful influences on student governance while I was there, neither of which existed when David was a student.
Again, this isn't to say that the Three Pillars plan is good, or that the amendment was proper.  My point is simply that closer inspection reveals that CC is far less of an unshakeable Williams institution than it might appear from a distance.
*To the extent you're looking for precedent, this strongly supports my earlier contention that amending the CC constitution does not require 2/3 of the entire student body to vote in support.
I'm sorry to post up a storm (but I'm on a roll!).  Here's my reading of the applicable part of the CC constitution (which I've copied below the fold).
Article VII, Sec. B requires that any amendment be "proposed by four-fifths majority of the College Council" and "ratified by a two-thirds majority of the student body voting in a referendum." Article VII, Sec. A then requires that, for a referenda to be valid, at least 1/3 of students must vote in it. Section A ("Referenda") also requires that two weeks notice be given, but Section B of Article VII ("Constitutional Amendments") modifies Section A, and Section B only requires that "College Council [] take appropriate measures to inform and educate the student body about the changes proposed." In short, I don't actually think that there's a two-week notice requirement for referenda that amend the constitution.
So, to properly amend the CC constitution you need to:
(1) have a proposal supported by 4/5 majority in CC;
(2) publicize the resulting referendum to the student body in an "appropriate" way that "inform[s] and educate[s] the student body about the changes proposed";
(3) hold a vote in which at least 1/3 of students participate;
(4) have at least 2/3 of "the student body voting in [the] referendum" support the amendment.
How did that pan out here?
(1) I don't know what the CC support for this proposal was.  Did the CC even propose this?  I know the CC voted (11-9, I believe) to form this task force, but that's different from supporting the task force's proposal (and, regardless, 11-9 falls far short of the 4/5 majority required);
(2) One can argue that if two weeks of publication is the minimum required notice for normal referenda, <two weeks is not "appropriate" for something as important as a constitutional amendment abolishing CC.  But I'm not sympathetic to such a formalistic argument regarding notice, especially since the Section B requirement regarding notice is, unlike the Sec. A requirement, not so rigidly defined.  Because I haven't heard anyone raise non-formalistic objections to the adequacy of the notice given, I'm going to assume that it was adequate and that this requirement was therefore met;
(3) There was a vote with over 1/3 student participation;
(4) Well more than 2/3 of the students who voted supported the amendment.
I see (1) as the most significant obstacle here to legitimacy.  And to be clear, I don't think that's a minor obstacle.  Can anyone weigh in regarding CC's support (or lack thereof) for this proposal?
Isn't this all a question for the CC parliamentarian?  
I wanted to amplify a point made by PTC, because I think it deserves more attention:
So, actual notice of the plan had nine to ten days. How that and the year of general publicity leading up to the referendum meld into proper notice of two weeks is a technical matter.

Students had a lot of notice. They voted overwhelmingly to abolish the CC. The paper wrote about and endorsed this position prior to the vote as well.

I don't think notice is a real issue. You can make a technocratic argument I suppose…
In short, from a purely formalistic standpoint, it does seem like the Three Pillars plan might not quite have complied with the CC guidelines re notice.  But the failure was minor, appears unintentional, and seems incredibly unlikely to have impacted the outcome.  And what is the desired 'cure' here?
In short, does a minor, technical, and almost certainly non-dispositive failure of notice invalidate the Three Pillars plan?  I lean toward 'no,' but I'd welcome arguments on both sides.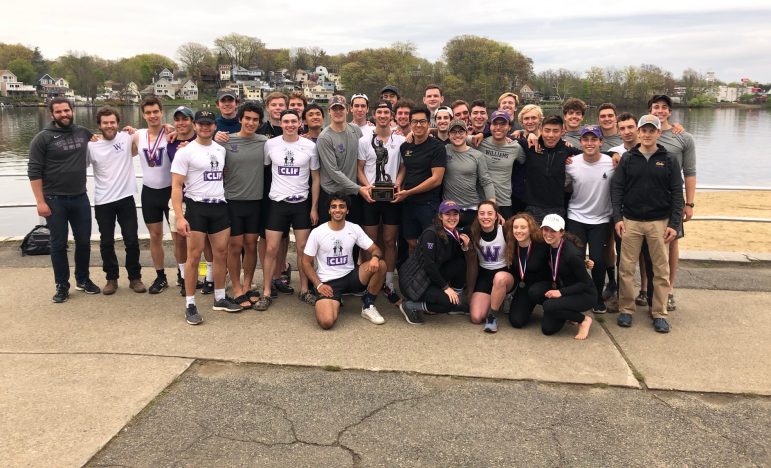 May 8, 2019
On Saturday, men's crew won its first team championship since 2001 at the New England Rowing Championships. All four boats brought home medals to secure the title on Lake Quinsigamond.

The 4V set the tone for the rest of the team by leading off the day with a silver medal. In the afternoon final, the men got off the line well, matched only by Boston College and UMass in the early going. Boston College quickly separated from the field while the men pushed ahead of UMass. At the midpoint of the race, the crews were separated by open water and continued to spread out through the second half of the race. Boston College won in 6:31, and Williams took silver in 6:44.
Source: https://williamsrecord.com/2019/05/mens-crew-wins-first-new-englands-title-since-2001/
This will most likely be my final softball post, at least for a while.
Once again, and for the last time, the Ephs displayed a grit and determination not seen all that often as, down to their last two strikes and trailing by eight runs, they jumped up off the canvas and gave Trine University a scare worthy of John Carpenter. Ultimately, the Ephs saw the curtain fall on their 2019 journey with a 10-7 defeat at Suddenlink Field.

They left the University of Texas-Tyler with a fifth-place finish in the nation, the second-best effort in program history, a 39-7 record, which tied the 2018 team's mark for single-season wins, and a whole stadium full of new admirers.
Not bad!
The five Eph seniors co-captains Jessica Kim and Casey Pelz; Mackenzie Murphy, Kristina Alvarado and Jill Jenkin, finish their career with a 151-39 record, good for a .795 win percentage. The 151 wins are the most produced by any class in program history.
An interesting fact about one of the graduating seniors: "Alvarado played in her 47th career NCAA Tournament game, 25 with softball and 22 with women's soccer. She played in five different NCAA championship events; three women's soccer Final Fours and two softball national championships. She won three national championships with women's soccer and helped softball to a third-place finish (2017) and a fifth-place finish (2019), the two best finishes in program history."
Source: https://ephsports.williams.edu/sports/sball/2018-19/releases/20190525qd9k1d
In the spirit of transparency, and given that "free speech" is a frequent canard of Ephblog('s mostly more-conservative posters), I have included, below the break, the complete collection of comments that have been deleted on Ephblog that are available to me as an author.  I suspect that there are older comments not included below (I have had comments deleted in the past, for example, but none are included in the below compendium).  I have not in any way culled these comments: what I can see is what you see below, with one small noted edit to prevent a semi-anonymous poster from being formally outed.
Some quick observations:
although a handful of the comments below are personal attacks, the majority of deleted comments have at least some substantive component and relevancy to the discussion;
the deleted comments are overwhelmingly made by politically left-leaning posters;
the deletions are overwhelmingly made by politically right-leaning posters (mostly David and John C. Drew, who are ironically also this site's most vocal proponents of free speech besides PTC);
a few of these were double-posted comments or comments deleted by the comment's author (JCD deleted several of his own comments in his own threads, for example).
I wanted to also excerpt one comment that I think merits more attention.  From "Recent alum" (and deleted, unsurprisingly, by John C. Drew):
David, on this post John C. Drew, a person who has had no association with Williams for almost twice my lifetime and has perviously cyberstalked Williams students in the comments section of the Williams Alternative, is comparing a current Williams student to a fictional cannibalistic serial killer. Please look in the mirror and sincerely ask whether this is at all productive or whether you're just creating a dangerous situation.
In fact, many of the deleted comments specifically question John C. Drew's credibility or the wisdom of giving him a platform regarding Williams.  I think it is interesting–and worthy of additional consideration–that an entire topic of discussion is currently being suppressed by active Ephblog moderation.
***For the sake of full disclosure, I reserve the right to moderate comments in this thread, although I will try to note when I have done so and explain why.***
Update: I have added two additional comments below that were mistakenly flagged as "spam" and therefore deleted.
 The No. 4 -ranked Williams College softball team (33-5) opens play at the 2019 NCAA Div. III Tournament Cortland, N.Y. Regional today at 3:30 p.m. against MASCAC Champion Framingham State (24-19). Host Cortland State (29-14) will take on St. John Fisher (26-15) at 1 p.m. in the regional's opening contest.

SUNY-Cortland Regional Tournament Page

SUNY-Cortland's Regional Program

Directions to SUNY-Cortland's Dragon Field

All 7 games will be webcast live. You can watch them HERE.
https://ephsports.williams.edu/sports/sball/2018-19/releases/20190509x85qou.  Williams had its 22-game winning streak snapped in the NESCAC tournament final to Tufts, but looks to be in good shape for what will hopefully be a deep run this year!
Following up on Frank's request, Alison Swain, the incredibly successful former coach of the Williams women's tennis team, is off to great things at USC:
THIS WEEK
The USC women's tennis team has secured yet another trip to the NCAA tournament by locking down the No. 13 seed. The Women of Troy (18-7) will be participating in their 36th appearance in the NCAA tournament and will host the First and Second Rounds at Marks Stadium on May 4-5. If the Trojans should advance, they will participate in a Super Regional for the Round of 16 next weekend (May 10-11). The Round of 8 and beyond, in addition to the NCAA Individual Championships, will be held in Orlando, Fla. from May 17-19. Under the tutelage of head coach Alison Swain, USC will face Illinois State (20-6) on Saturday (May 4) at 12 p.m. Should the Trojans defeat the Redbirds, USC will take on the winner of the First Round match up between UNLV and Texas Tech on Sunday (May 5) at 1 p.m.

…

In her second season as the USC women's tennis head coach, Alison Swain has brought the Trojans back into national recognition and prepared them for a championship run to bring home the team's third NCAA team title.
I'm far from an expert on USC tennis, but this sounds like a successful start for Coach Swain!
You can read more here: https://usctrojans.com/news/2019/5/2/no-13-usc-womens-tennis-begins-pursuit-of-ncaa-championship.aspx?path=wten.
The Williams College Baseball team took on Hamilton College in the final two games of the three-part series. After the first game yesterday, the Ephs were looking to complete their sweep in today's action.

As they stood coming into the game, the Ephs record is 19-7 overall and 4-3 in conference. On the other side, Hamilton College sits at 14-15 overall with 4-6 in conference.

…

After a series of long delays and consistently poor weather, it ended in favor of the Ephs at 2-1. While both games were low scoring, they included all the excitement of a typical split series.

With this weekend's baseball completed, the Ephs are entering the later portion of their season. Only five regular games separate the Ephs from a postseason run. Two of these games are out of conference, while the final three will be in conference against Wesleyan. The rescheduled series could factor in importantly for how the Ephs complete the regular season. Their next chance at competition will be a home game against Dean College. The Boomers have an 11-23 overall record and a 6-6 conference record. That game will take place on Tuesday 4/30 at 4:00 pm.
Source: https://ephsports.williams.edu/sports/bsb/2018-19/releases/20190428u9rm1u
The women's tennis team finished their regular season out with a win!  My sense is that NESCACs will be somewhat more of a test this year than normal, and I do not know if Williams has locked up a spot in NCAAs yet.
In their last matchup of the regular season, the Williams College women's tennis team defeated the Bates College Bobcats 6-3. After sweeping doubles today, the Ephs will be going into the NESCAC tournament in the coming weeks, facing familiar faces from other schools.

"Time to recover and then get to work in the final push before NESCACs," said head coach Anik Cepeda. "Congrats to our seniors Leah and Kori for all their hard work and dedication to our program!"
Source:https://ephsports.williams.edu/sports/wten/2018-19/releases/20190428w7575o
It's another good year for the men's tennis team.
After dropping the first match of the weekend against Bowdoin, the Williams College Ephs (ranked #9 in NCAA DIII) bounced back to defeat the Bates College Bobcats (unranked in NCAA DIII), 7-2.

The Ephs controlled both singles and doubles play, losing only one match in each to snap their three-match losing streak. The victory brought Williams to 7-7 (.500) to finish off the regular season, including a 5-3 record against NESCAC opponents.

…

This Friday, the Ephs travel to Middlebury College to kick off the NESCAC championships. The championships will take place on Friday, Saturday, and Sunday (May 3, 4, and 5).
Source: https://ephsports.williams.edu/sports/mten/2018-19/releases/20190428u0bo29
More from the sports desk:
Though they fought hard, NYU could not catch the Williams Ephs during the second day of the Vassar Invitational. The Ephs held a comfortable nine stroke lead over the Bobcats going into today's round but nine strokes among four counting scores is only a little over two strokes per player to make up. The Ephs still had to post a solid second day score to clinch the victory. NYU battled hard to post a 305 today, five strokes better than their first day score of 310. The Ephs lost some ground with a 308 today but were still able to hold onto the lead by six strokes. The Ephs won the tournament with a two-day total of 609, NYU placed second with 615, and Wellesley rounded up the top three with 639.
Source: https://ephsports.williams.edu/sports/wgolf/2018-19/releases/20190421rmr8ed.
I don't know how good NYU is at golf, but it's always impressive to hear about Eph wins, especially over larger schools!
Some news from the sports desk:
College junior Rebecca Duncan (Simi Valley, CA) has been selected as the New England Small College Athletic Conference Pitcher of the Week for play ending Sunday, April 21.

Duncan tossed a one-hit shutout in a 2-0 win over Amherst to allow the Ephs to clinch the NESCAC West Division. She did not allow a Mammoth hit until the sixth inning and finished the game with four strikeouts.

She is currently 10-2 from the circle with a 2.20 ERA while batting .324 this season with 2 home runs, 18 RBI and 18 runs scored.

The Ephs have won 15 straight games and clinched the NESCAC West Division crown Sunday. They are in action at home Wednesday for a doubleheader with Smith College beginning at 4 p.m.
Source: https://ephsports.williams.edu/sports/sball/2018-19/releases/20190422ohx70h.
This has been a good season for the Williams softball team, which could prove instrumental in Williams' quest for a 22nd Directors Cup.
The Williams Men's Basketball Team is in the NESCAC finals today (gametime: 2:30pm EST) against Wesleyan.  Williams and Wesleyan split their two previous games this season with both, I think, going into overtime.  It's likely that both teams will get a bid to the NCAA tournament regardless of today's result (and will likely get high seeds), but it's likely that Williams/Wesleyan are playing for home court advantage through later rounds of the tourney — so there are real stakes here.
You can watch the free, and reasonably high-quality, live stream here: https://www.nsnsports.net/conferences/nescac/.
EDIT: early in the second half, Williams is up 35-27.
Darlingside, today's Ephband of note, has a new album out — and it's deservedly getting strong reviews:
With "Extralife," Darlingside leaps ahead of where it had been on earlier works like its 2015 album, "Birds Say." The voices remain as strong as ever while the arrangements are more adventurous, blurring the lines between genres and giving the group access to several audiences. When I mentioned to Messrs. Mukharji and Paseltiner that I couldn't quite figure out where they fit in the contemporary rock-and-pop landscape, they conceded, in unison, that they couldn't either. Neither musician seemed particularly troubled by the thought.
https://www.wsj.com/articles/extralife-by-darlingside-review-folk-meets-a-cappella-1519246754?mod=searchresults&page=1&pos=1
See also https://www.npr.org/2018/02/15/585457299/first-listen-darlingside-extralife.
It's worth noting that Darlingside's aforementioned 2015 album, "Birds Say," received wide critical acclaim.
For those who don't know, Darlingside is a band now consisting of  four former members of the Williams Octet — Harris Paseltiner (09), Auyon Mukharji (07), Don Mitchell (06), and Dave Senft (07).   You can learn more about the group more in this somewhat outdated Williams feature: https://howdyougetthere.williams.edu/darlingside-the-band-06-07-09/.
If you're interested in checking them out or in buying their album:
iTunes: http://smarturl.it/extralife-it
Apple Music: http://smarturl.it/extralife-app
Spotify: http://smarturl.it/extralife-spot
Amazon Music: http://smarturl.it/extralife-amz
The Dside Store: http://www.darlingside.com/shop
I read this article on the Record. I concur with the author on the opinion that "eliminating the campus newspaper subscription is doing a great disservice to Williams students".
The article can be found at http://record.williams.edu/wp/?p=15779
(Ed Note: The story refers to dropping the paper subscription to the New York Times)
Currently browsing posts authored by abl
Follow abl via RSS