Currently browsing posts authored by abl
Follow abl via RSS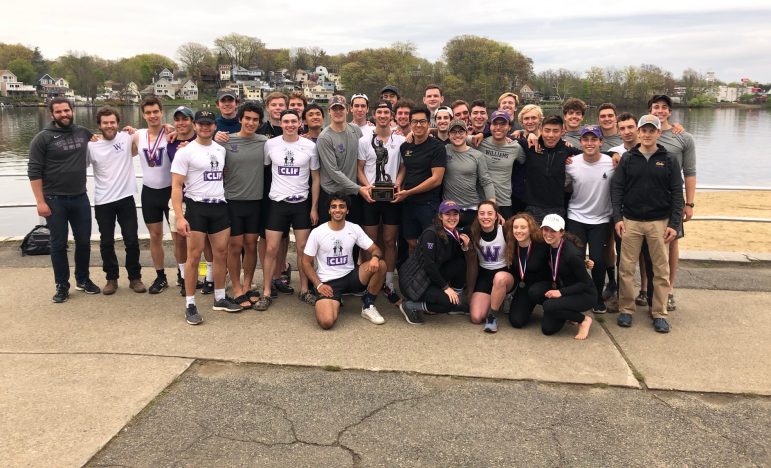 May 8, 2019
On Saturday, men's crew won its first team championship since 2001 at the New England Rowing Championships. All four boats brought home medals to secure the title on Lake Quinsigamond.

The 4V set the tone for the rest of the team by leading off the day with a silver medal. In the afternoon final, the men got off the line well, matched only by Boston College and UMass in the early going. Boston College quickly separated from the field while the men pushed ahead of UMass. At the midpoint of the race, the crews were separated by open water and continued to spread out through the second half of the race. Boston College won in 6:31, and Williams took silver in 6:44.
Source: https://williamsrecord.com/2019/05/mens-crew-wins-first-new-englands-title-since-2001/
This will most likely be my final softball post, at least for a while.
Once again, and for the last time, the Ephs displayed a grit and determination not seen all that often as, down to their last two strikes and trailing by eight runs, they jumped up off the canvas and gave Trine University a scare worthy of John Carpenter. Ultimately, the Ephs saw the curtain fall on their 2019 journey with a 10-7 defeat at Suddenlink Field.

They left the University of Texas-Tyler with a fifth-place finish in the nation, the second-best effort in program history, a 39-7 record, which tied the 2018 team's mark for single-season wins, and a whole stadium full of new admirers.
Not bad!
The five Eph seniors co-captains Jessica Kim and Casey Pelz; Mackenzie Murphy, Kristina Alvarado and Jill Jenkin, finish their career with a 151-39 record, good for a .795 win percentage. The 151 wins are the most produced by any class in program history.
An interesting fact about one of the graduating seniors: "Alvarado played in her 47th career NCAA Tournament game, 25 with softball and 22 with women's soccer. She played in five different NCAA championship events; three women's soccer Final Fours and two softball national championships. She won three national championships with women's soccer and helped softball to a third-place finish (2017) and a fifth-place finish (2019), the two best finishes in program history."
Source: https://ephsports.williams.edu/sports/sball/2018-19/releases/20190525qd9k1d
In the spirit of transparency, and given that "free speech" is a frequent canard of Ephblog('s mostly more-conservative posters), I have included, below the break, the complete collection of comments that have been deleted on Ephblog that are available to me as an author.  I suspect that there are older comments not included below (I have had comments deleted in the past, for example, but none are included in the below compendium).  I have not in any way culled these comments: what I can see is what you see below, with one small noted edit to prevent a semi-anonymous poster from being formally outed.
Some quick observations:
although a handful of the comments below are personal attacks, the majority of deleted comments have at least some substantive component and relevancy to the discussion;
the deleted comments are overwhelmingly made by politically left-leaning posters;
the deletions are overwhelmingly made by politically right-leaning posters (mostly David and John C. Drew, who are ironically also this site's most vocal proponents of free speech besides PTC);
a few of these were double-posted comments or comments deleted by the comment's author (JCD deleted several of his own comments in his own threads, for example).
I wanted to also excerpt one comment that I think merits more attention.  From "Recent alum" (and deleted, unsurprisingly, by John C. Drew):
David, on this post John C. Drew, a person who has had no association with Williams for almost twice my lifetime and has perviously cyberstalked Williams students in the comments section of the Williams Alternative, is comparing a current Williams student to a fictional cannibalistic serial killer. Please look in the mirror and sincerely ask whether this is at all productive or whether you're just creating a dangerous situation.
In fact, many of the deleted comments specifically question John C. Drew's credibility or the wisdom of giving him a platform regarding Williams.  I think it is interesting–and worthy of additional consideration–that an entire topic of discussion is currently being suppressed by active Ephblog moderation.
***For the sake of full disclosure, I reserve the right to moderate comments in this thread, although I will try to note when I have done so and explain why.***
Update: I have added two additional comments below that were mistakenly flagged as "spam" and therefore deleted.
 The No. 4 -ranked Williams College softball team (33-5) opens play at the 2019 NCAA Div. III Tournament Cortland, N.Y. Regional today at 3:30 p.m. against MASCAC Champion Framingham State (24-19). Host Cortland State (29-14) will take on St. John Fisher (26-15) at 1 p.m. in the regional's opening contest.

SUNY-Cortland Regional Tournament Page

SUNY-Cortland's Regional Program

Directions to SUNY-Cortland's Dragon Field

All 7 games will be webcast live. You can watch them HERE.
https://ephsports.williams.edu/sports/sball/2018-19/releases/20190509x85qou.  Williams had its 22-game winning streak snapped in the NESCAC tournament final to Tufts, but looks to be in good shape for what will hopefully be a deep run this year!
Following up on Frank's request, Alison Swain, the incredibly successful former coach of the Williams women's tennis team, is off to great things at USC:
THIS WEEK
The USC women's tennis team has secured yet another trip to the NCAA tournament by locking down the No. 13 seed. The Women of Troy (18-7) will be participating in their 36th appearance in the NCAA tournament and will host the First and Second Rounds at Marks Stadium on May 4-5. If the Trojans should advance, they will participate in a Super Regional for the Round of 16 next weekend (May 10-11). The Round of 8 and beyond, in addition to the NCAA Individual Championships, will be held in Orlando, Fla. from May 17-19. Under the tutelage of head coach Alison Swain, USC will face Illinois State (20-6) on Saturday (May 4) at 12 p.m. Should the Trojans defeat the Redbirds, USC will take on the winner of the First Round match up between UNLV and Texas Tech on Sunday (May 5) at 1 p.m.

…

In her second season as the USC women's tennis head coach, Alison Swain has brought the Trojans back into national recognition and prepared them for a championship run to bring home the team's third NCAA team title.
I'm far from an expert on USC tennis, but this sounds like a successful start for Coach Swain!
You can read more here: https://usctrojans.com/news/2019/5/2/no-13-usc-womens-tennis-begins-pursuit-of-ncaa-championship.aspx?path=wten.
The Williams College Baseball team took on Hamilton College in the final two games of the three-part series. After the first game yesterday, the Ephs were looking to complete their sweep in today's action.

As they stood coming into the game, the Ephs record is 19-7 overall and 4-3 in conference. On the other side, Hamilton College sits at 14-15 overall with 4-6 in conference.

…

After a series of long delays and consistently poor weather, it ended in favor of the Ephs at 2-1. While both games were low scoring, they included all the excitement of a typical split series.

With this weekend's baseball completed, the Ephs are entering the later portion of their season. Only five regular games separate the Ephs from a postseason run. Two of these games are out of conference, while the final three will be in conference against Wesleyan. The rescheduled series could factor in importantly for how the Ephs complete the regular season. Their next chance at competition will be a home game against Dean College. The Boomers have an 11-23 overall record and a 6-6 conference record. That game will take place on Tuesday 4/30 at 4:00 pm.
Source: https://ephsports.williams.edu/sports/bsb/2018-19/releases/20190428u9rm1u
The women's tennis team finished their regular season out with a win!  My sense is that NESCACs will be somewhat more of a test this year than normal, and I do not know if Williams has locked up a spot in NCAAs yet.
In their last matchup of the regular season, the Williams College women's tennis team defeated the Bates College Bobcats 6-3. After sweeping doubles today, the Ephs will be going into the NESCAC tournament in the coming weeks, facing familiar faces from other schools.

"Time to recover and then get to work in the final push before NESCACs," said head coach Anik Cepeda. "Congrats to our seniors Leah and Kori for all their hard work and dedication to our program!"
Source:https://ephsports.williams.edu/sports/wten/2018-19/releases/20190428w7575o
It's another good year for the men's tennis team.
After dropping the first match of the weekend against Bowdoin, the Williams College Ephs (ranked #9 in NCAA DIII) bounced back to defeat the Bates College Bobcats (unranked in NCAA DIII), 7-2.

The Ephs controlled both singles and doubles play, losing only one match in each to snap their three-match losing streak. The victory brought Williams to 7-7 (.500) to finish off the regular season, including a 5-3 record against NESCAC opponents.

…

This Friday, the Ephs travel to Middlebury College to kick off the NESCAC championships. The championships will take place on Friday, Saturday, and Sunday (May 3, 4, and 5).
Source: https://ephsports.williams.edu/sports/mten/2018-19/releases/20190428u0bo29
More from the sports desk:
Though they fought hard, NYU could not catch the Williams Ephs during the second day of the Vassar Invitational. The Ephs held a comfortable nine stroke lead over the Bobcats going into today's round but nine strokes among four counting scores is only a little over two strokes per player to make up. The Ephs still had to post a solid second day score to clinch the victory. NYU battled hard to post a 305 today, five strokes better than their first day score of 310. The Ephs lost some ground with a 308 today but were still able to hold onto the lead by six strokes. The Ephs won the tournament with a two-day total of 609, NYU placed second with 615, and Wellesley rounded up the top three with 639.
Source: https://ephsports.williams.edu/sports/wgolf/2018-19/releases/20190421rmr8ed.
I don't know how good NYU is at golf, but it's always impressive to hear about Eph wins, especially over larger schools!
Some news from the sports desk:
College junior Rebecca Duncan (Simi Valley, CA) has been selected as the New England Small College Athletic Conference Pitcher of the Week for play ending Sunday, April 21.

Duncan tossed a one-hit shutout in a 2-0 win over Amherst to allow the Ephs to clinch the NESCAC West Division. She did not allow a Mammoth hit until the sixth inning and finished the game with four strikeouts.

She is currently 10-2 from the circle with a 2.20 ERA while batting .324 this season with 2 home runs, 18 RBI and 18 runs scored.

The Ephs have won 15 straight games and clinched the NESCAC West Division crown Sunday. They are in action at home Wednesday for a doubleheader with Smith College beginning at 4 p.m.
Source: https://ephsports.williams.edu/sports/sball/2018-19/releases/20190422ohx70h.
This has been a good season for the Williams softball team, which could prove instrumental in Williams' quest for a 22nd Directors Cup.
The Williams Men's Basketball Team is in the NESCAC finals today (gametime: 2:30pm EST) against Wesleyan.  Williams and Wesleyan split their two previous games this season with both, I think, going into overtime.  It's likely that both teams will get a bid to the NCAA tournament regardless of today's result (and will likely get high seeds), but it's likely that Williams/Wesleyan are playing for home court advantage through later rounds of the tourney — so there are real stakes here.
You can watch the free, and reasonably high-quality, live stream here: https://www.nsnsports.net/conferences/nescac/.
EDIT: early in the second half, Williams is up 35-27.
Darlingside, today's Ephband of note, has a new album out — and it's deservedly getting strong reviews:
With "Extralife," Darlingside leaps ahead of where it had been on earlier works like its 2015 album, "Birds Say." The voices remain as strong as ever while the arrangements are more adventurous, blurring the lines between genres and giving the group access to several audiences. When I mentioned to Messrs. Mukharji and Paseltiner that I couldn't quite figure out where they fit in the contemporary rock-and-pop landscape, they conceded, in unison, that they couldn't either. Neither musician seemed particularly troubled by the thought.
https://www.wsj.com/articles/extralife-by-darlingside-review-folk-meets-a-cappella-1519246754?mod=searchresults&page=1&pos=1
See also https://www.npr.org/2018/02/15/585457299/first-listen-darlingside-extralife.
It's worth noting that Darlingside's aforementioned 2015 album, "Birds Say," received wide critical acclaim.
For those who don't know, Darlingside is a band now consisting of  four former members of the Williams Octet — Harris Paseltiner (09), Auyon Mukharji (07), Don Mitchell (06), and Dave Senft (07).   You can learn more about the group more in this somewhat outdated Williams feature: https://howdyougetthere.williams.edu/darlingside-the-band-06-07-09/.
If you're interested in checking them out or in buying their album:
iTunes: http://smarturl.it/extralife-it
Apple Music: http://smarturl.it/extralife-app
Spotify: http://smarturl.it/extralife-spot
Amazon Music: http://smarturl.it/extralife-amz
The Dside Store: http://www.darlingside.com/shop
I read this article on the Record. I concur with the author on the opinion that "eliminating the campus newspaper subscription is doing a great disservice to Williams students".
The article can be found at http://record.williams.edu/wp/?p=15779
(Ed Note: The story refers to dropping the paper subscription to the New York Times)
Currently browsing posts authored by abl
Follow abl via RSS