Currently browsing posts authored by Ronit
Follow Ronit via RSS
Williams Record: Newark Mayor Cory Booker to speak at Commencement
We're not running one for the Div I tournament, but Idiots'Books is. Go here to play in the bracket organized by fellow Eph and, sadly, Duke supporter, Matthew Swanson '97.
Kristin Cashore '98 points out the NYTimes' vile and despicable reporting of rape.
One wonders if Schapiro is starting to miss Williams…
Schapiro "disappointed" by sex toy demonstration

Northwestern President Morton Schapiro said he was "troubled and disappointed" upon hearing that Weinberg professor John Michael Bailey allowed a non-student presenter to be voluntarily masturbated with a sex toy during an optional after-class demonstration.

The full statement follows below:

I have recently learned of the after-class activity associated with Prof. Michael Bailey's Human Sexuality class, and I am troubled and disappointed by what occurred.

Although the incident took place in an after-class session that students were not required to attend and students were advised in advance, several times, of the explicit nature of the activity, I feel it represented extremely poor judgment on the part of our faculty member. I simply do not believe this was appropriate, necessary or in keeping with Northwestern University's academic mission.

Northwestern faculty members engage in teaching and research on a wide variety of topics, some of them controversial. That is the nature of a university. However, in this instance, I have directed that we investigate fully the specifics of this incident, and also clarify what constitutes appropriate pedagogy, both in this instance and in the future.

Many members of the Northwestern community are disturbed by what took place on our campus. So am I.

More to come.
More from the Daily Northwestern:
Update 2: University spokesman Al Cubbage has released the following statement regarding the incident:

"Northwestern University faculty members engage in teaching and research on a wide variety of topics, some of them controversial and at the leading edge of their respective disciplines. The university supports the efforts of its faculty to further the advancement of knowledge."

Update: Prof. John Michael Bailey has released a statement regarding the demonstration. Read it here.

Northwestern students and administrators are defending an explicit after-class demonstration involving a woman being publicly penetrated by a sex toy on stage in the popular Human Sexuality course last week.

The optional presentation last Monday, attended by about 120 students, featured a naked non-student woman being repeatedly sexually stimulated to the point of orgasm by the sex toy, referred to as a "fucksaw." The device is essentially a motorized phallus.

The 600-person course, taught by psychology Prof. John Michael Bailey, is one of the largest at NU. The after-class events, which range from a question-and-answer session with swingers to a panel of convicted sex offenders, are a popular feature of the class. But they're optional and none of the material is included on exams.

Last Wednesday, Bailey devoted six minutes of his lecture to addressing mounting controversy regarding the incident and articulating his educational intent. He told the class he feared the demonstration would impact the after-class events, which are sponsored by the Weinberg College of Arts and Sciences, and he explained the educational purpose of the events.

"I think that these after-class events are quite valuable. Why? One reason is that I think it helps us understand sexual diversity," he said, according to an audio file obtained by The Daily.

"Sticks and stones may break your bones, but watching naked people on stage doing pleasurable things will never hurt you," he said to loud applause at the end of his speech.
Thanks to Brandi for sending the link.
Congratulations to Joe Shoer '06 on successfully defending his dissertation. I like this:
The funniest thing about this to me is that I know that the research I've been working on isn't done. There are more investigations to pursue, more refinements to write into the code, more variations to try in simulation, and more experimental verification to perform. Research never stops. But at some point, we grad students have to decide, with our advisers, when we have made a sufficient contribution and should wrap up our work into a complete dissertation. Still, it doesn't quite feel like I'm "done," because I know that the research has much further to go!
A graduate student accused of stabbing a Binghamton University professor to death in 2009 is not mentally competent to be tried for murder.

Instead, Abdulsalam al-Zahrani, 46, will be placed in the custody of a state psychiatric facility until he is deemed mentally competent to be tried, said Chief Assistant District Attorney Joann Rose Parry.

Broome County Judge Joseph F. Cawley Jr. signed the competency order this morning in court.

Al-Zahrani's trial on one felony count of second-degree murder was to have begun with jury selection Tuesday morning. On Friday, however, the potential jurors were told not to report to court.

No new trial date has been set, Parry said Tuesday. The order was signed after a competency hearing and a determination by mental health professionals that al-Zahrani was mentally incompetent to understand the charge or be tried.

The graduate student's behavior was described by other students to reporters as erratic in the days and weeks before Richard Antoun, a professor emeritus in BU's anthropology department, was stabbed to death Dec. 4, 2009 in Science Building 1 on the BU campus.

Al-Zahrani has been in the Broome County Jail without bail since he was charged in Antoun's murder on Dec. 5, 2009.

He'll be transported to a state psychiatric hospital for treatment, as a result of the order. The order is good for up to year. Al-Zahrani will go on trial when he is deemed mentally competent, Parry said.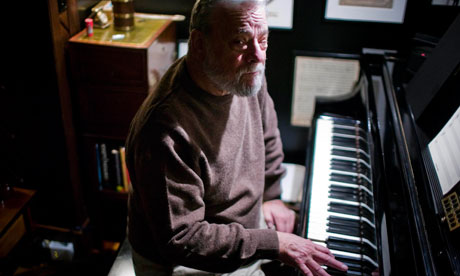 This excellent profile of Stephen Sondheim in The Guardian includes an instructive Williams anecdote:
Initially a maths student at Williams College in Massachusetts, the young Sondheim took an elective course in music with no intention of pursuing it. During the first lecture, the students were played Debussy's La Mer, and the lecturer asked: "what does it sound like to you? Does it sound like the sea? Doesn't sound like it to me." Something in Sondheim rose up and responded, both to the down-to-earth approach and to the understanding that "music has that remarkable quality of suggesting things without being specific. It's an abstract art and yet it's an emotional one, and that's what makes it so remarkable." The music teacher in question changed his life. "He was very spit-spot Mary Poppins – he took all the romance out of music – and that appealed to me. I believe in it. I believe that, far from demystifying it, it makes things clearer and, in a sense, adds to the mystery of creation. Because the desire to make form out of chaos is why we write."

The more precise, and concise, a lyric, the more likely it is to liberate the ideas behind it. "I think the more restrictive, the freer it is. It's always been true. If you're locked in a room, you explore all the corners." Of course, he says, "Tolstoy might disagree. There are people who like to over-write, and who are effective at over-writing. Particularly the Russians." He points to Hammerstein's lyrics, which at their best illustrate how something ordinary on the page can be transformed in performance. "'Oh what a beautiful morning / oh what a beautiful day.' Nothing could be more banal," Sondheim says. "But that song changed the history of musical theatre." And it did so through simplicity, clarity and repetition.
Provided to us by Wick Sloane '76:
Bowdoin Student Government requests that the Office of Admissions actively recruit academically qualified veterans beginning with the Class of 2016, with the aim of having a few such students in each matriculating class. The Office of Admissions is under pressure to meet the demands of many constituencies on campus; BSG recognizes this, and submits that it is nonetheless a priority to bring a few veterans to campus.
1.) Veterans have experiences, ideas, and perspectives that no other types of students do. They would contribute to the intellectual vitality and diversity of the College, enhancing the academic experience of students and faculty alike.
2.) There are among the men and women returning from Iraq and Afghanistan some of the future leaders of our country, and these are people whom we want to have Bowdoin degrees. The College's own commitment to the Common Good makes us particularly aware of the sacrifices made by those who have served our country.
3.) The College's commitment to recruiting the best students in America should not be restricted to 18-year-olds who are seniors in high school. We recognize that there is more than one path to Bowdoin, and that participation in the armed forces should not preclude talented students from being recruited and admitted.
4.) The Bowdoin community has long had a warm relationship with the armed forces. Many recent graduates have become officers, two recent high-profile alums attended Bowdoin after serving (Wil Smith '00 and Alex Cornell de Houx '06), and the Naval Air Station in Brunswick has made this community welcoming towards veterans.
5.) The new Yellow Ribbon Program makes bringing veterans to Bowdoin a financially-positive proposition. With the U.S. Department of Veterans Affairs (VA) providing a housing stipend, a contribution based on the tuition at the University of Maine—Orono, and matching funds for Bowdoin grants, veterans can afford the College, and Bowdoin can afford them.
6.) This policy is not unprecedented; Stanford, Dartmouth and the College of William and Mary have recently been recruiting and admitting veterans as undergraduates. Students and faculty at these institutions have been very supportive of the veterans on their campuses. And while some veterans need additional support services, these expenses are easily covered by the financial support conferred by the Yellow Ribbon Program.
Sincerely,
George Aumoithe '11, Rory Brinkmann '11, Sean Campos '11, Caitlin Callahan '11, Nick Daniels '12, Amanda Gartside '12, Oluwatobi Olasunkanmi '12, and Steve Robinson '11.
http://www.insidehighered.com/views/sloane/sloane39
The Williams College Metro New York Regional Association and The Williams Club of New York cordially invite Williams Alumni, Parents and Friends to a special reception with Adam Falk, 17th President of Williams College
Location: The Williams Club of New York (at its new home at The Princeton Club)
15 West 43rd Street (Between 5th and 6th Avenues)
New York, NY
212-596-1200
Date: Thursday, November 18, 2010
Time: 6:00 p.m. Reception; 7:00 p.m. Conversation with President Falk
Cost:
$20/Alumni (Classes 2000 and older, Williams parents, Guests)
$10/Young Alumni (Classes 2001 – 2010)
Hors d'oeuvres and beverages included
Attire: Business casual
Your RSVP is important
Please register and pay by credit card through Williams College's secure on-line system
http://tinyurl.com/williamsreception11-18
or you can register on-line and mail a check by Wednesday, November 10th. Additional information available through the link above. Please contact the Williams Alumni Relations Office at (413) 597-4151 or alumni.relations at williams.edu with any questions
(above copied from an Alumni Relations email)
Tim Layden '78 has a column in Sports Illustrated on the need to change the culture of football (see previous discussion here and Layden's 3-part 2007 cover story here)
In my experience, every American male who put on a helmet for his high school when he was 16 years old — I was one of them — thinks he understands the level of hitting in professional football. He doesn't. Not even close. But he can comfortably and safely act like it from his couch on Sunday afternoons, and argue that NFL players are richly compensated for the risks in catching passes over the middle.

Concussion research in the past several years has made it obvious the NFL needs to reduce the incidence of head injuries in its game. Strict enforcement of rules in place today is a step in that direction. The NFL is acting to preserve the health of its most important asset: the players. There's no amount of money that can suitably compensate a young former athlete for the loss of cognitive function.

Intimidating hits go back to Jack Tatum, Fred Williamson, Dick Butkus, Concrete Charlie Bednarik and beyond. Players are bigger and faster now, and they celebrate every hit, not just the big ones. But the concept is not new, even if brain research is. It's vital that the culture change. But to suggest that this doesn't change the sport is delusional.
The Williams College '62 Center's Off-Center Series will present internationally syndicated columnist Dan Savage on Monday, Oct. 25 at 9 p.m.

Savage, who writes the weekly love and sex advice column "Savage Love," will recreate the "Savage Love" podcast with questions from the audience. Savage Love ranks as the number one "Health" podcast and number 20 overall on iTunes. Questions can be submitted in advance by going to tinyurl.com/WCLove

The show will take place at Chapin Hall, located at 62 Chapin Hall Drive. There are no tickets. This event is free and open to the public, but seating is limited. A limited number of Williams Savage Love t-shirts will be on sale. All proceeds will be used to support the Williams Queers Student Union's charity Sylvia's Place.
I highly recommend going. While Dan Savage is a brilliant columnist, he is even better live and in person. For those unfamiliar with the man, go here.
Also: Listen to Dan Savage in Act Three of this This American Life podcast (starts around 38m), it's the most moving thing I've ever heard on the radio.
Reposted from this thread:
---
David is right and wrong: there are actually several excellent theses (and eventually a great book) to be written about the institute of politics. I am biased, but the summer institute in american foreign policy was great and in my conception it was indeed an effort to revive the spirit of Garfield's work.
Fred [Rudolph]'s comments
are right on the money, but a few other thoughts.
The one current difficulty in researching the institute is that the archives are largely uncatalogued (they were not catalogued a decade ago when I had access and I don't think they have been accessible since then) and they are currently unavailable due to the library construction. Some but not all of that material can be found at the Library of Congress.
To understand how important the IOP was at the time you can do a Proquest newspaper search on Williams College for the 1920′s. It will immediately become apparent that with the exception of sports Williams received very little coverage in national papers in the 1920′s. But the events at the institute were often front page news in the NY Times and other papers who covered the entire summer festivities.
One real intellectual problem with the institute, at least according to Garfield and his second in command, Walter McLaren of Economics, was that it could not really decide whether it wanted to be an "elite" institution where policymakers and opinion leaders could settle world problems or whether it would be something that reached a mass audience. That philosophical question was never really resolved and eventually the institute attracted less attention over time as it became more "academic" in character. The other problem was that over time the perception grew that there were too many old ladies sewing and unable to truly participate in the discussions. Neither Garfield nor McLaren really ever liked the idea of the institute as a vacation spot and they were not thrilled that some treated it that way.
Another important factor–and even with the archives it is still a little unclear–is trying to figure out the demise of the institute. Bernard Baruch was indeed the main benefactor but neither he nor Garfield wanted him to be the sole supporter for the institute. By the late 1920′s Baruch basically said that his financial commitment (basically between 25-50 a year, although I think closer to the lower figure) needed to be phased out. Garfield then tried to raise an endowment, but obviously the Great Depression made this impossible. He probably could have kept going year to year, but the endowment became a matter of principle to him.
Part of the problem was that Garfield made it very clear that he would not ask regular williams donors to put up money for the IOP since it would be a conflict of interest. Although he undoubtedly would have liked someone from Williams to step forward, no one did and my sense is he never did put the issue directly to donors.
This reluctance on the part of Williams donors/trustees is not hard to figure out. Garfield spent about 2 months out of every year traveling to Europe in order to get the best speakers he could. He then spent another month away from college business while the institute was in session. Fred Rudolph would probably know better than me, but my real sense is that after the First World War the IOP was far more important to Garfield than Williams. His hope was to make Williamstown the Geneva of the United States and, while he failed for reasons mostly beyond his control, it was not for lack of effort. Williams was the very first institute of politics in the country and every successor acknowledged Garfield's pioneering efforts.
Final point: at the very beginning of his thinking about the institute, Garfield had two choices. The road he did not take, which some wanted him to do, was to center the institute around undergrads at Williams. One of the other reasons for the institute's downfall was that there was indeed very little connection between the IOP and Williams students/faculty.
Oh well, much too long a post! But the IOP is indeed a fascinating element of both the history of Williams and the early history of American involvement in world affairs.
---
In the last few months, we've seen the departures of the following important Athletic staff:
(There may be others, please add if I have missed any)
While I'm glad to see Williams serve as a source for successful coaching and athletic directors who'll go on to improve DI and DIII athletic programs, this is a little odd, no? Explanations?
Moore leaves Williams College after six national titles to take over SU women's rowing program
Williams College has won five consecutive NCAA Division III championships in women's rowing and six overall since 2002. The feat is more remarkable after locating a map. The school is tucked into the Northwest corner of Massachusetts within a few oar pulls of the Vermont and New York borders. The school mascot is a purple cow. The home rowing course is Lake Onota, which sits 21 miles south of the Williamstown campus.

If Justin Moore can win big at Williams, why not at Syracuse University?

Moore was named head coach of the Orange women rowing program on Monday. He's expected to start his new position on campus on Aug. 17 after serving as head coach of the U.S. junior national team, which is competing in the Czech Republic.

Moore, 42, replaces Kris Sanford, the 14-year Orange coach who resigned last month to pursue a nursing career. Her decision to step down marks the end of an era in the Syracuse rowing programs. Her father, Bill Sanford, led the men's program at Syracuse for 34 years. This coming school year will mark the first in 50 years without a Sanford in the Orange boathouse.

Moore said Monday that he's had his eye on the Orange program for years. Because of the success at Williams, he long wondered how he would perform at the next level with scholarship athletes. Yet he and his family were happy in Williamstown. He was not prepared to leave for any Division I program.
Continue reading on Syracuse Online
Andrés Manuel López Obrador outlines his ten point plan to initiate the reformation of Mexico[*]:
Thanks to Ken Thomas '93 for sharing these. Comments welcome.
[* : YouTube should auto-detect your default language and display subtitles; if not, you can click on the video and go to the main YouTube page, and use the 'cc' icon-tool at bottom-right to set language.
English and Spanish are currently available; if you need any other languages, especially for distribution, please let me know and I'll produce it for you. –93kwt]
Posted without comment:
WILLIAMS is the second-oldest college in Massachusetts. Its bucolic campus hosts just under 2,000 undergraduates, attracted by its small size, traditional liberal arts curriculum and generous faculty-to-student ratio of 1 to 7. Attention from teachers is usually what one has in mind when selecting a small college like Williams, and when writing the hefty checks that it asks for. But what may surprise parents is where much of their money is going: the proportion of administrators to students matches that of teachers.

Williams's annual report to the Department of Education reveals that of 1,017 total employees, 720, or over 70 percent, are doing something other than teaching. Among them are 84 coaches, 73 fund-raisers, a 42-member information-technology crew and a staff of 29 at its art museum. The college has a "baby-sitting coordinator," a "spouse/partner employment counselor" and a "queer life coordinator."

Are all these positions necessary?
From Prof. Pacelli's blog:
Mmmm… cake (recipe and instructions in link).
Please use the thread below to discuss all things cake related. What's your favorite cake? Where do you stand on the controversial cake vs. pie debate?
From the blog of David B. Lerner '90, here are some nice visualizations of the early stage venture capital ecosystem in Silicon Valley and in Boston (click for larger versions, or here and here for discussion and comments):
This is useful info, and I like how Lerner has included Twitter handles for most of the individuals on his maps. How many Eph VCs can you identify? I see Greylock Partners…
A touching Steinbrenner tribute written by former Yankees batboy Matthew McGough '97.
I knew him well. He left baseball under pressure from me in 1990 and was out for two years. Then he begged me to let him back into our game, and I did so because I thought he had made a silly deal for himself when he had asked me to let him leave baseball for life after having engaged in a vicious effort to discredit the Yankee player, David Winfield.

This is not the place to revisit all that drama, but I let him back because I thought then and still believe he did not deserve to be banned for life.

We had our battles and he did some ugly and grim things as he fought to rebuild the Yankees. But he also did some wonderfully generous and thoughtful things to help those whose needs fit his areas of concern. Let me record two such generous acts that have been unreported.

Long before I went into baseball I was CEO of Columbia Pictures. I had never met George but, of course, knew who he was. This was in the early '80s, when he was well along in his baseball career. He and I had attended Williams College, where we both also admired the football coach there.

One day George called me to ask me for a favor. He told me our old coach was retired to Florida but was ill with Alzheimer's disease, as was his wife. George told me he was calling those who had played for our old coach to ask for funds to help hire nurses to care for the coach and his wife.

And for several years, he called me when it was time to renew the gifts, and each year he raised the funds and supplied the vital assistance to these two needy old friends. There was never any public mention made of what he had done.

On another occasion, I called him for help. An old friend of mine was afflicted with Lou Gehrig's disease and was dying. But my friend harbored one final dream of getting to Yankee Stadium on July 4, 1989, when the Yankees were planning to pay tribute to the memory of Gehrig, whose iconic farewell speech to the fans had been made precisely 50 years earlier on July 4, 1939. It also happened to be the day on which my friend had been born.

When I asked George to help me make the dream come true, George not only agreed to help but insured that every effort was made to get my friend with his hospital bed, respirator and several nurses into the upper levels of the stadium where he was able to see the game.

Somehow, with much effort and difficulty, we managed to give the ALS victim a remarkable few hours at the ballpark, and he was very grateful.

When I later gave George my profuse thanks, his only response was that he was glad to have helped. I often wondered whether he was just a bit embarrassed to be seen as having a soft and caring dimension.
Question for readers more familiar with the history of Williams football – who was the football coach that both men looked up to?
Just 150-odd minutes to go until the biggest game in the world. Are you excited? Here are a few things to consider as you wait for the final:
An argument that all soccer fans should root for Holland to lose to Spain.
On the other hand, maybe Spain has made football sterile and boring.
Thirteen World Cup Theses (a dismissal of both of the analyses presented above)
Ballet of Frost (a thoughtful defense of Spain's playing style)
Maybe this is a battle of different philosophies of football
And maybe this is the World Cup that killed the fixed game plan in favor of fluidity and speed of thought.
And, perhaps more importantly than any of the above prognostications, Paul the Octopus has picked Spain.
Here's the Guardian liveblog
A limited victory for gay and lesbian couples, in a case brought by Attorney General Martha Coakley '75. An interesting application of the 10th Amendment to limit federal interference in marriage. Link to full decision in Massachusetts' lawsuit against US (PDF). Link to decision in GLAD suit against Office of Personnel Management (PDF)
Should be a good weekend of football.
There's a lot of hype about the Brazil-Holland game, but I expect it to be a snoozefest. Both teams have played solid but boring football so far. Arjen Robben is the key man for Holland; if he starts, they have a shot at winning.
The real marquee match of the tournament will be Argentina-Germany on Saturday. Should be a goalfest. Personally, I am rooting for Germany to win the whole thing. They are playing like Holland used to play, and Holland are playing like Germany used to play.
My quarterfinal picks:
Uruguay 1 – 0 Ghana
Brazil 2 – 0 Netherlands
Germany 3 – 2 Argentina
Spain 3 – 0 Paraguay
Here's a little light reading for the holiday weekend (right-click to save, it's a large PDF file):
2009 Williams College Form 990
If you're in NYC, you might want to check out Brooklyn Brainery, a collaborative learning community organized by Jen Messier '06 and others. This summer, they're offering inexpensive classes on American Sign Language, Denim, Typography, Foreign Cuisine, Urban Planning, Whiskey, and Coffee. You can also suggest a class or a teacher.
Currently browsing posts authored by Ronit
Follow Ronit via RSS