Currently browsing posts authored by Dick Swart
Follow Dick Swart via RSS
... here at 45th and Madison Avenue in New York City for the musical stylings of Guy Lombardo and His Royal Canadians welcoming in the New Year as they have every year since 1929 with their rendition of Auld Lang Syne …
… time to put your feet up and review the Christmas cards!
Particularly those from architects and designers …most with motion.
For the intellectual rigor of the agnostic and the aetheist,
and for the sincerity of those who guide their lives by the principals of their religion,
but with approbrium for the sales-over-last-year Whirlwinds of Walmart
and the practitioners of PC prattle who trivialize language and meaning,
May I wish this community a very Happy Christmas!
Dick Swart 1956
Hood River, Oregon
This was my first post, 23 December, 2007. I am now on post number 769. Merry Christmas and Happy New Year from Hood River, Oregon!
Dick
President Donald Trump and first lady Melania Trump's Christmas portrait. Photograph: UPI/Barcroft Images.
John Drew's Monday 10 December post on Brooks and Free Speech has certainly had a galvanizing effect on EphBlog's readership. Well-posted, John, and well-written.
However, if you are like me, and I know I am, you may need a distraction from campus concerns. This is not to say turn to the front pages of the NYT, WaPo, and Politico. Presidential hysteria, climate calamity, and world economic and political collapse will not provide respite.
So let your eyes enjoy 10 design trends of 2018 as reported by Augusta Pownall (as close to a Williamstown tie-in as I could get) for DeZeen Magazine.
 Just because becoming dehydrated is a personal concern, here for sake of a picture on the blog:
• Urban water fountains pop up
and …  • Football Fever takes hold • The end of the world as we know it? • Distant galaxies become more attractiv• Architect and designers switch disciplines • Big companies tackle diversity • Return of the humble poster • Adapting to smaller home• Moving away from Milan …
… and yet another personal favorite …
• Bauhaus is back!
Let your eyes do the walking for a break.
As the interests of Ephblog and its' chief voice narrow and narrow, The tone and pace seem to increase. As an old fart, I am reminded of Walter Winchell and his frenetic delivery on both radio and television.
Hence the need for a name for the lede to shortcut attention:  a word or two that summarize the voices' pov.
Here's a sample of Walter Winchell … Attention, Mr and Mrs America …
… xkcd   a daily commentary of social and scientific mores.
I'm airbourne for most of the day, but upon landing I will turn my gaze to the top of the Parker House.
Candlelight vigil for the 11 killed in the shooting.
Recommended reading:
Max Boot, The Washington Post
"What is happening to our country?"
photo York Daily Record
O that Professor Robert Waite were available to offer his psychohistory analysis on the current WH resident as he did on the former resident of a bunker in Berlin. The Reichstag Fire is generally credited as the reason for the sweeping disruptions of German freedoms of personal and public activities, including freedom of the press… under The Reichstag Fire Decree of 1933.
The second reference (above) is from Australia with a 2 March, 2017 dateline. I am not the first to have this thought. Events seem to have progressed since 2017. The party state must protect itself.
… may not be interpreted as the justification for making a positive life decision and ultimate path, but a reminder that we need to justify our actions after the fact. If this is a fair statement, than how substantial is the speaker's claim "… has made all the difference"?
Near the end of my own path of self-justifications, I try not to weigh those actions taken and differences made against an equally viable path and where it might have led and to what differences.
I am left with the acknowledgement of self-justification for the path taken, though with many regrets.
Do watch the animation in the Atlantic magazine reference.
Here are a few moments of Satie to accompany my melancholy musings:
 … here they are! The movers, makers, shakers, moguls, and satraps of our current delusional, dyspeptic, and divided society.
An informal survey if you please , dear enpurpled reader:
    1.  Who on the list have you heard of?
    2.  Who on the list has affected-infected your own personal or business life?
    3.  Who on the list do you consider a force for GOOD?
    4.  Who on the list do you consider a force for EVIL?
    5. Who on the list went to Williams?
Please, no offense meant to any reader whose name appears in the listing!
Pamela Franks
Class of 1956 Director, Williams College Museum of Art (WCMA)
After earning her Ph.D. in the history of
art from the University of Texas at Austin, Franks started her career as a postdoctoral curatorial fellow at Yale University Art Gallery (YUAG) and became its first curator of academic affairs in 2004. Throughout her 14-year career at YUAG, she played a central role in shaping and carrying out priorities for teaching, exhibitions, public programs, community engagement, technology, and collaborations with other academic art museums. As the Director of WCMA, she remains passionately committed to the role of the museum in higher education and the inspiration art can bring all audiences.
In addition to new Williams president Maude Mandel, Pamela Franks becomes the new director of the Williams College Museum of Art. Ms Franks brings a long list of accomplishments from her career experience at Yale, as you may read above and here. (both courtesy of WCMA).
It is always a pleasure for me, an old art history major and member of the Class of 1956, to see the continuing importance to Williams of this area of the Liberal Arts!
… making way for a speedy ride.
See here for a purpled reference.
Later up-dates:
(an announcement at Union Station, Washington, DC)
We regret to inform you that the SCOTUS Special due to arrive at noon on Saturday September 29th has been delayed because of unexpected bad weather and an avalanche of public opinion.
https://www.theguardian.com/us-news/2018/oct/02/trump-mocks-christine-blasey-ford-at-mississippi-rally
(another announcement at Union Station, Washington, DC)
We are happy to inform you that the SCOTUS Special is now due to arrive at noon on Saturday October 6th (or not) (or with complications) (railroading is hard work!).
… of continuing consideration:
xkcd 19 Sep. 2018
From George Will's column in today's Washington Post.
The beginning of another academic year brings the certainty of campus episodes illustrating what Daniel Patrick Moynihan, distinguished professor and venerated politician, called "the leakage of reality from American life." Colleges and universities are increasingly susceptible to intellectual fads and political hysteria, partly because the institutions employ so many people whose talents, such as they are, are extraneous to the institutions' core mission: scholarship.
Writing in April in the Chronicle of Higher Education, Lyell Asher, professor of English at Lewis & Clark College, noted that "the kudzu-like growth of the administrative bureaucracy in higher education" is partly a response to two principles widely accepted on campuses: Anything that can be construed as bigotry and hatred should be so construed, and anything construed as such should be considered evidence of an epidemic. Often, Asher noted, a majority of the academic bureaucrats directly involved with students, from dorms to "bias-response teams" to freshman "orientation" (which often means political indoctrination), have graduate degrees not in academic disciplines but from education schools with "two mutually reinforcing characteristics": ideological orthodoxy and low academic standards for degrees in vaporous subjects such as "educational leadership" or "higher-education management."
I am very leery of social engineering applied to a campus of 2000.
… however, new results seem strangely familiar.
Your observations?  I call your attention to 'Best Value Schools'.
Yes! Quartz has dedicated its' Obsession corner to the color PURPLE (please excuse me for shouting).
Along toward the very bottom, a school famed for the cost of text books, over-building on Spring Street, and generous allowances for vacation homes, is cited along with Burgess the Bovine Be-Spyer.
This is a follow-up to the post announcing Pantone Ultra Violet as the color of the year 2018.
SATURDAY, DECEMBER 8, 2018 1:00 pm-3:00 pm.
 J. Scott Applewhite/AP
His like may not soon come this way again .
The piles of broken plaster, pilasters, and precipitate cluttering Spring Street may be subject to more immediate usage by male passers-by. Spring Street, unlike eg Paris, has never had cast-iron pissoirs to offer an immediate venue.
(L) Paris Traditional                                          (R) Paris Beta Test
Strangely, the Beta is receiving a mixed reaction from normally blasé Parisiens.
Perhaps those of the Williams-related male persuasion may wish to cast a watery ballot indicating their opinion of the constant construction disrupting The Village Beautiful !
A follow-up story in DeZeen   paints an attractive picture of this imaginative addition to local color.
Of interest, if anyone recognizes any names:
Project credits:
Lead designer: Ben Bvenson of Broder
Architect: Hank Scollard
Interior design: Spartan Shop (Julie Pearson)
Landscape architecture: Reed Hilderbrand
Bridge designer: Tree-Mendous Aerial Adventures (Gerhard Komend)
Developer: Brody (Ben Svenson, managing partner)
Partners: Ben Svenson, John Stirratt, Scott Stedman, Eric Kerns, and Cortney Burns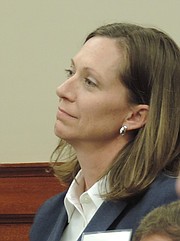 Rachael Fuller '98
 A great appointment! Our first woman city manager. And she brings her       Williams team experience in soccer and lacrosse with her … our two  fastest     growing HS and club sports for both men and women in this sports-and-   orchard community.
 The full story in The Hood River News:
 After an extensive search process, the City of Hood River mayor and council   announced Monday that Rachael Fuller will be Hood River's next city manager   beginning Aug. 20. She replaces five-year City Manager Steve Wheeler, who is   retiring and will work through Aug. 21.
 "We're very excited to have Rachael Fuller join us," Hood River Mayor Paul Blackburn said. "We   were impressed by her experience and qualifications with administrative roles in Oregon and in   rural communities similar to ours."
 Fuller, originally from Seattle, lived and worked for Jackson Hole, Wyo., as a program coordinator   and special project coordinator before moving back to the northwest. She most recently served as   assistant city manager for Gresham, for the past seven years. Fuller has a master's degree in Public   Administration from the University of Wyoming, and a bachelor's degree from Williams College.
Perhaps Williams will provide future world leaders with the knowledge to participate in global affairs while upholding their sworn allegiance to the United States of America.
Global Studies 2018-19

  (from the Course Catalogue)

An informed engagement with the world is an indispensable part of the liberal education that is the goal of the Williams experience. The Global Studies Program enables students to achieve this goal through a cross-disciplinary and comparative curriculum.
Plus the connection to the atomic bomb.
… let's see how they do.
Moving right along …
 …
It is Monday July. 9th. I really like the nesting dolls for this cup in Russia.
It is now Wednesday July, 11. In a heart-breaker for England, the finals are France – Croatia.
no need for SATs. 4 -2 ov
er Croatia! 
 Happy Fourth of July! .2
My post of last Spring, 2017 White House Lawyers Up was viewed as 'jumping over the shark'.
Please, Librarian Hammond, protect the Chapin Library's printing of the Constitution of the United States from the conflagration. It may be needed for reference.
D. Kane and D. Swart exchange views on Ephblog at a very nice lunch in Boston last fall.
It was a pleasure for the Hood River stringer to have this meeting with the owner, editor, and chief content provider of Ephodder. The much-maligned mogul is in actual presence a relaxed, convivial, conversationalist and bon companion for a mid-day grill. I was his guest. I also imagine that no captions are needed to identify the subjects.
I admire Dave for his dedicating this blog to his father D. Kane '58. And for his determination to have a new post up every day. This means that since he started the blog in 2003, he has written 9000 and some posts.
This is an immense dedication to digging for stories, items, releases on which to present observations of foibles and views of policies and actions. It may be that now in 2018, the formerly new is being recycled. That the content provider's opinions have become more set over time. That these opinions tend to be contentious in some ways, as they should be. 
However, I find that the focus of the postings has turned too completely meta-college administration as opposed to the proud banner "All things Eph". There was a time when this banner actually worked and many different topics were posted on topics of a much wider world … as one might expect of graduates of a leading liberal arts institution.
I recognize that meta-administration is what  current readers want to read and discuss, either pro or con, and at length. So saying I recognize that my attempts to spread the definition of the World-o-Williams a bit in the blog are not adding any dimension to the discourse.
While I will be retiring my Hood River quill, I urge some other reader, with a sense of a broader outlook to present,  to jump right in!
… 30 …
Quartz, a pub covering trends and happenings in business, has a weekly Obsession on a particular topic. I was amused to see that this weeks' obsession was cranberries.
https://qz.com/email/quartz-obsession/1254695/
And why amused, you may ask. Because of the contributions to the Alma Mater of the Makepeace family.
Members of the family have been responsible for raising the cranberry to a daily part of the life of peoples world-wide instead of a sugar-infused berry sauce at Thanksgiving. We drink them in many forms and eat them out of little sacks as a treat and diet addition.
The Williams link. Charles D. Makepeace Williams 1900 and Treasure for many years. At our 50th reunion in 2006, Denny Makepeace '56, his grandson and namesake, gave a  rundown on the doings of the family and some very particular descriptions of activities at his grandfather's Williamstown house. We were in that house, now the Oakley Center, and laughed at the stories, especially the one about dancing on the piano and leaving heel marks on the polished top. And the piano was with us in the room. The convivial talk is a part of the oral history of Williams.
I do wonder if the Williams community recognizes the importance of continuity and tradition, and has an appreciation of the personal histories and commitments that have shaped this small college.
Currently browsing posts authored by Dick Swart
Follow Dick Swart via RSS