Currently browsing posts filed under "Alumni"
Follow this category via RSS
 … here they are! The movers, makers, shakers, moguls, and satraps of our current delusional, dyspeptic, and divided society.
An informal survey if you please , dear enpurpled reader:
    1.  Who on the list have you heard of?
    2.  Who on the list has affected-infected your own personal or business life?
    3.  Who on the list do you consider a force for GOOD?
    4.  Who on the list do you consider a force for EVIL?
    5. Who on the list went to Williams?
Please, no offense meant to any reader whose name appears in the listing!
From TechCrunch:
Lead Edge Capital, a New York-based venture firm, has been around since 2009, and it has been quietly growing like kudzu since. After closing its very first fund with $52 million back in 2011, it has been roughly doubling the size of its funds ever since, closing on $138 million in 2013 and $290 million in 2016 and today, announcing a fourth, $520 million fund. Altogether, including some special purpose vehicles it has assembled, the firm is now managing roughly $1.5 billion in assets.

How did the team, led by founder Mitchell Green, pull it off? Green's background may have helped. The Williams College grad . . .
Green is class of 2003. More from the Wall Street Journal last fall:
Mitchell Green has a habit of speaking in machine gun-like blasts punctuated with wild-eyed excitement.

As the 36-year-old founder of Lead Edge Capital, a New York venture-capital firm with $1 billion under management, such frenetic energy and enthusiasm have helped score deals to crow about.

"It's the energy, right? I have never met a guy that talks so fast and seems to make sense," said Bill Grabe, a limited partner in Lead Edge funds and an advisory director for General Atlantic. "He's made me a lot of money."

Mr. Green's passion for tech investments has landed deals in Alibaba, Uber and Spotify. People who know him say he is a force of nature who obsesses over things until he gets what he wants.

Getting a piece of Alibaba early was a pivotal moment for Mr. Green and the future of Lead Edge Capital.

"We returned about a billion dollars," he said of the Alibaba stake.
The article ends with:
Unlike others in the industry, Mr. Green is unabashed stressing the importance of pumping the phones with cold calls. His team of six analysts—he's adding two more—are cut from a Wall Street mold where relentless research is paramount and 80-hour weeks aren't uncommon. "We are the only guys running a firm who have done the cold calling before," he said.

And his rule of thumb on cold calls is simple: If they call you back right away, they are a dog. If they don't call you back, those are the ones you want to work with. "We have shown up at people's offices completely uninvited," he said. "Most people actually appreciate persistence."

Mr. Green doesn't like to hear 'no' when he wants in on an investment that makes a lot of sense from his research. He's very creative at finding founders or angel investors who might like to get liquidity, said Mr. Grabe. "You don't know where he's getting all this stuff from," he said. "Mitchell is like a ferret—he's in every hole."
This is not something that I will get on my tombstone . . .
Looking for a Williams connection to the Kavanaugh nomination fight? EphBlog has you covered!
On Thursday, Senate Democrats disclosed that they had referred a complaint regarding President Trump's Supreme Court nominee, Judge Brett Kavanaugh, to the F.B.I. for investigation. The complaint came from a woman who accused Kavanaugh of sexual misconduct when they were both in high school, more than thirty years ago.
Reporter Ronan Farrow is the partner of Jon Lovett '04.
Apparently Ken Marcus '88 has made headlines again.  Per the New York Times, the Department of Education under Marcus is wading into questions of anti-Semitism at U.S. universities:
The new head of civil rights at the Education Department has reopened a seven-year-old case brought by a Zionist group against Rutgers University, saying the Obama administration, in closing the case, ignored evidence that suggested the school allowed a hostile environment for Jewish students.

The move by Kenneth L. Marcus, the assistant secretary of education for civil rights and a longtime opponent of Palestinian rights causes, signaled a significant policy shift on civil rights enforcement — and injected federal authority in the contentious fights over Israel that have divided campuses across the country. It also put the weight of the federal government behind a definition of anti-Semitism that targets opponents of Zionism, and it explicitly defines Judaism as not only a religion but also an ethnic origin.
It appears that this might be a case of trying to fit a square peg into a round hole, as the Department of Education does not have authority to investigate religious discrimination, only "discrimination on the basis of race, ethnicity or national origin."
I wonder if Williams will catch his attention?
Zach writes:
Lessons From 2,000 Hours on a Public Bus

I used to be ashamed about what it took for me to get to school every morning. Now I realize it was an education of its own.

During my high school career I spent more than 2,000 hours on public transportation. Two hours to and from the elite suburban prep school I attended for three years. Four hours total for each of the 180 days of the school year. And that was only if there was no traffic.

Here was the drill: I'd wake up at 4:50 a.m. in the dilapidated duplex in Ward 8 of Washington that I shared with my father, grandmother, uncle and younger sister.

It was too early for me to be hungry, and our kitchen rarely had much food anyway. So skipping breakfast became a habit. After willing myself out of bed, usually on three to four hours of sleep, I'd take a shower to wake myself up, get dressed and head out to catch the Metrobus at 5:15 a.m.

…

Finally, my commute taught me humility.

I don't doubt that there were people in my neighborhood who could have done more to help themselves and set a better example for their children. But I also know that there were many young men and women whose attitudes toward life, family and education would have been vastly different if they'd benefited from a fraction of the opportunities I'd found thanks to an extremely hard-working father and the luck of an excellent education. My experience has taught me that pulling yourself up by your bootstraps is a myth: Achieving social mobility requires far more than will and ability. It's nearly impossible to rise without other people helping you pull yourself up.
Read the whole thing. Zach's memoir, Uncensored, is at its best in his descriptions of the realities of poverty in America.
Want 159 slides about the what's going in in Artificial Intelligence? Eph Nathan Benaich has you covered.
From last month:
When I came to Williams, none of my classmates knew about my mother's illness, my family's poverty. At the time, I thought that if I told someone, they would see me differently, in a light less positive than I desired.

Ashamed of my past, I pretended it didn't exist.

But after two semesters, something happened. I was taking a course called "Challenges of Knowing," when my professor explained that his study of the Holocaust, particularly the stories of survivors, had led him to the conclusion that anecdotal evidence serves a unique purpose: It humanizes facts, figures and abstract ideas in ways that allow us to cultivate empathy and compassion.

He said that as a quantitative social scientist, he valued reliable metrics and good data, but that stories about people's lived experiences often give texture and meaning to the more technical knowledge surrounding complicated issue areas, particularly for those outside of academia. He went on to discuss the power of confronting trauma, and how, in the context of the Holocaust, the stories of brave survivors help many of us to think about that period of history in a more detailed and complex way.

I'd read many novels and memoirs, and I believed as strongly as anyone that literature could be quite powerful. To me, learning about other people's stories was fascinating and enlightening.

Yet I hadn't thought much about how confronting pain and speaking openly about traumatic experiences could strengthen those who mustered the courage to do so.

After listening to my professor speak about the power of vulnerability in the context of the Holocaust — whose survivors had endured the unimaginable — I started to think about my past in a different light.
Read the whole thing. Who was the professor? Kudos to them for having such a positive effect on Zach. And kudos to Jim Reische for tweeting out a link to this article, even though Zach has not always brought Williams the kind of press it would prefer . . .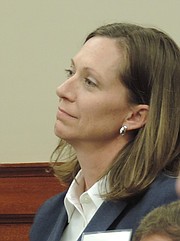 Rachael Fuller '98
 A great appointment! Our first woman city manager. And she brings her       Williams team experience in soccer and lacrosse with her … our two  fastest     growing HS and club sports for both men and women in this sports-and-   orchard community.
 The full story in The Hood River News:
 After an extensive search process, the City of Hood River mayor and council   announced Monday that Rachael Fuller will be Hood River's next city manager   beginning Aug. 20. She replaces five-year City Manager Steve Wheeler, who is   retiring and will work through Aug. 21.
 "We're very excited to have Rachael Fuller join us," Hood River Mayor Paul Blackburn said. "We   were impressed by her experience and qualifications with administrative roles in Oregon and in   rural communities similar to ours."
 Fuller, originally from Seattle, lived and worked for Jackson Hole, Wyo., as a program coordinator   and special project coordinator before moving back to the northwest. She most recently served as   assistant city manager for Gresham, for the past seven years. Fuller has a master's degree in Public   Administration from the University of Wyoming, and a bachelor's degree from Williams College.
Ken Marcus '88 is the (recently confirmed) Assistant Secretary of Education for Civil Rights, a position which places him at the center of the debate about racial diversity in higher education. Marcus, and his colleagues in the Justice Department, have started the process of getting rid of racial preferences. Let's spend a week discussing their efforts. Day 5.
"It remains an enduring challenge to our nation's education system to reconcile the pursuit of diversity with the constitutional promise of equal treatment and dignity," Justice Kennedy wrote for the 4-to-3 majority.

Some colleges, such as Duke and Bucknell universities, said they would wait to see how the Education Department proceeds in issuing new guidance. Other colleges said they would proceed with diversifying their campuses as the Supreme Court intended.

Melodie Jackson, a Harvard spokeswoman, said the university would "continue to vigorously defend its right, and that of all colleges and universities, to consider race as one factor among many in college admissions, which has been upheld by the Supreme Court for more than 40 years."

A spokeswoman for the University of Michigan, which won a major Supreme Court case in 2003, suggested that the flagship university would like more freedom to consider race, not less. But it is already constrained by state law. After the case, Michigan voters enacted a constitutional ban on race-conscious college admissions policies.
Where are we headed? Tough to know!
1) Discrimination against Asian-Americans is significant, unpopular and very hard to justify. A Republican Supreme Court is going to find it hard to allow it to continue, at least officially. I suspect that decisions like Fisher v. Texas are in trouble, although any eventual over-turning might be several years out.
2) The Deep State of elite education is not so easily defeated. Affirmative Action — treating applicants differently on the basis of their race — is already illegal in states like California and Michigan and, yet, it still goes on sub rosa.
3) Elite institutions like Harvard are determined and resourceful. Their defense in the current lawsuit is, quite frankly, genius. Harvard creates a personal rating for all applicants. Asian-Americans do much worse on this metric. Once you account for these scores, Harvard (probably!) does not discriminate. And, since those (totally opaque!) scores are under Harvard's complete control, there is no way to prove that it is discriminating or to stop it from doing so.
Ken Marcus '88 is the (recently confirmed) Assistant Secretary of Education for Civil Rights, a position which places him at the center of the debate about racial diversity in higher education. Marcus, and his colleagues in the Justice Department, have started the process of getting rid of racial preferences. Let's spend a week discussing their efforts. Day 4.
The Trump administration's moves come with affirmative action at a crossroads. Hard-liners in the Justice and Education Departments are moving against any use of race as a measurement of diversity in education. And the retirement of Justice Anthony M. Kennedy at the end of this month will leave the Supreme Court without its swing vote on affirmative action while allowing President Trump to nominate a justice opposed to policies that for decades have tried to integrate elite educational institutions.
Note the rhetoric:
1) "Hardliners" are people who object to discrimination/quotas against Asian-Americans. Would the New York Times have used that word in 1925 to describe people who objected to Jewish quotas at Harvard?
2) No one is "moving against any use of race as a measurement of diversity." Ken Marcus does not care how Williams measures "diversity." Williams can measure diversity however it wants! Marcus (and the rest of the Federal Government) object to Williams — as a recipient of federal funds via student loans — treating applicants differently on the basis of their race.
A highly anticipated case is pitting Harvard against Asian-American students who say one of the nation's most prestigious institutions has systematically excluded some Asian-American applicants to maintain slots for students of other races. That case is clearly aimed at the Supreme Court.
The Harvard case is fascinating. It goes to trial in October. Should we provide more coverage? Again, it is unclear if Williams (today) discriminates against Asian-Americans the way that Harvard does. But the demographics and other societal changes mean that, unless we start doing so in the future, Williams will be 40% Asian-American a generation from now. I don't have a problem with that. Do you?
"The whole issue of using race in education is being looked at with a new eye in light of the fact that it's not just white students being discriminated against, but Asians and others as well," said Roger Clegg, the president and general counsel of the conservative Center for Equal Opportunity. "As the demographics of the country change, it becomes more and more problematic."
Indeed. Recall my favorite chart:
SAT scores are highly correlated with every other aspect of your academic profile: ACT, AP, subject tests, high school grades, teacher recommendations, essay quality, et cetera. Since Asian-Americans make up 50%+ of the highest SAT scorers, they almost are almost certainly 50%+ of the highest ACT, high school transcript, et cetera applicants. Why is Harvard only at 20%? Discrimination. Why is Williams only at 20%? Hard to know! We might discriminate, but, as with Jews almost a 100 years ago, the discrepancy might be caused by applicant preferences.
The key point — and one that smart guys like Roger Clegg and Ken Marcus will focus on — is that discrimination against Asian-Americans is a hard sell. When Marcus was cutting his teeth on affirmative action debates back in the 80s, it was much easier to justify discrimination against white applicants. First, they (being part of the power structure) were not particularly sympathetic victims. Second, their ancestors were plausibly guilty of historical crimes which required restitution. Third, they were such a large majority that a marginal decrease in their numbers did not seem a large price to pay for increased diversity.
I don't think any of those arguments are going to work in the case of discrimination against Asian-Americans. And once Clegg/Marcus force places like Harvard/Williams to stop discriminating against Asian-Americans, how long will they be able to discriminate against whites?
Ken Marcus '88 is the (recently confirmed) Assistant Secretary of Education for Civil Rights, a position which places him at the center of the debate about racial diversity in higher education. Marcus, and his colleagues in the Justice Department, have started the process of getting rid of racial preferences. Let's spend a week discussing their efforts. Day 3.
Under Mr. Marcus's leadership, the Louis D. Brandeis Center, a human rights organization that champions Jewish causes, filed an amicus brief in 2012, the first time the Supreme Court heard Fisher v. University of Texas at Austin. In the brief, the organization argued that "race conscious admission standards are unfair to individuals, and unhealthy for society at large."
Is that brief enough to label Marcus as a "vocal opponent" of affirmative action? If so, every (almost) Republican is one. Again, I suspect that a large majority of Americans — including many EphBlog readers? — would agree that "race conscious admission standards are unfair to individuals." Although perhaps "unfair" is unduly loaded? Williams treats smart applicants differently then dumb applicants, which is either "unfair" or "necessary to achieve our educational goals," depending on your point of view.
The organization argued that Asian-American students were particularly victimized by race "quotas" that were once used to exclude Jewish people.
This is beyond dispute, at least at places like HYPS. (Again, it is not clear if Williams (meaningfully) discriminates against Asian-Americans in admissions. As in the case of Jews 75 years ago, Williams may not get as many applications (or as high a yield) as HYP do/did.)
As the implications for affirmative action for college admissions play out in court, it is unclear what the decision holds for elementary and secondary schools. New York City is embroiled in a debate about whether to change its entrance standard — currently a single test — for its most prestigious high schools to allow for more black and Latino students.
If NYC wants to cancel its admissions tests for places like Stuyvesant, Ken Marcus won't care (much). If NYC (or Williams) wants to change its admissions policies, Ken won't care (much). What he does care about (a lot!) is whether or not, say, African-American and Asian-American applicants are treated the same, either by NYC or by Williams. If they are not, he is now in a position to bring the full weight and power of the Federal Government against NYC/Williams.
Do you have a problem with that? Tough! You (and I am sure that this applies to 90% (99%?) of EphBlog readers) had no problem when the Federal Government was bossing around private institutions (like Bob Jones University) or local/state governments (like the city of Little Rock, Arkansas). And maybe you were right! But, having created the monster to do "good," don't be surprised when the monster turns its pitiless gaze toward you . . .
Ken Marcus '88 is the (recently confirmed) Assistant Secretary of Education for Civil Rights, a position which places him at the center of the debate about racial diversity in higher education. Marcus, and his colleagues in the Justice Department, have started the process of getting rid of racial preferences. Let's spend a week discussing their efforts. Day 2.
Ms. DeVos has seemed hesitant to wade in on the fate of affirmative action policies, which date back to a 57-year-old executive order by President John F. Kennedy, who recognized systemic and discriminatory disadvantages for women and minorities. The Education Department did not partake in the Justice Department's formal interest in Harvard's litigation.

"I think this has been a question before the courts and the courts have opined," Ms. DeVos told The Associated Press.

But Ms. DeVos's new head of civil rights, Kenneth L. Marcus, may disagree. A vocal opponent of affirmative action, Mr. Marcus was confirmed last month on a party-line Senate vote, and it was Mr. Marcus who signed Tuesday's letter.
1) I am not sure if "vocal opponent of affirmative action" is a fair description. Most Republican are against Affirmative Action, at least against the 200+ SAT point gaps that bedevil schools like Williams. Marcus is a Republican, so it is hardly surprising that he is against it. But "vocal" implies that he goes out of his way to write about this topic, speak about it, tweet about it and so on. Does he? Not that I have seen.
2) Note how the rhetoric is designed to make the reader dislike Marcus. (Being in favor of something is a more positive-sounding description that being an opponent.) There is a reason that the Times does not describe Marcus as a "strong proponent of color-blind policies" or as someone who "wants colleges to judge applicants on a basis other than the color of their skin." A "vocal opponent" is weird, strange, backward.
3) Nowhere in the article does it mention how popular Marcus's views are. A clear majority of Americans are against Affirmative Action as it is currently practiced at places like Williams. Popularity does not mean, of course, that Marcus is right, but shielding its readers from these unpleasant facts does them a disservice. Or maybe they like the cocoon?
4) Anyone have any Marcus stories from his Williams days?
Ken Marcus '88 is the (recently confirmed) Assistant Secretary of Education for Civil Rights, a position which places him at the center of the debate about racial diversity in higher education. Marcus, and his colleagues in the Justice Department, have started the process of getting rid of racial preferences. Let's spend a week discussing their efforts. Day 1.
From The New York Times:
The Trump administration said Tuesday that it was abandoning Obama administration policies that called on universities to consider race as a factor in diversifying their campuses, signaling that the administration will champion race-blind admissions standards.

In a joint letter, the Education and Justice Departments announced that they had rescinded seven Obama-era policy guidelines on affirmative action, which, the departments said, "advocate policy preferences and positions beyond the requirements of the Constitution."
1) Marcus will be at the center of the debate over affirmative action at places like Williams for the next 2 (or 6?!?) years. Very convenient for EphBlog!
2) Say what you will about Trump's focus/competence/ideology, but, in this part of the Federal Government at least, we are getting serious Republican/conservative policy-making, good and hard. You may dislike Marcus's ideology, but he is very, very smart. He, and his peers at Justice, are going to do everything in their power to make affirmative action disappear. Underestimate them at your peril.
3) One of my favorite post-election memes illustrates the problem that Democrats/liberals face:
If the Federal Government were less powerful, then Marcus would not be able to change admissions policy at places like Williams. (And that would certainly be my preference! I think that the Federal Government should leave private institutions like Williams alone.) But my Democratic/progressive/liberal friends want a powerful Federal Government, one with the ability to tell everyone else how to run their affairs. Be careful what you wish for!
Entire New York Times article below:
We noted this story a decade ago, but it came up again at the graduation ceremonies for the University of Florida:
The tradition of gowns faded between the Revolution and the Civil War but returned for commencement ceremonies as universities transitioned from elitist to public institutions in the latter half of the 19th century, including here at UF.

This renaissance was aided by a single enterprising graduate of Williams College named Gardner Cottrell Leonard [class of 1887].

Gardner either didn't get to wear a gown, or didn't like the one he did wear, at his Williams commencement ceremony in 1887.

Subsequently he visited England to study regalia and began writing articles and speaking about it in the U.S.

In fact, we owe the various colors for the disciplinesin tassels and hoods entirely to Gardner's creativity.

He chose green for medicine, for example, because it reminded him of the color of herbs used in healing.

Many of Gardner's ideas were codified in the 1896 Intercollegiate Code of Academic Costume, the basis for commencement regalia to this very day.
Why do Amherst seniors look stylish on graduation day? Because they were dressed by an Eph!
From The New York Times:
Macedonia agreed to change its name to resolve a decades-old dispute with Greece, the two countries said on Tuesday, and Greece said it would drop its objection to the neighboring country's entry into the European Union and NATO if the changes are formally adopted.

Greece's prime minister, Alexis Tsipras, said the country's new name will be Severna Makedonija or Republic of North Macedonia. Greece had long opposed the name "Macedonia," saying it implied territorial aspirations over a northern Greek region of the same name.

…

Matthew Nimetz ['60], the United Nations mediator in the dispute for more than 25 years, also welcomed the deal.

"I have no doubt this agreement will lead to a period of enhanced relations between the two neighboring countries and especially between their people," he said.
We discussed Nimetz's efforts 12 years ago. Thanks to reader David H.T. Kane '58 for the tip, then and now.
Author Tom Wolfe passed away last month. The closest Eph connection I have seen is:
Halberstram was awarded an honorary degree in 2004, with a speech that was less-than-original for the occasion.
But, surely, there is a closer relationship between Wolfe and the world of Ephs! Help us out . . .
Albert Tweedy '42 died 76 years ago today.
Albert Tweedy attended public schools in Winnetka, Ill., and Hingham, Mass., before he enrolled at Williams College, Williamstown, Mass., in the fall of 1938. In the summer of 1939, he completed Marine Corps' Platoon Commander School at Quantico, Va., and, at the end of his sophomore year, left college to become a Marine Aviation Cadet. Following flight training at Squantum, Mass., and Pensacola, Fla., he was commissioned a Second Lieutenant in the United States Marine Corps Reserve on 14 October 1941 having been designated Naval Aviator #8899.

Assigned to the 2d Marine Aircraft Wing, Fleet Marine Force, he was stationed at San Diego and Hawaii before reporting for duty with Marine Scouter-Bomber Squadron (VMSB)-241 at Midway early in 1942.

Early on the morning of 4 June 1942, 2Lt. Tweedy took off from Midway in his "Dauntless" Navy dive-bomber (SBD-2). Minutes later, the Battle of Midway commenced as planes from the Japanese carriers pounded the Marine installations on Midway, and outdated American fighter planes based at Midway were bloodily dispatched by the newer and nimbler Japanese Zeros m the opening stages of the battle.

On that morning, 2Lt. Tweedy flew with Major Lofton Henderson's division of VMSB-241. Although stripped of its fighter protection, this division nonetheless attempted a glide-bombing attack on Japanese carrier HIRYU. Despite a fearsome antiaircraft barrage and repeated attacks by the numerically superior enemy fighter planes, Lt. Tweedy dove his aircraft to a perilously low altitude before releasing a bomb over the enemy carrier. Japanese fighters then attacked and splashed his slow-moving bomber, killing 2Lt. Tweedy. He was posthumously awarded the Navy Cross for his extraordinary heroism, cool courage, and conscientious devotion to duty.

The destroyer escort USS TWEEDY (DE-632) was named in his honor.
How many other Ephs have died in uniform? If we don't remember their stories, who will?
Who is this Eph?
He is Myles Crosby Fox '40.
Myles will not be in Williamstown to celebrate reunion with the Old Guard in two weeks, for he has passed away. He leaves behind no wife, no children nor grandchildren. His last glimpse of Williams was on graduation day 78 years ago. Who among the sons and daughters of Ephraim even remembers his name?
I saw the mountains of Williams
As I was passing by,
The purple mountains of Williams
Against the pearl-gray sky.
My heart was with the Williams men
Who went abroad to die.
Fox was, in many ways, an Eph of both his time and ours. He was a Junior Advisor and captain of the soccer team. He served as treasurer in the Student Activities Council, forerunner to today's College Council. He was a Gargoyle and secretary of his class.
Fox lived in Wood House. Are you the student who just moved out of the room that Fox vacated all those years ago? Are you an Eph who trod the same walkways around campus as Fox? We all walk in his footsteps.
The years go fast in Williams,
The golden years and gay,
The hoary Colleges look down
On careless boys at play.
But when the bugles sounded war
They put their games away.
Fox wrote letters to his class secretary, letters just like those that you or I might write.
The last issue of the Review has put me up to date on my civilized affairs. I am enclosing the only other information I have received in the form of a letter from Mr. Dodd. Among my last batch of mail was notice of the class insurance premium, and if you think it will prove an incentive to any of my classmates you may add under the next batch of Class Notes my hearty endorsement of the insurance fund, the fact that even with a military salary I am still square with the Mutual Company, and my hope that classmates of '40 will keep the ball rolling so that in the future, purple and gold jerseys will be rolling a pigskin across whitewash lines.
Seven decades later, the pigskin is still rolling.
Fox was as familiar as your freshman roommate and as distant as the photos of Williams athletes from years gone by that line the walls of Chandler Gym. He was every Eph.
They left the peaceful valley,
The soccer-field, the quad,
The shaven lawns of Williams,
To seek a bloody sod—
They gave their merry youth away
For country and for God.
Fox was killed in August 1942, fighting the Japanese in the South Pacific. He was a First Lieutenant in the Marine Corps and served in a Marine Raider battalion.
Fox's citation for the Navy Cross reads:
For extraordinary heroism while attached to a Marine Raider Battalion during the seizure of Tulagi, Solomon Islands, on the night of 7-8 August 1942. When a hostile counter-attack threatened to penetrate the battalion line between two companies, 1st Lt. Fox, although mortally wounded, personally directed the deployment of personnel to cover the gap. As a result of great personal valor and skilled tactics, the enemy suffered heavy losses and their attack repulsed. 1st Lt. Fox, by his devotion to duty, upheld the highest traditions of the United States Naval Service. He gallantly gave his life in the defense of his country.
How to describe a night battle against attacking Japanese among the islands of the South Pacific in August 1942?
Darkness, madness and death.
On Memorial Day, America honors soldiers like Fox who have died in the service of their country. For many years, no Eph had made the ultimate sacrifice. That string of good fortune ended with the death in combat of First Lieutenant Nate Krissoff '03, USMC on December 9, 2006 in Iraq. From Ephraim Williams through Myles Fox to Nate Krissoff, the roll call of Williams dead echoes through the pages of our history.
With luck, other military Ephs like Dick Pregent '76, Bill Couch '79, Peter May '79, Jeff Castiglione '07, Bunge Cooke '98, Paul Danielson '88, Kathy Sharpe Jones '79, Lee Kindlon '98, Dan Ornelas '98, Zack Pace '98, JR Rahill '88, Jerry Rizzo '87, Dan Rooney '95 and Brad Shirley '07 will survive this war. It would be more than enough to celebrate their service on Veterans' Day.
Those interested in descriptions of Marine combat in the South Pacific during World War II might start with Battle Cry by Leon Uris or Goodby, Darkness by William Manchester. The Warriors by J. Glenn Gray provides a fascinating introduction to men and warfare. Don't miss the HBO miniseries The Pacific, from which the battle scene above is taken. Fox died two weeks before the Marines on Guadalcanal faced the Japanese at the Battle of the Tenaru.
A Navy destroyer was named after Fox. He is the only Eph ever to be so honored. The men who manned that destroyer collected a surprising amount of information about him. It all seems both as long ago as Ephraim Williams's service to the King and as recent as the letters from Felipe Perez '99 and Joel Iams '01.
God rest you, happy gentlemen,
Who laid your good lives down,
Who took the khaki and the gun
Instead of cap and gown.
God bring you to a fairer place
Than even Williamstown.
Note: As long as there is an EphBlog, there will be a Memorial Day entry, a tribute to those who have gone before. Apologies to Winifred M. Letts for bowdlerizing her poem, "The Spires of Oxford."
When was the last time an Eph made Page Six, the New York Post's gossip page? Thursday!
Save Venice, but trash our $52 million Central Park co-op!

A billionaire blue blood financier let guests vandalize his fancy Upper East Side pad with graffiti while playing beer pong following a swanky society gala.

The glamorous Save Venice masquerade ball has become a hotter ticket than the Met Gala among New York's elite.

Masked guests this year included Sienna Miller and too many princesses to count, including Maria-Olympia of Greece , Marie-Chantal of Greece and Saudi royal Deena Aljuhani Abdulaziz.

But while an official Save Venice after-party was held at high-end eatery the Pool, we hear the place to be was a fun-filled bash at Wall Street investor Chase Coleman III' s apartment at an East 66th Street co-op near Central Park, where guests were invited to vandalize the French plastered walls with cans of spray paint as they partied into the early hours.

Coleman — who's a descendant of Peter Stuyvestant — and his wife, Stephanie, purchased the pad in 2016 for $52 million.

It is vacant, waiting to be redone by hot architect Peter Marino.

The couple will reportedly combine the 15-room abode with the two units they own a floor above.

Demolition starts this week, so they offered the walls as canvasses for the arty crowd.

"A select group migrated to this vacant apartment," a source told Page Six. "All the lights were off, and people were spray-painting the apartment and playing beer pong all night."
See children! The skills you learn at Williams — like petty vandalism and beer pong — will be very useful as you enter the corridors of power. Study them hard!
A Record op-ed from 12 years ago:
I am frustrated by many of the ways in which the campus has changed, most particularly the sudden prominence of the well-intentioned but detrimental Office of Campus Life [OCL], which is locked in a stagnating cycle of its own design. By in effect naming itself "the decider" when it comes to student life, the campus life office has alienated the College's best leaders. As a result of this rift, the office has become inwardly-focused, self-promotional and deeply resistant to constructive criticism. Student life is student-driven no longer.
No kidding. EphBlog has made this prediction over and over and over again. The more control that Williams students have over life at Williams, the better. The more people (intelligent and well-meaning though they may be) that are hired by the College to "help," the less active students will be.
The main rational used by CUL (Committee on Undergraduate Life) in establishing OCL 16 years ago — All the other schools have one so it must be a good idea! — was stupid then and it is stupid now.
Writer Ainsley O'Connell tells a depressing tale. Anyone who cares about student life at Williams must read the whole thing.
When I arrived on campus, director of campus life Doug Bazuin and his staff were a distant idea, not a reality. Barb and Gail administered activities on campus, helping students schedule events from their fishbowl office at the heart of Baxter Hall. Linda Brown administered room draw, her maternal warmth and firmness easing the process. Tom McEvoy (who has since departed) and Jean Thorndike provided big-picture support and served as liaisons between students and administrators. When students were moved to champion a new policy or party idea, Tom and Jean were willing to listen, and often to lend moral and financial support. The execution fell to students, but this sense of responsibility fostered greater ownership.
Great stuff. One of the purposes of EphBlog is to capture this sort of testimony, the thanks of current students to the staff members that have done so much.
But those with long memories will note what a mockery this makes of the CUL's discussion in 2001 of the lack of staff devoted to student life. Indeed, if there is any table which demonstrates the dishonesty/incompetence of CUL during those years it is this description Staffing at Comparable Institutions. Click on the link. Let's take a tour. (The line for Williams (all zeroes in bold) is at the bottom.)
First, note how the JA system magically disappears. The "50 junior advisors" for Bates are listed under "Student Staff" but, at Williams, they have vanished. Second, the CUL pretends that Dean Dave Johnson '71 does not exist. The countless hours that he spent (and spends) working with the JAs and First Years don't matter. Yet you can be sure that one of the "3 Assistant Deans" at Emerson does exactly what Johnson does at Williams, although probably not as well. Third, the CUL erases all the work and commitment of people like Linda Brown and Tom McEvoy, as evoked so nicely by O'Connell.
None of this is surprising, of course. Former President Morty Schapiro decided in 2000 that there were certain things about Williams that he was going to change. By and large, he (temporarily!) changed them. He and (former) Dean of the College Nancy Roseman and (former) CUL Chair Will Dudley implemented Neighborhood Housing, the biggest change at Williams this century. It was a total failure and has now, thankfully, been removed. Schapiro, Roseman and Dudley went on, despite this disastrous own goal, to college Presidencies at Northwestern, Dickinson and Washington and Lee, promotions which doubled (even tripled) their Williams salaries.
O'Connell goes on:
I will not dispute that in 2003 Williams needed a stronger support system for students looking to launch new initiatives and throw events open to the campus. For many, extracurricular activities had become a burden, with unreasonably long hours spent planning and preparing events down to the last detail. Yet today, some of the best and most innovative groups on campus remain far-removed from campus life, driven by highly motivated and talented individuals. Take Williams Students Online, for example, or 91.9, the student radio station: Their success lies in their student leaders, who have been willing to commit their time to making sweeping changes that have transformed WSO and WCFM, respectively.
It may have been reasonable for O'Connell not to see, in 2003, how this would all work out, but she is naive in the extreme not to see now that this evolution was inevitable. How shall we explain it to her? Imagine a different paragraph.
I will not dispute that in 2003 Williams needed a stronger support system for students looking to launch new publications and manage current ones. For many, writing for and editing student publications had become a burden, with unreasonably long hours spent planning and preparing everything down to the last detail. Yet today, some of the best and most innovative groups on campus remain far-removed from the Office of Campus Publications, driven by highly motivated and talented individuals.
In other words, why isn't it a good idea for Williams to create an Office of Campus Publications [OCP], with a Director of Campus Publications and a staff of Campus Publication Coordinators? After all, as the meltdown of the GUL in 2001 (?) and the Record's occasional inability to pick a single editor-in-chief demonstrates, students sometimes need help. They often make mistakes. Who could deny that having someone to "help" and "support" the Record (and GUL and Mad Cow) wouldn't make those publications better? No one. Perhaps OCP would even have prevented the demise of Rumor and Scattershot.
But would the experience of the students writing those publications be better with a bunch of (intelligent, well-meaning) paid employees of the College hovering over them? No. That should be obvious to O'Connell. Writing for and editing the Record those last 4 years probably taught her as much about life its own self as any aspect of her Williams education. If she had had a Doug Bazuin equivalent supervising her all this time, her experience would not have been as rich, her education not as meaningful.
As always, critics will claim that I am advocating that the College provide no help or support, that we abolish the Dean's Office. No! Some support is good, just as some social engineering is desirable. But, on the margin, the contribution of the OCL is negative.
Vibrant means "long hours spent planning and preparing events down to the last detail." This is exactly why student institutions like WCFM, WSO and others (Trivia? Rugby? Current students should tell us more) are so vibrant. O'Connell acts as if you can have a vibrant organization or community without time and trouble, sweat and tears. In fact, you can't.
O'Connell writes as if vibrancy appears from nowhere, that someone just sprinkles magic pixy dust on WSO and WCFM. No. Vibrancy, community, innovation and almost everything else worth having in this imperfect life require "unreasonably long hours" and "preparing everything down to the last detail." You don't think that Ephs like Evan Miller at WSO and Matt Piven at WCFM sweated the details? Think again.
Unfortunately, the Office of Campus Life and the Dean's office, which oversees it, have not fostered this model. Instead, both offices have moved in the opposite direction, at times going so far as to render student involvement wholly superficial, as with the planning of this year's Senior Week. The senior officers elected by the Class of 2006 do nothing more than choose tablecloth colors; it is assistant director of campus life Jess Gulley who runs the show. Hovering over student shoulders, the campus life staff of today is like a mother or father who wants to be your friend instead of your parent. The office should cast itself as an administrative support service, not the arbiter of cool.
Harsh! True? Current students should tell us. But note that this is not Gulley's fault! I have no doubt that she is wonderful and hard-working, dedicated to making student life better. Each day, she wakes up and tries to figure out how to make this the best Senior Week ever. That is, after all, what the College is paying her to do. In that very act, of course, she decreases the scope of student control and involvement.
Back in the day, students handled almost all aspects of Senior Week. I still remember dancing the night away, in my dress whites, at Mount Hope Farm, the most beautiful Eph of all in my arms. No doubt this year's seniors, 30 years younger than I, will have a fine time as well. Because of Gulley's successor's involvement, it may even be true that the events are better planned and organized. Yet everything that she does used to be done by students, hectically and less professionally, but still done by them.
The more that students do to run Williams, the better that Williams will be.
This is a revised version of a post from 2006.
James Hitchcock '15, former president of Uncomfortable Learning, was mentioned in Ross Douthat's column in the New York Times.
So the same trends that have made California so uniformly liberal have also encouraged Trumpism elsewhere — and not only elsewhere, since as Jason Willick and James Hitchcock pointed out in 2016 in The American Interest, Trumpism-the-ideology is very much a made-in-California affair. Not many members of the right-wing intelligentsia backed Trump, but the writers and thinkers who did — from mainstream conservatives to the alt-right fringe — were heavily Californian: the Claremont Institute's West Coast Straussians, Michael "Flight 93 Election" Anton, Mickey Kaus, Victor Davis Hanson, Ron Unz, Steve Sailer, Scott Adams, Curtis "Mencius Moldbug" Yarvin … and of course the one and only Peter Thiel.
In perhaps not unrelated news, Hitchcock is now working as a research assistant for Douthat and David Brooks.
Career advice for Hitchcock? Right a book about the Alt-Right, with a focus on immigration. As an Eph of the right, he is well-positioned to gain access to the movement. And, as part of the establishment, he could get a major publisher to take his project seriously.
From the New York Times:
As chief executive of the influential conservative think tank Heritage Action for America, Michael Needham waged years of unforgiving political warfare against the Republican Party establishment, deepening the divide between party leaders and grass-roots activists that helped elevate Donald J. Trump to the presidency.

Now Mr. Needham is leaving his job there to become chief of staff for one of the Republican establishment's favorite sons, Senator Marco Rubio of Florida.

…

Both are also quite young. Mr. Needham is 36 and Mr. Rubio is 46. And both believe that the Republican Party has not done enough to rethink its animating ideas and appeal to voters at a time when Mr. Trump remains woefully unpopular with younger Americans.

…

"Any fair-minded observer of the last several years would say conservatives have work to do in order to assure our principles remain relevant," Mr. Needham said in an interview. "There was truth in candidate Trump's declaration that this is the Republican Party, not the Conservative Party. Our challenge as conservatives is to build a movement that inspires a majority coalition of Americans."

But beyond their shared views on the party's need to have a better 20-year plan, the two have taken very distinct approaches to leadership. Mr. Needham has been a leading practitioner of the uncompromising, scorched-earth style of political combat that was a trademark of Tea Party-inspired politicians and activists. He frequently clashed with the Republican leadership in Congress and challenged it to drive a harder bargain on issues like defunding the Affordable Care Act, which led to a two-week government shutdown in 2013 that most Republicans came to see as ill advised.

…

Mr. Needham and Mr. Rubio have often had very different things to say about Mr. Trump. Given his anti-establishment sensibilities, Mr. Needham has largely lauded the president's agenda of low taxes and a hard-line posture toward China. He has praised Mr. Trump for helping the Republican Party forge a stronger bond with Americans who feel socially and economically disconnected and who are eager to shine a light on the corruption and cronyism they believe is rampant in Washington.
Needham has also been an eloquent defender of the Trump position — or at least the Trump campaign rhetoric — on immigration. If only Nixon could go to China, perhaps only Rubio can lead the Republican Party to the promised land of serious immigration restrictions . . .
Here are the latest news articles on the (stalled?) nomination of Ken Marcus '88 to be the assistant secretary for civil rights in the Department of Education.
Kenneth Marcus, nominated for the head of the Office for Civil Rights within the U.S. Department of Education, evaded questions about racially disparate school discipline in January. The Office for Civil Rights receives complaints about racially disparate student discipline. National data shows that that students of color are often disciplined far more often and more severely than their white peers.

Marcus said, "Senator, I believe disparities of that size are grounds for concern, but my experience says that one needs to approach each complaint and compliance review with an open mind and a sense of fairness to find what out what the answers are. I have seen what appeared to be inexcusable disparities that were the result of paperwork errors. They just got the numbers wrong."

Marcus founded the Brandeis Center in 2011. In 2012, it filed an amicus brief opposing race conscious admissions in the Fisher v. University of Texas at Austin case.
Should we be following this story more closely? If confirmed, Marcus would be the most senior Eph in the Trump Administration.
1) Read the transcript if you want the gist. Worth going through in detail? I have some quibbles . . . not the least of which is that he does not mention Williams by name!
2) Note that this is the main TED stage, not one of the many (lower prestige) spin-off events like TEDx. Which other Ephs have spoken at TED? Congrats to Zach! How many undergraduates, from any school, have spoken at TED?
3) The perfect start to Zach's pundit career would be for him, sometime before graduation in June, to re-invite Derbyshire to campus. I have been told that Williams would, this time, allow the talk to go forward.
4) Hat-tip to Williams (read: Jim Reische) for tweeting this out. It is important that Williams be non-partisan when it comes to student/alumni/faculty activities. We should tweet out links to all Eph TED talks, regardless of whether or not we agree with the speaker.
From Alumni Office to NW area alums.
Greetings from Williamstown!
The Alumni Relations Office would like to pass along information on the upcoming world premiere of a documentary film about Liv Østhus '96.
It's called "Thank You for Supporting the Arts", and Liv describes it this way, "Blacktop Films followed me for four years and made a full-length feature that is smart, beautiful, and heartwarming. It's surprisingly wholesome with its focus on Portland, family, and community. Its provocative nature comes primarily from my insistence that stripping is art (and, I guess, all the nudity)".
I met Ms Østhus, the daughter of a Lutheran Minnesota  minister, in 2009 at the opening for her book at Powell's Books in Portland. I now have my signed copy of Magic Gardens: The Memoirs of Viva Las Vegas that includes the familiar words "Beat Amherst".
Liv has been featured many times in Ephblog.
Just search for 'stripper'.
More information Read more
From Sports Illustrated:
There was this thing that Duncan Robinson would do, four years ago, when he was a 19-year-old freshman basketball player at Williams College, a tiny, elite Division III liberal arts school, with a student population of just over 2,000, in the Berkshire Mountains of rural, northwestern Massachusetts. Williams freshmen, like D-III freshmen everywhere, are asked to help with menial support duties, and before away games, Robinson took it upon himself to carry trainer Lisa Wilk's heavy bag of supplies from the bus to the locker room, along with his own bag. After games, he would carry it back to the bus. It was a heavy bag, about 50 pounds of tape and wrap and other supplies. Sometimes Robinson would fight off fellow freshman Dan Aronowitz to carry the bag. This muling was a small act, but something that everyone at Williams seems to recall as quintessential Robinson. When he decided to leave Williams after his one season, some of his friends made a funny, "Please Stay, Duncan" video in which they put little water droplets on Wilk's face to make it appear as if she was weeping.

This weekend Robinson, a 6'8″ senior forward, will play for Michigan in the Final Four, first against Loyola-Chicago on Saturday evening and then, potentially, in the national championship game on Monday night. The Final Four, past and present, is a cascade of remarkable stories. Michigan's next opponent, for one, is this year's Cinderella. Robinson's personal tale is well-known enough that announcers can dispense with it in four words: The Division III transfer.

But it's more than that. Robinson is a unicorn: A player who transferred from D-III, not just to D-I, but to the highest level of D-I, a contending program in a power five conference, and with a full scholarship in hand from the beginning. He then became a starter in his first year of eligibility and has scored more than 1,000 points. When he steps on the court Saturday, he will become a subset of one—the first player to participate in both the Division I and Division III basketball Final Fours. (And he won't just participate; he will be the first Michigan player off the bench, averaging more than 25 minutes and almost nine points a game in the tournament.)
Read the whole thing.
From CBS News:
When Julie Yip-Williams ['97] found out she was dying of cancer, she wasn't completely surprised.

"I've always felt like I was living on borrowed time," she said.

"Why do you think that is?" asked Smith.

"Look at my life, this crazy life."

She's been thinking a lot about "this crazy life" lately — how it began, and how it will end.

It started 42 years ago in post-war Vietnam. Julie was born totally blind. Immediately, her grandmother intervened. "She set up a meeting between my parents and this herbalist, and had my mother and father take me to this man," she said.

And her grandma's intention was what? "To have me killed," she said, "because I was blind."

"And she just thought there was absolutely no future in that?"

"There was no future for me, nobody would ever want to marry me, I was an embarrassment to the family," Julie said.

But instead, her life was spared. "The herbalist said, 'I won't participate in this kind of dirty business.' And he walked away."

She was three when her family fled Vietnam for the United States. They made it to California, where she says an eye surgeon changed her life. "Here's my mother who doesn't speak any English, okay? And she gets me to this young pediatric ophthalmologist who has never seen a case like mine before. And he tells her, 'I don't know how much vision I can give her, but we can try.'"

What he gave her was enough, though she is still legally blind. "I cannot drive, I can't play tennis. Like, my dream is to play tennis!"
Read the whole thing. Julie's blog is here. Example entry:
Dear Josh [her husband],

Sometimes, I can feel the weight of your stare as I feign sleep in those torturous minutes before I fully wake. Your grip on my hand has tightened; that's what probably woke me in the first instance. I can feel your love. I can feel you trying desperately to save the image of my face in some special place within your soul that might be immune to the amnesiac effects of time. I can feel your fear as you unwillingly envisage a life without me – how will you comfort the girls like I can; how will plan the birthday parties and arrange the girls' schedules; how will you fix all the things that break in our home; how will you do all this while still working your demanding job and maintaining the stellar course of your career? In turn, in my own mind's eye, I can see you cleaning out our closets and bathroom drawers to dispose of all my things. I can see you bringing flowers to my gravesite. I can see you watching what were once "our" favorite TV shows after the girls have gone to bed, in the dark, alone, the television casting its eerie blue light on your face that seems to be permanently sculpted in sadness.
Heart-breaking stuff.
Julie died last week.
Condolences to all.
From The Berkshire Eagle:
With necessity being the mother of invention, the regionalization of emergency responder agencies has begun in the Northern Berkshires.

Heading into the third month of the merger of Village Ambulance in Williamstown with the North Adams Ambulance Service, officials say the task of melding procedures and communications continues apace.
Village Ambulance is about the only non-profit which merits direct contributions from Williams, mainly because its services are so commonly used by students. So, I don't mind some College involvement. I also don't know enough about the local politics to understand the reasons behind the merger and the winners/losers associated therewith.
I always worry, however, that the local power brokers —- Williamstown town manager Jason Hoch '95, North Adams mayor Thomas Bernard '92 — are very smart and that they recognize two fundamental truths: Williams College has endless money and the people who run Williams are (over) eager to use (too much of) that money to improve their own lives. So, what should Hoch/Bernard do? Get the College to contribute much more to the ambulance service, especially for aspects (like coverage outside of Williamstown) that it did not contribute much to before. And what do we see?
The cost of the rebranding, as well as others costs incurred by the merger, is being covered by a contribution from Williams College and Williamstown of up to $200,000. Meanwhile, the service responded to 892 calls In January. The average for North Adams Ambulance has been about 500 in a month. At the time of the merger, Village Ambulance was averaging around 333 per month.In January, the first month of the merger, the newly combined ambulance service responded to 892 calls.
$200,000 is way too much! And I bet this is in addition to the money that Williams usually contributes.
We failed to cover this news last fall.
Thomas Bernard will be the city's next mayor.

The political newcomer handily defeated Robert Moulton Jr., by an unofficial tally of 2,404 votes to 1,023 votes, winning all five of the city's voting wards by 200 votes or more.

"I am humbled and grateful that we can celebrate with friends and toast to North Adams and we're going to wake up tomorrow ready to roll up our sleeves and work," Bernard told his supporters at the Richmond Grille Tuesday night.

The new mayor will take the helm on New Year's Day and serve a two-year term.

…

Bernard, director of special projects at Smith College, was born and raised in North Adams, graduating from Drury High School and then Williams College. He later returned to the city to work at the Massachusetts Museum of Contemporary Art, then worked at the Massachusetts College of Liberal Arts.

…

Bernard, who heavily outraised and outspent Moulton's campaign, touted a message of economic development based on improved education and city infrastructure in the months leading up to the election.

"I want to be a mayor for everyone in North Adams, and want to hear and work to address people's concerns as well as to encourage their aspirations," Bernard stated.
The College (probably?) benefits from having alumni in local positions of power: Bernard '92 as mayor of North Adams, Jason Hoch '95 as Williamstown town manager, and maybe even Michael Wynn '93, Pittsfield chief of police.
Any local readers have opinions on Bernard/Hoch/Wynn?
Typically excellent article from Benthany McLean '92 in Vanity Fair:
Our month-long training program [at Goldman Sachs, where McLean worked after graduating from Williams] felt like a continuation of college, with plenty of parties and lots of alcohol. But, of course, it wasn't college. Unwritten rules had very real career repercussions if you broke them, and they were very different for men and for women. Even small missteps, such as making out with a person in your class, could get a woman marked, but would enhance a man's reputation. When the real work started, almost immediately a senior man held himself to me as a mentor of sorts. I was failing at work, he told me, and I had made myself "too visible." He alone saw something redeemable in me. But, of course, his "friendship" came with strings attached (despite the fact that he had an out-of-town girlfriend). I wasn't sure how to say no.

I felt trapped—my parents, who were at home in Hibbing, Minnesota (population 19,000), were lovely, but very clear that any support was over. Perhaps because I was in search of a savior, I had a too public affair with a colleague my own age, which ended when another analyst pulled me aside and told me the man had a girlfriend. (Life lesson: Save yourself.) When another (married) senior vice president tried to get into my hotel room it was a soul-crushing moment, because I felt that I had set myself up.

All of this made it hard for me to have the kind of chipper, can-do attitude so prized in junior roles. I finally transitioned into a more quantitative role, which utilized my skills, and I distinctly remember a moment when I decided I was either going to quit or finish the job with my head held high. From that point on I did nothing but work, and I stuck it out for three years—I had something to prove. In retrospect, I think what bothered me most was the knowledge that, while we were all going to be judged for things besides the quality of our work, for women, extra-professional judgments accrued almost entirely to our disadvantage, whereas for men, at least the white-male sporty types, it was the opposite. It felt brutally unfair.
Read the whole thing. It is a (surprisingly?) "conservative" take on the #MeToo phenomenon. Worth spending a week on?
Currently browsing posts filed under "Alumni"
Follow this category via RSS