Currently browsing posts filed under "Joe Rice '54"
Follow this category via RSS
This is an interview I conducted last week for UCLA's Cross Section TV show. It is with Mark McGurl, Professor of English at UCLA, talking about his book, The Program Era: Postwar Fiction and the Rise of Creative Writing, which is published by a client of mine, Harvard University Press.
This is the first interview I've done for TV and it was a blast. I should know in a few weeks if this episode will get picked up by UCTV.
In a post at his blog, Uncertain Principles, Chad Orzel '93 is asking readers for their suggestions on who to nominate for the 2010 Hugo Awards:
[T]he Hugo Award nomination period ends in a bit more than a month (that's part of why I'm reading the Gilman– lots of people have said things that make it sound potentially award worthy, and I liked his previous books). Which means this is probably a good time to renew my request for recommendations of things to nominate. The Locus recommended reading list is a little thin on books I might reasonably expect to like, and most of the ones I have read were pretty meh. And for short fiction, I've read the stuff from Short Story Club and that's about it.

So, if you have Opinions and Ideas about what should be on the SF awards ballots, here's your chance to (potentially) influence my vote. If there's anything– novels, short fiction, etc.– that I simply must read and consider for nomination, leave a pointer to it in the comments, and I'll make a reasonable effort to give it a shot. I can't promise I'll have time to read it– my book deadline isn't long after the Hugo nomination deadline– and I certainly can't promise to vote for it, but I'll do what I can.
If you have no idea what this post is about, the Hugo Awards are the top awards for science fiction and fantasy writing. Named for Hugo Gernsback, the founder of the foundational science fiction magazine Amazing Stories, winners get a chrome rocket ship that hearkens back to the "golden age" of science fiction. To my knowledge, the most recent Eph to win a Hugo Award was David Hartwell '63 as "Best Editor, Long Form" in 2009. But there are a number of Williams College personages writing science fiction and fantasy these days who are potential future winners.
Of course, for as little as $50, you can just get your own nomination and voting rights for the Hugos (and official confirmation of your geekhood), but I bet we've got some closet SF readers out there who might be willing to give Orzel a few suggestions even if they're not shelling out on their own.
The Big Bang Symphony, Lucy Jane Bledsoe '79.
During the January cold snap, the mercury dropped so low in Williamstown that the Outing Club cancelled a sledding trip. When I saw that announcement, I could only imagine how Lucy Jane Bledsoe, originally of the class of 1979, would have chronicled it. I doubt Bledsoe, who completed her final two undergraduate years at Berkeley, left because of the cold. In the years since, she's emerged as a repeat visitor to a much colder place: Antarctica. (Although, to be fair to the Williamstown weather, the January 23 temperature of 13 degrees Fahrenheit was twenty degrees warmer. Of course, it was also the peak of summer).
A four-time finalist for the Lambda Literary Award and winner of the 2009 Sherwood Anderson Prize for Fiction, Bledsoe's Antarctic writings have spanned a few genres: children's literature, travel memoir, survival guide. In her latest novel, The Big Bang Symphony, Bledsoe returns to the bottom of the world for a deeply personal and moving novel. The Big Bang Symphony satisfyingly weaves together the commonplace and the sacred, portraying them through the lens of a dramatic setting and intriguing personalities.
The novel unfolds from the alternating perspectives of each of three dynamic women on the ice for the summer as they become friends. Mikala is the composer whose hoped-for masterpiece forms the titular work. Suffering from writer's block since the untimely death of her lover, she is drawn to Antarctica by competing forces of isolation and family. Alice, a socially-impaired geologist, is in Antarctica to free herself from the shackles of reason – for logical reasons. And Rosie is the Antarctic veteran, unsure whether her home now lies Read more
Incredibly, three out of the 100 NYTimes Notable Books of 2010 are written by Ephs:
ALL THE DEVILS ARE HERE: The Hidden History of the Financial Crisis. By Bethany McLean and Joe Nocera. (Portfolio/Penguin, $32.95.) More than offering a backward look, this account of the disaster of 2008 helps explain today's troubling headlines and might help predict tomorrow's.

CLEOPATRA: A Life. By Stacy Schiff. (Little, Brown, $29.99.) It's dizzying to contemplate the ancient thicket of personalities and propaganda Schiff penetrates to show the Macedonian-Egyptian queen in all her ambition, audacity and formidable intelligence.

FINISHING THE HAT: Collected Lyrics (1954-1981) With Attendant Comments, Principles, Heresies, Grudges, Whines and Anecdotes. By Stephen Sondheim. (Knopf, $39.95.) Sondheim's analysis of his songs and those of others is both stinging and insightful.
Do any Ephblog readers have recommended favorites from the NYTimes list (or, for that matter, other great reads for the holiday season)?  I absolutely loved One Day by David Nicholls, and I am not generally one for romantic stories …  very cleverly constructed novel.  My favorite recent fiction book not featured on this list (and it was released in hardcover last year, but the paperback came out in 2010, so I'm counting it), was Lev Grossman's The Magicians.  Sort of a Harry Potter for adults, but that description doesn't do it justice.  A really fun, quick read that you can't put down once you are five pages in.
Speaking of literary Ephs, English Professor Jim Shepard's' latest story, Boys Town, was featured in a recent New Yorker.  Shepard was also interviewed regarding this story here.  Also keep an eye out for Carrie Ryan '00's forthcoming The Dark and Hollow Places.
Updated with Carrie Ryan's correct year.  Also, here is a link to a running list of books published by Ephs.   Finally, here is an article (subscribers only, alas) about Caragh O'Brien, author of Birthmarked, and who along with Ryan may be the first two members of the Eph Post-Apocalyptic Dystopian Teen Novelist Mafia.
The Dead-Tossed Waves, Carrie Ryan '00
Post-apocalyptic settings have long been a popular stage for young adult fiction. After all, there's nothing like a world in ruins to encapsulate the sense of isolation of a brooding teenager or to symbolize how every crisis and decision seems to be the end of the world. Thirty years ago, the apocalypse of choice was usually a nuclear war. In the dark days late in the Cold War, the setting had the advantage of a seeming inevitability, but created numerous plotting problems. Today, the leading holocaust is more often supernatural.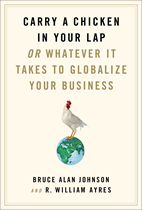 Carry a Chicken in Your Lap Or Whatever it Takes to Globalize Your Business, by Bruce Alan Johnson and R. William Ayres '91.
This fun, modest-length volume comes from two principals of Baja Associates, a small consulting firm. Yes, it's partly a sales pitch for their services. But it's a good sales pitch — and an enjoyable standalone read for a broader audience of those not yet ready to hire a consulting firm, but ready to start thinking about expanding their activities internationally. The authors have in part targeted subgroups within the latter category, including employees thinking about an overseas assignment, and nonprofit idea-makers looking to expand their influence.
Thereby Hangs a Tail, Spencer Quinn
As mentioned in Dick's recent post, Edgar-award winning Eph author Peter Abrahams '68 went undercover last year, adopting a new pen name (Spencer Quinn) and a new voice, that of a clever canine detective, a mixed-breed answering to the name of Chet. Not long after the softcover release of Quinn's debut, Dog on It, hit the mystery bestseller list in late 2009, Chet returned with the second entry in the series: Thereby Hangs a Tail, and it's every bit as enjoyable as the first.
Below is the first in a series of book reviews of works by Ephs, or otherwise of interest to the Ephblog community. As a quick perusal of the "Life of the Mind" section of any Alumni Review will reveal, Eph authors are (not surprisingly) sufficiently prolific that no single reader could hope to keep abreast of more than a fraction of the new releases. So don't let me crowd out the field — write your own review. Even if it's just a couple of sentences in "Speak Up!", we'll all be better off for it.
Fingerprints of God, Barbara Bradley Hagerty '81.
The subtitle of this riveting book is "The Search for the Science of Spirituality," but the detached and impersonal phrasing doesn't quite do justice to the part-memoir, part-serial feature contained between the covers. Noted Eph journalist Bradley Hagerty, best known as a Washington-based correspondent for National Public Radio, embarks on a journey to understand her own spiritual experiences and those of others in the context of the perceived disconnect between modern scientific supremacy and personal conviction.
A profile of zombie writer Carrie Ryan '00, who has a new book that was released today:
It began soon after Ryan, 32, graduated from Williams College in Massachusetts with an English degree. She wanted to write chick lit set a big city. She had zero experience with big cities, however.

So she decided, in what she calls "my grand plan," to go to law school. Her logic? With a law degree, she could work in a glamorous city, gleaning material. She enrolled at Duke University, where she met J.P. Davis, a fellow law student from Chapin, S.C., who shared her passion for fiction writing.

Somehow, probably because she was in love, she let Davis talk her into watching "Dawn of the Dead," the 2004 remake of George Romero's classic zombie movie.

When it was over, she realized she had enjoyed herself.

A new direction

By the time she and Davis got their law degrees and moved to Charlotte, Davis had read her "The Zombie Survival Guide." She was hooked.

"What I find fascinating," she says, "is not necessarily the zombies, but the surviving."

In Charlotte, the couple worked as lawyers by day. In the evenings, she wrote chick lit and Davis worked on his short stories. They talked about zombies. On walks, they'd imagine a world decimated by the undead.

Then, one evening in 2006, Ryan was leaving her office in the Bank of America building, contemplating an article she'd read on the overfishing of tuna.

How strange, she thought, to imagine a future where something as common as canned tuna was unknown. What other parts of our civilization, she wondered, might be forgotten in a future world?

Suddenly, she had an idea – a story about a world nearly destroyed by a zombie plague, a place where people have lived so long in their fenced-in village, sealed off from the zombie-filled forest, that they've collectively forgotten about the world's oceans.

She pulled out her Blackberry and e-mailed herself a single sentence: My mother used to tell me about the ocean.

After working for a couple of evenings, she told Davis she was writing about zombies. I hope you don't mind, she told him, but I'm using your world.

Ryan's sentence about the ocean became the first line of her book.

Great timing

In 2007, she sold "The Forest of Hands and Teeth." Her agent had sent the book out on a Friday. On Monday, she had a six-figure offer from Delacorte Press for a two-book deal.

In late 2008, she quit her job.

Today, instead of working in trusts and estates, Ryan writes at her computer near the fireplace in her Dilworth home. She wears sock-monkey slippers and rainbow fingerless gloves that keep her wrists from aching as she types.

On a good day, the weather is rainy gray, and she's asking herself one of her favorite questions: What's the worst thing that could happen?
Continue reading: A love story, with zombies
Carrie has a blog here.
At some point, the College will have to put a name on the new Baxter, thereby revealing the identity of the generous donor, perhaps as early as convocation in two weeks. A favorite game here at EphBlog is Name that Donor, our attempt to guess the identity of this alum. I think that we are looking for a
very rich but not shy Williams grad from a not-wealthy family without a history of major gifts to the College, probably not a current trustee, perhaps approaching a major reunion.
My latest guess is Joe Rice '54. Rice is a former trustee and quite active in College affairs. This past spring, while serving one of the chairs of his 50th reunion gift committee, Rice won the Rogerson Cup, "the College's highest award for alumni service." He is a co-founder of Clayton, Dubilier & Rice, one of the oldest (and most successful) private equity firms. Rice also served as an officer in the Marine Corps 50 years ago.
One reason why Rice might have asked that his gift not be announced last spring is that it might have overshadowed the 50th reunion gift from the class of 1954. One count against Rice is that Morty's letter about the gift makes it appear like Morty doesn't know the giver that well, whereas I think that Morty does know Rice. In fact, I think that Rice was chairman of the committee that selected Morty.
Perhaps we have some readers who can give us a few more clues. If not Rice, then who?
UPDATE: One of EphBlog's anonymous sources reports that this guess is also wrong. Alas, s(h)e refuses to provide any other guidance.
UPDATE 2: Our source suggests that we will never be able to guess. The donor is not a well-known Eph name. Hmmmm.
Currently browsing posts filed under "Joe Rice '54"
Follow this category via RSS