Currently browsing posts filed under "Stephen Sondheim '50"
Follow this category via RSS
At some point, we need to collect all the Eph references in shows like South Park, The Simpsons and so on. For now, let's start with this:
Can someone explain the joke to me? I honestly don't get it.
"American composer and lyricist Stephen Sondheim is to receive the prestigious Special Award at the Laurence Olivier Awards later this month.
The honour is being presented in recognition of his contribution to London theatre, organisers have said.
Previous recipients of the award include Sir Alec Guinness, Dame Judi Dench, Sam Mendes and Sir Peter Hall."
…from BBC News
Enjoy! This could be the greatest interview ever in journalism and, Go Williams.
My favorite journalistic question of all time had been Edward R. Murrow asking Louis Armstrong, "What's a cat, Louis?" To which Satchmo replied, "You're a cat, Ed."
Colbert has at least tied that one with, "Where are the clowns anyway?"
If this link fails, just Google "Stephen Colbert, Stephen Sondheim."
http://www.colbertnation.com/the-colbert-report-videos/368532/december-14-2010/stephen-sondheim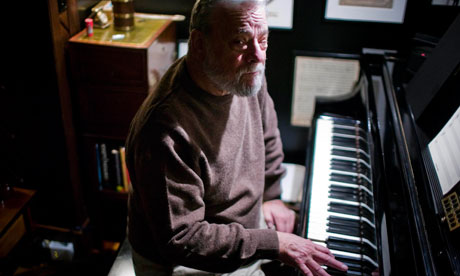 This excellent profile of Stephen Sondheim in The Guardian includes an instructive Williams anecdote:
Initially a maths student at Williams College in Massachusetts, the young Sondheim took an elective course in music with no intention of pursuing it. During the first lecture, the students were played Debussy's La Mer, and the lecturer asked: "what does it sound like to you? Does it sound like the sea? Doesn't sound like it to me." Something in Sondheim rose up and responded, both to the down-to-earth approach and to the understanding that "music has that remarkable quality of suggesting things without being specific. It's an abstract art and yet it's an emotional one, and that's what makes it so remarkable." The music teacher in question changed his life. "He was very spit-spot Mary Poppins – he took all the romance out of music – and that appealed to me. I believe in it. I believe that, far from demystifying it, it makes things clearer and, in a sense, adds to the mystery of creation. Because the desire to make form out of chaos is why we write."

The more precise, and concise, a lyric, the more likely it is to liberate the ideas behind it. "I think the more restrictive, the freer it is. It's always been true. If you're locked in a room, you explore all the corners." Of course, he says, "Tolstoy might disagree. There are people who like to over-write, and who are effective at over-writing. Particularly the Russians." He points to Hammerstein's lyrics, which at their best illustrate how something ordinary on the page can be transformed in performance. "'Oh what a beautiful morning / oh what a beautiful day.' Nothing could be more banal," Sondheim says. "But that song changed the history of musical theatre." And it did so through simplicity, clarity and repetition.
Incredibly, three out of the 100 NYTimes Notable Books of 2010 are written by Ephs:
ALL THE DEVILS ARE HERE: The Hidden History of the Financial Crisis. By Bethany McLean and Joe Nocera. (Portfolio/Penguin, $32.95.) More than offering a backward look, this account of the disaster of 2008 helps explain today's troubling headlines and might help predict tomorrow's.

CLEOPATRA: A Life. By Stacy Schiff. (Little, Brown, $29.99.) It's dizzying to contemplate the ancient thicket of personalities and propaganda Schiff penetrates to show the Macedonian-Egyptian queen in all her ambition, audacity and formidable intelligence.

FINISHING THE HAT: Collected Lyrics (1954-1981) With Attendant Comments, Principles, Heresies, Grudges, Whines and Anecdotes. By Stephen Sondheim. (Knopf, $39.95.) Sondheim's analysis of his songs and those of others is both stinging and insightful.
Do any Ephblog readers have recommended favorites from the NYTimes list (or, for that matter, other great reads for the holiday season)?  I absolutely loved One Day by David Nicholls, and I am not generally one for romantic stories …  very cleverly constructed novel.  My favorite recent fiction book not featured on this list (and it was released in hardcover last year, but the paperback came out in 2010, so I'm counting it), was Lev Grossman's The Magicians.  Sort of a Harry Potter for adults, but that description doesn't do it justice.  A really fun, quick read that you can't put down once you are five pages in.
Speaking of literary Ephs, English Professor Jim Shepard's' latest story, Boys Town, was featured in a recent New Yorker.  Shepard was also interviewed regarding this story here.  Also keep an eye out for Carrie Ryan '00's forthcoming The Dark and Hollow Places.
Updated with Carrie Ryan's correct year.  Also, here is a link to a running list of books published by Ephs.   Finally, here is an article (subscribers only, alas) about Caragh O'Brien, author of Birthmarked, and who along with Ryan may be the first two members of the Eph Post-Apocalyptic Dystopian Teen Novelist Mafia.
The word is out that the new HBO series, The Miraculous Year, is based on Stephen Sondheim '50, and the gossip pages are buzzing.
According to the New York Post's Michael Riedel, Sondheim is "furious" and was "blind-sided" by the similarities between himself and the show's fictional Terry Segal:
Terry Segal lives in an elegant townhouse; Sondheim has a gorgeous brownstone in Turtle Bay.

Terry's gay, as is Sondheim.

Terry writes sophisticated shows that please the critics but fail at the box office.

"Follies" anyone? "Sweeney Todd"? "Sunday in the Park With George"? "Passion"??

Terry drinks a lot; Sondheim once told the Times, "I have a large capacity for alcohol." A few years ago, I saw him polish off a bottle of Chardonnay — Kistler, if I remember correctly — during the intermission of "Follies" at City Center. His young boyfriend gently guided him across the street for the second act.

Terry also does cocaine, as did Sondheim in the '70s, which he told his biographer, Meryle Secrest.

And at the end of the pilot, Terry, who's 44, has a heart attack. So did Sondheim, in 1979, when he was 49.
Read the whole thing for details about Sondheim's demands for changes in the script.
Sondheim isn't commenting publicly, however. In London's Daily Telegraph, Sondheim's spokesman declined comment, stating only that "Steve is a very private person . . . [t]he closest he will ever come to revealing his own personal history is in the form of the book he is publishing with Random House in October called Finishing the Hat, and even that is in lyric form."
The Miraculous Year is being directed by Kathryn Bigelow and will reportedly star Susan Sarandon and Frank Langella. HBO expects it to be released sometime next year.
(thanks to Parent '12 for sending this)
Two articles describe this weekend's Stephen Sondheim event in Chapin.  It's a shame that no podcast of the event is available.  One particularly nice reflection from Sondheim is described in the North Adams Transcript article:
Sondheim held back tears during a college event Saturday night in Chapin Hall, as he talked about the influence his alma mater had on his decision to become a composer and lyricist in the American theater.

"Williams changed my life," the 1950 graduate said.

Sondheim, who began at the college as an English major, spoke about taking classes taught by Robert Barrow, who was a music professor at the time.

"He did something revolutionary. He took the romance out of music," Sondheim said.

Barrow taught that everything was about how music works and how it's an art, he said.

Around the same time Sondheim was taking his first class with Barrow, he also took an art class in which the professor taught how art was a structured and conscious effort.

"Since I have a puzzle mind, it hit me at the right time," Sondheim said.

He said those lessons came back to him when he worked on "Sunday in the Park with George."
The New York Times ran a long piece on Stephen Sondheim revival fever this week.
Among the quotes from Sondheim in the story:
"I've reached an age where I'm two generations past when I was considered avant-garde. I went right from avant-garde to being old hat in five minutes, and you start to feel superannuated," he said. "With every new generation, popular art changes. Already there's a generation that thinks the Beatles are old-fashioned, which I find screamingly funny. The same thing is true of plays and musicals. People need things loud and fast. That's one of the things that I like about 'Little Night Music.' The musical says: Slow down. Slow down and think."
I can't recall Sondheim appearing on campus at any point in the last few decades (correct me if I'm mistaken …).  That is about to change when Frank Rich interviews Sondheim at Chapin Hall on January 23.  What an amazing opportunity to see, in person, arguably the most famous living Eph alum, and the greatest musical composer of his (or any?) generation …
I keep waiting for Jason Howland '93, whose show Little Women made it to Broadway but who has since been relatively quiet, to follow in Sondheim's enormous footsteps.  Howland wrote and produced two AMAZING musicals while an undergrad at Williams.  Supremely talented guy.
Currently browsing posts filed under "Stephen Sondheim '50"
Follow this category via RSS