Currently browsing posts filed under "Theatre"
Follow this category via RSS
"Six years later [Jenny Gersten] goes back to the summer festival where she got her start."
The quote above is from the Sunday New York Times article titled "Second Act for New Chief of Festival" which needs a log-in. Better yet, read about it here in The Boston Globe.
I apologize for the quickie (running out the door) post, but I do recommend reading about Gersten and her plans. Sounds like she will be bringing a lot of fresh energy (and exciting talent) to the Williamstown Theater.
"American composer and lyricist Stephen Sondheim is to receive the prestigious Special Award at the Laurence Olivier Awards later this month.
The honour is being presented in recognition of his contribution to London theatre, organisers have said.
Previous recipients of the award include Sir Alec Guinness, Dame Judi Dench, Sam Mendes and Sir Peter Hall."
…from BBC News
Tomorrow, William Finn '74 brings his latest musical to San Diego's La Jolla Playhouse for its world premiere. Finn is partnered once again with his 25th Annual Putnam County Spelling Bee collaborator, James Lapine, to create "a very free adaptation" of  2006's Oscar-winning Little Miss Sunshine for the stage. SoCal Ephs can see the musical through the end of the month, at ticket prices from $44 to $100.
Finn and Lapine stress the many ways in which the musical will take the story beyond the film:
Lapine, who is directing and writing the book, and Finn, who is writing the score, say they see lots of chances to expand the story and the storytelling by reimagining them theatrically. "It turns out to be a very funny and emotional show," says Finn. "Which the movie was too. But with music, it's emotional to a different degree."

…

"What's attractive is that these characters can sing," Lapine says. "A lot of people choose material where you don't expect or want the characters to sing, but here you feel like they are able to express themselves musically."

"And they have something to sing about," adds Finn, noting the abundance of hang-ups, hopes and heartache. He says he tried to compose "a romantic score that was funny" with songs that, says Lapine, "offer different vantage points" than the film did.

In one flashback, Richard and Sheryl are high school students courting in the VW bus that they would later drive to Redondo Beach. "In the film they're quite contentious with each other," Lapine says, "and I'm sure the original author had his own notion of their back story. We wanted the audience to feel that here is a couple whose romance has gone astray and this trip rekindles the spark."

Creating such moments is part of what he calls "the art of adaptation," which entails "figuring out the 'routine-ing' of a show — deciding what's going to be sung or expressed in music and what should be expressed in dialogue. You have to break the story down emotionally."
Finn's vision of Sunshine is an optimistic one:
I'm sick of being depressed every time I go to the theater," said Finn, 58. "I just wanted to write something delicious."
"The world stinks," the famously terse Finn said during rehearsals at the Playhouse []. "I want to be thrilled and delighted, and this story was so full of delightful characters, with this little ray of sunshine right in the middle."
Finn and Lapine hope that La Jolla is only the first step on the road to another Broadway opening. Based on Broadway producers' love for adaptations with a built-in base of fans, the prospects seem pretty good.
This isn't the first time that Ed Schmidt '84 has staged a play inside his home, but according to the title of his latest production, My Last Play, it is to be the last.
Who knows if it's true? Who cares? With only twelve tickets available for each show, get there while you can. Jason Zinoman explains in
a New York Times review
:
In his first-act monologue, which takes place in his living room, he describes his history of being overlooked and under-produced in wrenching detail, mixing in stories about the death and decline of great playwrights. He says he is now the same age as Shakespeare was at death (before qualifying the statement). Before going upstairs for intermission, he tells each audience member to choose a book from his shelves, and when he returns, he asks his guests to move their chairs in a circle. Then he tells a story about each book that will now be leaving his house.

Old, graying books have history and character, and his melancholy musings on them remind us that the physical object has an emotional impact that the Kindle cannot imitate. This show is about the moving power of books as much as that of the theater.
Pretty awesome. I'm not sure I can make it before Schmidt runs out of books — but if anyone here does, I hope you'll let us know how it goes (and what book you took home!).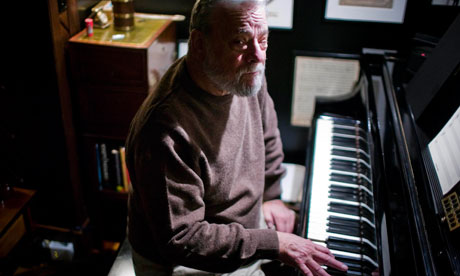 This excellent profile of Stephen Sondheim in The Guardian includes an instructive Williams anecdote:
Initially a maths student at Williams College in Massachusetts, the young Sondheim took an elective course in music with no intention of pursuing it. During the first lecture, the students were played Debussy's La Mer, and the lecturer asked: "what does it sound like to you? Does it sound like the sea? Doesn't sound like it to me." Something in Sondheim rose up and responded, both to the down-to-earth approach and to the understanding that "music has that remarkable quality of suggesting things without being specific. It's an abstract art and yet it's an emotional one, and that's what makes it so remarkable." The music teacher in question changed his life. "He was very spit-spot Mary Poppins – he took all the romance out of music – and that appealed to me. I believe in it. I believe that, far from demystifying it, it makes things clearer and, in a sense, adds to the mystery of creation. Because the desire to make form out of chaos is why we write."

The more precise, and concise, a lyric, the more likely it is to liberate the ideas behind it. "I think the more restrictive, the freer it is. It's always been true. If you're locked in a room, you explore all the corners." Of course, he says, "Tolstoy might disagree. There are people who like to over-write, and who are effective at over-writing. Particularly the Russians." He points to Hammerstein's lyrics, which at their best illustrate how something ordinary on the page can be transformed in performance. "'Oh what a beautiful morning / oh what a beautiful day.' Nothing could be more banal," Sondheim says. "But that song changed the history of musical theatre." And it did so through simplicity, clarity and repetition.
Be sure to read this interesting New Yorker retrospective on Elia Kazan '30's life and career, including the following anecdote about his admission to and time at Williams:
Through his teen-age years, Kazan wrote in his autobiography, "A Life," published in 1988, he had "one enduring friend," his mother. He was Athena's "special child" and her confidant. "We entered a secret life together, which Father never breached," he wrote. "That is where the conspiracy began. Perhaps I represented what she thought she might have been if she'd not been swallowed alive by a marriage." Unbeknownst to George Kazan, who wanted his son to enter the family business, Kazan was encouraged by his mother and a middle-school teacher to take up the liberal arts. When Athena notified her husband that Elia had been accepted by the prestigious Williams College, he knocked her to the ground. After graduating from Williams cum laude, Kazan told his father that he wanted to become an actor. "Didn't you look in the mirror?" his father replied.
Kazan was not handsome: he had a scrawny body, a long nose, and a craggy face that marked him as foreign. At Williams, his otherness fuelled both his sense of inferiority and his tenacity. "I was what you would now call a freak, someone who is out of things," he said. He walked around the campus with his eyes down, speaking only when spoken to, and he washed dishes and waited on tables at the fraternities, which he was not invited to join. "Baby, you're a nigger, too," his friend James Baldwin once told him. An outsider in a Wasp enclave, Kazan developed an appetite for revenge and its corollary, vindictive triumph. "I . . . wanted what they had: their style, their looks, their clothes, their cars, their money, the jobs they had waiting for them," he wrote in "A Life." "I wanted all that, and I wanted it soon."
I also enjoyed a subsequent passage in which Kazan is described as a "cocksman of note."  And no, that is not referring to his rowing prowess … I didn't know that Kazan, errr, "dated" Marilyn Monroe.  Kazan: noted cocksman, former Communist turned namer-of-names, multiple Academy Award winner, actor, mentor to Tennessee Williams and Marlon Brando, Monroe flame, Actor's Studio founder … love him or hate him, he is the original most interesting man in the world.
Eph theater buffs have just two months to jump in their sleighs and hustle to the Al Hirschfeld Theater to catch Sebastian Arcelus '99, filling Will Ferrell's oversized shoes as the lead in Elf: The Musical. The Broadway adaptation of the 2003 comedy* also features George Wendt from Cheers.
This is the highest profile role yet for Arcelus, whose rising career on Broadway has been largely overlooked by EphBlog. Arcelus has spent much of the last year as Bob Gaudio in Jersey Boys, following a successful stint in the touring company of Wicked. (Arcelus is married to fellow Wicked star Stephanie Block, who played originated the lead role of Elphaba. Elphaba, meet Elf).*
Previews are underway, with the full opening set for November 14. As a holiday show, Elf has a limited run — it's scheduled to close on January 2. So New Yorkers, hustle up and get your tickets and let EphBlog know how awesome it is.
UPDATED
Broadway.com has posted an interview with Arcelus. Highlights below the fold.
From the Eagle:
A professor from a small town plays a smalltown professor in a play aware of its audience.

That local man is George T. "Sam" Crane, a Williams College professor now on stage in "Our Town," a classic 1938 Pulitzer Prize-winning work by Thornton Wilder that Crane considers an anthropological study of "big questions of finding eternal in the every day."
(thanks to Parent '12 for sending this)
Let's just say that I was impressed. The casting was superb, the musical compositions magical, and the ending surprise joyful. If you're on campus, it's a show worth seeing.
The New York Times ran a long piece on Stephen Sondheim revival fever this week.
Among the quotes from Sondheim in the story:
"I've reached an age where I'm two generations past when I was considered avant-garde. I went right from avant-garde to being old hat in five minutes, and you start to feel superannuated," he said. "With every new generation, popular art changes. Already there's a generation that thinks the Beatles are old-fashioned, which I find screamingly funny. The same thing is true of plays and musicals. People need things loud and fast. That's one of the things that I like about 'Little Night Music.' The musical says: Slow down. Slow down and think."
I can't recall Sondheim appearing on campus at any point in the last few decades (correct me if I'm mistaken …).  That is about to change when Frank Rich interviews Sondheim at Chapin Hall on January 23.  What an amazing opportunity to see, in person, arguably the most famous living Eph alum, and the greatest musical composer of his (or any?) generation …
I keep waiting for Jason Howland '93, whose show Little Women made it to Broadway but who has since been relatively quiet, to follow in Sondheim's enormous footsteps.  Howland wrote and produced two AMAZING musicals while an undergrad at Williams.  Supremely talented guy.
Powerpoint Karaoke is an event where brave people volunteer to present a random deck of Powerpoint slides they've never seen before. The slide decks used in Powerpoint Karaoke are often real presentations pulled at random from the web. The event tests the presenter's confidence, quick thinking, and public speaking skills; the audience often joins in to heckle or offer suggestions, creating a piece of impromptu performance art around what probably started life started as a banal corporate presentation.
First conceived a few years ago by  a group of German artists, Powerpoint Karaoke has caught on at tech conferences. Public humiliation has its prize: the winner of the Powerpoint Karaoke 2009 tournament will be announced at CES, which is kind of a big deal.
Brandi Brown '07 is a quarterfinalist for her PPT Karaoke performance:
You can watch other performances in the running as well as vote for Brandi here: Powerpoint Karaoke 2009 brackets. You can vote once per day per bracket, and the final winners will be announced Dec. 31. The losing quarterfinalists will be eliminated Tuesday at noon, so vote early and vote often!
Also, this from the Globe:
Of all the loathed tools of office oppression, PowerPoint is probably Public Enemy No. 1. Its critics liken it to a Procrustean bed for ideas, one that dilutes real passion and innovation into an endless stream of bullet points. Anyone who doubts that PowerPoint can suck the life out of even the most inspiring talk can check out the hilariously banal PowerPoint version of the Gettysburg Address (norvig.com/Gettysburg/index.htm).
Be Warned, Ann Margaret fans!
http://www.nytimes.com/2009/10/11/theater/11mcgr.html?_r=1&ref=arts
http://www.chitarivera.com/productions/bye_bye_birdie.htm
Dick Van Dyke and Chita Rivera!
And Paul Lynde! His "Ed Sullivan" and "Kids" were show stoppers!
Here is an extra for Lynde fans:
Three quips from Hollywood Squares with host Peter Marshall.
MARSHALL:
Why do the Hells Angels wear leather?
LYNDE: Because chiffon wrinkles so easily.
MARSHALL: According to the World Book, is it OK to freeze your persimmons?
LYNDE: No, you should dress warmly.
MARSHALL: What are "dual purpose" cattle good for that other cattle aren't?
LYNDE: They give milk and cookies… but I don't recommend the cookies.
Currently browsing posts filed under "Theatre"
Follow this category via RSS