Currently browsing posts filed under "Music"
Follow this category via RSS
Marcus Hummon '84 has long been renowned as one of the finest – and most successful – Eph musicians. 2016 could be the year that Marcus's son, Levi, emerges as a musical force in his own right. The Huffington Post recently named Levi Hummon as one of the "Top 20 Country Artists to Watch in 2016," and Billboard Magazine likewise featured him in a recent list of "Nashville's Future Stars."
Levi and Marcus have already co-written songs together and performed together. Levi anticipates having his first radio single in 2016, as the lead-in to his first album release. Per Billboard, "they have written some songs together that he loves and that are likely to make his first album."
Levi Hummon adds: "You're going to have different stories. The main thing is just to tell your own story."
Sadly, Levi's story doesn't include Williams, running instead through St. Petersburg, Florida, and Nashville's Belmont University. But as a member of the Eph family, we can still celebrate his music.
NPR has compiled its useful midyear music highlights list, and Caitlin Canty '04 makes the cut in the "Country/Americana" category:
Caitlin Canty, "Get Up"

The Vermont-born songwriter is going to feel right at home in Nashville if she can keep writing songs like this.
"Get Up" is the lead track off Canty's Kickstarter-funded album "Reckless Skyline" (pictured above), but I've found "My Love For You Will Not Fade," a few songs later, to be the song which keeps me hitting "replay."
The album itself has received adulatory reviews. The San Francisco Chronicle:
"How can I belong to you and belong to me?" sings Caitlin Canty on "True," a gorgeous lament from her new album, "Reckless Skyline." The Vermont native with a casually devastating voice and unshakable poise is bound to be the next great Americana star — except nobody knows it yet. Recorded in just four days with money she raised on crowd-funding website Kickstarter, the 12 songs here sound wonderfully lived-in, with Canty's easy way with folk, blues and country motifs driving standout songs… Canty is ready to be discovered.
She is a consummate songwriter who has collaborated with a number of different bands. This, her third full-length album release, is a fine collection of 12 songs that ranges from country ballads to dark blues and quiet folk. Ms. Canty's voice is soft, sure and brings to mind Bonnie Raitt, Lucinda Williams and Gillian Welch. That's pretty good company to be a member of!

The opening cut, "Get Up," is especially compelling and sets the tone for the entire set. It urges the listener to "knock the breath out of your madness / burn your photographs at the edges." In other words, shake off the blues and self-pity and get back to living. Ms. Canty's lyrics are sharp, clear, poetic and steeped in nature … The album closes with a whimsical waltz, "Cold Habit," that lingers on in the mind long after the fade out.

Caitlin Canty possesses a rare and intelligent talent that has earned her growing respect and admiration. This beautiful album can only advance a career that deserves much greater renown
Reckless Skyline, produced by acclaimed singer-songwriter Jeffrey Foucault, is a staggering work and arguably one of 2015's first triumphant efforts. The disc vacillates between fiery rockers, howling blues cuts and earthen folk ballads. Anchored by her dulcet alto, Reckless Skyline is a master class in precision. To put it simply, if you're a struggling singer-songwriter and you want to know how to do it better, study this album and dive in. It will level you…

Though she is a tried-and-true New Englander, Canty also spends time in both Nashville and Idaho and no song on the disc is more Idahoan than the sun-drenched and rustic "I Never." Easily her best lyrical song of the dozen, " I Never" is also her most personal and her most vulnerable. To put it simply, we listen to music for songs like "I Never"…
You may be familiar with Canty from two previous solo albums, a number of performances with Darlingside, or from Down Like Silver, her musical work with the talented Peter Bradley Adams (Eastmountainsouth). Like many Eph musicians, her time at Williams College laid the foundation for her musical success: in Canty's case, she took a songwriting seminar one Winter Study at Williams, and her songwriting talents are the bedrock of Reckless Skyline, most of which is her own songwriting work.
The album is available on CD from Canty's website through the link above, or for MP3 download at Amazon. And catch her live in Manhattan at the Rockwood Music Hall on August 5.
Four years after
adding Molly Venter '02
to its lineup, Red Molly is headed for a breakup, er, "
indefinite hiatus
."
Venter replaced one of the band's original members, and the folk/Americana band has enjoyed great success during her tenure. Last year's "The Red Album" received high marks from critics , and rose to be the top album played by folk radio DJs in 2014.
Red Molly recently appeared on NPR's Mountain Stage series of live concerts in the folk & American genres; a 30-minute recording of their performance is available for online streaming here.
I hope we'll see more of Venter, who was a terrific singer/songwriter even before she joined Red Molly, but catch the group live while you can. Upcoming tour dates include Denver (next week), the DC area (appearances at two outdoor festivals on June 14 and the Hamilton downtown on July 2), and a close approach to Williamstown later in June with two shows in Saratoga Springs.
During our week of good news, what could be better than the Octet performing a Taylor Swift medley?
Need help getting into the holiday spirit? Be sure check out Stephen Colbert's Another Christmas Song … co-written by very clever Eph Adam Schlesinger '89. The Christmas album won a Grammy for best comedy album:
Jesse Winchester '66 kicks off his spring tour this weekend in Ontario. But fans of the songwriting Eph needn't fear that Winchester will be reprising the 36-year absence from the United States that began when he fled the Vietnam-era draft: upcoming dates include April 5 in Chicago, April 12 in Philadelphia, April 13 at the awesome Jammin' Java in the Virginia suburbs of Washington, DC, and May 27 at the Rubin Museum of Art in New York City. Winchester's schedule will also take him to Michigan, Texas, the Netherlands, and to JazzFest in New Orleans.
For those unfamiliar with Winchester's sound, he
 visited NPR's World Cafe
in 2009 to promote his most recent album,
Love Filling Station
, and his 25-minute appearance can be listened to there.
As Jeffz reports under Speak Up, Darlingside the All-Williams Band needs your votes early and often:
Help out some Ephs! "we'll respond to each post with an expression of our undying gratitude." !!!

Vote for Darlingside at South by Southwest!

Time Tuesday, February 8 at 1:00pm – February 22 at 11:30pm
Location SXSW, Austin, TX

Darlingside needs your help! We're finalists in PickTheBand's competition for a special showcase slot at Austin's South by Southwest Music Festival during our March Tour (not to mention $10,000 in Sennheiser recording gear).

This SXSW showcase would give us an enormous boost in exposure to new fans and industry professionals. Voters will also be entered for a chance to win 4 tickets to the four-day festival, plus flights and ho…tel lodging.

Leave a comment on our wall letting us know that you voted, and we'll respond to each post with an expression of our undying gratitude.

Here's how to vote:
A few arts-related stories of note from the winter:

Your probably saw that NYT music critic Anthony Tommasini was conducting a poll/survey/mind read to determine the top 10 classical composers
Anybody's list of post-Baroque composers would probably include Beethoven, Tchaikovsky, Chopin, Mozart, Schoenberg, Haydn, Stravinsky, Schumann, Brahms, Schubert, Handel, Bach, and Debussy.
So just in: 1 Bach. 2 Beethoven. 3 Mozart. 4 Schubert. 5 Debussy. 6 Stravinsky. 7 Brahms. 8 Verdi. 9 Wagner. 10 Bartók. Wha … Bartok?!?!
A caricature of Bartok from Radio Times, May 18, 1934
The Guardian said today "does it reveal more about the tastes of the east-coast haute bourgeoisie than anything else?".
Well, here I am on the west coast and probably as much a peasant as any of those Hungarians Bartok used for inspiration of his ethnocentric music.
Come on, Ronit, this is a four-seamer just for you (sort of like an outswinger)! Hit it out of the park!
Do Williams students make the trek down South Street to go to the musical events at the Clark? In addition to its continuing presentations of The Met: Live in HD, (next scheduled presentation is Puccini's La Fanciulla del West on January 8), the Clark has some excellent upcoming live concerts:
Saturday, January 22: Dar Williams (Wesleyan '89). Tickets are a little pricey at $27 (student price), but she's a terrific singer.
Friday, February 25: The White Rabbits. Tickets are $20. Great indie-rock band from the Brooklyn scene.
Saturday, April 9: Roger McGuinn. $35 for students. I know him from The Byrds, but have never listened to any of his solo stuff.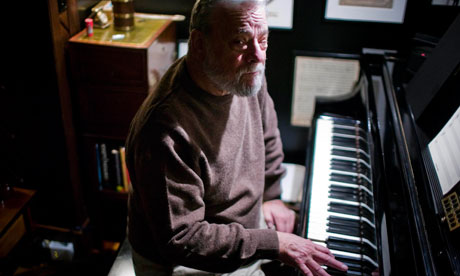 This excellent profile of Stephen Sondheim in The Guardian includes an instructive Williams anecdote:
Initially a maths student at Williams College in Massachusetts, the young Sondheim took an elective course in music with no intention of pursuing it. During the first lecture, the students were played Debussy's La Mer, and the lecturer asked: "what does it sound like to you? Does it sound like the sea? Doesn't sound like it to me." Something in Sondheim rose up and responded, both to the down-to-earth approach and to the understanding that "music has that remarkable quality of suggesting things without being specific. It's an abstract art and yet it's an emotional one, and that's what makes it so remarkable." The music teacher in question changed his life. "He was very spit-spot Mary Poppins – he took all the romance out of music – and that appealed to me. I believe in it. I believe that, far from demystifying it, it makes things clearer and, in a sense, adds to the mystery of creation. Because the desire to make form out of chaos is why we write."

The more precise, and concise, a lyric, the more likely it is to liberate the ideas behind it. "I think the more restrictive, the freer it is. It's always been true. If you're locked in a room, you explore all the corners." Of course, he says, "Tolstoy might disagree. There are people who like to over-write, and who are effective at over-writing. Particularly the Russians." He points to Hammerstein's lyrics, which at their best illustrate how something ordinary on the page can be transformed in performance. "'Oh what a beautiful morning / oh what a beautiful day.' Nothing could be more banal," Sondheim says. "But that song changed the history of musical theatre." And it did so through simplicity, clarity and repetition.
John Morris Russell '82 has been invited to fill the shoes of a legend. From 1977 until 2009, the Cincinnati Pops under the leadership of conductor Erich Kunzel produced over a hundred albums, many of them bestsellers, as they became leaders in popularizing orchestral recordings of film scores and Broadway music. Kunzel also made hundreds of guest conductor appearances worldwide, conducted the National Symphony in the annual Independence Day concert on the steps of the Capitol, and mentored Keith Lockhart of the Boston Pops and Steve Reineke of the New York Pops.
Now it's Russell's turn — he's been selected in a national search triggered by Kunzel's 2009 death from cancer. Russell was one of the favorites for the position, having been Associate Conductor of the Cincinnati Symphony Orchestra from 1995 to 2006 ((Although Russell is a native of Cleveland, which may have worked against him). In fact, Russell was actually already scheduled to be in Cincinnati this week as the guest conductor for their "Happy Holidays with the Pops" concert.
At Williams, Russell majored in music and graduated with highest honors. According to a Cincinnati Magazine profile in 1997, it was at Williams that Russell migrated from jazz (he was a trumpeter in a garage band in high school!) to classical music:
He didn't take classical music seriously until he got into college. "I started finding these connections between jazz music, which I was raised with, and the classical repertoire."

Russell's epiphany, though, came during his junior year, while studying at King's College in London. He had taken a conducting class "on a lark," he recalls, and was asked to conduct for a Gilbert and Sullivan society production of The Pirates of Penzance. And then? "As they say," he says, "once you stand in front of an audience and conduct, you're hooked."
And Russell hasn't forgotten his Williams days: prior to the recent New York Pops celebration of Stephen Sondheim '50's 80th birthday, he reflected on their Williams connection and the words to "The Mountains."  I look forward to a future Cincinnati Pops album of college songs that includes it! More from the press release:
Country songwriter Marcus Hummon '84 is debuting a revised version of his very personal play The Piper in Nashville. It will open this Friday, December 3, in Nashville. From The Tennessean:
Marcus Hummon's The Piper is more than a piece about prostitutes, music, murder and Irish immigrants in Boston's Scollay Square. It's also a work of redemption, trust and surrender — as much for the playwright as anyone else…

[H]e was deeply moved by the 2001 suicide of his friend Stuart Adamson, a Celtic musician, front man of Big Country and Hummon's partner for musical duo The Raphaels.

"It became a question of, 'Why didn't the music help?' " Hummon says. "Why didn't it save him? So I created this brilliant musician for The Piper, a child with polio, who has to come to grips with what music can do in her circumstance. It was a way of answering the question, reigning victorious, redeeming a situation that seems unredeemable."

And then there was the idea of the girl's mother, a recovering prostitute attempting a new life by running a boarding house. The truth of her struggle, Hummon says, came from his family's involvement in Magdalene, a two-year residential program for women coming out of violence, addiction and prostitution. Hummon's wife Becca Stevens, an Episcopal priest, founded the organization in 1997…
Hummon has written four previous musicals, which have been produced by local and regional theater companies. Because of the personal connections, Hummon is trying again to make The Piper a success:
The Piper has had previous incarnations at the New York Musical Theatre Festival and the Hartt School in Connecticut, but this time's a little different. He's added the hand of Michael Aman in writing the musical's book (or in non-theater terms, its script), realizing, he says, that if it's going to hit the next level, he'll have to have some assistance. "I don't ever want to see these characters not on stage because I wasn't willing to accept help," Hummon says. "And he's been great. Outstanding."
Hummon is better known for his work in country music. In 2005, Hummon won a Grammy Award as the writer of the Best Country Song, "Bless the Broken Road" by Rascal Flatts (previously released by Melodie Crittenden). Hummon has had three #1 hits on the country charts — "Bless the Broken Road" as well as "Cowboy Take Me Away" by the Dixie Chicks and Sara Evans's "Born to Fly." (Hummon also wrote Alabama's "The Cheap Seats," which you may have heard between innings at the ballpark).
Far better known as a songwriter than as a performer, Hummon nevertheless has released several solo albums and often appears on stage with the better-known groups for whom he writes. Hummon is also the author of a children's book — Anytime, Anywhere: A Little Boy's Prayer, (available from Amazon.com).
Despite his songwriting success, Hummon has apparently never been featured on EphBlog before. Interestingly, Hummon says he began his songwriting career while at Williams, where he majored in political science, played football and volleyball, and ran track. But Hummon is much readier to attribute his songwriting success to the liberal education he received before Williams:
"My parents were both very musical. From a very early age, I was exposed to great art. That and just moving around the world the way we did, certainly affected me. I was going into the 10th grade when we moved to Riyadh in the Kingdom of Saudi Arabia. A European or American can't go to secondary education in Arabia unless you're studying Arabic or at an Islamic school. So I took correspondence courses. It was very lonely, and Riyadh wasn't a real swingin? town, if you can imagine."

"My mother had studied art history and music history. She had all these portfolios of the works of Monet, Manet, Rembrandt and so on. Then she had a collection of classical records: Debussy, Chopin and whatever. I had to study a particular painter or a particular symphony. I had to read J.D. Salinger, Fitzgerald, Hemingway from her reading list. It was like a gift she gave me, the gift of art. I always appreciated that."
The Piper runs through December 12 at Belmont University's Black Box Theater. Tickets are $20. If you're in the Nashville area, check it out!
Interesting YouTube video, initially posted in December, 2008, about hip-hop culture at Williams.  Since I know nothing about hip-hop in general, let alone its presence at Williams, I'll leave it to others to offer their views.  My only real memory of hip-hop on campus from my time at Williams was the Tribe Called Quest / De La Soul show during my first year (I helped work the lights), at which, if memory serves, some of the performers were clearly disenchanted with the level of knowledge / enthusiasm from the crowd.  Oh, and speaking of hip-hop, Kid Cudi played Towne Field House on Friday night.  Any reactions / photos / videos from those in attendance?
Molly Venter '02, the 'Mary J. Blige of Acoustic Folk' has joined a band: Red Molly, where she replaces Carolann Solebello, a founding member. Intriguingly, Red Molly did not previously have a Molly.
Red Molly self-describes as a "dynamic female trio" with "lush, distinctive three-part harmonies." I can't find any reviews of the group as it's currently composed, but past praise of their "tick-tight arrangements, crystalline vocals, and caramel harmonies" from the Boston Globe is promising. Moreover, Venter should be fitting right in – during her solo career, she opened for Red Molly on several occasions, including, I believe, the one time I've seen either Venter or Red Molly in concert.
Having recently returned from an Alaska tour (complete with moose) Red Molly has several upcoming shows in New England and near their New Jersey home base. They play a sold-out Old Sloop Coffeehouse in Rockport, MA tonight, followed by a benefit show at Pine Hill Waldorf School in New Hampshire tomorrow night. Then, on Wednesday, November 17, they'll be at City Winery in Soho [www.citywinery.com] [115 Varick at Vandem,  Metro: Spring St. A,C,E] . In addition, they have upcoming tours to the West Coast (including Seattle and the Bay Area), Florida, and the Midwest planned. (DC folks can look forward to a June 4, 2011 appearance at Alexandria's legendary Birchmere).
From May, a performance at Chapin Hall by the Williams College Jazz Ensemble of Blues for Baltimore, written by precocious rising senior Rob Pasternak '11 and featuring Andy Quinn '13 on tenor sax. [Bear with it as there is some interference for a few seconds around the :36 second mark]:
I heard that the Williamstown Jazz Festival, an annual event for over a decade, was canceled last year as a cost-cutting measure. I really hope the college reconsiders.
Which Williams-related video has the most views on Youtube? It's not even close: this Vampire Weekend performance in Greylock Dining Hall back in February of 2008, with 252,000 and counting:
For some reason, there are far fewer views of Vampire Weekend's performance of its biggest hit, A-Punk, during the same concert. Kudos to the students who booked Vampire Weekend just before they exploded nationally. [Is there an updated link to Ben's photos of the show anywhere?]
Does anyone have memories of concerts they saw in unlikely venues at Williams prior to a band hitting it big? Dave Matthews Band performed my frosh year (January 1994) in Mission dining hall. Within another year, they would have been unbookable anywhere at Williams.
A summer summary of Williams / Berkshires arts news:
Darlingside and Caitlin Canty at Brooklyn Bowl: June 15
The string-rock quintet Darlingside and singer/songwriter Caitlin Canty will play a FREE album release show at Brooklyn Bowl and would like to extend a special invitation to fellow Ephs. All musicians are Williams College alumni from '04-'09 and have been collaboratively writing music and touring the Northeast in recent months. The show will feature singer-songwriter performances as well as full band numbers. Both groups will be releasing new EPs at the show and invite you to celebrate with them.
June 15th 8-10PM @ Brooklyn Bowl (11 Wythe Ave in Brooklyn) Rock. and Roll. *Album Release Show* FREE
More info at www.caitlincanty.com or www.darlingside.com
(via Williams Alumni Group on LinkedIn)
http://music.williams.edu/node/1101
There is a SymphWinds performance this Saturday, May 8th, @ 8PM entitled "Aftershocks." What's really cool about this performance is that almost all the music is composed by students, faculty, and alumni, especially featuring two pieces by David Kechley, the chair of the music department.
Written for the Opus Zero Band's recent performance tour to Pennsylvania, Rush is a taut, lean, exhilarating work for only 13 players, showcasing the ensemble's individual and collective virtuosity in a brief, but exhilarating romp. BANG!, on the other hand, is a massive, muscular, piece for large wind ensemble; written for, and premiered in 2005, by the Symphonic Winds, BANG! unleashes the power and intensity (as well as subtle beauties) of the modern wind band.
I'm playing the synth part in BANG!, so I can say that the song is pretty cool sounding. My part is lame though–I count 90% of the time and play single chords the rest of the time.
At the risk of self indulgence, but in hopes of adding a bit of levity (or at least diversion), I am going to cross-post something I wrote at dcat last night. I am doing so at the request of a regular Ephblogger. Just a note of warning: This has zero to do with Williams.
In one of the (too) many magazines to which I subscribe they have a little feature where they ask a musician to listen to their iPod on shuffle for five songs, with no fast forwarding, and then to talk about each song. Part of the purpose is to get a sense of what they might actually listen to as opposed to what they might want everyone to think they listen to. But it also allows them to talk and think about music without filters.
It seems like a good idea, so I'm going to try it on dcat. I'm just going to click on play on my iTunes and see where it takes me. It could pretty much give us anything, as I have some 17,500 songs downloaded, which is something like 45 days straight of music if I were to turn it on today and just let it play straight through with no repeats 24/7. So away we go with the iPod Shuffle:
Sebadoh, "Mystery Man" from Bakesale: Sebadoh, Lou Barloh's post Dinosaur Jr. project, had a little two album run with this album and Harmacy that captured just about perfectly the early 90 indie rock ethos. My impression of Barlow, both from what I know of the way things went down with Dinosaur Jr. and from a couple of interactions with him after live shows, is that he seems to be a bit of a dick. This song as well as any embodies Sebadoh's sludgy guitar fuzz-driven indie pop rock. (Holy crap, songs go by fast when you're doing this.)
Sheila Chandra, "Speaking in Tongues," Virgin Records: Signed, Sealed, Delivered 2: I have no memory of this "song" (which really is just this woman making weird percussive noises with her voice) and I have nothing interesting to say about it other than that I imagine that in anything but very small doses it would grow tedious.
Nirvana, "Territorial Pissings," Nevermind: Nirvana helped to transform the way many of us listen to music even if we did not know it to be the case at the time. What then seemed unbelievably raw holds up pretty well over time but there will always be a subtext, in listening to Nirvana, of melancholy over what might have been.
Sol White (Quote From History of Colored Baseball, 1907) as Read by Ossie Davis from Ken Burns: Baseball Soundtrack: Ossie Davis is one of America's underappreciated gems. Baseball is awesome. And this little excerpt from the soundtrack to Ken Burns' monumental documentary on baseball is so brief that I'm already typing into the next song on the playlist.
Neil Hefti, "Coral Reef," Kings of Swing, Vol. 1: I have always been a huge fan of big band music from the 1940s. Perhaps it is from my grandmother on my dad's side, for whom this was the music of being a teenager. Maybe it comes from playing in jazz band in high school and naturally playing a lot of big band classics. This was rock and roll before rock and roll, but with a lot more glamour, and frankly, significantly better musicianship.
Well, that was fun. And remarkably fast. I'm already into Oasis' "My Big Mouth" from Be Here Now, which I bought in South Africa in 1997 the day it came out. I think this could become a regular feature.
(thanks to Parent '12 for sending this)
In an effort to purge the memory or a particularly poisonous discussion, someone on WSO had the brilliant idea of a Beautiful Voices post, which features great vocal performances, including one by a current Eph.  A prior WSO thread inspired an impassioned pop music discussion here (hopefully PTC will return from his hiatus soon!); I think it's time for an encore. What are some of your favorite voices?
Mine include Nina Simone, Morrissey, Glen Hansard, Robin Pecknold (of Fleet Foxes), Sinead O'Connor, David Bowie, Cassandra Wilson, Johnny Cash, Nick Cave, Matt Berninger (of The National), and Neko Case. I've seen all of them live, other than Cash and Simone, and like most truly great voices, it is impossible to capture just how powerful and haunting they are without seeing them in person.
In addition to the pros, I'd be curious to hear about any particularly memorable singing performances (especially by classmates) you heard during your time on campus.
Check out the latest from the Zambezi Marimba Band and Kusika. 
View prior Zambezi performances here.
The Wilco Solid Sound Festival will be held August 13-15 at MassMoca.  Tickets go on sale Friday.  Kind of a bummer that the biggest pop music event in who-knows-how-many years in the Berkshires is occurring when very few students will be in town … still, this is a major coup for MassMoca, and for North Adams in general.  If you aren't familiar with Wilco, you should be.  Yankee Hotel Foxtrot is inarguably one of the ten best albums of the aughts.
View more videos from Williams College here.
Thanks to David Kane for the link.
A few months back Will Slack posted about Eph music groups Darlingside and Majordomo.  The UMass Daily Collegian recently published a glowing feature on Darlingside's performance, including a video of a live performance of Surround:
Meanwhile, campus band Majordomo has released this snazzy new video of Heart Twice Broken:
This video by OK Go has been going around the internet for the last day or so:
Dylan Tweney '91 explains how it was made:
In music, timing is everything. When you're dancing with an enormous machine, it's even more important to get the timing correct, down to the microsecond.
Continue reading: How OK Go's Amazing Rube Goldberg Machine Was Built
Currently browsing posts filed under "Music"
Follow this category via RSS