Currently browsing posts filed under "Athletics"
Follow this category via RSS
Great article from EphBlog favorite Howard Herman:
Williams College had given its students, including student-athletes, the option of taking the fall semester off and incoming first-years could take a gap year. Winter sports athletes won't have their first contests until mid-November, and much about the pandemic could change between now and then.

"I personally am coming back in person on the usual schedule. Almost everybody on the team is doing that," Williams men's basketball player Spencer Spivy said. Spivy is a rising junior from San Francisco, but a junior who has family members in Berkshire County.

As of today, Williams has not determined whether or not winter sports will be contested and when those seasons could start. The school had posted Oct. 15 as the first day of practice for winter sports teams. That's a change from the traditional Nov. 1 start date.

Last year, the first winter sports contests were played the weekend of Nov. 15-16. Assuming that winter sports are being played, it is not known if those games would start at a similar time, wait until after Thanksgiving or wait until January 2021.

"It was" a difficult decision at first, Spivy said. "Early on, when we received the news about [college president Maud Mandel's] email, and that the fall was going to be a hybrid online and in person format, we texted in a basketball group chat the day of. We all sort agreed we'd be there in person together, in whatever capacity that is instead of going our separate ways in the fall. "After the team collectively agreed on that, it became a pretty easy decision for me to come back."
Read the whole thing.
Williams should start up athletics soon. CV-19 is essentially zero risk to Williams athletes and, of course, they can always decline to participate. Other schools will certainly not be playing, but we should not allow their poor decision-making to hold our students hostage.
How many Eph athletes are taking a semester off? More than one!
In the wake of Williams College canceling the 2020 football season, former Duxbury High star Bobby Maimaron will withdraw from school and return for his senior season in 2021.

…

"It's definitely a hard thing to hear, that the season's getting canceled," Maimaron said last week, taking a break from his work-from-home finance/business internship. "But you kind of saw the writing on the wall for a while, I think. That gave my teammates and I time to prepare and think about what we're going to do."

One good cancellation deserves another, so Maimaron's plan is to withdraw from Williams for the fall semester and retain his eligibility for 2021, when he'll return for his delayed senior season. Whether he goes back to campus in the spring or scraps the entire school year is still up in the air, but Maimaron said most of Williams' football-playing senior class is taking the same detour.
According to Eph Notes:
As of July 10, 1,677 Williams students are planning to return to campus in September, when classes are expected to resume in "a reimagined way and with extraordinary public health measures in place for everyone's protection," as President Maud S. Mandel described in a June 29 letter to the community. According to the Dean of the College's office, another 350 students have chosen to enroll remotely, 62 incoming first-year students are taking a gap year and 159 returning students are taking a personal leave for the fall.
How many of those 159 are football players? How many are fall athletes?
Side note: I have heard some weird chatter about financial aid policies impacting these choices in undesirable ways. Example: A student on a full financial aid package who comes to campus gets a free ride, same as always. If that same student, however,"chooses" to study remotely, then tuition is free (of course) but the student also gets a check (of how much?) to "pay" for her room and board at home. Is that really the policy? If so, that is nuts! Right?
For example, a student from a poor family could, by staying home, "earn" money for her family since her check from Williams is worth more than the money it costs to feed her. That is, Williams is causing poor students to not come to campus! True? How many of the 350 students enrolling remotely are on financial aid?
Is Dave Clawson ('88) the most successful Eph football coach currently coaching?  He's currently the coach of Wake Forest, which most recently finished 8-5, losing in the Pinstripe Bowl.
Wake Forest head football coach Dave Clawson said Thursday he's going to self-isolate from his wife, cancer survivor Catherine Clawson, for the entire 2020 season beginning with training camp July 12.

Clawson explained his wife is at a higher risk for severe complications from COVID-19 because of her reduced white blood cell count, and it could prove difficult for him to avoid the coronavirus while working alongside the nearly 200 people involved in the Demon Deacons program, per ESPN's David M. Hale.

"When I'm working on a daily basis, coaching 110 to 120 players and having a staff of 50, I don't know how I could go home at night and honestly tell my wife I couldn't have come in contact with [the coronavirus]," he said. "I love coaching, but I love my wife more. There's no way I'm going to do anything that would put her at risk."
That's rough, to say the least.  As it looks more and more like (1) SARS-COV-2 is not going away anytime soon — and that things are likely to get worse before they get better, and (2) many places are nevertheless re-opening, I wonder if we'll hear more and more stories about folks like Dave Clawson who are forced to separate from their families and friends for a period.
Penn State head coach James Franklin confirmed Tuesday he's also planning to spend the upcoming campaign away from his family.
You can read the full article here.
Check out this video of the @ephmatmen at the Williams Open last week. pic.twitter.com/c1XHc1bRej

— Scott Honecker (@EphWrestling) January 14, 2020
  Former Williams head football coach Aaron Kelton was in the news recently, taking over as Howard University's interim football coach after Howard head football coach Ron Prince was placed on administrative leave:
I think its rare for a coach to come back from administrative leave like this (but I don't know for sure, so informed correction welcome), so I would guess that Howard will be looking for a new coach for next season.  If so, I wonder if Kelton will get a reasonably opportunity to get the head job.  Based on this very interesting article from 2018, Kelton is definitely interested in being a head coach again:
There is no telling how long Kelton will remain on the Morgan State staff. One thing is for sure, he wants to have his own program again at some point.

"My time will come, and I'll get back into it. Right now is not the time for me," he said. "I'm enjoying football, continuing to be a football coach and a football fan."
Based on the 2018 article, it appears that Kelton did not burn any bridges when he left Williamstown, despite the fact that (as far as I know), his departure was not entirely voluntary:
Things did not end well for Aaron Kelton in Williamstown, but the veteran coach did tell me that he is keeping an eye on how Mark Raymond's Ephs are doing.

"I have a ton of players who we are regularly in touch through social media. I do follow the teams," he said. "I wrote a note to the [Williams Sideline] Quarterbacks Club. I just wanted to let them know thank you for the time they have given me."
I wonder whether Kelton has hired former Eph players as assistant coaches since his departure from Williams, or former players from his other coaching stops.  In any event, best of luck to Coach Kelton as he finishes up Howard's season and progresses on in his career.
The New York Times has an interesting article on amHerst and their efforts to increase diversity on their athletic teams. The article has a lot of good information about the recruiting process and the efforts that amHerst has made to find student-atheletes of color, especially in sports that are traditionally dominated by white students. I think the article presents a realistic and balanced look at what amHerst is doing. For example, they point out that amHerst has the resources to dedicate to this goal that other schools do not possess.
I think the article is worth the read but if you don't have the time or the interest, here is the closing quote from the men's soccer coach, "I want someone who makes us different. Because that's how everybody gets better." I believe he is talking about on the field and off and I applaud him and amHerst for this kind of thinking.
Two weeks ago, the Record released a pseudo-satirical opinion piece, a bullet point list of what are being called "Hot takes from a white guy with an annoying mix of confidence and insecurity" written by Nate Munson-Palomba '21. The list, touching on a wide range of Williams social issues, has caused quite a stir to say the least, because it isn't perfectly clear which points are jokes and which are serious opinions of the author. Conversations about the piece have gone around on Facebook, Instagram, and in dining halls across Williams. The full list can be seen below:
● The athlete-nonner divide is driven by nonners (insecurity).

● "The Williams Swivel" says the most about Williams social life.

● Attractive white female athletes run this school.

● White guys should try to wear clothes when they're going out that aren't checkered button-downs, basketball jerseys or Hawaiian shirts.

● Endurance athletes are essentially nonners.

● The lack of bars has made social life better and more inclusive.

● CC will be the comeback story of 2022.

● Comedy is the clout of nonners.

● 66 is underrated.

● About half of Williams' problems are intractable because of geography.

● You haven't seen Williams until you've been exercising in Lower Lasell when the entire football team is there.

● The phantoms are having more fun a ton of the time.

● A refrigerator door could be a housing coordinator.

● Class defines Williams.

● Adams Falk's I am Williams poster that says, "Don't look back, something might be gaining on you" actually defines Williams.

● If you're doing all your reading, most Div. II majors are as hard as Div. III; the only thing is almost nobody is doing that.

● OSL is the shadow government of Williams.

● The only enemy that will unite humanity is non-human.

● Rugby is the last frat.

● Male helmet sport athletes are smarter than everyone else thinks they are and less attractive than they think they are.

● One of the worst social places to be at Williams is a short, unattractive guy who likes sports but isn't good at them.

● Juul culture is the most communitarian Williams gets.

● The only true protest act of Williams is to unenroll.

● There's no better way to torpedo your social clout at Williams than to write a sendy op-ed.
The following week, the Record included a second list written in response, called "Confessions from a Black Lesbian with a powerful mix of Confidence and Security" written by Rachel Porter '21. It is a roughly line-by-line response to the points made in the earlier article:
● The athlete-nonner divide is driven by athletes who like to shout at parties something along the lines of, "If you aren't on one of these three sports teams, or I can't sexually objectify you because of my toxic masculinity and my inability to see women as people, then get out of this space that was formerly used as a social meeting place for a variety of people because I am insecure, sexist and enjoy bigotry."

● "The Williams Swivel" isn't limited to Williams. It's called having situational awareness.

● Women/Femme-identifying people of color do the most for this miserable school and look absolutely fierce while doing so. Whether or not they fit the confining and limiting criteria of "attractive" is irrelevant to me. Because I don't value people solely based on their physical appearance.

● Haouxsey is overrated.

● Sometimes you have to wear your worst clothes to parties when there's a good chance of mysterious filth being spilled on you at any moment.

● My brief foray into syndicated athleticism has led me to believe that running is one of the most intellectually and physically challenging sports to participate in. You know, because it actually requires concentration and tenacity. Weird.

● The lack of bars in this town is the reason why there is a dispensary down the street. Trends follow the money.

● The College's many bureaucratic groups fight over the definition of inclusion every day. Because apparently not being complicit in structures of oppression isn't an easy task.

● The Williams Record will be the comeback story of never.

● Shoutout to College Council for giving us the take the money and run option.

● Houcksey is overrated.

● The Williams Record is officially the Pastiche of Williams. (If you know, you know).

● Try to lock me up for being funny. I'll film you. You better Mirandize me first.

● Black people are underrated. Period.

● We go to school in the middle of some mountains. Ahem.

● You haven't seen Williams until it's 3 a.m. at "X dorm close to Mission" and "INSERT BLANK HERE" team is ready to blast Mo Bamba and scream the N-word until they get tired (they don't really emphasize cardio at this school).

● The world and even sad little Williams can be a fun place when you have friends that you aren't forced to hang out with. There are many people at this college that value the happiness and the pleasure of building platonic relationships that aren't solely transactional or based on doing some particular thing. Crazy right?

● Houckxsoeuy is overrated.

● But can a refrigerator door provide emotional and even physical labor to adult children? I don't think so.

● The definition of inclusion might also lead you to a definition of intersectionality. Take note.

● There are a lot of things that define Williams. That's why they have those cute little posters in Schow.

● The only thing almost no one is talking about is which major is harder than the other. Because there's a good chance they're doing their work.

● Hockeysee is overrated.

● The gay agenda is the shadow government of Williams.

● I respect people who believe in aliens. Takes a lot of courage to admit that.

● How do you quantify being attractive, and how do you quantify being smart? Can you be both, or is it one or the other? Will I get the answers on reddit?

● One of the worst social places to be at Williams is a tall "athletic" male that is decent at sports but can't pursue them after college because he's not actually that good. Road ends here pal (insecurity).

● Sometimes people read books to learn how to make the world a better place.

● Sometimes they don't have the opportunity to read as many books as they want and they still make the world a better place.

● Hiouuxseauy is overrated.

● So is poorly disguised satire that merely acts as a way for certain people to say the strangely nefarious, coded thoughts in their head they are too afraid to say out loud. Yes it's okay to not know everything, but if you can read and you have access to the internet, you should know that there is a powerful tool called an internet search engine. Yes, you can use it to find the definition of satire AND what constitutes as offensive.

● Yes, people deserve to have their own opinion, but know some people cannot be silenced when attempting to express theirs (security). Trivializing serious matters related to race, gender, class and sexuality can result in some pushback. Know that.
Both lists provide an interesting window into the kinds of discussions taking place at Williams College in 2019.
Alumni of all ages, how many of these "hot takes" were true in your days at Williams? If at all, to what degree have things changed?
The football team's strong season continues. Many of the trends Whitney noted in his post at the beginning of the month have continued. The defense is strong, giving up less than 10 points a game. The offense has continued to be a power house – over 30 points a game. amHerst also is having a good season with a 4-2 record. Both teams have lost to Middlebury, who is 6-0 and seems to be headed to a conference championship. While a conference championship seems like a long shot for the Ephs, the little three title is right in front of them and more importantly, they can be happy for ever by beating amHerst on 11/9. Good luck to the team and all the athletes representing Williams this Fall!
Interesting article in this week's Williams Record on the virtual disapperance and possible extinction of JV sports at Williams.
Currently, only three JV teams remain: men's JV soccer, men's JV basketball and women's JV basketball. This fall, the longstanding women's JV soccer program was converted into a physical education class, after years of difficulties with participation and finding other teams to compete against. The women's JV lacrosse team underwent the same transition last spring, but was ultimately cancelled after receiving no sign-ups. There are no plans to bring back the program this spring, [Athletic Director Lisa] Melendy said.
While I doubt many students get excited about going to see JV sporting events, I still think its a little sad for those students who would like to compete and be on a team, but cannot participate because they are not good enough for the varsity team.  There apparently are a number of causes for the decline in JV sports.  Happily, from my perspective, budgetary concerns are not among those reasons.  First, there are fewer students interested in playing on the JV team.  According to AD Melendy:
This decrease is, in part, a result of the change in student population that has occurred on campuses in recent decades, Melendy said. "We recruit more broadly now, for diversity of all kinds and for diversity of experience," she explained. "The student body looks different than it did. I think we have fewer students for whom that was a central part of their high school experience. They did a lot of other things."
I am guessing that there was never much recruiting for JV sports, but those spots were filled by students who enjoyed those sports and who could play at a high enough level.  One of my best friends at Williams was such a student.  He was a high school soccer player who played a season or two of JV soccer at Williams before deciding (correctly in my opinion!) to come play rugby instead.  According to Melendy, there are fewer athletically inclined students arriving on campus, making it harder to field enough athletes to make up a JV team.  I'm mildly surprised that the change in the applicant/admittee pool is so profound that it affects the ability to field JV teams, but I suppose it may be additional evidence that many youth sports today are dominiated by (relatively) wealthy kids, whose families have the money to become invested in the Youth Industrial Sports Complex.  (For the record, for good or for ill, I am definitely a part of the YISC).
In addition, according to the article, increased athletic specialization has reduced the number of students who, in the past, might have played on a JV team because fewer kids want to play a second sport.
Another reason given in the article for the demise of JV sports is the difficulty of finding opponents.  The teams have been forced to schedule games against prep school teams.  But those teams, in many cases, are too talented for the JV teams:
Difficulties in finding other teams to compete against have also hindered the College's JV program in recent years. Until the early 2000s, JV teams competed against other teams in the NESCAC, often travelling with their varsity counterparts. More recently, they have competed against nearby private high schools. As more and more of high school athletes become highly competitive, it has become challenging for JV teams to compete against opponents who will soon be playing at the varsity level.
In order to maintain some options for JV-level players, the College has instituted PE classes which mimic the JV experience.  One of the problems with this is that those classes don't have access to all of the resources of the athletic department, particularly trainers.  This, I think, is a problem which can be solved with money, by simply budgeting for the athletic department to be able to service non-varsity athletes.
Ultimately, the demise of JV sports seems to be a function of long-standing trends over which the College has little influence.  Like AD Melendy, I think this is too bad:
As JV teams become rarer, fewer students will have access to the experience of playing on a team at the College. "The lessons that you get from being on an athletic team, which I think are valuable and worthwhile, fewer students get to have," Melendy said.
I agree with the AD here.  I think participating on an athletic team provides great memories and lessons to all participants, regardless of the skill/talent involved.  When I started with the Williams Rugby Football Club in the fall of 1986, I played on the D, E, and F-sides.  We weren't good, but it was fun.  Over my four years I gradually moved up the ladder, eventually playing regularly on the B-side, with a few appearances on the A-side.  I had fun playing broomball with Bryant House in the intramural sports program (I still use the name of our team "The Killer Aardvarks" as the name of my rotisserie baseball team), as well as IM ice hockey.  But I recognize that perhaps much of this stemmed from my high school experience, where I played baseball, hockey, and soccer at relatively low levels.  Its too bad, in my view, that the JV option appears to be disappearing from the Williams campus.  Hopefully club and intramural sports can fill in the gaps.
DDF posted this interesting article in the weekend links.  The article describes the saga of Williams golfer Dylan Dethier '14, who was almost disqualified from participating in the 2013 NCAA Division 3 golf championships because he wrote a book which was about to be published which was related to golf:
The book (which you should definitely consider buying here, by the way!) entitled 18 in America, was my story of the year I spent between high school and college.

Seeking adventure, I'd spent a year living out of the back of my car, driving around the country and playing at least one round of golf in every state in the lower 48. I'd played the cheapest, most accessible public courses and wormed my way into the strangest, most elite private clubs, exploring the U.S. through the lens of golf, finding out where the game fit in. Eighteen years old plus 18 holes in every state made 18 in America. Anyway, the book is about people who play golf and where they play it — but it's much more about a teenager surviving in his Subaru, plus it preceded my time at Williams College and had nothing to do with my golf ability anyways. A 20-handicapper could have written the same story.
The NCAA initially suspended Dethier because in writing the book "[Dethier] was deemed to have used [his] athletic ability for commercial gain."  The story of the back and forth and the ultimate outcome for Dethier and the Williams golf team is interesting (and a little sad).  I highly recommend that you read the article.
What I wanted to focus on, however, is the recently passed California law which, according to the LA Times, "prohibits the NCAA from barring a university from competition if its athletes are compensated for the use of their name, image or likeness beginning Jan. 1, 2023."  According to the LA Times
Proponents say the bill could be transformative for young athletes, especially for those of color and from poor backgrounds. For too long, they argue, corporations and colleges have been able to excessively profit off these students, even after they have left college and joined professional sports teams.

Supporters said the bill would also create new opportunities for female athletes who have limited professional opportunities to profit off their abilities in college. The bill passed the California Legislature unanimously.
On one level, the law seems to make perfect sense.  Why shouldn't an athlete who helps to generate major dollars for his or her university be allowed to endorse products, or sell autographs, or get a job at the local deli to make spending money? As backers of the California law note, there are no direct costs to colleges and universities (although compliance costs are not likely to be zero).
I am pretty sympathetic to the idea that student athletes should be able to get jobs, and get endorsement dollars, if those opportunities are available to them.  The potential problem, however, goes back to the original reasons (or at least the ostensible reasons) these activities were prohibited in the first place.  That is, if athletes are free to accept outside employment, endorsement dollars, etc., then its pretty easy to envision the marketplace quickly devolving into a situation where athletes go to school where they can reap the most money, money which would essentially be outside the control of the colleges or the NCAA.  You might think this is OK (making money is, in some measure, the American way!), but it opens up lots of potential abuses.
I don't think anyone really believes that Dethier's book was any kind of corruption.  But what if some rich Williams alum offered a hotshot high school golfer a $50,000 a year summer job at his or her investment fund if the golfer attended Williams?  Are we comfortable with that?  I'm not, but I'm willing to concede that my position may based mostly on "this is the way its always been, so its probably right."  For example, right now I think that same alum could make a similar deal with an amazing high school actor or singer who wanted to come to Williams, and that doesn't really bother me.
But athletics are already entwined with the admissions process in a way which doesn't always seem right, so I'm leery about opening it up to even more outside influence at Williams, and other colleges and universities.  What do you think?
Though I rarely saw much Williams football when I was at the College (usually only the Amherst and sometimes the Wesleyan games, because rugby games typically conflicted with football), and have only watched a few Williams-Amherst footballs games on TV, I still enjoy following the team.
Unlike a number of other Williams teams, in recent years football has not been a perennial powerhouse, either nationally or even in NESCAC (the New England Small College Athletic Conference).  Some years the team has been very good (8-0), and others have been kind of the opposite.  Most years are somewhere in between, with an overall record of 52-46 from 2007-2018.  Annual records going back to 2007 are shown after the break.
This year's team appears to be off to a good start, and seems to be a bit of an offensive powerhouse.  The team is off to a 2-1 start, and has piled up 98 points in its first 3 games – a 13-17 loss to Middlebury, a 44-8 win over Tufts, and a 41-10 victory against Bowdoin.  The offense is averaging over 430 yards of offense per game.  The offense appears to be built around the ground game, putting up a NESCAC-best 237 yards rushing per game, which is almost 40 yards more than the second best team in the conference.  The rushing attack seems to rely on 4 players:  junior quarterback Bobby Maimaron (89 yards per game), sophomore running back Dan Vaughn (75 ypg), freshman running back Joel Nicholas (50 ypg), and freshman running back Elijah Parks (35 ypg).  With such a productive and young running attack, the next few years should also be good, assuming the offensive line remains healthy and good.
The passing game has been less important, ranked towards in the bottom third of the conference at just under 200 yards per game, but still has the second most passing touchdowns (7) in the conference.
Defensively, the team has been very solid, giving up the second fewest points and the third fewest yards in the conference.
We will check in on the team from time to time this season to see how things are going as the march towards the hoped-for crushing of the Defectors continues.
The most successful women's soccer coach in Williams history (I think) is leaving at the end of the coming season:
Williams announced on Monday that [Michelyne] Pinard will leave the school after the 2019-20 school year, her 18th at the helm of the program, to become the director of athletics at The Thatcher School, a private boarding school in Ojai, Calif…

Pinard finished her 17th season at Williams in 2018, guiding her team to an NCAA Division III national championship. It was Williams' third NCAA title in the last four years.

Her record through 17 seasons is 257-46-34. That translates to a winning percentage of .813, the fifth-best active winning percentage in D-III.
That's a lot of winning, and three NCAA titles in four years is very impressive.
The article is not 100% clear as to why Coach Pinard is leaving, but reading between the lines, it seems as though that after 18 years, she just wanted to do something else.
Going forward, I wonder what the impact on the women's soccer program will be?  Coaching is, I think, an important factor in team success, but I guess that sheer talent is the most important ingredient.  Presumably Williams will still be able to attract very talented soccer players, simply because of the quality of the school and the program's history of success.  In that regard, I wonder how many top tier Division III athletes pick their schools based on the quality of the school versus more athletically relevant factors (quality of facilities, level of competiton, prospects of playing after college, etc.).  Any Ephblog readers with insight on this?
(As the parent of a kid who hopes to continue on with his sport in college, but with very little chance of playing professionally, I am starting to wrap my head around how I would feel if he wanted to go to a less well known and/or significantly less "good" college just because he could play his sport there, or would have a better chance of getting playing time, for example.)
Anyway, getting back to Williams women's soccer, I hope the next coach will be as good (and successful) as Coach Pinard.  Are there any Ephblog readers who played for her?  What other Williams coaches have seen similar success?  Women's tennis coach Alison Swain '01 won 8 NCAA titles in 10 years before leaving to coach at the University of Southern California.  Almost impossible to do better than that!   I think in recent years (decades?) the track/cross-country coach has been very, very successful.  Men's basketball coach Dave Paulsen had a 0.762 winning percentage over 8 seasons, and a national title, which seems pretty good.  Any others?
UPDATE/CORRECTION:   I knew about – and should have remembered – Coach Pete Farwell, who is clearly one of the greatest Eph coaches ever.  He started as the men's cross-country coach in 1979, and has served as the women's cross-county coach since 2000.  He has also served as the head coach for the track team (he is currently an assistant coach for that team).  His 40-year coaching career has been incredibly successful.  Thanks to Anon88 for pointing out this omission.
How long before a Williams female athlete competes against a transgender athlete? How long before a transgender female competes for Williams? Not too long, I bet.
A transgender woman who competed as a man as recently as last year won an NCAA women's track national championship on Saturday.

Franklin Pierce University senior Cece Telfer beat the eight-woman field in the Division II women's 400-meter hurdles by more than a second, with a personal collegiate-best time of 57.53.
Telfer competed against Middlebury runners in 2018. But, back then, she was a man. Does that count or not? Honest question! (Apologies if I am not using pronouns in the appropriate manner.) So, to my knowledge, no transgender female has competed for a NESCAC team and no female NESCAC athlete has competed against a transgender female.
Contrary examples welcome!
https://www.masslive.com/sports/2019/06/williams-college-reigns-supreme-in-division-iii-sports.html
From the article: "Williams College has a seven-year winning streak in Division III national competition for the Learfield Directors Cup, emblematic of athletic supremacy."
I didn't see a post about this yet, and since it's already been three weeks since it happened, there was no point in waiting to post about it.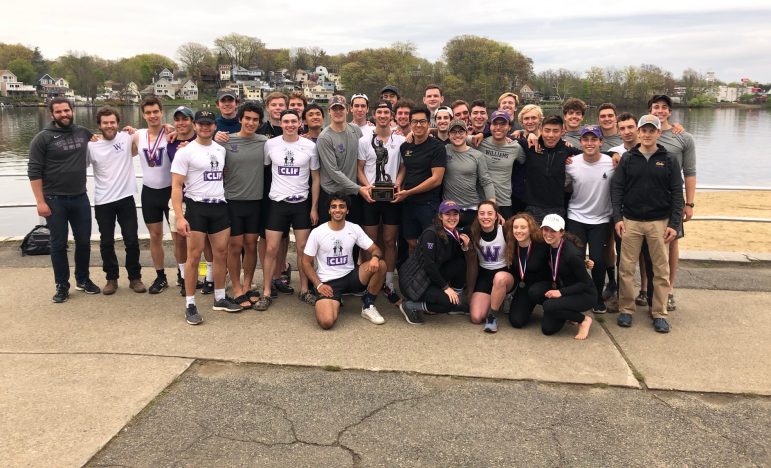 May 8, 2019
On Saturday, men's crew won its first team championship since 2001 at the New England Rowing Championships. All four boats brought home medals to secure the title on Lake Quinsigamond.

The 4V set the tone for the rest of the team by leading off the day with a silver medal. In the afternoon final, the men got off the line well, matched only by Boston College and UMass in the early going. Boston College quickly separated from the field while the men pushed ahead of UMass. At the midpoint of the race, the crews were separated by open water and continued to spread out through the second half of the race. Boston College won in 6:31, and Williams took silver in 6:44.
Source: https://williamsrecord.com/2019/05/mens-crew-wins-first-new-englands-title-since-2001/
This will most likely be my final softball post, at least for a while.
Once again, and for the last time, the Ephs displayed a grit and determination not seen all that often as, down to their last two strikes and trailing by eight runs, they jumped up off the canvas and gave Trine University a scare worthy of John Carpenter. Ultimately, the Ephs saw the curtain fall on their 2019 journey with a 10-7 defeat at Suddenlink Field.

They left the University of Texas-Tyler with a fifth-place finish in the nation, the second-best effort in program history, a 39-7 record, which tied the 2018 team's mark for single-season wins, and a whole stadium full of new admirers.
Not bad!
The five Eph seniors co-captains Jessica Kim and Casey Pelz; Mackenzie Murphy, Kristina Alvarado and Jill Jenkin, finish their career with a 151-39 record, good for a .795 win percentage. The 151 wins are the most produced by any class in program history.
An interesting fact about one of the graduating seniors: "Alvarado played in her 47th career NCAA Tournament game, 25 with softball and 22 with women's soccer. She played in five different NCAA championship events; three women's soccer Final Fours and two softball national championships. She won three national championships with women's soccer and helped softball to a third-place finish (2017) and a fifth-place finish (2019), the two best finishes in program history."
Source: https://ephsports.williams.edu/sports/sball/2018-19/releases/20190525qd9k1d
 The No. 4 -ranked Williams College softball team (33-5) opens play at the 2019 NCAA Div. III Tournament Cortland, N.Y. Regional today at 3:30 p.m. against MASCAC Champion Framingham State (24-19). Host Cortland State (29-14) will take on St. John Fisher (26-15) at 1 p.m. in the regional's opening contest.

SUNY-Cortland Regional Tournament Page

SUNY-Cortland's Regional Program

Directions to SUNY-Cortland's Dragon Field

All 7 games will be webcast live. You can watch them HERE.
https://ephsports.williams.edu/sports/sball/2018-19/releases/20190509x85qou.  Williams had its 22-game winning streak snapped in the NESCAC tournament final to Tufts, but looks to be in good shape for what will hopefully be a deep run this year!
Following up on Frank's request, Alison Swain, the incredibly successful former coach of the Williams women's tennis team, is off to great things at USC:
THIS WEEK
The USC women's tennis team has secured yet another trip to the NCAA tournament by locking down the No. 13 seed. The Women of Troy (18-7) will be participating in their 36th appearance in the NCAA tournament and will host the First and Second Rounds at Marks Stadium on May 4-5. If the Trojans should advance, they will participate in a Super Regional for the Round of 16 next weekend (May 10-11). The Round of 8 and beyond, in addition to the NCAA Individual Championships, will be held in Orlando, Fla. from May 17-19. Under the tutelage of head coach Alison Swain, USC will face Illinois State (20-6) on Saturday (May 4) at 12 p.m. Should the Trojans defeat the Redbirds, USC will take on the winner of the First Round match up between UNLV and Texas Tech on Sunday (May 5) at 1 p.m.

…

In her second season as the USC women's tennis head coach, Alison Swain has brought the Trojans back into national recognition and prepared them for a championship run to bring home the team's third NCAA team title.
I'm far from an expert on USC tennis, but this sounds like a successful start for Coach Swain!
You can read more here: https://usctrojans.com/news/2019/5/2/no-13-usc-womens-tennis-begins-pursuit-of-ncaa-championship.aspx?path=wten.
The Williams College Baseball team took on Hamilton College in the final two games of the three-part series. After the first game yesterday, the Ephs were looking to complete their sweep in today's action.

As they stood coming into the game, the Ephs record is 19-7 overall and 4-3 in conference. On the other side, Hamilton College sits at 14-15 overall with 4-6 in conference.

…

After a series of long delays and consistently poor weather, it ended in favor of the Ephs at 2-1. While both games were low scoring, they included all the excitement of a typical split series.

With this weekend's baseball completed, the Ephs are entering the later portion of their season. Only five regular games separate the Ephs from a postseason run. Two of these games are out of conference, while the final three will be in conference against Wesleyan. The rescheduled series could factor in importantly for how the Ephs complete the regular season. Their next chance at competition will be a home game against Dean College. The Boomers have an 11-23 overall record and a 6-6 conference record. That game will take place on Tuesday 4/30 at 4:00 pm.
Source: https://ephsports.williams.edu/sports/bsb/2018-19/releases/20190428u9rm1u
The women's tennis team finished their regular season out with a win!  My sense is that NESCACs will be somewhat more of a test this year than normal, and I do not know if Williams has locked up a spot in NCAAs yet.
In their last matchup of the regular season, the Williams College women's tennis team defeated the Bates College Bobcats 6-3. After sweeping doubles today, the Ephs will be going into the NESCAC tournament in the coming weeks, facing familiar faces from other schools.

"Time to recover and then get to work in the final push before NESCACs," said head coach Anik Cepeda. "Congrats to our seniors Leah and Kori for all their hard work and dedication to our program!"
Source:https://ephsports.williams.edu/sports/wten/2018-19/releases/20190428w7575o
It's another good year for the men's tennis team.
After dropping the first match of the weekend against Bowdoin, the Williams College Ephs (ranked #9 in NCAA DIII) bounced back to defeat the Bates College Bobcats (unranked in NCAA DIII), 7-2.

The Ephs controlled both singles and doubles play, losing only one match in each to snap their three-match losing streak. The victory brought Williams to 7-7 (.500) to finish off the regular season, including a 5-3 record against NESCAC opponents.

…

This Friday, the Ephs travel to Middlebury College to kick off the NESCAC championships. The championships will take place on Friday, Saturday, and Sunday (May 3, 4, and 5).
Source: https://ephsports.williams.edu/sports/mten/2018-19/releases/20190428u0bo29
More from the sports desk:
Though they fought hard, NYU could not catch the Williams Ephs during the second day of the Vassar Invitational. The Ephs held a comfortable nine stroke lead over the Bobcats going into today's round but nine strokes among four counting scores is only a little over two strokes per player to make up. The Ephs still had to post a solid second day score to clinch the victory. NYU battled hard to post a 305 today, five strokes better than their first day score of 310. The Ephs lost some ground with a 308 today but were still able to hold onto the lead by six strokes. The Ephs won the tournament with a two-day total of 609, NYU placed second with 615, and Wellesley rounded up the top three with 639.
Source: https://ephsports.williams.edu/sports/wgolf/2018-19/releases/20190421rmr8ed.
I don't know how good NYU is at golf, but it's always impressive to hear about Eph wins, especially over larger schools!
Some news from the sports desk:
College junior Rebecca Duncan (Simi Valley, CA) has been selected as the New England Small College Athletic Conference Pitcher of the Week for play ending Sunday, April 21.

Duncan tossed a one-hit shutout in a 2-0 win over Amherst to allow the Ephs to clinch the NESCAC West Division. She did not allow a Mammoth hit until the sixth inning and finished the game with four strikeouts.

She is currently 10-2 from the circle with a 2.20 ERA while batting .324 this season with 2 home runs, 18 RBI and 18 runs scored.

The Ephs have won 15 straight games and clinched the NESCAC West Division crown Sunday. They are in action at home Wednesday for a doubleheader with Smith College beginning at 4 p.m.
Source: https://ephsports.williams.edu/sports/sball/2018-19/releases/20190422ohx70h.
This has been a good season for the Williams softball team, which could prove instrumental in Williams' quest for a 22nd Directors Cup.
From EphBlog favorite David Fehr:
So what happened…

…to our 30-win, NESCAC champion, NCAA Final Four team this year? Some people think that Bobby Casey, good as he is, is a shooting guard playing out of position at point. Ephs were a finesse team depending on shooting which, unfortunately, wasn't always there. I keep remembering Dave Wilson's decade-old observation "We're too nice." The pre-season hype was easy to understand. In 2017-18 we won the NESCAC championship without Kyle Scadlock who was our best all-around player when he went down for the season with a torn ACL. With Kyle back this year, joining a talented group of offensive players, add Feinberg, who I thought would bring needed grit to the starting lineup (which I think he did) and the sky seemed to be the limit. We opened 15-0 and were ranked second in the nation, fans were euphoric (though there were warning signs even then) but from that point through our loss in the NESCAC SF, Williams was just not all that good. Something was missing.

Amherst vs. Williams

The last 21 times these teams have met Williams has won 4. The last 38 times Williams has won 10. Complete embarrassing domination. I think the reasons include a different philosophy between the two schools regarding athletic admissions (different philosophy between Williams and the rest of NESCAC, in fact) but there are other factors here that are unlikely to change. In Amherst I, over there, we played magnificent interior defense, blocked what for Ephs was an unprecedented 10 shots, but Amherst went 11-23 from deep (many uncontested) and we missed a buzzer-beater which would have won it. We led by 11 with 11 to play. Amherst II, in Chandler during the "lost weekend" that ended the regular season, we were outrebounded by 11 and missed a ton of layups and other short "paint" shots (points in the paint: Amherst 42, Williams 32). We lost by 5. Amherst III, played at Hamilton in the NESCAC SF, Amherst again won by 5 "The three games could've gone either way!" Yeah, but they didn't. Here Amherst won it at the foul line, going 22-23 (96%) to our 16-24 (67%). Mammoths won this with no contribution from their best big, Sellew, who played only 6 minutes and was scoreless. As a Williams fan with no official connection to the College, this one-sidedness upsets me; were I an alum (especially an alum who liked sports and was also a big donor) I'd probably try to do something about it.

Depth

The mantra this year was that Williams was a deep team. We weren't. In fact, when Marc Taylor, our best bench player, went down for the season with a torn ACL, we became downright shallow. A team isn't "deep" by playing 8 or 10 guys; it's deep only if the guys off the bench contribute with points, rebounds, defense. That happened on occasion (it really happened against Whitman where our bench played 66 minutes and scored 26 with 17 rebounds but that was the exception) but more typical was Trinity II (52 minutes, 1 point, 6 rebounds); Amherst II (43 minutes, 2 points, 6 rebounds) while Mammoths bench scored 30; and the stinker with Middlebury (bench 58 minutes, 3 points). "But the subs play great defense." No they don't; watch them next time. Depth may be overrated; the games are short with many stoppages and these are 19 to 22 year olds. Two years ago Babson won a national championship with a six-man rotation, three of whom never came out of the game. Two of Christopher Newport's best players went 36 and 39 minutes against Hamilton and 24 hours later played 38 and 37 against us.

Wrap-up

I'd like to keep going but this is too long already. Strength of schedule interests me – Williams had just one signature win this year, vs. Whitman in the Sweet 16. Of our other opponents, only Amherst, Middlebury and Hamilton were ranked in the d3hoops.com Top 25 (really the top 44 when you include "other teams receiving votes") and we couldn't beat any of them. I'd love to talk about how screwed up the NESCAC has both basketball programs, and how they could be fixed. I'd like to explore our great success in individual sports and lesser success in team sports (Jim Worrall can't understand the difference between team and individual sports, but the rest of you can). Ditto women's sports compared to men's.

Looks like a total rebuild next year. It will be interesting to see how it goes.
A total rebuild is what EphBlog is heading for as well . . .
UPDATE: Williams loses.
UPDATE: Williams down by 5 with 14 minutes left.
Dave Fehr provides this analysis on mens basketball after their NCAA tournament 3rd round win last night.
The Ephs seem to have shaken their slump. After opening 15-0, they were mediocre thru the end of the regular season, including horrible losses to Bowdoin and Middlebury. After a lost weekend to end the regular season (home losses to Amherst and Hamilton), we got much better; played well in the NESCAC QF win over Trinity, lost to Amherst (of course) at Hamilton in the NESCAC SF, then hosted the first two NCAA games and destroyed two tiny teams by 26 and 34 points.

On to the Sweet 16 at Hamilton vs 1-loss, nationally second ranked Whitman. I was pretty confident going into this one (rare for me) because (1) Whitman plays a weak schedule, (2) I was unimpressed with them at the Final Four two years ago when they blew a 25-point lead and lost to Babson, but especially (3) because they were REALLY tiny: Williams starters had a 4-1/2 inch height advantage at every position. We knew Whitman pressed and stole the ball and ran like hell but I can't remember a Williams team (or any team, for that matter) turning the ball over 29 times and still winning! Although our size did result in a slight rebounding advantage, where it really helped was in shooting: Whitman was just too small to contest our shots. The Ephs shot an astounding 67.4% from the field (75% in second half), 63.6% from the arc (71% 1st half) and went 19-24 from the line where we've struggled in recent weeks. Shoot like that and you can overcome 29 turnovers – though I don't recommend it as an ongoing strategy. We built a 14 point lead with 11 minutes to play, almost lost it to their press, but hung on to win 84-81. Of note: Our bench, pretty quiet lately, played 66 minutes, scored 26 points and got 18 rebounds. VERY impressive.

How to beat Christopher Newport tonight? They are not tiny like our first three NCAA opponents, but we will still have a size advantage. Their starters go 5-10, 6-2, 6-2, 6-4, 6-7; ours 6-3, 6-5, 6-7, 6-8, 6-8. Their first three off the bench: 6-0, 6-3, 6-4; ours 6-5, 6-8 and 6-10. However, the Captains are an excellent rebounding team despite the fact they're not huge. They outrebounded Hamilton by a whopping 19 and one kid, #31 Ellis, had 17 boards. Ephs are not a great rebounding team so we'll have to fight to hold our own. CNU is not deep; 7-man rotation and last night their starters played 39, 39, 36, 35 and 28. So fatigue in the second game of a back-to-back? We'll see. They have three stars: #3 Carter (16.5 & 7.1), Ellis (10.4 & 6.5) and #20 Aigner (15.6 & 4.2).

Can we beat them ? Yes. While it's unrealistic to expect Ephs to shoot 67 and 64 percent again tonight, it's also unrealistic to expect us to turn it over 29 times! We should not fall in love with the three: last night we took only 11 so did the majority of our scoring inside (42 points in the paint). That could continue tonight with our size advantage. It will help that the game's on a neutral court, albeit a court we played on last night and also two weeks ago.

Our cold spell is over; four of our last five games we've been very hot. The Final Four would not surprise me (that's not a prediction; I won't predict wins, I said we COULD beat them). On a personal note: Williams has been to eight Final Fours and I've been to seven of them . The one I missed? 2003 when we won it all! Williams should do all it can to keep me away from Ft. Wayne next weekend.
With a win tonight, the Ephs would be headed to the Final Four next weekend in Indiana.
From the Springfield Student:
I looked around Blake Arena during the National Anthem on December 8. Our men's basketball team faced Williams College. Spectators were focused on the visitor's bench.

I followed their stares and I saw Williams senior forward, Kyle Scadlock, kneeling during the National Anthem. One of his teammates stood behind him with his hand on his shoulder.

I had never witnessed someone kneeling. I was shocked and unsure what was going to happen.

Will he start? Will they make a big deal out of Scadlock's beliefs? Is there someone in the stands who is angered enough to lash out?

Scadlock started and played a total of 32 minutes.

I am writing this in admiration of his strength.
Questions:
1) Are there any other Williams athletes who kneel during the National Anthem? The Record should write a story.
2) Speaking of Record, how pathetic is it that they would write a long (and good) story about Scadlock without mentioning this? Was that incompetence or something else?
3) I have never seen a reference to Scadlock kneeling in any Williams publication. Has there been one? Not sure what the best policy for the College would be on that score.
"I became very angered about how people were responding to [Kaepernick's] kneeling, primarily the coded language and the underlying message which disapproved of the issues [Kaepernick] was kneeling for," Scadlock said.

After following all the media coverage and interviews he gave the first year he started to kneel, Scadlock became angered by how people were responding to Kaepernick's decision. After watching him get black balled out of the league by NFL owners, Scadlock was inspired to kneel, too.

Watching Kaepernick take a knee, make various donations, as well as what he advocated for, also inspired Scadlock to learn more about how capitalism, systemic racism, and oppression affect African Americans and all people of color in the United States.

"The police brutality that is done onto black bodies is one of the many issues black people deal with every day, and as kneeling became a symbol for acknowledging and resisting these issues, I actually just started to feel more and more uncomfortable standing for the anthem," Scadlock said. "Like [Kaepernick], I no longer felt like I could stand and take pride in being a part of a country that has these issues and to kneel was to at least address their existence."
Good news! There are 200 or so other countries in this great world of ours. Perhaps Scadlock will be moving to one of them after graduation. If he thinks that America treats blacks unfairly, wait until he visits Mexico, Honduras, Brazil, Japan and so on.
Where does Scadlock get this nonsense about "black bodies?" There is nothing wrong with Scadlock taking a few Africana Studies courses at Williams and receiving the Joy James view of the world. The problem arises when no one at Williams dares to challenge him, no one takes the trouble — and runs the risk, c.f. Dean Dave's demotion — to show Scadlock the other side of the story.
Scadlock and Williams College men's basketball head coach, Kevin App, have a great relationship, so when he made up his mind that he was going to begin kneeling, he wanted to let him know ahead of time in case people saw it at a game and began speculating. Scadlock thought it was important to make sure they were on the same page and explained to him why he was making the decision.

"I think the aspect of the discussion and further action is more important than just kneeling," Scadlock said. "Some people have the privilege of being able to ignore these issues while black people have to deal with them every day."
Ahh, yes. Every day. The virulent racism of Williams College weighs down on poor Kyle Scadlock every damn day. I blame Maud Mandel . . .
Dave Fehr writes:
Ephmen definitely need a solid win today following a disappointing win at 4-12 Bates and a heartbreaking, last second loss at Amherst (our first of year).

In both games our greatest weapon, shooting, was lacking. Part of that was due to defense, Bates 1-3-1 zone and Jeffs (oops, Mammoths) tight man-man, especially on Heskett and Casey. Still, if we want to accomplish big things this year, we've got to find a way to score more.

One very encouraging sign: Our interior defense was immense at Amherst: Not normally a shot-blocking team, we sent back ten of their shots (Karp 4, Heskett and Soto 2 each) and did it without fouling – Mammoths went to the line just 7 times. However, that forced them outside and they won by making 11 of 23 threes (Williams just 6 of 22).

If we can beat Midd (who will probably be worried about being marooned in Williamstown for six days) we'll remain undefeated in NESCAC. They have two veteran bigs, McCord and Folger, rebound well (plus 9.4 margin) and block shots (average 5.9/ga).
My favorite micro-aggression is referring to Amherst's teams as the Jeffs. Long may it continue!
From David Fehr provided this update last week:
Merry Christmas, Happy Hanukah, Happy New Year. The Ephwomen Soccer team gave Williams fans an early Christmas present, winning their third national championship in four years; could our hoopsters do the same for Easter?

Many of you seem to think so. Remember, if we become undefeated national champion, our record would be 33-0. The 34 predictions were strongly biased toward success: 18 of the 34 entries were at 29 wins or above. Sam Douglas and Bob Bode (of course!) were highest at 31 while Pandy Goodbody and Paul Burke were lowest at 20 victories.

I was getting pretty excited, wishing I had a higher win total (I've never won this pool), until the win over Springfield (which brought our record to 9-0) gave me pause. Springfield had a high pre-season ranking but is now 2 and 6, they are essentially a two-man team. Williams played well in the first half in building a 16 point lead but poorly in the second as The Pride came back to tie the game. The Ephs were fortunate to hang on to win by four.

It's hard to size up the NESCAC when studying the pre-Christmas games. Hamilton and Williams are the only unbeatens, Amherst is 7-1, losing only to Babson – no shame there—and looked pretty good beating Springfield. The Jeffs (oops, Mammoths) bigs played better than I remembered from last year. Many of you have Williams beating Amherst two or more times; we'll see. Colby looks good; Bates bad. Midd has two losses, Bowdoin, Trinity and Wesleyan three (including one to Williams), and Tufts five.

Encouraging: Last year, in fact in the last few years, the Ephs seemed a bit soft. This year we've toughened up some. Offensive rebounding is one area: last season we were the third worst of over 400 D3 teams, some games recording only 2 or 3. This year has seen better O/R numbers vs. both weak and stronger opposition. App's squads have relied heavily on the 3-ball, often firing up 30 or more. That's great when they're going in. This season less emphasis on the trey. Against Springfield and Union we took 18; against Wesleyan and Manhattanville just 17 so we're scoring inside more often. I like that.

Less encouraging: Karpowicz starts (good) but still doesn't get enough minutes. Still too many minutes for non-scorers. The substitution pattern is head-scratching.

But the pros clearly outweigh the cons. Scadlock is the main reason we're improved this year, but not the only reason. Feinberg is a big plus in the defense/rebounding/toughness department while Taylor and Babek have had good games. Less 3s and more paint points may signify a change in coaching philosophy but maybe there have been too few games to reach that conclusion.

So are we an offensive powerhouse that's also more balanced than in the last few seasons – are we a Final Four contender? Was the unimpressive win at Springfield an aberration? We won't know until the games resume; Montclair State on December 30 could be a problem (why is a school with 13,000+ undergraduates in D3 anyway?) but league games will give the answer.

Duncan Robinson update: It's been awhile since Duncan played his one season here but locals understandingly are interested in his whereabouts. He signed a joint contract with the Miami Heat of the NBA and their G-league affiliate, the Sioux Falls, SD, Skyforce. I look at every Heat box score and see one of three things: 1) Duncan played and it shows his scoring line; 2) His name is listed with "DNP–Coach's Decision"; 3) His name isn't there so he must be in, of all places, South Dakota.

He's played in 4 games for Miami for a total of 29 minutes. Attempted six shots (all 3s), made 2. Five rebounds, 1 steal. The Skyforce numbers are impressive. Ten games, all starts. The second leading scorer at 20.2 per game. Shooting 50% and 48% from deep. 3.2 rbs/ga. He's had games of 32, 29 and 24 points. Lots of 3s but also fast break dunks. Some impressive highlight videos. His Skyforce plays in Portland in a few days (Friday, December 21) against the Red Claws. Drive up and see him, assuming he's not in Miami that day.

Duncan is the first D3 player in the NBA since Devean George's debut in 1999. Can he stick in the NBA? It's certainly possible; there are perhaps a dozen guys in the league who do little except shoot the 3. He has good size. The 48% 3-pt. shooting, albeit in the G-league, will draw Miami's attention.

Next Eph home games are January 4 and 5 when NESCAC play begins.
Tune in here.
UPDATE: Ephs win! Amazing game. Hope that Record coverage does it justice. Stunning finger-tip save by the keeper to put Middlebury's last PK off the post.
Now that the year has come to an end, there is this dream that keeps reoccurring in my head for the 2018 season. I count the 573 steps every night. Here's to you Williams, I couldn't ask to play along side a better group of men. pic.twitter.com/UZsHGaMYMy

— Jarrett Wesner (@JarrettWesner) May 18, 2018
Currently browsing posts filed under "Athletics"
Follow this category via RSS