Currently browsing posts filed under "Athletics"
Follow this category via RSS
The most successful women's soccer coach in Williams history (I think) is leaving at the end of the coming season:
Williams announced on Monday that [Michelyne] Pinard will leave the school after the 2019-20 school year, her 18th at the helm of the program, to become the director of athletics at The Thatcher School, a private boarding school in Ojai, Calif…

Pinard finished her 17th season at Williams in 2018, guiding her team to an NCAA Division III national championship. It was Williams' third NCAA title in the last four years.

Her record through 17 seasons is 257-46-34. That translates to a winning percentage of .813, the fifth-best active winning percentage in D-III.
That's a lot of winning, and three NCAA titles in four years is very impressive.
The article is not 100% clear as to why Coach Pinard is leaving, but reading between the lines, it seems as though that after 18 years, she just wanted to do something else.
Going forward, I wonder what the impact on the women's soccer program will be?  Coaching is, I think, an important factor in team success, but I guess that sheer talent is the most important ingredient.  Presumably Williams will still be able to attract very talented soccer players, simply because of the quality of the school and the program's history of success.  In that regard, I wonder how many top tier Division III athletes pick their schools based on the quality of the school versus more athletically relevant factors (quality of facilities, level of competiton, prospects of playing after college, etc.).  Any Ephblog readers with insight on this?
(As the parent of a kid who hopes to continue on with his sport in college, but with very little chance of playing professionally, I am starting to wrap my head around how I would feel if he wanted to go to a less well known and/or significantly less "good" college just because he could play his sport there, or would have a better chance of getting playing time, for example.)
Anyway, getting back to Williams women's soccer, I hope the next coach will be as good (and successful) as Coach Pinard.  Are there any Ephblog readers who played for her?  What other Williams coaches have seen similar success?  Women's tennis coach Alison Swain '01 won 8 NCAA titles in 10 years before leaving to coach at the University of Southern California.  Almost impossible to do better than that!   I think in recent years (decades?) the track/cross-country coach has been very, very successful.  Men's basketball coach Dave Paulsen had a 0.762 winning percentage over 8 seasons, and a national title, which seems pretty good.  Any others?
UPDATE/CORRECTION:   I knew about – and should have remembered – Coach Pete Farwell, who is clearly one of the greatest Eph coaches ever.  He started as the men's cross-country coach in 1979, and has served as the women's cross-county coach since 2000.  He has also served as the head coach for the track team (he is currently an assistant coach for that team).  His 40-year coaching career has been incredibly successful.  Thanks to Anon88 for pointing out this omission.
How long before a Williams female athlete competes against a transgender athlete? How long before a transgender female competes for Williams? Not too long, I bet.
A transgender woman who competed as a man as recently as last year won an NCAA women's track national championship on Saturday.

Franklin Pierce University senior Cece Telfer beat the eight-woman field in the Division II women's 400-meter hurdles by more than a second, with a personal collegiate-best time of 57.53.
Telfer competed against Middlebury runners in 2018. But, back then, she was a man. Does that count or not? Honest question! (Apologies if I am not using pronouns in the appropriate manner.) So, to my knowledge, no transgender female has competed for a NESCAC team and no female NESCAC athlete has competed against a transgender female.
Contrary examples welcome!
https://www.masslive.com/sports/2019/06/williams-college-reigns-supreme-in-division-iii-sports.html
From the article: "Williams College has a seven-year winning streak in Division III national competition for the Learfield Directors Cup, emblematic of athletic supremacy."
I didn't see a post about this yet, and since it's already been three weeks since it happened, there was no point in waiting to post about it.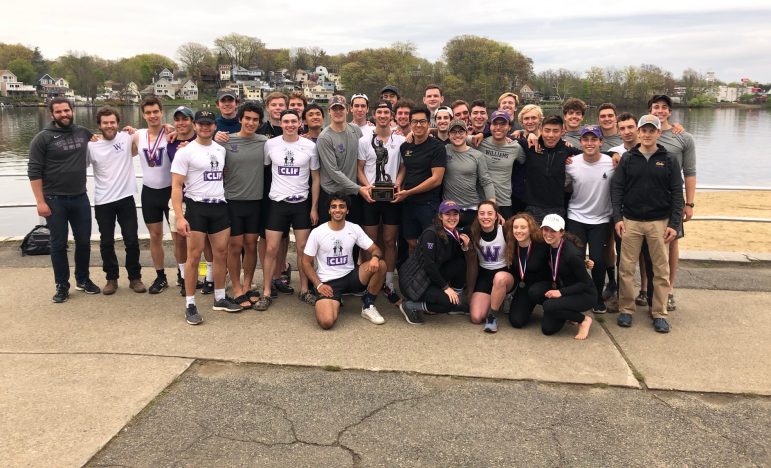 May 8, 2019
On Saturday, men's crew won its first team championship since 2001 at the New England Rowing Championships. All four boats brought home medals to secure the title on Lake Quinsigamond.

The 4V set the tone for the rest of the team by leading off the day with a silver medal. In the afternoon final, the men got off the line well, matched only by Boston College and UMass in the early going. Boston College quickly separated from the field while the men pushed ahead of UMass. At the midpoint of the race, the crews were separated by open water and continued to spread out through the second half of the race. Boston College won in 6:31, and Williams took silver in 6:44.
Source: https://williamsrecord.com/2019/05/mens-crew-wins-first-new-englands-title-since-2001/
This will most likely be my final softball post, at least for a while.
Once again, and for the last time, the Ephs displayed a grit and determination not seen all that often as, down to their last two strikes and trailing by eight runs, they jumped up off the canvas and gave Trine University a scare worthy of John Carpenter. Ultimately, the Ephs saw the curtain fall on their 2019 journey with a 10-7 defeat at Suddenlink Field.

They left the University of Texas-Tyler with a fifth-place finish in the nation, the second-best effort in program history, a 39-7 record, which tied the 2018 team's mark for single-season wins, and a whole stadium full of new admirers.
Not bad!
The five Eph seniors co-captains Jessica Kim and Casey Pelz; Mackenzie Murphy, Kristina Alvarado and Jill Jenkin, finish their career with a 151-39 record, good for a .795 win percentage. The 151 wins are the most produced by any class in program history.
An interesting fact about one of the graduating seniors: "Alvarado played in her 47th career NCAA Tournament game, 25 with softball and 22 with women's soccer. She played in five different NCAA championship events; three women's soccer Final Fours and two softball national championships. She won three national championships with women's soccer and helped softball to a third-place finish (2017) and a fifth-place finish (2019), the two best finishes in program history."
Source: https://ephsports.williams.edu/sports/sball/2018-19/releases/20190525qd9k1d
 The No. 4 -ranked Williams College softball team (33-5) opens play at the 2019 NCAA Div. III Tournament Cortland, N.Y. Regional today at 3:30 p.m. against MASCAC Champion Framingham State (24-19). Host Cortland State (29-14) will take on St. John Fisher (26-15) at 1 p.m. in the regional's opening contest.

SUNY-Cortland Regional Tournament Page

SUNY-Cortland's Regional Program

Directions to SUNY-Cortland's Dragon Field

All 7 games will be webcast live. You can watch them HERE.
https://ephsports.williams.edu/sports/sball/2018-19/releases/20190509x85qou.  Williams had its 22-game winning streak snapped in the NESCAC tournament final to Tufts, but looks to be in good shape for what will hopefully be a deep run this year!
Following up on Frank's request, Alison Swain, the incredibly successful former coach of the Williams women's tennis team, is off to great things at USC:
THIS WEEK
The USC women's tennis team has secured yet another trip to the NCAA tournament by locking down the No. 13 seed. The Women of Troy (18-7) will be participating in their 36th appearance in the NCAA tournament and will host the First and Second Rounds at Marks Stadium on May 4-5. If the Trojans should advance, they will participate in a Super Regional for the Round of 16 next weekend (May 10-11). The Round of 8 and beyond, in addition to the NCAA Individual Championships, will be held in Orlando, Fla. from May 17-19. Under the tutelage of head coach Alison Swain, USC will face Illinois State (20-6) on Saturday (May 4) at 12 p.m. Should the Trojans defeat the Redbirds, USC will take on the winner of the First Round match up between UNLV and Texas Tech on Sunday (May 5) at 1 p.m.

…

In her second season as the USC women's tennis head coach, Alison Swain has brought the Trojans back into national recognition and prepared them for a championship run to bring home the team's third NCAA team title.
I'm far from an expert on USC tennis, but this sounds like a successful start for Coach Swain!
You can read more here: https://usctrojans.com/news/2019/5/2/no-13-usc-womens-tennis-begins-pursuit-of-ncaa-championship.aspx?path=wten.
The Williams College Baseball team took on Hamilton College in the final two games of the three-part series. After the first game yesterday, the Ephs were looking to complete their sweep in today's action.

As they stood coming into the game, the Ephs record is 19-7 overall and 4-3 in conference. On the other side, Hamilton College sits at 14-15 overall with 4-6 in conference.

…

After a series of long delays and consistently poor weather, it ended in favor of the Ephs at 2-1. While both games were low scoring, they included all the excitement of a typical split series.

With this weekend's baseball completed, the Ephs are entering the later portion of their season. Only five regular games separate the Ephs from a postseason run. Two of these games are out of conference, while the final three will be in conference against Wesleyan. The rescheduled series could factor in importantly for how the Ephs complete the regular season. Their next chance at competition will be a home game against Dean College. The Boomers have an 11-23 overall record and a 6-6 conference record. That game will take place on Tuesday 4/30 at 4:00 pm.
Source: https://ephsports.williams.edu/sports/bsb/2018-19/releases/20190428u9rm1u
The women's tennis team finished their regular season out with a win!  My sense is that NESCACs will be somewhat more of a test this year than normal, and I do not know if Williams has locked up a spot in NCAAs yet.
In their last matchup of the regular season, the Williams College women's tennis team defeated the Bates College Bobcats 6-3. After sweeping doubles today, the Ephs will be going into the NESCAC tournament in the coming weeks, facing familiar faces from other schools.

"Time to recover and then get to work in the final push before NESCACs," said head coach Anik Cepeda. "Congrats to our seniors Leah and Kori for all their hard work and dedication to our program!"
Source:https://ephsports.williams.edu/sports/wten/2018-19/releases/20190428w7575o
It's another good year for the men's tennis team.
After dropping the first match of the weekend against Bowdoin, the Williams College Ephs (ranked #9 in NCAA DIII) bounced back to defeat the Bates College Bobcats (unranked in NCAA DIII), 7-2.

The Ephs controlled both singles and doubles play, losing only one match in each to snap their three-match losing streak. The victory brought Williams to 7-7 (.500) to finish off the regular season, including a 5-3 record against NESCAC opponents.

…

This Friday, the Ephs travel to Middlebury College to kick off the NESCAC championships. The championships will take place on Friday, Saturday, and Sunday (May 3, 4, and 5).
Source: https://ephsports.williams.edu/sports/mten/2018-19/releases/20190428u0bo29
More from the sports desk:
Though they fought hard, NYU could not catch the Williams Ephs during the second day of the Vassar Invitational. The Ephs held a comfortable nine stroke lead over the Bobcats going into today's round but nine strokes among four counting scores is only a little over two strokes per player to make up. The Ephs still had to post a solid second day score to clinch the victory. NYU battled hard to post a 305 today, five strokes better than their first day score of 310. The Ephs lost some ground with a 308 today but were still able to hold onto the lead by six strokes. The Ephs won the tournament with a two-day total of 609, NYU placed second with 615, and Wellesley rounded up the top three with 639.
Source: https://ephsports.williams.edu/sports/wgolf/2018-19/releases/20190421rmr8ed.
I don't know how good NYU is at golf, but it's always impressive to hear about Eph wins, especially over larger schools!
Some news from the sports desk:
College junior Rebecca Duncan (Simi Valley, CA) has been selected as the New England Small College Athletic Conference Pitcher of the Week for play ending Sunday, April 21.

Duncan tossed a one-hit shutout in a 2-0 win over Amherst to allow the Ephs to clinch the NESCAC West Division. She did not allow a Mammoth hit until the sixth inning and finished the game with four strikeouts.

She is currently 10-2 from the circle with a 2.20 ERA while batting .324 this season with 2 home runs, 18 RBI and 18 runs scored.

The Ephs have won 15 straight games and clinched the NESCAC West Division crown Sunday. They are in action at home Wednesday for a doubleheader with Smith College beginning at 4 p.m.
Source: https://ephsports.williams.edu/sports/sball/2018-19/releases/20190422ohx70h.
This has been a good season for the Williams softball team, which could prove instrumental in Williams' quest for a 22nd Directors Cup.
From EphBlog favorite David Fehr:
So what happened…

…to our 30-win, NESCAC champion, NCAA Final Four team this year? Some people think that Bobby Casey, good as he is, is a shooting guard playing out of position at point. Ephs were a finesse team depending on shooting which, unfortunately, wasn't always there. I keep remembering Dave Wilson's decade-old observation "We're too nice." The pre-season hype was easy to understand. In 2017-18 we won the NESCAC championship without Kyle Scadlock who was our best all-around player when he went down for the season with a torn ACL. With Kyle back this year, joining a talented group of offensive players, add Feinberg, who I thought would bring needed grit to the starting lineup (which I think he did) and the sky seemed to be the limit. We opened 15-0 and were ranked second in the nation, fans were euphoric (though there were warning signs even then) but from that point through our loss in the NESCAC SF, Williams was just not all that good. Something was missing.

Amherst vs. Williams

The last 21 times these teams have met Williams has won 4. The last 38 times Williams has won 10. Complete embarrassing domination. I think the reasons include a different philosophy between the two schools regarding athletic admissions (different philosophy between Williams and the rest of NESCAC, in fact) but there are other factors here that are unlikely to change. In Amherst I, over there, we played magnificent interior defense, blocked what for Ephs was an unprecedented 10 shots, but Amherst went 11-23 from deep (many uncontested) and we missed a buzzer-beater which would have won it. We led by 11 with 11 to play. Amherst II, in Chandler during the "lost weekend" that ended the regular season, we were outrebounded by 11 and missed a ton of layups and other short "paint" shots (points in the paint: Amherst 42, Williams 32). We lost by 5. Amherst III, played at Hamilton in the NESCAC SF, Amherst again won by 5 "The three games could've gone either way!" Yeah, but they didn't. Here Amherst won it at the foul line, going 22-23 (96%) to our 16-24 (67%). Mammoths won this with no contribution from their best big, Sellew, who played only 6 minutes and was scoreless. As a Williams fan with no official connection to the College, this one-sidedness upsets me; were I an alum (especially an alum who liked sports and was also a big donor) I'd probably try to do something about it.

Depth

The mantra this year was that Williams was a deep team. We weren't. In fact, when Marc Taylor, our best bench player, went down for the season with a torn ACL, we became downright shallow. A team isn't "deep" by playing 8 or 10 guys; it's deep only if the guys off the bench contribute with points, rebounds, defense. That happened on occasion (it really happened against Whitman where our bench played 66 minutes and scored 26 with 17 rebounds but that was the exception) but more typical was Trinity II (52 minutes, 1 point, 6 rebounds); Amherst II (43 minutes, 2 points, 6 rebounds) while Mammoths bench scored 30; and the stinker with Middlebury (bench 58 minutes, 3 points). "But the subs play great defense." No they don't; watch them next time. Depth may be overrated; the games are short with many stoppages and these are 19 to 22 year olds. Two years ago Babson won a national championship with a six-man rotation, three of whom never came out of the game. Two of Christopher Newport's best players went 36 and 39 minutes against Hamilton and 24 hours later played 38 and 37 against us.

Wrap-up

I'd like to keep going but this is too long already. Strength of schedule interests me – Williams had just one signature win this year, vs. Whitman in the Sweet 16. Of our other opponents, only Amherst, Middlebury and Hamilton were ranked in the d3hoops.com Top 25 (really the top 44 when you include "other teams receiving votes") and we couldn't beat any of them. I'd love to talk about how screwed up the NESCAC has both basketball programs, and how they could be fixed. I'd like to explore our great success in individual sports and lesser success in team sports (Jim Worrall can't understand the difference between team and individual sports, but the rest of you can). Ditto women's sports compared to men's.

Looks like a total rebuild next year. It will be interesting to see how it goes.
A total rebuild is what EphBlog is heading for as well . . .
UPDATE: Williams loses.
UPDATE: Williams down by 5 with 14 minutes left.
Dave Fehr provides this analysis on mens basketball after their NCAA tournament 3rd round win last night.
The Ephs seem to have shaken their slump. After opening 15-0, they were mediocre thru the end of the regular season, including horrible losses to Bowdoin and Middlebury. After a lost weekend to end the regular season (home losses to Amherst and Hamilton), we got much better; played well in the NESCAC QF win over Trinity, lost to Amherst (of course) at Hamilton in the NESCAC SF, then hosted the first two NCAA games and destroyed two tiny teams by 26 and 34 points.

On to the Sweet 16 at Hamilton vs 1-loss, nationally second ranked Whitman. I was pretty confident going into this one (rare for me) because (1) Whitman plays a weak schedule, (2) I was unimpressed with them at the Final Four two years ago when they blew a 25-point lead and lost to Babson, but especially (3) because they were REALLY tiny: Williams starters had a 4-1/2 inch height advantage at every position. We knew Whitman pressed and stole the ball and ran like hell but I can't remember a Williams team (or any team, for that matter) turning the ball over 29 times and still winning! Although our size did result in a slight rebounding advantage, where it really helped was in shooting: Whitman was just too small to contest our shots. The Ephs shot an astounding 67.4% from the field (75% in second half), 63.6% from the arc (71% 1st half) and went 19-24 from the line where we've struggled in recent weeks. Shoot like that and you can overcome 29 turnovers – though I don't recommend it as an ongoing strategy. We built a 14 point lead with 11 minutes to play, almost lost it to their press, but hung on to win 84-81. Of note: Our bench, pretty quiet lately, played 66 minutes, scored 26 points and got 18 rebounds. VERY impressive.

How to beat Christopher Newport tonight? They are not tiny like our first three NCAA opponents, but we will still have a size advantage. Their starters go 5-10, 6-2, 6-2, 6-4, 6-7; ours 6-3, 6-5, 6-7, 6-8, 6-8. Their first three off the bench: 6-0, 6-3, 6-4; ours 6-5, 6-8 and 6-10. However, the Captains are an excellent rebounding team despite the fact they're not huge. They outrebounded Hamilton by a whopping 19 and one kid, #31 Ellis, had 17 boards. Ephs are not a great rebounding team so we'll have to fight to hold our own. CNU is not deep; 7-man rotation and last night their starters played 39, 39, 36, 35 and 28. So fatigue in the second game of a back-to-back? We'll see. They have three stars: #3 Carter (16.5 & 7.1), Ellis (10.4 & 6.5) and #20 Aigner (15.6 & 4.2).

Can we beat them ? Yes. While it's unrealistic to expect Ephs to shoot 67 and 64 percent again tonight, it's also unrealistic to expect us to turn it over 29 times! We should not fall in love with the three: last night we took only 11 so did the majority of our scoring inside (42 points in the paint). That could continue tonight with our size advantage. It will help that the game's on a neutral court, albeit a court we played on last night and also two weeks ago.

Our cold spell is over; four of our last five games we've been very hot. The Final Four would not surprise me (that's not a prediction; I won't predict wins, I said we COULD beat them). On a personal note: Williams has been to eight Final Fours and I've been to seven of them . The one I missed? 2003 when we won it all! Williams should do all it can to keep me away from Ft. Wayne next weekend.
With a win tonight, the Ephs would be headed to the Final Four next weekend in Indiana.
From the Springfield Student:
I looked around Blake Arena during the National Anthem on December 8. Our men's basketball team faced Williams College. Spectators were focused on the visitor's bench.

I followed their stares and I saw Williams senior forward, Kyle Scadlock, kneeling during the National Anthem. One of his teammates stood behind him with his hand on his shoulder.

I had never witnessed someone kneeling. I was shocked and unsure what was going to happen.

Will he start? Will they make a big deal out of Scadlock's beliefs? Is there someone in the stands who is angered enough to lash out?

Scadlock started and played a total of 32 minutes.

I am writing this in admiration of his strength.
Questions:
1) Are there any other Williams athletes who kneel during the National Anthem? The Record should write a story.
2) Speaking of Record, how pathetic is it that they would write a long (and good) story about Scadlock without mentioning this? Was that incompetence or something else?
3) I have never seen a reference to Scadlock kneeling in any Williams publication. Has there been one? Not sure what the best policy for the College would be on that score.
"I became very angered about how people were responding to [Kaepernick's] kneeling, primarily the coded language and the underlying message which disapproved of the issues [Kaepernick] was kneeling for," Scadlock said.

After following all the media coverage and interviews he gave the first year he started to kneel, Scadlock became angered by how people were responding to Kaepernick's decision. After watching him get black balled out of the league by NFL owners, Scadlock was inspired to kneel, too.

Watching Kaepernick take a knee, make various donations, as well as what he advocated for, also inspired Scadlock to learn more about how capitalism, systemic racism, and oppression affect African Americans and all people of color in the United States.

"The police brutality that is done onto black bodies is one of the many issues black people deal with every day, and as kneeling became a symbol for acknowledging and resisting these issues, I actually just started to feel more and more uncomfortable standing for the anthem," Scadlock said. "Like [Kaepernick], I no longer felt like I could stand and take pride in being a part of a country that has these issues and to kneel was to at least address their existence."
Good news! There are 200 or so other countries in this great world of ours. Perhaps Scadlock will be moving to one of them after graduation. If he thinks that America treats blacks unfairly, wait until he visits Mexico, Honduras, Brazil, Japan and so on.
Where does Scadlock get this nonsense about "black bodies?" There is nothing wrong with Scadlock taking a few Africana Studies courses at Williams and receiving the Joy James view of the world. The problem arises when no one at Williams dares to challenge him, no one takes the trouble — and runs the risk, c.f. Dean Dave's demotion — to show Scadlock the other side of the story.
Scadlock and Williams College men's basketball head coach, Kevin App, have a great relationship, so when he made up his mind that he was going to begin kneeling, he wanted to let him know ahead of time in case people saw it at a game and began speculating. Scadlock thought it was important to make sure they were on the same page and explained to him why he was making the decision.

"I think the aspect of the discussion and further action is more important than just kneeling," Scadlock said. "Some people have the privilege of being able to ignore these issues while black people have to deal with them every day."
Ahh, yes. Every day. The virulent racism of Williams College weighs down on poor Kyle Scadlock every damn day. I blame Maud Mandel . . .
Dave Fehr writes:
Ephmen definitely need a solid win today following a disappointing win at 4-12 Bates and a heartbreaking, last second loss at Amherst (our first of year).

In both games our greatest weapon, shooting, was lacking. Part of that was due to defense, Bates 1-3-1 zone and Jeffs (oops, Mammoths) tight man-man, especially on Heskett and Casey. Still, if we want to accomplish big things this year, we've got to find a way to score more.

One very encouraging sign: Our interior defense was immense at Amherst: Not normally a shot-blocking team, we sent back ten of their shots (Karp 4, Heskett and Soto 2 each) and did it without fouling – Mammoths went to the line just 7 times. However, that forced them outside and they won by making 11 of 23 threes (Williams just 6 of 22).

If we can beat Midd (who will probably be worried about being marooned in Williamstown for six days) we'll remain undefeated in NESCAC. They have two veteran bigs, McCord and Folger, rebound well (plus 9.4 margin) and block shots (average 5.9/ga).
My favorite micro-aggression is referring to Amherst's teams as the Jeffs. Long may it continue!
From David Fehr provided this update last week:
Merry Christmas, Happy Hanukah, Happy New Year. The Ephwomen Soccer team gave Williams fans an early Christmas present, winning their third national championship in four years; could our hoopsters do the same for Easter?

Many of you seem to think so. Remember, if we become undefeated national champion, our record would be 33-0. The 34 predictions were strongly biased toward success: 18 of the 34 entries were at 29 wins or above. Sam Douglas and Bob Bode (of course!) were highest at 31 while Pandy Goodbody and Paul Burke were lowest at 20 victories.

I was getting pretty excited, wishing I had a higher win total (I've never won this pool), until the win over Springfield (which brought our record to 9-0) gave me pause. Springfield had a high pre-season ranking but is now 2 and 6, they are essentially a two-man team. Williams played well in the first half in building a 16 point lead but poorly in the second as The Pride came back to tie the game. The Ephs were fortunate to hang on to win by four.

It's hard to size up the NESCAC when studying the pre-Christmas games. Hamilton and Williams are the only unbeatens, Amherst is 7-1, losing only to Babson – no shame there—and looked pretty good beating Springfield. The Jeffs (oops, Mammoths) bigs played better than I remembered from last year. Many of you have Williams beating Amherst two or more times; we'll see. Colby looks good; Bates bad. Midd has two losses, Bowdoin, Trinity and Wesleyan three (including one to Williams), and Tufts five.

Encouraging: Last year, in fact in the last few years, the Ephs seemed a bit soft. This year we've toughened up some. Offensive rebounding is one area: last season we were the third worst of over 400 D3 teams, some games recording only 2 or 3. This year has seen better O/R numbers vs. both weak and stronger opposition. App's squads have relied heavily on the 3-ball, often firing up 30 or more. That's great when they're going in. This season less emphasis on the trey. Against Springfield and Union we took 18; against Wesleyan and Manhattanville just 17 so we're scoring inside more often. I like that.

Less encouraging: Karpowicz starts (good) but still doesn't get enough minutes. Still too many minutes for non-scorers. The substitution pattern is head-scratching.

But the pros clearly outweigh the cons. Scadlock is the main reason we're improved this year, but not the only reason. Feinberg is a big plus in the defense/rebounding/toughness department while Taylor and Babek have had good games. Less 3s and more paint points may signify a change in coaching philosophy but maybe there have been too few games to reach that conclusion.

So are we an offensive powerhouse that's also more balanced than in the last few seasons – are we a Final Four contender? Was the unimpressive win at Springfield an aberration? We won't know until the games resume; Montclair State on December 30 could be a problem (why is a school with 13,000+ undergraduates in D3 anyway?) but league games will give the answer.

Duncan Robinson update: It's been awhile since Duncan played his one season here but locals understandingly are interested in his whereabouts. He signed a joint contract with the Miami Heat of the NBA and their G-league affiliate, the Sioux Falls, SD, Skyforce. I look at every Heat box score and see one of three things: 1) Duncan played and it shows his scoring line; 2) His name is listed with "DNP–Coach's Decision"; 3) His name isn't there so he must be in, of all places, South Dakota.

He's played in 4 games for Miami for a total of 29 minutes. Attempted six shots (all 3s), made 2. Five rebounds, 1 steal. The Skyforce numbers are impressive. Ten games, all starts. The second leading scorer at 20.2 per game. Shooting 50% and 48% from deep. 3.2 rbs/ga. He's had games of 32, 29 and 24 points. Lots of 3s but also fast break dunks. Some impressive highlight videos. His Skyforce plays in Portland in a few days (Friday, December 21) against the Red Claws. Drive up and see him, assuming he's not in Miami that day.

Duncan is the first D3 player in the NBA since Devean George's debut in 1999. Can he stick in the NBA? It's certainly possible; there are perhaps a dozen guys in the league who do little except shoot the 3. He has good size. The 48% 3-pt. shooting, albeit in the G-league, will draw Miami's attention.

Next Eph home games are January 4 and 5 when NESCAC play begins.
Tune in here.
UPDATE: Ephs win! Amazing game. Hope that Record coverage does it justice. Stunning finger-tip save by the keeper to put Middlebury's last PK off the post.
Now that the year has come to an end, there is this dream that keeps reoccurring in my head for the 2018 season. I count the 573 steps every night. Here's to you Williams, I couldn't ask to play along side a better group of men. pic.twitter.com/UZsHGaMYMy

— Jarrett Wesner (@JarrettWesner) May 18, 2018
Loved this letter in the Record:
Your article on the history of women's ice hockey ("Exploring how women's ice hockey broke the ice to achieve varsity status," Feb. 7, 2018) is fine as far as it goes, but there is good deal more to the story. First, I personally believe that the pivotal ingredient in the upgrade to varsity status was the Colgate club team's Title IX legal victory over that university, which occurred in 1992 or 1993 – the latter my hockey-playing daughter Dana Critchell Beausang '97, M.D.,'s first year at Williams. Indeed, when I endowed the Williams Women's Ice Hockey MVP Award, I thought of calling it the Colgate Award.

The upgrade to varsity status for the women was far from complete, however. Appearances were deceiving. The women's ice hockey coach was paid somewhere between one-fifth and one-eighth of the men's team counterpart's salary for an essentially identical job. The players knew nothing about this. As can be imagined, this was not a happy situation for the women's coach and only got worse over time. Dana liked her coach so I was concerned about keeping him. I did some things financially on my own to keep him in place, but the athletic director would do nothing.

Incidentally, my experience with Athletic Director Bob Peck was extremely similar to that of Stacey Dufor '93. Putting it gently, Peck was duplicitous and a liar to me, as he clearly had been to Stacey. His hand had been forced into giving the women varsity status, and he wanted to spend as little as possible on the sport itself. I even appealed the pay disparity situation to the president of the College at the time, the late Hank Payne, and the chair of the Board of Trustees, but they had less than no interest.

Cutting to the chase, in 1997, after Dana and her fellow co-captain, Kim Whiteman '97, stepped off the ice in their final game, I gave each of them the outline I had given Hank Payne spelling out the gross pay disparity between the two coaches. The rest, as they say, was history. Importantly assisted by Cara Shortsleeve '00, they rounded up 700 student signatures on a petition calling for equal pay (for equal work). The College had no choice but to give in or face a serious public relations, and possibly legal, problem. The resulting pay increase for the coach finally moved the women's program to full varsity status comparable to that of the men's program.

Robert S. Critchell '63, parent of Dana Critchell Beausang '97, M.D.
I hope that Bob Peck writes in with a response!
Lots of interesting stuff here and in the original Record article. Worth going through in more detail?
I'd like to thank Dave for inviting me back to Ephblog to write this post.
Tonight in Phoenix, in what is arguably the highlight of the annual U.S. Track & Field and Cross Country Coaches Association (USTFCCCA) annual convention, longtime Williams cross country and track and field coach Pete Farwell ('73) will be inducted into the USTFCCCA Hall of Fame. This is a much-deserved honor for one of the greatest coaches (and distance runners) in Williams history and a true Williams man.
Naturally to receive this kind of honor one needs an impressive collection of numbers, of championships, of wins, of trophies. And Pete has all of those on both the men's and the women's sides: Team National Championships in Cross Country, national runners up in Track and Field, and runners up in the All New England track meet (colloquially known as the DI New England meet), bucket-loads of NESCAC, New England Division III, ECAC, and NCAA Regional team titles in both sports, dozens and dozens of Little Three titles, and wins in myriad other meets big and small. Pete has produced individual NCAA champions, All Americans, and likely hundreds of All-Conference and All-New England athletes.
Hundreds of Coach Farwell's former athletes will have their own reflections.  Here are mine (and I apologize for the self indulgence.) Pete was my head coach from 1989 to 1993, when I was on the track team at Williams (I was co-captain in 1992-1993, when I worked especially closely with him) and it was during this time when Williams track achieved another level of success. In the spring of 1991, my sophomore year, projections indicated that we might be in a position to repeat and win the NESCAC title the men's team had taken for the second time in program history in 1990. Instead we lost by one point to Tufts. The meet was up at Colby and the trip back was among the longest bus rides of my life. I choked like a dog – projected to score in all three of the jumping events I got shut out, and I was not alone among my teammates in underachieving. The next week we returned to Colby for the Division III New England meet, we did not choke (I redeemed myself as well), winning our first New England DIII title. The ride back was much more pleasant than a week earlier. The men's team would not only win NESCACs and DIII New Englands (indoors and out) for the rest of the decade, we would not lose to another DIII team outside of the national championships for years. The women's team had similar successes. And it was during this era that Pete's Cross Country teams became an absolutely dominant force regionally and nationally.
One of Pete's real strengths was turning what many see as individual sports into team sports by creating a team mentality. During my time I had some exceptional teammates, Little Three and ECAC and NESCAC and New England champions (DIII and DI), All Americans. One of my teammates and friends, Ethan Brooks ('96) spent several years as an NFL player, and we had a team with lots of multi-sport athletes, especially coming from football. And while we all wanted to excel in our individual events, we also wanted our points to contribute to the team's tally, and thus to its wins, which became increasingly dominant. Those team championships meant everything to us. And at Williams the old cliché about track teams – "a team can go up in a bus but the number of people who will score could come back in a van" – simply did not hold. Our depth of scoring was as much a strength as our quality of scoring.
Furthermore, for all of the successes that Williams track and cross country had, there was always room for performers who were not going to win individual titles, who were not even ever going to score at the Little Three meet. The men's Cross Country team, always in the national team title chase, still had room for and indeed celebrated the so-called "Slo Boys," guys who worked hard but were not top performers, were not going to compete in the big meets, were not ever going to win an individual title. But they were every bit a part of the team, pushed their other teammates in practice, and continued to work hard through the track season. Many of them may well have been among the top seven runners on other college cross country teams, but they were happy to be part of the Williams program, and Pete always made it clear that those championships were all of theirs, not just the guys who scored in the meets.
And on the track and cross country teams Pete coached all of those athletes equally. As head track coach he would work with the whole range of events, from the throwers to the jumpers, the sprinters to his distance runners. And when he came over to the jumping pits, he worked on technique drills with everyone – the most talented, the recruited athletes who hoped to qualify for Nationals or the DI New England meet, and the guys who had walked on and were hoping to earn a Personal Record that would not come close to qualifying them for the DIII New England meet. It didn't matter – Pete coached them all. And occasionally he turned one of the latter into something resembling the former – because in the end, Pete was and is an exceptional coach and teacher.
A few years back I received a call on a September Monday morning from the Athletic Director of the DII university where I am a faculty member. We needed a new men's and women's cross country coach immediately. I had coached off and on since Williams, as a high school head track and cross country coach and as a college sprints and jumps coach at the Division I and Division II levels, had worked extensively with our athletics program ever since my arrival in a range of capacities, and had coached two club sports (including track and field) at the university. My cross country and distance training wasn't extensive, but it was enough when coupled with my other coaching experience and the emergency needs of the program in difficult circumstances.
The first call I made was to Pete. We talked about training philosophies and specific workouts, about developing long-term plans for coaching a college season and balancing training, meets, and academics. He emailed me a range of materials that I incorporated (and sometimes flat-out stole) for my teams. Without Pete's help, I would like to think that I would have been a perfectly adequate caretaker coach. Instead his help, and my experience on his teams, meant that the program did not suffer as much as it could have. Four of my athletes qualified for the NCAA regional meet. And I learned a whole lot about being a head coach at an NCAA-member institution. Pete has developed an impressive coaching tree at the high school and college levels and I am sure that every one of his disciples has countless stories about his influence and consider his lessons daily.
When the Williams track program honored legendary coach Dick Farley a few years back, Pete was the organizer of a massive return of Williams Track alums. Farley, a Hall of Famer in his own right for his work with the Williams football team, was also a former head coach of the Williams track teams (a position he gave up and that Pete, then head men's cross country coach, took over when Farley got the head football job), and he and Pete had worked together for decades. Farley continued to be an assistant on the track teams. (My first interaction with him on the track team that I can recall consisted of him walking up to me early in my freshman year, saying simply, "Catsam, you're jumping like shit," and walking away. I came to love that man.) He and Pete would take over the track program again as co-head coaches in 2008 and 2013). I cannot possibly imagine two more different men. And yet their admiration for one another was clear. Pete's respect for Coach Farley was obvious, as Pete was not only the chief organizer of the event honoring Farley, but also the MC of most of the weekend's events. But on several occasions Farley made clear that he admired Pete every bit as much. How could he not?
Tonight Pete Farwell will be honored in Arizona, and rightfully so. He will be inducted in a class that includes college head coaches from Big-time DI programs (Amy Deem of Miami of Florida, Patrick Shane of BYU, Bob Kersee of UCLA and Cal-State Northridge as well as the coach of many superstars on the international scene), NAIA powers (Jack Hazan of Malone University), and the Ivy League (Fred Samara of Princeton).
I will regrettably not be able to be there, but I think I speak for hundreds of his former athletes when I say to Pete: We are proud of you. You deserve this. Thank you.
0-0 at halftime. See here.
Anyone else watching? Provide your thoughts in the comment thread.
I am embarrassed for the NCAA that it requires (?) Flash to view the game.
As the official NESCAC page makes clear, Williams and Amherst tied in football today.
As I noted at the end of the game:
Have two teams ever been so simultaneously disappointed by an outcome? Williams had the game well in hand, but then an Amherst comeback, including a pick-six and Patriot-esque two point conversion, robbed them of the victory. No wins for seven years now.

But Amherst is also hugely disappointed! They should have won and, if they had, they would be NESCAC champions now. The tie means that Trinity won the league.

Does the football team do "The Walk" after a tie?
In a sign of the growing nationwide trend toward participation trophies, the Williams football team did, indeed, walk The Walk.
There seems to be lots of fake news around the internet about this game. Consider:
Williams College first year quarterback Bobby Maimaron's fourth rushing TD of the game capped the Ephs' first possession in OT lifted Williams (6-3) over Amherst (7-2) 31-24 in over time in the Ephs' Homecoing game on Farley-Lamb Field when Amherst failed to match the TD on thier first OT possession.

They don't call it "The Biggest Little Game in America" for nothing. Saturday's matchup, played on a chilly Veteran's Day with seemingly every Williams student in the crowd, proved to be one for the ages. Coming into the game, Amherst was at the top of the NESCAC standings, needing only one more win to become league champions. Williams, meanwhile, was having had a resurgent season, but also reeling from a 35-0 loss to Wesleyan.
Eph experts know that this must be a spoof, both because we have the evidence of the official NESCAC page and because NESCAC football does not use overtime . . .
Some crazy Williams alum sent this letter (pdf) to all the presidents of NESCAC schools. Let's spend three days talking about it. Today is Day 3.
NESCAC schools should measure and make public the academic accomplishments of their student athletes, both in high school (AP/SAT scores) and in college (GPA, majors).
Suggestions:
In the first (trial) year, allow each school to present the information in whatever way it prefers. (Smart presidents will simply delegate the task to their athletic directors and institutional researchers.) Since no (?) athletic conference has done this before, it is not clear what the best approach might be.
Any statistic should be presented in three different ways: for the entire student body, for the team as a whole and for the team weighted by playing time. (The last measure discourages coaches from stacking teams with academically accomplished benchwarmers.) FERPA prevents schools from releasing data about an individual student, but there is no law against making aggregate data available.
Include data from both high school and college. We want to demonstrate both the affect of athletics on admissions and, even more importantly, how athletes perform in college.
There are several benefits to greater transparency about the academic performance of NESCAC athletes. First, it would publicly demonstrate a fact that many non-athletes doubt: On the whole, athletes are similar in their academic qualifications and accomplishments to non-athletes. Second, it would encourage coaches to make academics a bigger focus in both their recruiting and their mentorship. If you (partially) measure coaches by the academic performance of their teams, you will get better academic performance. Third, it will prevent coaches/schools from complaining, inaccurately, about the behavior of their peers. Right now, coach X loves to claim that school Y unfairly lowers standards for its recruits. Who knows? With transparency, we can observe institutional behavior easily.
Some crazy Williams alum sent this letter (pdf) to all the presidents of NESCAC schools. Let's spend three days talking about it. Today is Day 2.
NESCAC schools should disallow participation by athletes older than 22 (except, in individual cases, by unanimous consent of the NESCAC presidents).
The average age of student athletes in NESCAC continues to increase, further deepening the athlete/non-athlete divide at most schools. This is especially true for starters in high profile sports. Indeed, it is hard to find a NESCAC men's hockey team in which several of the best players are not two years older than their classmates after spending several years in junior hockey. Although many students use the PG (post-graduate) year option to better prepare for the rigors of NESCAC academics, others (and the coaches who recruit them) use it as a red shirt year, a chance to become a better athlete. Since athletic ability peaks in your late 20s, this aging-of-athletes process will only continue. This isn't too large a problem now, which makes it all the easier to end. Exceptions, by unanimous consent of the NESCAC presidents could be made in individual cases, like the military veteran who starts college at 21 and was not recruited specifically for his athletic talent. Once coaches know that they can't play outstanding athletes who are too old, they will find plenty of 18-year-olds to recruit.
Some crazy Williams alum sent this letter (pdf) to all the presidents of NESCAC schools. Let's spend three days talking about it. Today is Day 1.
Football is too dangerous.
The National Football League, which for years disputed evidence that its players had a high rate of severe brain damage, has stated in federal court documents that it expects nearly a third of retired players to develop long-term cognitive problems and that the conditions are likely to emerge at "notably younger ages" than in the general population.*
NESCAC football may be less dangerous than playing in the NFL, but there is every reason to believe that it is more dangerous, by an order of magnitude, than every other NESCAC sport. More importantly, the defenses for football are weak:
"No student is forced to play football. To the extent doing so is dangerous, it is a student's choice, just like participation in other risky activities like rock climbing." The vast majority of starting players on most (all?) NESCAC football teams would not have been admitted to their school if they did not agree to play football. They don't really have any "choice," at least if they are being honest with the coach who is recruiting them. If they tell the coach that, while they would love to go to school X, they don't plan on playing football, the coach won't put them on his list and they won't be accepted.
"Ending football would be too unpopular among the alumni and/or major donors." Connecticut College has no football program, and yet does as well as the average NESCAC school in terms of alumni giving and loyalty. Swarthmore ended football 15 years ago and, after a short-lived controversy, has raised as much money as almost any liberal arts college.
"Football may be dangerous for students but it is not dangerous for the College." The first football lawsuit against a NESCAC school is not far away. If the NFL was willing to pay millions to injured players, even those who had only been in the league for a season or two, why wouldn't the same reasoning apply to four-year NESCAC players? Do you want to be deposed by a plaintiff's attorney about what you knew about the risks of football? Do your trustees? Organizations with hundreds of millions of dollars in assets attract lawsuits. The more years you allow football to continue, the greater the potential liability.
* "Brain Trauma to Affect One in Three Players, N.F.L. Agrees" New York Times, September 12, 2014.
Thanks to EphSports for pointing out this blog devoted to the men's crew team trip to the Henley Royal Regatta. Good stuff!
1) If we have any readers on this trip, please let us know. EphBlog would love to cross-post your material.
2) How do the finances of this trip work? I assume that the College is not paying for the whole thing . . .
3) I especially like the reference to the "Williams American Expeditionary Force." Extra credit if they can work in a reference to the two most (?) famous Eph members of that force: Charles White Whittlesey and Williams Bradford Turner.
From New Jersey:
The Williams College women's V1 boat made a statement today out racing top-seeded Bates to the finish line to earn the title of The Fastest Crew in DIII, but Bates won the NCAA team title with the combined scores of its V1 and V2 boats, edging the Ephs by one point: 39-38.

…

"The group of 22-23 rowers that was here to compete is the result of the entire 38-member team we have that pushed each other throughout the season to be at our best, so I want to thank those where were not here," [Williams Coach Kate] Maloney said. "And of course I want to thank our assistant coaches, our support staff, our trainers, and our parents for a great year. I'm just so proud of the 2016-17 Williams program."
1) Congrats to Coach Maloney and her team on an impressive performance. I believe (clarifications welcome) that women's crew gets very little support from Admissions each year. (Perhaps one tip a year? Perhaps only a protect or two?) It is quite likely that the academic performance of the women's crew team as whole is indistinguishable from that of the rest of the women at Williams. And that is as it should be.
2) I love that there are 38 students on the team. Participation should be the highest value in Williams athletics. It is much better to have a crew team with 38 committed students who have an amazing experience (but who don't win national championships) than to have a team of 15 that does. Kudos to Coach Maloney for being so welcoming to students who will never be good enough to row in a national championship. Their athletic experiences at Williams are every bit as important as those of the members of the V1 boat.
3) It is a shame that participation is not as valued as it used to be at Williams. Back in the day, there was a freshmen basketball team. There is not one now, despite the fact that there are a score or more of freshmen each year who played basketball in high school but who are not good enough to play for Coach App. Why not a team for them?
Wonderful article by Tim Layden '78 about former basketball coach Curt Tong.
The list was taped to the wall in a dark corner of an old college gymnasium, the kind with a running track overhanging the corners of the playing surface. The wall was made of ancient, yellowed stones, lacquered for preservation; the paper was a single, unlined white sheet, affixed to the bricks with slices of clear tape. Even nearing midday, there was barely enough light to read the printing on the page, listing the names of those who had earned the right to play on the varsity basketball team at Williams College during the upcoming season.

It was late in the fall of 1976. I was a junior at Williams, a small D-III liberal arts school in Massachusetts, and had been a member of the team the previous year. I had played little in games, and never when the outcome was in doubt. I was slow-footed, with a tenuous handle, but I could score if not guarded too closely and I was a good teammate and a hard worker. Without being told so, I was certain that my position on the roster was safe until graduation. This was a miscalculation. On the previous night there had been an intrasquad scrimmage, ostensibly giving players a last opportunity to prove themselves worthy of inclusion, or to cut themselves by exposing their weaknesses. Time has dulled the memory of that night, but I didn't convince my coach that I was significantly better than the bench player I had been the year before. And in retrospect, I most certainly was not.

Therefore, the next day my name wasn't on the list. I stood frozen at the wall for a long time, repeatedly scanning up and down, trying to blink back the tears that were stinging my eyes and making me feel ashamed. A few of the guys silently patted me on the shoulder, but I waited for all of them to leave before turning to face the daylight. I was 20 years old and my entire self-worth was wrapped up in being an athlete. Now that was gone. I would never again wear a uniform with a genuine name on the front ("Freight Heads," my trucking company-sponsored team in an Albany, New York rec league, is not a genuine name). I was adrift. There is nothing in sports quite like being cut, and nothing quite like the cut that tells an athlete that he has officially bumped up against his own personal ceiling. This is as true of the little boy (or girl) who doesn't make the high school freshman team as it is of Jimmer Fredette in the NBA. You never forget that cut, even as life piles on more important crises, failures and tragedies, as life will inevitably do, and has. Three decades after I was cut, my daughter enrolled at Williams and we walked through the gym, which was no longer used for varsity games. The wall was still there, the bricks were still a pale, shiny yellow. There was no list, but I could see it just the same. I had to take a minute to gather myself.
As do we all.
On that morning in 1976, as players looked at the list on the wall, my coach sat on the windowsill across the gym floor. His office was only a few feet away, but he sat out in the open where anyone with a gripe could visit without being forced to rap his knuckles on the door. That was a professional touch and it couldn't have been pleasant. The coach's name was Curtis Whitfield Tong. Curt. Coach Tong. He was 42 years old and had been, at that point, a college basketball coach for 12 years—nine at Otterbein College in Ohio and three at Williams. I walked across the gym and sat next to him. My father had long drilled it into my head to always be a gentleman, and to always take defeat with class, so I told Coach Tong that I understood why he cut me (which was true, but in my immature youth, I didn't resent him any less for doing it). Coach Tong thanked me for my hard work, told me I was a good player, just not quite good enough. Promised me there would be better days ahead. We shook hands. I walked out of the gym, cried for a few hours and then got drunk for a week.

The purpose of all this musty storytelling, from a very mediocre player, long grown old?

Coach Tong died on January 16 at a nursing home in Massachusetts. He was 82 years old and succumbed to complications of Alzheimer's disease, which had afflicted him in the latter years of a very rich and full life. He left behind his wife of 58 years, the former Wavalene Kumler, whom everyone knows as Jinx. They met in college and stayed together, a love story. They had three children, accomplished and successful adults who had seven children of their own, and last spring, Curt's and Jinx's first great-grandchild, a little girl named Martha. They are a close and beautiful family. Curt coached 18 years at Otterbein and Williams, with a combined record of 242 wins and 141 losses. In 1983, at the age of 49, Curt left Williams to become the athletic director at Pomona-Pitzer, two small California liberal arts colleges that share an athletic department. He spent the last 16 years of his career there, before retiring in 1998. In 2010, he published a memoir, Child Of War, describing in harrowing detail the three years he spent as a child in a World War II Japanese internment camp in the Philippines, where his parents were missionaries.
Read the whole thing.
Those are the details, and they are important details. They are a life's work, in and out of the office. On and off the court. But details never tell the full story of a coach's life, because a coach—a teacher, by any measure—is more than the sum of his life's accomplishments. A coach is his own life, and every life he has ever touched, his words and his lessons melting down through generations, outliving him by decades. Coaches expire every day, but they never die. They live forever.
If your players remember you with even 1% of the detail and fondness with which Layden remembers Tong, then you will have been an excellent coach indeed.
Condolences to all.
Most heart-warming Eph news story of the year:
A couple of weeks ago, Parker Langenback had no clue what the game of lacrosse was all about, and Kevin Stump, a first-year member of the Williams College Men's Lacrosse Team had no clue about how the birth defect spinal bifida could affect a person's life.

But on Tuesday evening, the Langenback family and the lacrosse team signed on for a two-year commitment to learn about and support one another, through a social sports initiative called Team Impact.

Now 6 years old, but turning 7 at the end of the month, Parker is a first-grader at Williamstown Elementary School, located about a mile from where the lacrosse team practices at Farley-Lamb Field. He lives in town with his parents, Melissa and Rob Langenback, and his 3-year-old brother, Sawyer.
Read the whole thing. Kudos to all involved!
Parker Langenback is now an Eph, at least in the eyes of EphBlog! And, by the transitive property, so are his parents and his brother. With luck, he and they will be part of the lacrosse team for years to come.
Currently browsing posts filed under "Athletics"
Follow this category via RSS