Currently browsing posts filed under "Book Review"
Follow this category via RSS
Elissa Shevinsky '01 has not only been an EphBlog favorite of late, but was recently featured on the cover of the Williams Alumni Review (pictured above is her Twitter avatar, drawn from that cover illustration). Shevinsky is a serial entrepreneur with a focus on cyber-security; her current company is JeKuDo, which is "building the very best easy to use privacy tools."
Shevinsky is also now the author/editor of the recently-published "Lean Out," available from Or Books and (naturally) for your Kindle or Nook. The collection of essays and perspectives from women working in Silicon Valley includes an introduction and commentary from Shevinsky along with a couple of her own essays. Full disclosure: Shevinsky and I are what she might call "introvert friends" on Twitter and regularly "favorite" each other's tweets.
"Lean Out" tackles a popular and sensitive subject: the overwhelming male representation in Silicon Valley and the larger tech industry, one of the highest-value and highest growth areas of the economy. In "Lean In," Facebook CEO Sheryl Sandberg advocated for women to be more proactive in challenging this norm by doing more to be accepted into existing power dynamics and transform the "system" from within.  Relatedly, many tech companies have claimed that there is a purported "pipeline" problem — a shortage of women with STEM and computer science backgrounds, coding skills, or even video game experience that translates to a subsequent shortage of women interested in the industry.
Many critics — including several of the writers collected in "Lean Out" — have challenged these claims.  Many women, particularly those coming from diverse backgrounds, object that Sandberg's perspective as one that requires women in the tech industry to adapt to the system, rather than building a new system for women and by women.  Others, including Shevinsky, believe that the focus on a "pipeline" is a diversion, little more than a marketing effort by big tech companies to  transfer attention from culture (hard to measure) to an issue that can be quantified and to which they can dedicate eye-catching amounts of spending.  In this view, the claim that there aren't sufficient women in the hiring pool is akin to the implausible suggestion that there aren't enough actors in Hollywood.
Taken individually, the essays in "Lean Out" might read as a collection of diversity-oriented polemics: interesting as descriptions of individual experiences, identities, and related challenges, but many would be ultimately unsatisfying (the identities of authors include a well-balanced mix of sexual, gender, racial, and ethnic identities). One exception: Katherine Cross's essay, "Fictive Ethnicity and Nerds," an analysis of why the dominant Silicon Valley nerd culture is resistant to criticism from feminists. Agree or disagree, her analysis gives good insight into why individuals and groups can simultaneously be privileged and marginalized, although readers will recognize she might not agree with that characterization.
It is taken together that the greatest value in "Lean Out" is revealed as Shevinsky's selection and structuring of the whole. Each writer adds a piece to our understanding of the culture of the technology industry — and each person brings their own view regarding how best to tackle the problems they see as creating an environment of exclusion. The juxtaposition of their suggestions, moreover, reveals that many approaches, taken alone, risk undercutting precisely the parts of the system that make others feel included, at least at times. Far from the simple solutions proposed in the polemics of online fora, "Lean Out" reveals a thorny knot that even Alexander might be unable to cut.
Take, for example, the concerns laid out in "Lean Out" about a brogrammer culture that makes outings for drinking cheap beer an integral part of many companies' cultures.  Participating in these outings – which fuel interrelated cultural problems like unwanted sexual advances (and worse) and fart jokes (and worse) – may be a cultural and career necessity for many who would otherwise not participate.  But not only are they irreplaceable to the individual and team identity of their enthusiasts, but more than one writer in "Lean Out" recounts an instance when participating was an inclusionary experience, at least at the time or for a while.  So the answer can't be just to replace alcohol fueled bar hopping with estrogen fueled coed outings to the ski slope or the bookstore.  And while doing so might make the introduction of sexist apps at major conferences less acceptable, would that really even matter to the presence of women at the partner level of venture capital funds or, ultimately, to investments in diversely-led startups?
Where does that leave Shevinsky and the "Lean Out" reader? Certainly with a lot to think about. But the structure of her book provides a clue that there's more in her mind than merely provoking discussion or repeating the demands of others that people change their sexist ways. "Lean Out" opens and closes with passages by FAKEGRIMLOCK, the startup robot dinosaur. (Yes, this is a thing). Both are calls to action: not meant to provoke some centrally-led reform effort or even a social movement by the many, but for an individual action by the entrepreneur, "You": "You Belong in Tech" and "You Must Start Up." And then there's the essay "Build a Business, Not an Exit Strategy," by Melanie Moore, also near the end of "Lean Out." Her simple present-value analysis of startups seeking an IPO home run vs. those seeking to grow on a human scale — and the explanation of why VCs are in the business of finding home runs and not the latter, presents one "Out" approach. It's clearly one that serial entrepreneur Shevinsky is comfortable with. And it's a reminder that what the tech industry may most need to create a set of spaces where the authors in "Lean Out" (and millions of others, men and women alike) can thrive is a different sort of diversity: a diversity of vision that yields a true variety of opportunities.
Elements of Shevinsky's experience at Williams appear in one of her own essays, "The Pipeline Isn't the Problem," and I'll excerpt a few details in a subsequent post.
This is an interview I conducted last week for UCLA's Cross Section TV show. It is with Mark McGurl, Professor of English at UCLA, talking about his book, The Program Era: Postwar Fiction and the Rise of Creative Writing, which is published by a client of mine, Harvard University Press.
This is the first interview I've done for TV and it was a blast. I should know in a few weeks if this episode will get picked up by UCTV.
The Big Bang Symphony, Lucy Jane Bledsoe '79.
During the January cold snap, the mercury dropped so low in Williamstown that the Outing Club cancelled a sledding trip. When I saw that announcement, I could only imagine how Lucy Jane Bledsoe, originally of the class of 1979, would have chronicled it. I doubt Bledsoe, who completed her final two undergraduate years at Berkeley, left because of the cold. In the years since, she's emerged as a repeat visitor to a much colder place: Antarctica. (Although, to be fair to the Williamstown weather, the January 23 temperature of 13 degrees Fahrenheit was twenty degrees warmer. Of course, it was also the peak of summer).
A four-time finalist for the Lambda Literary Award and winner of the 2009 Sherwood Anderson Prize for Fiction, Bledsoe's Antarctic writings have spanned a few genres: children's literature, travel memoir, survival guide. In her latest novel, The Big Bang Symphony, Bledsoe returns to the bottom of the world for a deeply personal and moving novel. The Big Bang Symphony satisfyingly weaves together the commonplace and the sacred, portraying them through the lens of a dramatic setting and intriguing personalities.
The novel unfolds from the alternating perspectives of each of three dynamic women on the ice for the summer as they become friends. Mikala is the composer whose hoped-for masterpiece forms the titular work. Suffering from writer's block since the untimely death of her lover, she is drawn to Antarctica by competing forces of isolation and family. Alice, a socially-impaired geologist, is in Antarctica to free herself from the shackles of reason – for logical reasons. And Rosie is the Antarctic veteran, unsure whether her home now lies Read more
With All the Devils are Here, Bethany McLean '92 has likely landed herself atop the list of best-read Eph authors of 2010. All the Devils are Here is a highly-readable primer on the pre-history of the financial crisis. In a tightly-wound 364 pages, the book demystifies the companies and financial instruments at the core of the financial crisis while providing illuminating sketches of many of the central personalities.
McLean and co-author Joe Nocera, a New York Times financial columnist, trace the converging narratives of the principal players: the real-estate market lenders and originators creating subprime (and higher-caliber, but similarly flawed) loans, the Wall Street companies investing in and securitizing these loans and related products, and the government-sponsored enterprises (GSEs, most prominently Fannie Mae) competing with the private players. Their account goes back thirty years to the beginning – the securitization of loans that allowed lenders to divorce themselves from their interest in loan repayment and reduce the importance of repayment ability in lending.
One of Hacker and Dreifus's recommendations about how to improve American higher education is to "Demand the 'Golden Dozen' deliver." Yet even with the questionable metric for "delivery" that they've chosen, they wrongly conclude that Williams – and some other members of the Golden Dozen, such as Princeton and Yale, are failing to deliver. 
Hacker and Dreifus begin their critique by defining the "mission" of the "Golden Dozen." They claim to find it in statements by Princeton that the university's "mission is to educate national leaders." Is that a claim Williams makes about its mission? Harvard? Brown?  As an alum, I take pride in the leadership accomplishments of Ephs, and I'm sure most of the Williams community does as well. But is that the College's "mission"? The statement of "Mission and Purposes" adopted by the Board of Trustees in 2007 doesn't go that way: 
Williams seeks to provide the finest possible liberal arts education by nurturing in students the academic and civic virtues, and their related traits of character. Academic virtues include the capacities to explore widely and deeply, think critically, reason empirically, express clearly, and connect ideas creatively. Civic virtues include commitment to engage both the broad public realm and community life, and the skills to do so effectively… [T]he College's greatest mark on the world consists of this: the contributions our alumni make in their professions, their communities, and their personal lives. 
At a minimum, Williams puts the "personal" on par with the professional and the community. And "community" can be defined in many ways other than "national." 
In writing Higher Education? How Colleges are Wasting Our Money And Failing Our Kids – And What Can We Do About It, Professor Andrew Hacker, Amherst '51, apparently decided that the size of his cash bequest to Amherst will be inadequate and that it should be supplemented with an unwarranted trashing of Williams College in his widely-read and influential book. After reading numerous discussions sparked by Hacker and his co-author and domestic partner, Claudia Dreifus (best known for her contributions to the New York Times), Higher Education? proved disappointing — and not only because of its absurd attacks on Williams. Rather than presenting a thoughtful, reasoned analysis of problems at colleges and universities, Hacker and Dreifus have chosen to write what might best be described as a series of extended EphBlog posts written in David's style — only with greater logical flaws. And like David, Hacker and Dreifus have succeeded in stimulating argument  about the role and value of higher education, even if they've failed to persuade.
The authors' focus is on whether colleges and universities are providing an education commensurate with their costs, their statements, and their privileged role in American society. In the process, they cover many topics discussed frequently at EphBlog – university leadership, faculty quality, the proliferation of higher-education administrators, costs, class, affirmative action, athletics, and more. But can their anecdotes and analysis be trusted? Well, how much faith would you put in a book that equates the quality of teaching and student-faculty interaction at Williams to that of Harvard — because the two schools have similar policies on paid sabbaticals? Or that equates the problems of athletics at Williams to the problems of athletics at the University of Texas — because both schools consider athletics in the admissions process.  Strikingly, although Williams is used as the archetype for liberal arts colleges and is cited, often in depth, as an example in almost every chapter, Amherst scarcely appears in these pages (only six mentions in the index, vs. dozens for Williams), except in the person of Eph Tom Parker '69, who traded his job as admissions director at Williamsfor the same post at Amherst back in 1999.
To give readers a closer look at the claims Dreifus and Hacker make about Williams, I plan to present the Williams-themed material in a series of posts rather than in my typical "book review" format. Because it's already been discussed here at EphBlog, I'll start with the fourth chapter, entitled "The Golden Dozen." Read on after the jump.
Note: An "Eph Bookshelf" entry with neither an Eph author nor an Eph principal subject, but Ephs nonetheless:
Appetite for America, Stephen Fried.
Few things are as quintessentially American as the chain restaurant. Like jazz music and Hollywood hits, chain restaurants have helped knit the fabric of a cohesive American culture, spreading sets of tastes across the nation, and eventually, the world. McDonald's, Pizza Hut, Starbucks, Wolfgang Puck: their story all starts with Fred Harvey — not just an entrepreneur, but a brand. Where Jelly Roll Morton and D. W. Griffith are well remembered for their roles in history, Fred Harvey is nearly forgotten, which is what makes Stephen Fried's vivid and thorough account of the Fred Harvey empire so rewarding.
The short version of the Fred Harvey story is this. A failed St. Louis restaurateur, Harvey became a railroad ticket agent during the hard economic times of the Civil War. He quickly grew his business, traveling the railroad lines to establish the ability to sell through tickets on multiple rail lines and marketing freight services for cattle, lumber, ice, and coal. Traveling the rails, he quickly observed the limitless demand for the early Pullman service: luxurious sleepers and reliable dining cars offering something more than the trackside slop of downscale railroad depots. Yet dining cars suffered from a key flaw: trains of the 1870s did not yet permit passage from one car to another, so they were impractical for the long western railroad runs where stops were far apart.
Opportunity seen turned quickly to opportunity seized. Harvey took over three railroad eating houses, and put his managerial and partnering skills to work. Discovering that the Atchison, Topeka, & Santa Fe railroad had aggressive ambitions and a willingness to experiment, Harvey struck a series of deals to fund and operate the railroad's eating houses as it pressed west — and proceeded to develop those restaurants pursuant to his own set of principles. His "Fred Harvey Way," a set of systems and manuals for doing everything, brought about many firsts: a branded restaurant chain, a quick-service meal, a high-quality standardized menu, a "boot camp" to train staff nationwide, a central purchasing system.
The latest in a series reviewing books by Ephs, about Ephs, or otherwise having particular relevance to the Williams community.
Parallel Worlds: The Remarkable Gibbs-Hunts and the Enduring (In)significance of Melanin, by Adele Logan Alexander (non-Eph).
It wasn't until I got to page 98 of Parallel Worlds: The Remarkable Gibbs-Hunts and the Enduring (In)significance of Melanin that I realized it might belong on the Eph bookshelf. That's when readers that don't already know the biographies of William Henry Hunt and Ida Alexander Gibbs first learn that Hunt was the sole African-American to matriculate at Williams College in the class of 1898. Hunt didn't tarry long in Williamstown and neither does Adele Logan Alexander's busy social history / biography, but it's nonetheless worth an EphBlog review both to point readers to this depiction of the upper echelons of early 20th century African-American society and to highlight the Williams stories that appear.
Ida Gibbs, likely the granddaughter of Vice President Richard Mentor Johnson, was an early African-American masters degree recipient from Oberlin College. Born in Vancouver during the American Civil War, she and her illustrious father (the first elected African-American judge in the United States) traveled to Minnesota in 1889, where he addressed the civic league — and where they encountered William Henry Hunt. In this era of thev closing of the frontier, Hunt, who had been born in the south in 1862 and lived a largely itinerant life, took advantage of this encounter to live the frontiersman's dream: reinventing himself and traveling to the edges of the known world, all for the love of adventure — and of a woman. Outlining a new story of his youth as a world traveler, Hunt impressed the Gibbses, then resolved to acquire the education necessary to sucessfully woo the beautiful Oberlin graduate. In his new identity, he persuaded the headmaster at Lawrence Academy in Groton, Massachusetts to admit him, then worked his way through Lawrence as the only African-American student of his era — at least two had previously graduated — ascending to the editorship of the school newspaper and winning several debate prizes. Graduating in 1894, he enrolled at Williams, where he remained for two semesters.
Dominion of Memories: Jefferson, Madison, and the Decline of Virginia, by Susan Dunn (Preston S. Parish '41 Third Century Professor in the Arts and Humanities)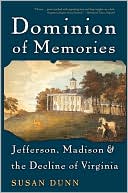 Critics of the President's statist policies are often dismayed to see policy discussionsrapidly devolve into speculation about their motivations, with their critiques ultimately equated with racism. Their complaints themselves go awry, however, when they attribute this to a political "playbook" concocted by the White House, or the Democratic party. In truth, it's a trend with much wider roots in our society and is frequently most visible in academic scholarship, as otherwise interesting studies are short-circuited by facile connections between racism, bigotry, and ideas the author disagrees with. Sadly, Professor Susan Dunn's Dominion of Memories is one work that so strays.
Despite a couple of intriguing starting points in the sociology of slave ownership and the effects of the moral ambivalence of Thomas Jefferson and James Madison, Dunn ultimately ends up attributing every "non-progressive" policy imaginable to the racism of slaveowners. As a result, what could have been a forceful, if narrower argument devolves into little more than an interesting collection of stories and quotes. Dominion of Memories begins by outlining a simple, but interesting question: For 32 of the first 36 years under the Constitution, the Presidency was filled by a Virginian. Influential Virginians of the early Republic also included Chief Justice John Marshall, George Mason, Patrick Henry, and numerous others. Yet since then, only John Tyler has been President, and after Marshall and the three other Virginians of the early Supreme Court, the state produced only one Justice between the 1840s and 1971. So what happened? Dunn's answer is economic decline, driven by slavery. Dominion of Memories explores how that decline unfolded, and it initially seems likely to give that story a personal feel, by connecting it to Jefferson and Madison, early supporters of some of the intellectual ideas relied on by southern secessionists on the road to civil war.
Reviewer's note: As we mourn the passing of George Steinbrenner '52, many EphBlog readers may be thinking about ordering up a Steinbrenner biography to learn more about his life and times. Because I just finished this review of the most recent Steinbrenner biography, I've moved up its posting date to make it more timely. In a nutshell, Steinbrenner: The Last Lion of Baseball is a great account of the Steinbrenner-era Yankees, filled with fun stories and anecdotes, but it's not the book for a reflection on Steinbrenner's legacy or his impact on baseball. Other significant biographies of Steinbrenner — none of which I've read — include Other biographies of Steinbrenner include Steinbrenner! by Peter Scaap (from the early 1980s), Peter Golenbock's George: The Poor Little Rich Boy Who Built the Yankee Empire (released last year in hardcover; just out in paperback), and All Roads Lead to October: Boss Steinbrenner's 25-Year Reign over the New York Yankees by Maury Allen (the early '00s).
Steinbrenner: The Last Lion of Baseball, Bill Madden
George Steinbrenner '52 is one of the most famous — and probably the most infamous — Eph of the 20th century. Perhaps predictably even in 1952 — he came in 2nd in student voting for "Shovels It Most." Yet there haven't been many biographies of him: his notorious personality and his interest in privacy have turned many would-be biographers aside. Within two years we have two new ones, and following hard on the heels of last year's George: The Poor Little Rich Boy Who Built the Yankee Empire, is this year's Steinbrenner: The Last Lion of Baseball. Bill Madden, a long-time sportswriter (on the Yankees beat) for the New York Daily News, and the author of several biographies and memoirs: all Yankee-focused. He treats his subject in a standard sports-writer format: vivid prose, strong on the anecdotes, lighter on the deep inquiry. But it's an enjoyable read — even for those who are not Yankees fans — especially with the nice sprinkling of Eph references throughout.
Steinbrenner's life ended on a high note: he celebrated his 80th birthday last month, saw the Yankees finally break their $2 billion, decade-long playoffs hex, and watched son Hal Steinbrenner '91 start to earn his own headlines by banning Lady Gaga from the clubhouse. On the downside, by 2010 TV viewers could finally flip through all 900 channels at 10:00 p.m. without finding Larry David voicing him in a rerun of Seinfeld.
The Last Lion of Baseball is an amalgam of the two inseparable stories of its titular figure and the Yankee teams he owned. As a season by season recap of the glamorous years of Yankee victories, it makes for a great read. Yankee partisan Madden is somewhat less interested in the down years, which shows through a little — although baseball books are always more interesting in the winning than the losing. And the story of Steinbrenner himself is excellently done. Told through anecdotes, interviews, and Madden's own experience, the book showcases him at his best and worst, without descending into too much of the pop-psychology that often infects biographies (one exception: Madden sees in Steinbrenner's relationship with Lou Piniella an echo of Steinbrenner's own relationship with his father). Madden demonstrates that nothing you've heard about the late Yankees owner was false, simultaneously mercurial, narcissistic, maniacal, charming, caring, and charitable. Larger-than-life, indeed.
The Fourth Star, Greg Jaffe '91 and David Cloud
When Greg Jaffe '91 won the Gerald Ford award for journalistic excellence for his Afghan reporting, it seemed to be the perfect time to read this 2009 book on the Iraq war. And with the recent upheaval in the top command in Afghanistan, leading to the replacement of Gen. Stan McChrystal with Gen. David Petraus, one of the subjects of The Fourth Star, the book is even more timely. Yet although the collaboration between Jaffe and former Wall Street Journal & New York Times reporter David Cloud succeeds in storytelling and readability, The Fourth Star falls short of the standards set by Jaffe's Afghanistan reporting in a number of other respects.
The Dead-Tossed Waves, Carrie Ryan '00
Post-apocalyptic settings have long been a popular stage for young adult fiction. After all, there's nothing like a world in ruins to encapsulate the sense of isolation of a brooding teenager or to symbolize how every crisis and decision seems to be the end of the world. Thirty years ago, the apocalypse of choice was usually a nuclear war. In the dark days late in the Cold War, the setting had the advantage of a seeming inevitability, but created numerous plotting problems. Today, the leading holocaust is more often supernatural.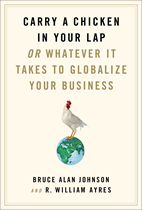 Carry a Chicken in Your Lap Or Whatever it Takes to Globalize Your Business, by Bruce Alan Johnson and R. William Ayres '91.
This fun, modest-length volume comes from two principals of Baja Associates, a small consulting firm. Yes, it's partly a sales pitch for their services. But it's a good sales pitch — and an enjoyable standalone read for a broader audience of those not yet ready to hire a consulting firm, but ready to start thinking about expanding their activities internationally. The authors have in part targeted subgroups within the latter category, including employees thinking about an overseas assignment, and nonprofit idea-makers looking to expand their influence.
Thereby Hangs a Tail, Spencer Quinn
As mentioned in Dick's recent post, Edgar-award winning Eph author Peter Abrahams '68 went undercover last year, adopting a new pen name (Spencer Quinn) and a new voice, that of a clever canine detective, a mixed-breed answering to the name of Chet. Not long after the softcover release of Quinn's debut, Dog on It, hit the mystery bestseller list in late 2009, Chet returned with the second entry in the series: Thereby Hangs a Tail, and it's every bit as enjoyable as the first.
Below is the first in a series of book reviews of works by Ephs, or otherwise of interest to the Ephblog community. As a quick perusal of the "Life of the Mind" section of any Alumni Review will reveal, Eph authors are (not surprisingly) sufficiently prolific that no single reader could hope to keep abreast of more than a fraction of the new releases. So don't let me crowd out the field — write your own review. Even if it's just a couple of sentences in "Speak Up!", we'll all be better off for it.
Fingerprints of God, Barbara Bradley Hagerty '81.
The subtitle of this riveting book is "The Search for the Science of Spirituality," but the detached and impersonal phrasing doesn't quite do justice to the part-memoir, part-serial feature contained between the covers. Noted Eph journalist Bradley Hagerty, best known as a Washington-based correspondent for National Public Radio, embarks on a journey to understand her own spiritual experiences and those of others in the context of the perceived disconnect between modern scientific supremacy and personal conviction.
A profile of zombie writer Carrie Ryan '00, who has a new book that was released today:
It began soon after Ryan, 32, graduated from Williams College in Massachusetts with an English degree. She wanted to write chick lit set a big city. She had zero experience with big cities, however.

So she decided, in what she calls "my grand plan," to go to law school. Her logic? With a law degree, she could work in a glamorous city, gleaning material. She enrolled at Duke University, where she met J.P. Davis, a fellow law student from Chapin, S.C., who shared her passion for fiction writing.

Somehow, probably because she was in love, she let Davis talk her into watching "Dawn of the Dead," the 2004 remake of George Romero's classic zombie movie.

When it was over, she realized she had enjoyed herself.

A new direction

By the time she and Davis got their law degrees and moved to Charlotte, Davis had read her "The Zombie Survival Guide." She was hooked.

"What I find fascinating," she says, "is not necessarily the zombies, but the surviving."

In Charlotte, the couple worked as lawyers by day. In the evenings, she wrote chick lit and Davis worked on his short stories. They talked about zombies. On walks, they'd imagine a world decimated by the undead.

Then, one evening in 2006, Ryan was leaving her office in the Bank of America building, contemplating an article she'd read on the overfishing of tuna.

How strange, she thought, to imagine a future where something as common as canned tuna was unknown. What other parts of our civilization, she wondered, might be forgotten in a future world?

Suddenly, she had an idea – a story about a world nearly destroyed by a zombie plague, a place where people have lived so long in their fenced-in village, sealed off from the zombie-filled forest, that they've collectively forgotten about the world's oceans.

She pulled out her Blackberry and e-mailed herself a single sentence: My mother used to tell me about the ocean.

After working for a couple of evenings, she told Davis she was writing about zombies. I hope you don't mind, she told him, but I'm using your world.

Ryan's sentence about the ocean became the first line of her book.

Great timing

In 2007, she sold "The Forest of Hands and Teeth." Her agent had sent the book out on a Friday. On Monday, she had a six-figure offer from Delacorte Press for a two-book deal.

In late 2008, she quit her job.

Today, instead of working in trusts and estates, Ryan writes at her computer near the fireplace in her Dilworth home. She wears sock-monkey slippers and rainbow fingerless gloves that keep her wrists from aching as she types.

On a good day, the weather is rainy gray, and she's asking herself one of her favorite questions: What's the worst thing that could happen?
Continue reading: A love story, with zombies
Carrie has a blog here.
This review of Dog On It, a detective novel by Peter Abrahams '68 (aka Spencer Quinn), was written by Chad Orzel '93 and originally posted on his sciencey blog, Uncertain Principles.
---
Dog On It is a twist on a hard-boiled private eye story: It's narrated by Chet, a former police dog cadet now owned by Bernie Little, a down-on-his-luck private detective in the Southwest somewhere (it's not entirely clear where– Chet's a little fuzzy on geography). Really, how could I pass up a book by a talking dog.
Obviously, the attraction of this sort of book is not so much the mystery, as the dog voice. I'm happy to say that Quinn nails that, as shown by this passage where Bernie decides to take up jogging:
There were lots of outings where Bernie walked and I ran, but Bernie running would be a first. We went out the back door, through the yard, out the gate, into the canyon. Bernie started running, sort of, up the trailthat led to the hill with the big flat rock on top. It was nice out, the sun hidden by the distant mountains but the sky still light, the air not too hot. I loped along beside Bernie, then ran circles around him, and when that got boring, took off for the hilltop.

And right away spotted a lizard, one of those green ones with the tiny eyes! He saw me, too, and darted toward higher ground. I tor after him, closed the distance fast, and sprang, my front paws outstretched, and came down right on him. Or not quite. What was this? He'd bolted down a hole, a small round hole in the dirt. I started digging right away, real fast, got a nice clawing rhythm going, all four paws involved, and soon had a big hole under way. But all of a sudden I caught a whiff of something, a nasty smell with a bit of bacon mixed in, that meant one thing and one thing only: javelina.

I raised my head, sniffed the air. No doubt, and it was coming from down the hill, closer to the trail. I glanced around, saw that I'd dug a hole, although I wasn't sure why. I lowered my nose and trotted after the scent.
Writing from the POV of a dog allows a nice dodge around one of the big problems facing mystery writers, namely, constructing a mystery that is straightforward enough for the reader to put everything together, but not so obvious that the PI looks like a dolt for not figuring it out twenty pages in. When most of the critical facts are known only to a scatterbrained dog, though, it's much easier.
Quinn also avoids the big trap of dog-centered stories, which is unrealistic communication between the dog and a human. There's no "What's that, girl? Timmy fell in a well?" business here– when Chet barks to try to communicate key information, he's more likely to be told to knock off the racket.
There are a few glitches, of course. At a couple of points, there's a kind of deus ex machina quality to the ways that Chet gets to and back from the places where he needs to be for the story to work. But those are easy to forgive, because the dog voice is so charmingly… doggy.
It's a little hard to believe that nobody has done a PI novel from a dog's point of view before, and maybe they have. Whether the idea is entirely original or not, though, Quinn has absolutely nailed it, and I hope to read more Chet and Bernie books in the future.
---
Mr. Abrahams/Quinn also writes a blog written from
Chet the Dog's point of view
.  Chad Orzel is working on his own dog-centric book,
How to Teach Physics to Your Dog
, written as a series of conversations between himself and
his dog Emmy
, the Queen of Niskayuna, about quantum physics.
Matt Swanson and Robbi Behr (both class of 97) run Idiots'Books, "a (very) small press that publishes odd, commercially non-viable illustrated books and distributes them through a mostly monthly subscription service".
A few months ago, they were approached by a major sci-fi publisher about doing a series of original works for publication on their website, tor.com. The first installment of these "One-Page Wonders" was just published and recently featured on Boing Boing:

(click through to see the whole thing)
The project represents an interesting new direction in story-telling/publishing, because it hides a dozen different stories—all of which can be unlocked with a pair of scissors and a few deft folds—in a single sheet of paper. Basically, you can download a single sheet of paper from tor.com, which you then print out. The printed sheet is then folded three times and cut once to form a "book" that may be reconfigured and realigned to form 10 separate illustrated narratives. They have contrived an elaborate "how-to" sheet that is also posted on the site, as well as a short film (with soundtrack by Williams '97 alums Drew Bunting and Brian Slattery) that shows the reader how to make the various versions of the story.
The Williams Outing Club has revised its "North Berkshire Outdoor Guide," the area trail guide.  The publication announcement singles out two special Ephs, Katie Craig '08 and Bob Quay '04 "who in their short time at Williams gave enduring inspiration to many members of the community." Craig's art appears on the cover and in the book and I'm sure that the bridge on Mt. Greylock named in Quay's memory receives prominent mention. RIP, good friends of the WOC.
Wouldn't this make a wonderful holiday gift for your favorite Eph? And, if you can manage it, how about adding in a 2009 trip "home" with other Ephs to make use of the guide?
Back when Dave first mentioned that I interviewed authors, he asked that, if I ran across any books that might be of particular resonace to Ephs, I would write a post about it. Well, a book I was scheduled to do for the Yale Press Podcast certainly counts. Anthony Kronman, class of '68, Sterling Professor of Law and former Dean of the Yale Law School has written Education's End: Why Our Colleges and Universities Have Given Up on the Meaning of Life, in which he looks at the crisis in Humanities in American higher education and examines the forces that have led humanities professors to no longer discuss metaphysical questions.
Rosemary Esehagu '04 has published a novel, The Looming Fog, about an intersexed child born in rural Africa. It is available here, at Amazon. My copy has just arrived, and I've yet to read more than the introduction, but it'd be great to hear from those who have gotten further.
Rosemary also has a personal website and blog, rosemaryesehagu.com, along with a letter to readers at the above Amazon page. Congratulations to Rosemary!
I just finished Bo Peabody's book, Lucky or Smart?: Secrets to an Entrepreneurial Life, and it's a lot of fun. It's sprinkled with insights — as well as passages that made me laugh out loud. I highly recommend it.
It's not your typical business book — it's sort of like Strunk and White's Elements of Style for entrepreneurs. The book is short (62 pages, I finished it in half an hour) but full of pithy points, such as "Great is the enemy of good," "start-ups attract sociopaths," and "don't believe your own press. In fact, don't read."
Anyone who works in high tech or is working at a start-up will enjoy it, but for this audience, the best part is having Bo tell how he got into Williams.
Currently browsing posts filed under "Book Review"
Follow this category via RSS