Currently browsing posts filed under "1991"
Follow this category via RSS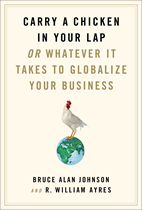 Carry a Chicken in Your Lap Or Whatever it Takes to Globalize Your Business, by Bruce Alan Johnson and R. William Ayres '91.
This fun, modest-length volume comes from two principals of Baja Associates, a small consulting firm. Yes, it's partly a sales pitch for their services. But it's a good sales pitch — and an enjoyable standalone read for a broader audience of those not yet ready to hire a consulting firm, but ready to start thinking about expanding their activities internationally. The authors have in part targeted subgroups within the latter category, including employees thinking about an overseas assignment, and nonprofit idea-makers looking to expand their influence.
Who is the most prolific Eph twitterer? I don't know, but Dylan Tweney '91 is impressive. And check out his blog as well.
Currently browsing posts filed under "1991"
Follow this category via RSS